Oakland, CA
Oakland
Monster Energy AMA Supercross Championship
Welcome to ReduX. And welcome to another fantastic round three!
Last week we reviewed the recent history of, specifically, the third round of Monster Energy Supercross, and the stats showed that round three is almost always a barn burner. The right aspects are there: too early in the year for anyone's confidence to be shot, but deep enough into the season for everyone to have worked out their nerves. Battling hard at Anaheim 1 leads to instant arm pump. But by round three, people are feeling racy.

And they believe they can win. Believe it in their heart and soul, with conviction. Say it, Ryan Dungey, James Stewart or Ryan Villopoto: "I can win this race and I should win this race." Stewart, seriously pretty much did tell me that after the race. Check out my piece with him HERE.

Point is, to the fans this was an amazing/awesome/superb battle, and I say right here, right now we just coin the term "round three theory" and throw it out there whenever the stars are aligning for a good race. Round Three Theory doesn't even have to be reserved for an actual round three, but just for anytime that circumstances create more than two riders who truly, completely, believe they can and should win and you can think of no evidence to counter that. You then you have the blueprint of a great race, and hence are utilizing Round Three Theory in anticipation of it.

The blueprint was there heading into the first-ever supercross at Dodger Stadium. Stewart and Villopoto could each lay claim to "fastest guy" over the first two races, but Ryan Dungey was making some progress and promising to get to their pace. Trey Canard had proven to be a player, too.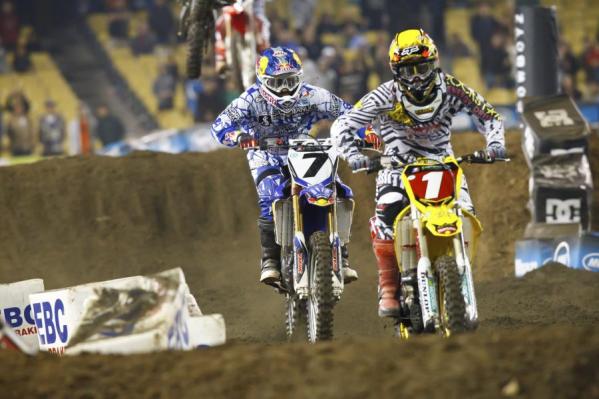 Been awhile since we've seen these two battle. Stewart passed Dunge twice. Just sayin.
Photo: Simon Cudby
The race was awesome. Dungey led early, Stewart battled past, Dungey and Canard kept Stewart in sight (yup) until Villopoto came blasting through, even catching Stewart and trying for a pass. Then Villopoto and Dungey tangled, Stewart got a small gap, then crashed, and Villopoto took the lead and took off. Stewart mounted a crazy late-race charge, pulling off an insane pass on The Dunge and even reeling in Villo. Good stuff all around. Oh man this was a good one. Fans pumped. Industry pumped. Everyone was pumped. Super pumped.

Until I went down to the podium. Yeah, Monster Energy Kawasaki's crew was all fired up, Villopoto's mechanic Mike Williamson rode the bike back to the pits and gave anyone remotely close to his intended path a huge high five. Villopoto himself was all smiles. And I think Team Manager Mike Fisher was seen visiting every other team truck and just shaking people's hands and basically congratulating the world on being round. He was pumped on everything.

But then you had Stewart and Dungey. Not pumped.
Dungey was much more emotional than his normally robotic self. He didn't look flustered or frustrated or, as Jim Holley says, flustrated. He looked like he had just seen some dude making out with his chick, and he was so fired up to both A) kick the dude's ass and B) enjoy getting to play the field himself next week because he's now officially single.

That was the kind of look Dungey had. Mad, and yet with great anticipation for the future. Did he think it was a great race? Yeah maybe, but he didn't win it so who cares?

Stewart was even worse. Just straight-up pissed that he lost. Not in a sore loser way, but in a, "I can't believe I forgot to turn the oven off and burned this house down" way. He knew it was his fault, but he won't do it again.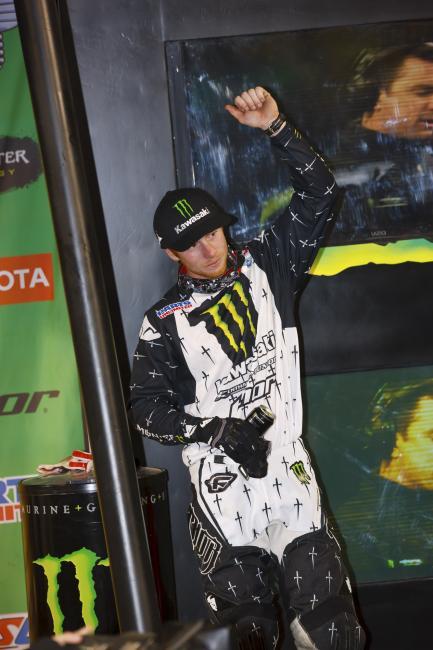 Everyone wants to win and thinks they can, but this guy did.
Photo: Simon Cudby
But would Stewart have really won that race? I doubt it, since Villopoto sliced and diced his way through traffic and closed to James' wheel. This was by far the most complete SX win ever for RV, because he did it without a good start, and battled his way past everyone. And, most importantly, he expected to battle his way past everyone. Like I said, the guy believes, with conviction, in his heart, that he's supposed to win every darned race. So even if he starts in the back, even if he has to catch Stewart or Dungey, it's like he just says "okay, I'll do that" and he does. How many riders have ever gone to the gate thinking "If Stewart gets a lead on me I'll just reel him in?" I count one and a half (RC all of the time and Reed some of the time). Villopoto is into some rare air.

And James wasn't pulling away from Dungey or Canard much, either. That was just a bizarre sight to see, James Stewart, in the lead, but just not pulling away. Yeah, he didn't pull away from Chad Reed at the beginning of 2009, but James' bike didn't look very good then. And he didn't always gap Carmichael, but on the days when RC could hang with him, it looked like the ground was about to just scurry away from him in fear. He was pounding it that hard. This time Stewart and his pursuers all just looked fairly smooth.
Maybe James has backed it down a bit. He sure looks to have found extra speed at the end of the race…but you know what this whole thing really comes down to? All of this conjecture and wonder and talk about these guys? Ryan Villopoto does not care. Not one bit. The dude is fast and strong and expects to win and that's about it. He has no strategy besides get a good start and haul ass, and if you don't get a good start, haul more ass.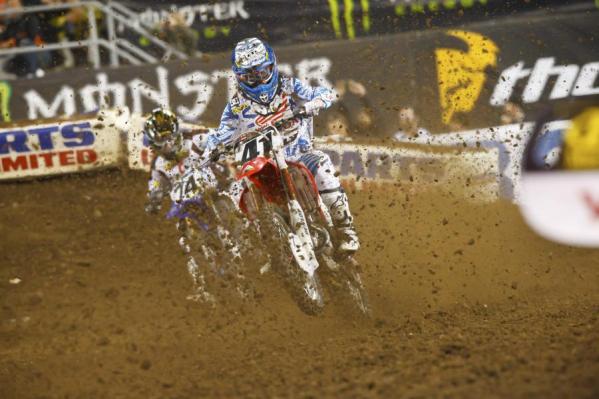 Canard is hauling. Weimer and Pourcel have to be wondering "What if?"
Photo: Simon Cudby
But this is still James Stewart, and he'll always have the punchers' chance. He could find even more speed over the next few weeks, just like he did a few rounds into 2009. Yes, some fans will say this is a James Stewart suck up, but when you've been faster than just about everyone you've raced since you were five years old, you earn the right to not be dead and buried just three races into a series. He also passed Dungey twice in the race.

Trey Canard should have been hurt in his heat race crash. We should have lost one of the contenders. Instead, Trey only had the wind knocked out of him, and once he got up, he was fine. "If that doesn't make you believe in your faith, I don't know what else will," said Trey after the race. He also felt like he rode much, much better than he did last week in Phoenix. You know who said the same thing? Dungey. These guys believe.

Kevin Windham and Justin Brayton were up in the mix with that fast pack early, but they couldn't quite hang with that pace. Brayton was fifth, one spot better than last week. He is on the verge, but is he on the verge in the same manner Andrew Short always was—always just needing that little bit more? We'll see.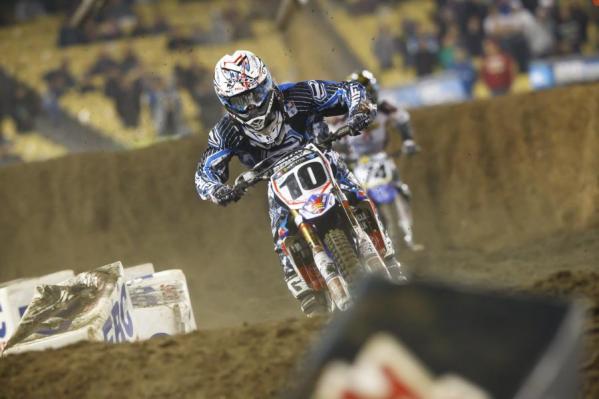 You may not have noticed that Brayton finished 5th, so here's a picture.
Photo: Simon Cudby
Wait, did I just refer to Short in a past tense?

The other rider who could get into this mix is Chad Reed, but Reed hasn't been anywhere near the front early in the races. He told me he wasn't happy with his bike in the whoops or how it felt entering corners, so he's been testing at the Honda track (instead of Castillo Ranch) and hopes to be there soon. Without a good start, we can't really rate Reed's performance, yet. But the dude used to be able to get a podium from anywhere. Now the rest of the comp is just too good.

Onto the Lites. Back at Loretta Lynn's in 2008, High School Musical star Corbin Bleu showed up to promote his upcoming motocross movie, called Freestyle. I'm not sure if that movie ever went to theaters, but I do know that Corbin's agent told me, "You don't need to say Corbin is from High School Musical, because by the time the stuff we're working on hits, he'll be leaving High School Musical way behind."

Ah, agents. Anyway I got to bench-race with Corbin, and he told me he was cheering for his buddy Cole Seely, who he met filming the movie. But I never saw this Cole Seely guy. He was never up front.

If you had told me during that time period that Cole Seely was just two years away from winning a supercross, I'd have thought you were talking about another movie. But it has happened, for real!

It's awesome when guys like Cole win. It proves you don't need a bazillion amateur titles to succeed in this sport. It helps keep the racing unpredictable, and gives everyone else some hope.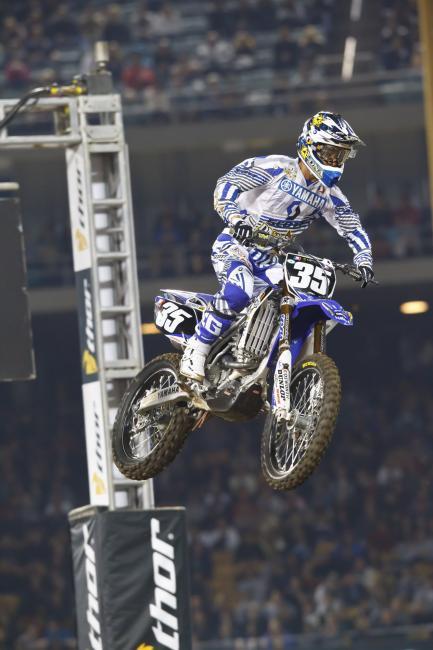 Cunningham got taken down by Roczen last week. Roles reversed this time.
Photo: Simon Cudby
In the LA race, Seely grabbed the holeshot and Eli Tomac was right behind. Jim Holley was standing next to me, and we started announcing pretty much like we were still doing a Webcast. I said "Tomac finally has a start, he can win this" and Holley said, "Seely finally has a start, he can win this." It was a battle to see which rider could settle down first, and Seely said by about lap five he had stopped freaking out, started putting in his laps, and brought it home. Tomac wasn't quite as steady, but he was close. Ken Roczen, Martin Davalos and Kyle Cunningham could have won that race, too. Unfortunately Cunningham tried to make a move in a spot you could not, took Roczen down, and Davalos got collected.

Point is, five riders could have won that race. That's what's so exciting about round three.

Email me jasonw@racerxonline.com