Oakland, CA
Oakland
Monster Energy AMA Supercross Championship

This weekend marks another new stop on the 2011 Monster Energy AMA Supercross tour, though unlike last weekend, this race is returning to a stadium where races used to be held. The last time they raced on the home turf of the Oakland Raiders was 1984. The winner? Ron Lechien on a factory Honda! This race airs on noon (ET) Sunday on CBS, with the Lites race airing on SPEED TV at 6 p.m. (ET), also on Sunday afternoon. Here are 10 things to watch for.
1.) COLE SEELY. We're leading off with a Lites rider because we didn't see much of Cole Seely last weekend, at least not on TV—which was strange since he won the race! The smooth, methodical kid on the Troy Lee Designs/Lucas Oil Honda rode a near-perfect race while guys like Josh Hansen and Ken Roczen were bouncing all over the place, and that attracted the TV cameras more than the Jeff Stanton-like performance of the actual winner. Look for Seely, no longer anonymous in the talented field, to get much more airtime this weekend.
2.) ROCZEN THE RAIDER. German import Ken Roczen probably got more TV time than Seely, even though he only finished sixth. That's most likely because the kid looks like something incredible could happen at any moment, just like Justin Barcia in the East Region, or even a young James Stewart. With three races under his belt, his foot doing better, and this race being a new building for everyone, this might just be the one where Roczen finally makes the box.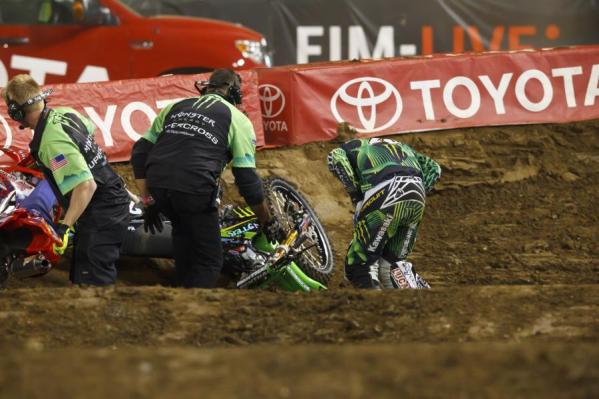 Rattray was down but not out, the same could not be said for Craig.
Photo: Simon Cudby
3.) LITES OUT. Last weekend was a brutal Lites race for a few riders, including Christian Craig and Tyla Rattray and Travis Baker, all of whom went down together in their heat race. Craig is now out with a broken leg and neither Rattray nor Baker looked completely healthy afterward. But Tyla has a way of doing good things when least expected, and Baker probably saw his TLD teammate win and is thinking, Hey, I can do that!
4.) LI'L HAMMER. We gotta give Josh Hansen credit: he rode his heart out once he stalled trying to pass Seely for the lead. He also didn't make a lot of friends out there with a few guys who probably didn't appreciate his aggressive riding, but that's what you have to do when you're scrambling to win a title after falling behind. The Monster Energy/Pro Circuit Kawasaki rider definitely looks more inspired than he ever has.
5.) MISFORTUNATES. Three guys must be thinking they blew it on Saturday night: Ryan Morais, Martin Davalos, and Kyle Cunningham. The three of them all had a shot to get a long-overdue first win, only to make mistakes in the main and miss the chance to finally get in the winner's circle. If you've been watching the races for a few years, you know all three are great riders and really nice guys. And one just might finish first this weekend.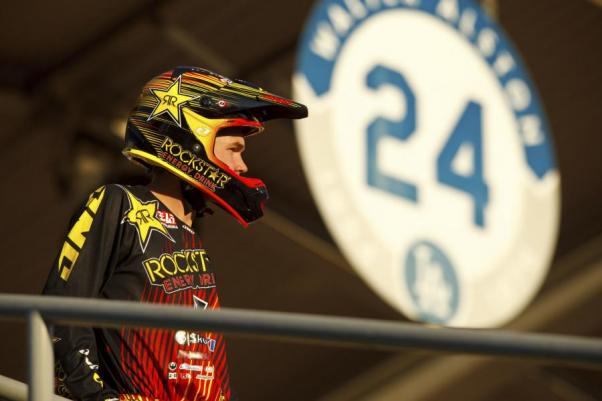 After countless podiums Morais has to be thinking, when?
Photo: Simon Cudby
6.) RV IS FOR VICTORY. Okay, Ryan Villopoto is a badass. His sharp, smart ride from right outside the top ten off the start to the win was maybe his most impressive yet, though he did get some help when James Stewart slid out while leading. Villopoto just looks solid and confident, and he's still the points leader after three rounds—and he has yet to finish worse than second. The fact that he's in the driver's seat at this point is a big surprise, and the longer he stays there, the harder it's going to be for anyone to dislodge him.
7.) JBS IS FOR VENGEANCE. You can't fault James Stewart for being blunt after the race. He threw it away and he knew it, so why hide it? The San Manuel Red Bull Yamaha rider seemed like he was on his way to his thirty-ninth career main-event win, and then he lost control in an easy corner and lost the lead. He's not happy, and he's not going to settle for anything but a win this time if he's in the hunt. Count on some aggressive riding from #7.
8.) HEAVY LAY THE CROWN. Or helmet, in this case, of the defending champion. Ryan Dungey got back up on the box after his strange night in Phoenix, but he still didn't have enough to hold back Stewart—twice, actually. The Rockstar/Makita Suzuki rider needs a win if he wants to keep RV close and Stewart closer. He and his team made some obviously beneficial adjustments, but he needs more if he wants to beat those other two.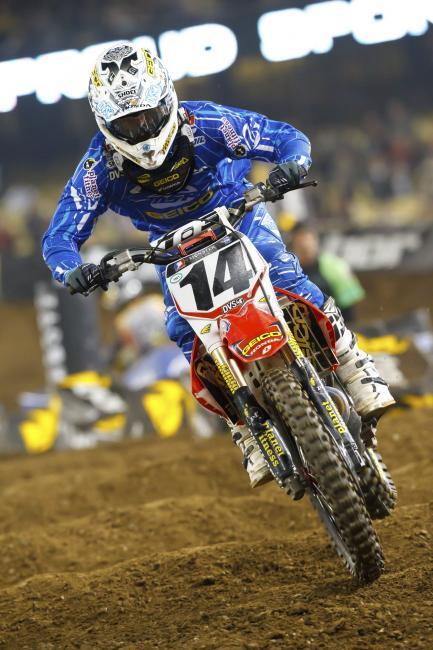 The veteran needs to make it happen now, or Windham could be in for a long winter.
Photo: Simon Cudby
9.) HERE COMES CANARD. Trey Canard doesn't want to be known as "Mr. LCQ," but if he doesn't keep it on two wheels in his heat races, that's what he's destined to become. For the second time in three races, #41 had to go through the last-chance qualifier, then he ran a great main event to almost score third. With every race he's getting better (and he's ridden two more races than everyone else at this point). Don't expect that trend to change.
10.) RED RIDERS? Finally, we thought by now we would see Chad Reed up there in the mix on his TwoTwo Motorsports Bel-Ray Honda. We also thought Kevin Windham would be on the box by now as well. Both are riding well, but neither has put it all together for twenty laps to get inside that top three. Now is the time for both to make something happen, or they are in for a long series.