Los Angeles, CA
Los Angeles
Monster Energy AMA Supercross Championship
Welcome to Racerhead, coming to you from not only snowbound West Virginia, but also sunny Southern California. Two weeks in and the 2011 Monster Energy AMA Supercross tour is delivering. While we didn't see a very close race at Phoenix's Chase Field last Saturday night, we did see a new winner in
James Stewart
—his first win in a year—and a good ride by
Ryan Villopoto
, still the series points leader. We also saw
Josh Hansen
again overtake his Monster Energy/Pro Circuit Kawasaki teammate
Broc Tickle
for the win, and we again saw Red Bull KTM import Ken Roczen show both his potential in practice and his inexperience during the main event (his foot may be a problem this weekend).
Now we move on to Dodger Stadium in Los Angeles for what used to be called Anaheim 2 but is now a brand new venue for SX that's never been used before.
Here's your TV Reminder: Tune in on to CBS on Sunday at 12:00 p.m. Eastern for the broadcast of the AMA Supercross class from Los Angeles, then switch over to SPEED at 6:00 p.m. Eastern for the AMA Supercross Lites class, but remember to always check your local listings.
Alas, this weekend's race is not airing live like the last two, but it will be on CBS, which is the trade-off. And with no webcast this weekend, there will be lots of Tweets flying out of Dodger Stadium (the place will likely be packed because the weather looks perfect). To follow Racer X's dynamic duo of Weigandt and Matthes, check out our Twitter feed. And to follow along with the live timing and scoring, here's a link to follow them all night and all afternoon long.
Look for the return of Parts TV presented by Thor this weekend, coming to you from the pits at Dodger Stadium. The show will include many of the stars of AMA Supercross and will be hosted by Rob Buydos and our own aforementioned Weigandt and Matthes. Look for it around 9:30 p.m. ET (6:30 p.m. local) right here on www.racerxonline.com
I will let the other guys break down all of the nitty-gritty from the week, but here's something off the radar for now, but it's coming back at us fast. In May, the CPSIA (Consumer Product Safety Improvement) will end the stay on enforcing the new "Lead Law," which once again means that minicycles and ATVs meant for children under 12 will have to be pulled off dealership floors. The AMA has been hard at work getting the stay extended, as has the MIC. MX Sports has been trying to do our part too. We went to see CPSC Chairwoman Inez Tenenbaum in December on the issue, and then this week two key members of the U.S. Government happened to be in Morgantown, which gave myself and Tim Cotter of MX Sports a chance to visit with them and discuss this pressing issue. New U.S. Senator Joe Manchin and U.S. House of Representatives member David McKinley were at the Met Theater to celebrate Martin Luther King Day. Turns out my son Vance's art class did some work for the theater lobby, so Vance was there and got to meet Manchin, who is a lifelong motorcycle enthusiast.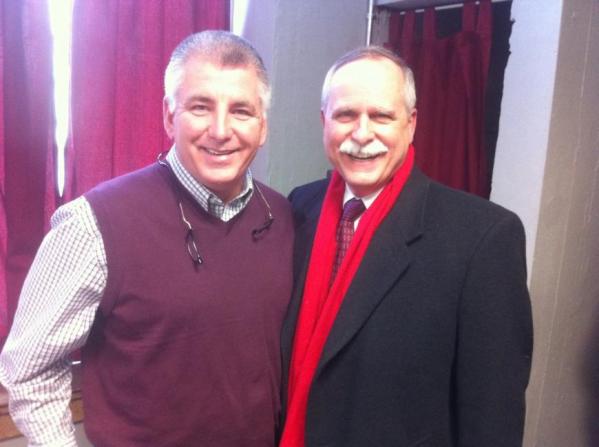 From left to right; MX Sports' Tim Cotter and Representative Joe McKinley.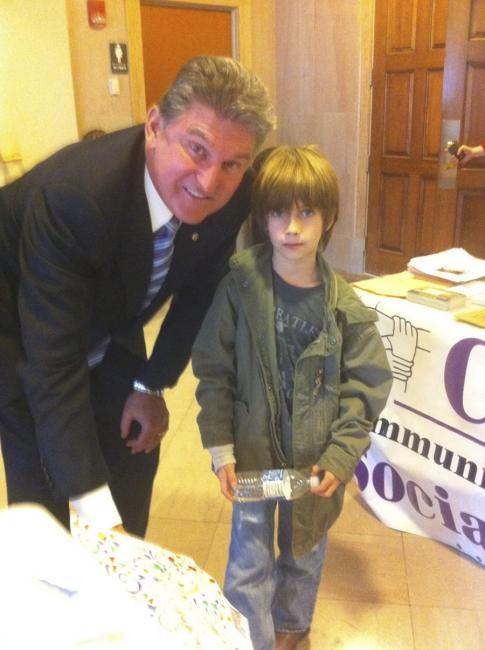 From left to right; Senator Manchin and Vance.
Anyway, both knew about the bill that's coming up soon to carve motorcycles and ATVs out of the law due to the fact that they are not toys and banning them causes a bigger problem—kids would only have full-sized ATVs and motorcycles to ride on—and both are also vital to this state's economy (the Hatfield and McCoy Trail System is a big destination for off-road recreationalists from all over the country). Let's keep our fingers crossed here, and be ready to write your members of congress when the time comes!
And speaking of family members, I would like to welcome my wife, Shannon, to the editorial team here at Racer X Online—or at least Racer X's Virtual Trainer. She's doing a blog on the site about life, fitness, wellbeing, and whatever else pops into her mind. If you want to check out something different from all the male voices you heard and read in the motocross world, check it out.
We are told that SPEED TV's Supercross host Ralph Sheheen is going to attend Ricky Carmichael University at the Daytona Supercross! Ralph will be put through the paces not only by Carmichael, but also guest instructor Jeff Emig, who is his partner on the SPEED TV and CBS coverage of Monster Energy AMA Supercross. If you want to join RC, Fro, and Ralph for a fantastic day of supercross instruction at Daytona International Speedway, follow this link.
Okay, let me turn this over to Jason Weigandt first....
Racerhead sends out a belated congrats and welcome to Hudson Short, the new son of Andrew and Jackie and the 2027 250 B Champion at Loretta Lynn's Ranch. Andrew has got the racer dad discipline dialed in already, as he made sure Hudson hung on until after the New Year before officially entering the world. So, in 2027, Hudson will turn 16, but will be considered 15 all season long because your AMA amateur age is based on your age as of January 1. Nice!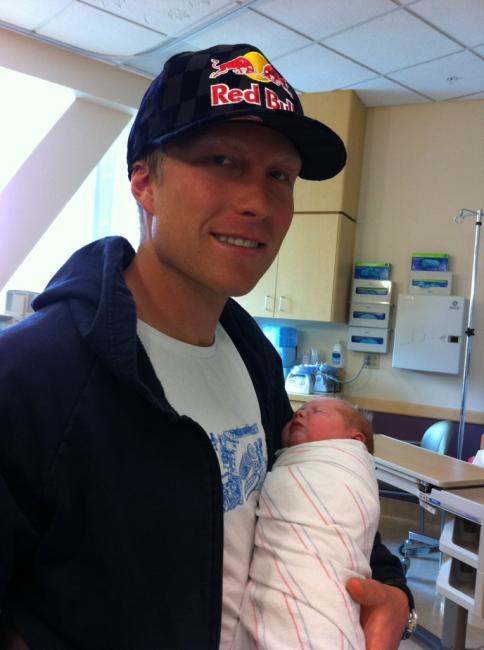 Andrew Short and the newest memeber of his family, Hudson.
And Hudson comes from good stock. Where did his name come from? Well, you may remember that before she married Andrew, Jackie raced in the Women's pro class, and her maiden name is Jackie Hudson. So you've got two pros in the family, and little Hudson Short is doing both family names proud.
It's early in the season and we're still refining this new website—kind of like The Dunge working on bike setup refinements on his Suzook. But we're pleased with the results. We have a lot of content here each week. For example, from Phoenix we produced two practice reports, a practice gallery, a race report, a post-race gallery and wall papers, videos with Nick "Snookie" Paluzzi, Christian Craig and Justin Brayton, text interviews with James Stewart, Ryan Villopoto, Trey Canard, and Chad Reed, a Josh Hansen feature, as well as our regular content like 250 and 450 Words, The Moment, Observations, ReduX, Sign of the Lap Times, and Bench Racing Ammo.
If that's too much for you to keep up with, we have your solution. Dial in our Thor Race Center site and you'll find links to all of the content from each race. That's www.racerxonline.com/race-center and you won't miss a thing.
If you're going to the race this weekend, come over for our live taping of Parts TV presented by Thor. Myself, Matthes, and Rob Buydos will host the show at about 2:45 pm in the pits of Dodger Stadium, by the Thor setup. We're aiming for that College Game Day pregame feel with fans going crazy in the background with signs and posters, screams, and cheers. So be there. Afterward, check out the Race Center site for a link to watch the show.
And I'm going to blow your mind with this info: Did you know that when supercross airs on SPEED or CBS, the exact same TV producer and director runs the show? Seriously. Same people. I know the comments sections and message boards go crazy with "please bring the SPEED crew back," but it's really the same people doing the same thing regardless of what network the show airs on. The differences in production are very minor. So if you think things seem totally different, most of those changes exist only in your mind. Which has now been blown!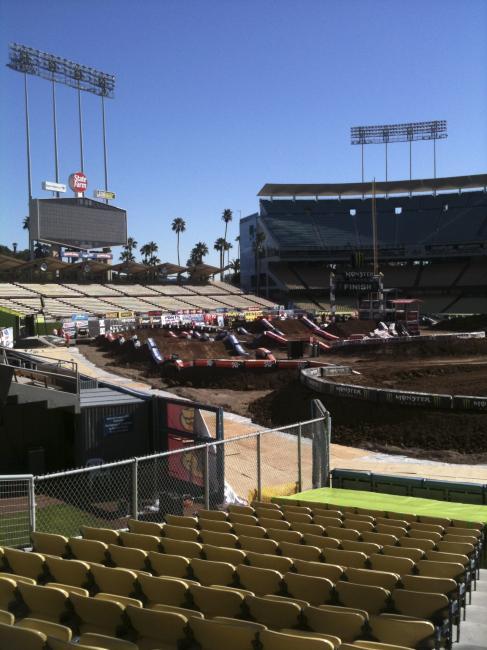 Dodger Stadium.
Photo: Johnny O'Hannah
Now let's turn it over to Ping...
I spent this entire week riding and hanging out with the Red Bull JAMS (Junior Amateur Motocross Support) athletes. If you aren't familiar with that program, it is one of the most elite in amateur racing, and I can tell you that the kids involved are all very deserving. I know Jesse Nelson because I helped get him aligned with the Lucas Oil / TLD crew, but I had never seen Cooper Webb, Dakota Alix, or Matt Bisceglia ride and they are all amazing—and really cool kids off the track as well, which means our sport is in good hands down the road.
I'm pretty much psyched out of my mind for this weekend, and it isn't just to get a firsthand look at the intricate watering system at Dodger Stadium. Word is they have an elaborate network of pipes underneath the ground that deliver water to the grass in the whole place. Amazing. No, my excitement is based on the fact that the racing is really to going to get good this weekend. Some guys are already calling this a two-horse race (RV and Stewie) but I don't think that's the case at all. Canard is coming. He's going to be mixing it up with the leaders soon, and I think he is more than capable of getting a win this year. I think Chad Reed is figuring things out. He spent more time testing this week and he's inching closer to the setup he wants. And Ryan Dungey isn't going to sit around and just wait for things to get better. He'll get his issues sorted out (whatever they are) and get in the mix as well.
The really important issue this week, though, involves a double across a corner back on the track at Anaheim 1. I'm just kidding. That was for you, Matthes!
I did chat with Andrew Short a little bit this week at the KTM test track. He, too, had a big test day on Wednesday with Roger DeCoster and Pit Beirer, the top brass at KTM Racing. He says he thought they were a little closer with his setup than they really were once they got on the track with a bunch of other bikes. He tells me the issue isn't raw horsepower—the bike makes enough of it—but it's more a matter of moving it to the right spot. They were running through a series of gearing changes while I was out there, so I imagine they'll find a solution. Shorty's results have been steadily improving and I think they will continue that trend.

Has Mike Alessi ever been pulled off a gate this badly?
Photos: Carlos Aguirre
And there's Mike Alessi, who did not qualify in Phoenix. Wow, not sure what's going on there, but he seems to completely lack any confidence right now inside stadiums. He's maybe the best starter in the game, but he's way off the drop now.
I also chatted with Nathan Ramsey, the JDR/J Star Motors team manager. Nate is adjusting to his new life and expressed that it was a lot more work than he thought and really difficult on that side of things. To which I replied, "Yep. Hahahahahaha!"
I'm kidding. Nathan is enjoying it, and I think they might have a contender on their hands in Australian champ PJ Larsen. He looks good and will make his return to American racing when the 250 series heads east. That team is full of good people and has all the right ingredients for success. It's good to have them here.
That's it for me. Find me in the stands this week and I'll give you a brief dissertation on ballpark irrigation and PVC glue.
And now, Steve Matthes:
A big topic leaving Phoenix was the "traction control" debate involving James Stewart.  If you haven't seen my view on it check it out HERE. We will have more from tomorrow once we see what the teams do and what the AMA has said about the device that was on James' bike.
We're at Dodger stadium this weekend and I'm always excited for a new venue in supercross (okay, maybe not so much Oakland, but just about any other one) and that's because it's just that: new. I have been to Chavez Ravine one time to catch a baseball game when I lived in Anaheim, and it was cool. Something every sports fan should do at one time or another is catch a baseball game (even if you don't like baseball—I don't ever, since my Blue Jays started sucking) at one of these old ballparks. I've been to Fenway and Dodger Stadium and am pumped I got to do it. Next up, Wrigley Field!
Wouldn't it be cool if Vin Scully called the supercross?
Okay, so what do we know so far after two rounds? We know that we have five riders right now separating themselves from the pack (same top five in both rounds so far and the five riders have qualified inside the top five in qualifying at both races, save for Ivan Tedesco replacing Chad Reed at Phoenix) and how they are going to finish is determined a lot by their starting position.
Reed, James Stewart, and Trey Canard didn't get good starts at round one and paid the price. In Phoenix it was Reed and Canard who didn't come into the first turn near the front. Trey did a great job in working through the first few turns to get into third, but he wasn't in a good spot going down the start straight.
So we'll see what happens this weekend, where the dirt is from the Home Depot Center and was used for the X Games. I'm predicting that hard, dry surface but maybe the track guys actually know you have to stay on top of the dirt and you can't water when it's been baking in the sun. The X-Games people seemed to forget that and wouldn't allow Dream Traxx the proper amount of time to work with the dirt. So we'll see a third different surface this weekend in three weeks.
What about the next group after the fab five? Well, I think Tedesco can definitely get in that mix, along with Justin Brayton and Kevin Windham. In fact, I can see any of those guys getting into the top five any time now. After that, I'm waiting to see more from Brett Metcalfe, Tommy Hahn has had terrible luck so far, I haven't seen Kyle Chisholm get a start yet, and Andrew Short ... I know he can be there, but in my opinion he's 100cc short right now.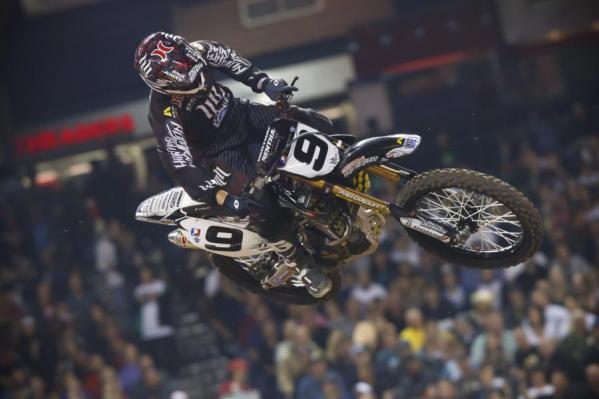 Tedesco leads the next group after the Fab Five.
Photo: Simon Cudby
I like Andrew a lot; he's a good guy and a friend of mine. I even help him out with his website (www.andrewshort.com). But I have to disagree with people who say he has to ride his 350 like a 250. I know that means I'm disagreeing with his team manager, Roger DeCoster, but here's the thing: RD and the like are correct that in order to maximize the bike's virtues, you have to ride it wide and keep your momentum up. But the guys you're racing against don't have to do that, and therefore can cut in front of you. People point to the lap times of the 250s being so close to the 450s and sometimes better, but put them on the track at the same time and the 450 guy can be a little lazier, cut the corners a little tighter, and make time on you.
Like this past weekend in Phoenix on the triple along the third-base line, the guys were cutting the corner sharper and sharper to make the leap. If Short were to try that, he would end up like his buddy Ken Roczen in the heat. Then there was the triple onto the tabletop and off that Andrew could barely do while everyone else could.
What a ride by the 29 to get second in the heat, and he rode great in the main as well to get seventh, but I'm sorry, I'm not sold on this machine yet. Maybe I'm wrong (it's happened before). I'll be the first guy to say sorry when a 350 becomes dominant.
I did a podcast with Ryan Dungey yesterday that went up this morning, and in it, he seemed like he's not lost a bit of confidence from his Phoenix race. RD mentioned that he was chasing his bike setup all day and they found some things this week that made his RM-Z better.
I had also heard from some people that the World Anti-Drug Association (WADA) was now on board with our sport in testing some of the athletes. A few years ago the FIM started doing more extensive tests at three or four races a year with the MX2 class, and now both classes are subject to random peeing in a cup.
Well, as I confirmed with Dungey, it's gone to another level now with WADA being able to test riders at any time in any place. Ryan and Kevin Windham were chosen because they went 1-2 in the series last year, and they have to submit to WADA a 90-day schedule of where he's going to be so that the WADA drug guys can show up wherever you are to test you.
Below is taken from the WADA athlete guide to being available to be tested at anytime and the consequences if missed:
What is out-of-competition testing?
Out-of-competition testing, or any testing done outside of an event, ensures that athletes can be tested at any time and at any place.
What is the athlete's responsibility regarding whereabouts information?
An athlete identified in the RTP by his/her ADO is required to provide accurate and current whereabouts information. This information is required on a quarterly basis and includes details such as an athlete's home address, training venues and schedule, competition schedule, as well as any other regular activities such as work or school. Additionally, athletes identified in their ADO's RTP must provide a specific 60-minute period for each day when they will be accountable for a possible missed test should they not be present for testing during this time at the declared location.
Any combination of 3 missed tests and/or failures to file whereabouts information within an 18-month period may be considered a doping violation and may result in a sanction of between one and two years.
In my opinion this is a cool thing for our sport and definitely makes it more legit, but if you're just going to disrupt the lives of two of the racers (which seems a little unfair to me), can you make it the top ten or maybe not at all?
Anyways, check the podcast out—it's a pretty good one, and I'm glad I got to do it. Thanks to Dungey's agent, Tony Gardea, for helping me out.
This past Monday we had Josh Grant, Donnie Emler Jr., and Michael Byrne on the Pulpmx Show presented by BTOSports.com and learned a few things. We spoke to Grant and it was obvious that he didn't like Jeff Alessi's move in Phoenix that put him on the DL for a while. We called Jeff's dad, Tony, later on and he didn't really see the incident and wouldn't/couldn't comment.
This Monday we have Hart & Huntington's Josh Hill in-studio as well as another in-studio very special guest that we'll save for the show, but let's just say it's a blast from Kenny's past. We're also hoping to get Windham on the line as well. Tune in to Pulpmx.com on Monday for that.
Also check out the podcast that Ping, Weege, and I did where we dissected Phoenix in every way possible. Good times with Ping still going on and on about this corner jump that guys were doing.
That's it from Matthes.
Puma put together this fun video with golfer and MX¹er Rickie Fowler, who was awarded the 2010 PGA rookie of the year, and who is a former racer. Although Fowler is wearing a cool set of black Puma boots in the video, they look to be Puma¹s street bike boots. No word on if a MX model is in the works.
The Corona Sports Group had an open house last night at their offices in...well, Corona. Racer X was on the scene shooting photos and video of all the MSR, Answer, and Pro Taper gear. Windham, Stewart, Grant, Wey, Fonseca, Team JDR, Potter, Deegan, Mason, Adams, and of course Malcolm Smith were all there signing for the fans. Here is a gallery of photos by Simon Cudby.
Troy Lee Designs will be debuting a new helmet tomorrow at Dodger Stadium. What is it? Take a look at the vid HERE.
Daniel Lamb (DanDunes on VitalMX) wrote a preview for this weekend's race in Los Angeles. Check it out here.
Also, a lot of riders and industry friends will be watching the NFL Conference Championship games on Sunday to see who is going to the Super Bowl (it will be Pittsburgh). And speaking of the Steelers, here's a poem:
Our Father, who Art in Pittsburgh, football be thy name.
Thy kingdom come, 6 Super Bowls won, on earth as it is in Heinz Field.
Give us this day, a game day victory, and forgive us our penalties,
...as we defeat those who play against us.
And lead us into a victory, and deliver the Jets to us.
Amen.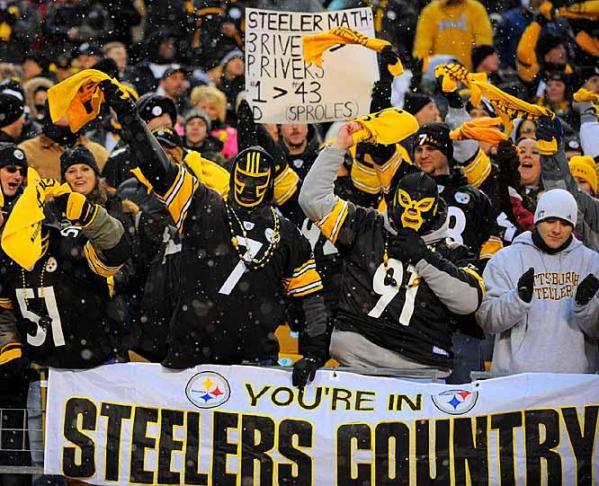 Supercross goes PINK Feb 5th! Monster Energy Kawasaki and Ryan Villopoto are kicking the fundraising off with a unique opportunity to meet Monster Energy Kawasaki's Ryan Villopoto just hours before he races at Angel Stadium in Anaheim, California, on February 5, 2011. Be one of only 20 guests to participate in this once in a lifetime experience and support the fight against breast cancer. Follow the link to the Ryan Villopoto Meet & Greet eBay Auction.
Here's a note from Fran Kuhn, the photography legend responsible for the old Inside Motocross books by AXO: "My last roll of Kodachrome just came back from the lab in Parsons, Kansas. They closed the world's last Kodachrome processing line down forever right after the new year."
http://www.youtube.com/watch?v=mPvF1MOU2kE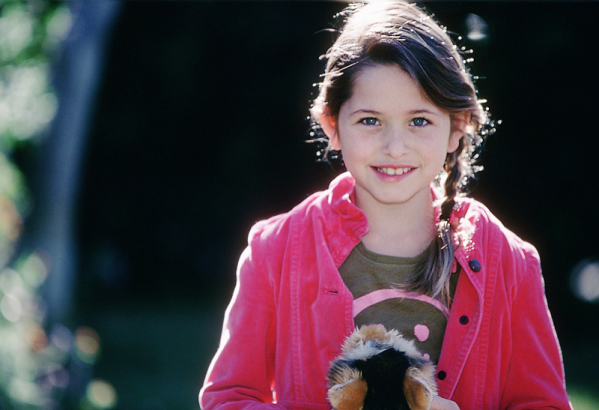 Fran Kuhn's last-ever Kodachrome slide was this portrait of his daughter.
Finally, this sad note: Our sport lost a great person last weekend when our friend Dale Walkfield passed away at age 49. A lifelong enthusiast and professional racer, Dale loved to ride motorcycles. He raced Speedway professionally in the '80s and was always into enduro riding. He was a member of the Ridge Riders Motorcycles Club in Great Meadows, New Jersey, and was part of the motorcycle racing community his whole life. His favorite thing to do was ride motorcycles with his children. In addition to his passion for motorcycles he will be remembered as a devoted husband to his wife Teri and a wonderful father to his two children Wendy and Bugsy. He will be missed by all who were lucky enough to meet and spend time with him.
Memorial donations may be made to the family:
C/O Theresa Wakefield, 1732 State Route 534, Albrightsville, PA 18322.
Godspeed, Dale.
Thanks for reading Racerhead. See you at the races.