Los Angeles, CA
Los Angeles
Monster Energy AMA Supercross Championship
This past weekend in Phoenix, we saw plenty of great racing as San Manuel Red Bull Yamaha's James Stewart captured his first win of the year, Ryan Villopoto continued to impress, and Josh Hansen won his second Lites race in a row.
But that was just the beginning of the action. About halfway through the night, my Twitter inbox, email inbox, and the message boards of the sport started exploding with talk of cheating and underhandedness of James Stewart and his team. After the race, Speed pit reporter Erin Bates asked Stewart about some sort of traction control device on his Yamaha YZ450F. No doubt surprised by the question, James deflected it, smiling and saying something about a piece of dirt. It wasn't the perfect answer, but it's hard for anyone to have the right answer to a hardball question when expecting a softball down the middle. Stewart's response actually created more questions than answers, and so fans went crazy.
"I don't believe Stewart and his team manager, Larry Brooks, deserve this talk." -  Steve Matthes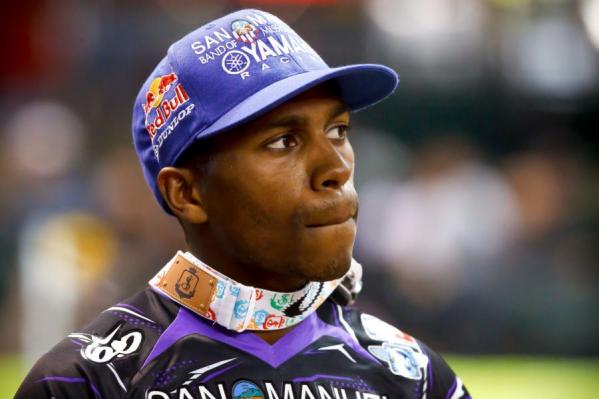 Stewart deflected the question when asked about the use of traction control.
Photo: Simon Cudby
In the AMA rules and guideline book for pro supercross/motocross, it states this:
3.15 Telemetry and Traction Control

A. Electronic devices designed specifically for traction control are
prohibited. This includes sensors that can determine front wheel
speed and any electronic control to the brake systems.

B. Electronic transmittal of information, including radio communication
to or from a moving motorcycle, is prohibited with the following
exceptions:

i. AMA Pro Racing transponders utilized for scoring purposes
(mandatory equipment assigned by AMA Pro Racing).
ii. Data or video transmitted for the sole use of AMA Pro Racing approved
event television production (mandatory equipment
assigned by AMA Pro Racing).

C. Electronic lap-timing devices are permitted. Transmitter beacons
must be in an approved area. Receivers shall not be mounted on
the front area of the front number plate.
In this age of electronic-fuel-injection dirt bikes, and with many of the factory efforts either out of road racing or cutting back on their road programs, electronic gurus are refocusing their efforts on the dirt side of things. Bikes are getting more and more sophisticated each year, and although I'm a former mechanic and think that technology is very interesting, I'd be careful of what we're asking for.
The teams are getting more involved in data acquisition and are pushing the envelope in trying to improve the machines. When I was a factory Yamaha mechanic, we had data acquisition (as does every factory team) and it was pretty helpful, but I always felt there were a couple of things that bogged it down. For one, the weight of the entire system—which included wheel, suspension, O2, and throttle-position sensors—really weighed the bike down. Also, you had to have a competent engineer reading the results to make sure you're correcting yourself in the right areas. The whole process was cumbersome and not always accurate.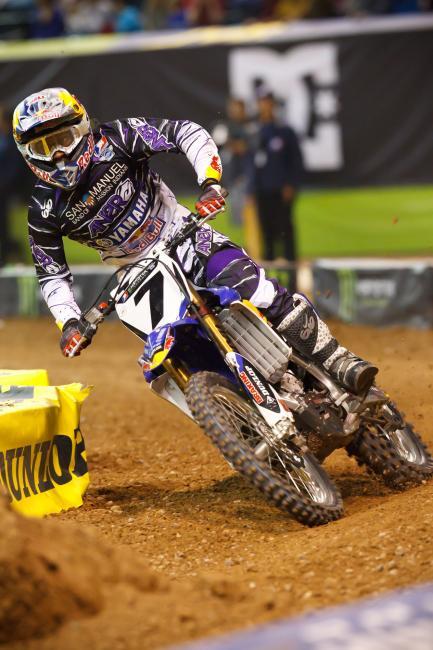 Stewart's victory in Phoenix didn't come without controversy.
Photo: Simon Cudby
A few years ago, data acquisition was totally illegal across the board, but with AMA Pro Racing being acquired by the Daytona Motorsports Group (DMG), the rules were changed to allow some form of data collection, as long as you don't put a front-wheel sensor on the bike or transmit from the machine to a person behind a laptop who can change settings on the fly. In my opinion, this rule change led us to where we are today.
The real story from Phoenix is that behind the scenes, team Muscle Milk Toyota (Joe Gibbs Racing) approached the AMA wondering about all of these sensors that were popping up on other teams' bikes. Honda also has a few things on its factory CRFs, some that are visible and some that are not. JGR explained that if you're open to allowing electronic data equipment to appear on the machines, then how long is it until we see those electronics used to create traction control on the machines? Wheel sensors are just the beginning, as there are things you can do underneath the gas tank that can't be spotted and are a legitimate form of traction control. I believe that JGR's fear is well taken.
So during the television broadcast, the producers cut into the audio of JGRMX team talking over their radios, which is a great idea—except when it goes wrong like it did this weekend. The JGR radio chatter mentioned Stewart's wheel sensors and how the team is "pushing the limits." It's obviously something JGR has been monitoring. From there, announcers Ralph Sheheen, Jeff Emig, and Ricky Carmichael spoke a little about it and then someone mentioned the dreaded term traction control, which is, by the rules above, illegal. From there, Bates asked James about his wheel sensor and how it helped out with his "traction control." And away we go with controversy.
I'm all for the announcers delving deeper into the machines and trying to get the viewers more information, but you have to be careful with this type of information. On Stewart's bike, the wheel sensor was there for data acquisition, and the JGR team radio chatter never said it was for traction control. In essence, Stewart's win was perfectly legal but clouded in controversy.
I spoke to JGR MX manager Jeremy Albrecht on Sunday and he expressed that they never said James is cheating, but they are concerned (and again, have spoken to the AMA) about where this could go in the future. Albrecht believes it's a slippery slope and they themselves are a "big-money" team and can do whatever the others are doing, but they don't feel it's right from a competitive standpoint.
Jeremy went on to say that the TV people approached him and mentioned that they had some audio from practice of the mechanics discussing other riders and teams, and that they would like to use it on that night's broadcast. Albrecht said okay, but he probably should have asked exactly what the audio clip said. He may have told them to shelve the potentially controversial wheel-sensor question for another day, or maybe the TV crew should have told him exactly what they were going to use. Instead, both sides said okay and went with what they had.
I spoke to Brooks as well, and as you can expect, he's not happy about the whole situation. He's playing by the rules in collecting data, he doesn't have a front-wheel sensor on, and he doesn't have traction control. Upon re-watching the race, you can clearly see James' tire is spinning as much as anyone else's out there. As Larry told me, the things he has on his bike are available to purchase to anyone who has a desire to see how their bike is working. He also pointed out that you don't need a wheel sensor to install traction control—you can do it all with an ECU box. Another thing he pointed out is, what exactly is the definition of traction control? As well all know, today's four-stroke machines have ignition curves built into them that retard the ignition when maximum revs are achieved (the rev limiter). This helps reduce wheelspin and is, in effect, traction control. There are also ignition boxes that have produce different curves for each gear—which is also a form of traction control.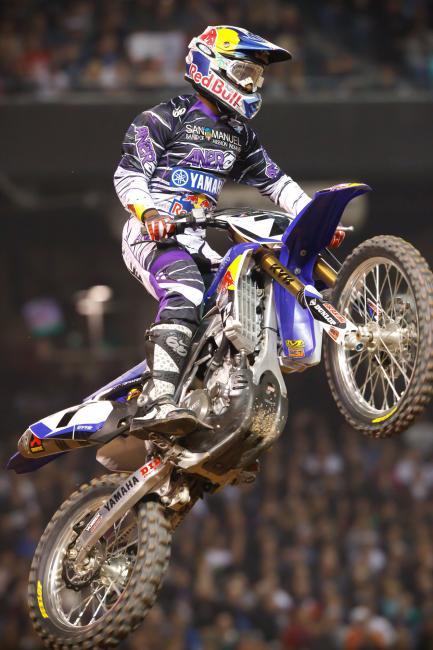 How will Stewart and his team handle this situation?
Photo: Simon Cudby
Brooks, as competitive as anyone out there, and my team manager in 1999, constantly looks for an edge. Last week at Anaheim, he pushed the envelope with GPS sensors mounted on the rear fenders of his bikes. These are capable of transmitting data to someone on the fly if they have the right equipment. In Brooks' case, the team was downloading data from the GPS device after the race and overlaying a map of the track, allowing them to look at the bikes' settings on a particular part of the track. Here's the rub, though: according to rule 3.15-b from above, that's illegal. A GPS is capable of transmitting information from a moving motorcycle. After a talk from AMA Director of Supercross Kevin Crowther, Brooks removed the GPS devices from the bikes. Again, he wasn't changing any settings during the race, but because the potential was there, he was forced to remove it.
With this incident and all the wheel sensors on bikes, JGR has a point in their concerns. It's not something they feel the AMA is capable of controlling, and they also feel—correctly, in my opinion—that such technology furthers the gap between the haves and the have-nots.
As this unfolds behind the scenes and the teams and the AMA work together on the issue, we'll all watch with interest. But in the meantime, can we all get our facts straight and not turn a great ride by James Stewart into a story about something that was never illegal in the first place?