Phoenix, AZ
Phoenix
Monster Energy AMA Supercross Championship
A concept that has become more prevalent lately is replacement factory riders. The first of those in 2011 is Peabody, Massachusetts' Jimmy DeCotis. Last season was his first as a full-time professional and Jimmy turned a lot of heads by posting some solid results in the 250 Class in both supercross and motocross. However, his results weren't quite enough to earn him a full-factory ride, so DeCotis was going the privateer route again in 2011. Well, that all changed this past weekend when GEICO Powersports Honda's Wil Hahn crashed his CRF250R in practice at Anaheim and injured his back. Thankfully Hahn is OK and will make a full recovery, but his temporary vacancy on the team opened the door for DeCotis, who we talked to today.
Racer X: Well, Jimmy, it looks like you quite the opportunity with the GEICO Powersports Honda team. Tell us how this all came about.
Jimmy DeCotis: Yeah, I was sitting on my couch watching Anaheim 1 Saturday night, and I saw that Wil [Hahn] wasn't racing… and Ziggy has always talked to me about helping me out one day, giving me a little chance if anything ever happened and they needed a quick fill in. He told me it was a possibility Saturday night, but he didn't want to promise anything because it was still early and Wil was still in the hospital, so they didn't want to jump the gun.
Well, the next day I got the call that it was a go, so me and my mechanic Keith hopped on a plane and we got into California around 7 o'clock at night. We went to sleep for the night and then got up on Monday and started our testing and we've been testing ever since.
So you were literally back home on your couch in Massachusetts Saturday night?
Oh yeah. I was sitting on the couch just watching the race like it was no big deal because it was a west coast round, and I was racing east. I've been training a lot and getting into the flow of things. I knew I still had a month before the east coast started, so I'm not 100 percent ready yet, but I feel I can race my way into shape. But yeah, I got the call and here I am.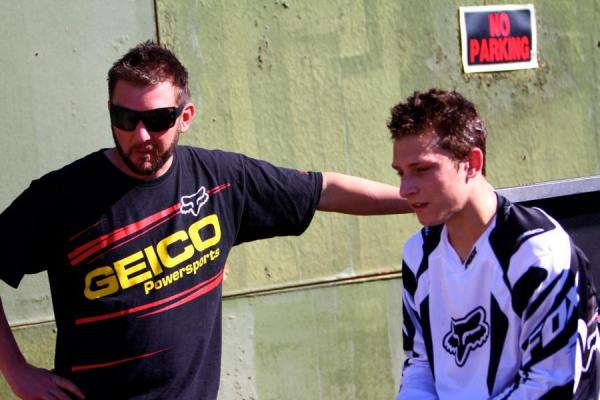 Jimmy is going from the sofa to SX.
Photo: Matt Francis

Well, how's the bike?
Man, the bike is just awesome. It's the fastest I've ever ridden. It's everything you'd ever expect. We've been testing everything from different motors to gearing to tires—it's just an endless possibility.
How's the team treating you so far?
Everyone on the team has helped me so much. They all welcomed me to the team with open arms. It's a great environment for me. I've never been on a team, so it's something new and exciting. There are definitely some nerves involved with it, but if I just keep my head on straight and keep focused, it'll be good.
For the fans out there who don't know too much about you, give us some background about yourself.
I'm 19-years-old and I grew up racing in New England. I'm from Peabody, Massachusetts. Last year I came out to California for the first time and started training with Ryan Hughes from like November through February, for the first East coast. I never really was a big standout as an amateur. I had some good motos at Loretta's in the B class and stuff like that, but I never really turned many heads. I was always just under the radar pretty much till supercross last year. I feel like I started getting some good exposure and put in some good rides in supercross. Last season wasn't as great as I hoped, but overall it was a great learning year for me.
What was your best finish in supercross last year?
Last year was a fifth in Jacksonville.
Any goals for this weekend?
Um, I haven't set any goals this weekend. It's a new team, and although I've been riding Hondas all of last year, it's still different. I'm just going to go out and put in fifteen hard laps and ride like myself and worry about myself. If it's up front or if it's in the back, I'm just going to ride as best as I can.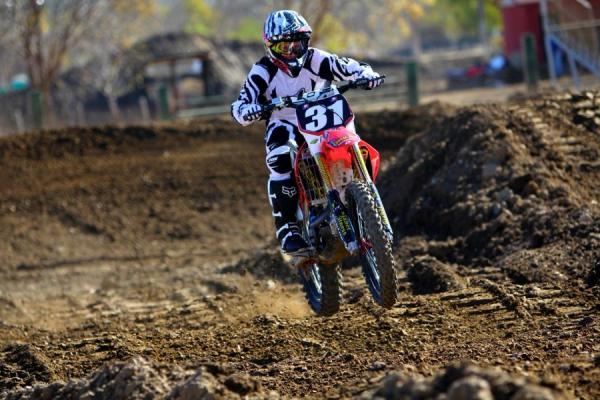 Will a factory bike propell Decotis to the next level?
Photo: Matt Francis
When was the last time you've ridden supercross prior to this week?
I've been riding in North Carolina a little bit. Down at South of the Border MX, Jimmy Weinert has these new supercross tracks and I've been staying there for a little bit. It's kind of cold there so I went down to Florida also, but I haven't ridden supercross for probably a week before I got the call, so I was definitely a little rusty the first day here, but everyday I feel better and more confident.
They got the big six-six on the bike yet?
[Laughs] Not yet, I'm still running Hahn's 31 on the front, but I'm getting my gear tonight, so everything is starting to come together now.
I checked out the track map and there's a sand section. You probably wish the entire track was sand, huh?
Yeah, if they have a sand supercross, I think I'd be number one. [Laughs] When we were riding today, I was riding a little tight and Ryno said, "You need to pretend like you're riding at Southwick, man. You'll be good if you ride like that."
I'm sure you have some good sponsors who were helping you out up to this point. You want to give them a quick mention?
Oh, absolutely. Kenny Germain, we were doing a little east coast deal, but Kenny let me get out of that to do this, and I want to thank him for that. I also want to thank Factory Connection, Pro Circuit, Novik gloves, Renthal, JP3 Graphics, Shoei helmets, Scott goggles, No Fear, Unit Clothing—just everyone that helped me out and let me take this opportunity, I can't thank you enough. Without that, then I'd still be doing the East coast and I wouldn't be on a factory bike.
Finally, how long is this deal with GEICO Powersports Honda going to last?
I'm not sure. I mean, they talked to me about the future rounds, so I don't think it's going to be like if I don't perform then I won't have a ride. I'm pretty sure it's definitely for the rest of these west coast rounds before the break. I'm just going to take it race by race.