With the passing of each calendar year, we get a whole new set of numbers and new set of stories behind each digit. 2006 was arguably the most incredible year in the history of our sport and two-wheeled motorsports in general. As big as it was, it did contain an alarming amount of darkness and despair. This year we had the privilege to stand witness to the closest points battle ever between some of the fastest Supercross riders the world has ever seen. And in the middle of that the fastest Supercross rider the world has ever seen was out there pulling holeshots, getting top fives, and throwing nac-nacs. On came the sound and the fury of the outdoor nationals that manifested what just might have been the ultimate motocross moment on that glorious sunny afternoon at Mt. Morris.

Unfortunately, we also had our tales of sorrow. A lot goes on in those 365 days we call a year. A year is so much more than just a digit—it is a symbol of what you attach and associate to that number. With the white flag flying on the 2006 motocross season, we decided to dedicate this week's edition to the top six Number Crunchers of the Year.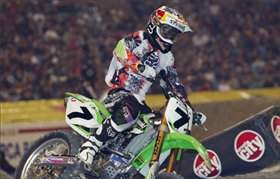 photo: Steve Bruhn
With a new column about racing numbers on board the obvious choice for the first number was
James Stewart
's new number seven. Having raced with number 259 for his entire career as a dedication to his childhood idol, Tony Haynes, James had ran into some sour luck and was looking to make a New Beginning. When he won the first three races he entered with lucky number seven, the move appeared to be magical. But the luck soon ran out. '06 provided Stewart with far too many horrifying encounters with the terrafirma. And then just when it appeared James had escaped the dark cloud of misfortune with wins at
Glen Helen
and the U.S. Open, plus a team-winning effort at the MXdN, along came the infamous Toronto debacle. Here is to wishing
James Stewart
a much, much happier 2007. It should be his year.
Here's the full
Number Cruncher
on #7, first posted on May 10, 2006.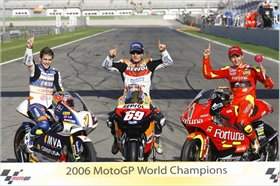 Nicky Hayden #69
photo: Andrew Northcott
While
James Stewart
and
Ricky Carmichael
were the biggest story in motocross, the biggest story in two-wheeled racing has to be that of
Nicky Hayden
's 2006 Moto GP championship. Americans began thinking "title" with Nicky nailing down top five finishes and after a second win in a row at Laguna, he appeared to have perennial champ Valentino Rossi against the ropes. All the sudden he gets the nuts and bolts from his teammate at the penultimate round and it all seemed for not. With the racing gods proving merciful, Nicky ended up winning anyway and there is a new sheriff in town for the 2007 Moto GP season. Here is the original
#69 Number Cruncher
, first posted on November 1.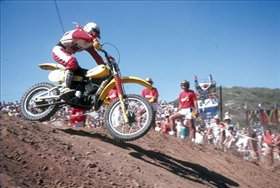 Marty Moates #23
photo: Dick Miller Archives
2006 saw several unfortunate events take place. The suicide of 1980 U.S. Grand Prix winner
Marty Moates
might have been the least expected and most tragic. A true American motocross legend and one of the most important men in the industry, Marty was regarded by all as one of the good guys. He wore #23 that day; here's how we
crunched it
just a few weeks ago.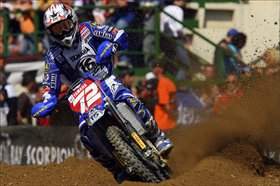 Stefan Everts #72
photo: Geoff Meyer
Stefan Everts
shocked the left side of the Atlantic Ocean when he beat
James Stewart
in both motos at the 2006 Motocross of Nations. In a "walk-off" effort that ranks up there with John Elway's retiring Super Bowl victory, Everts went out on the highest note. One of the most noble and respected riders to ever throw a leg over a dirt bike, Stefan gave his adorning GP fans a day they, or the entire world will not soon forget. Here's the
#72 Number Cruncher
.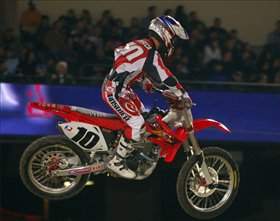 Ernesto Fonseca #10
photo: Steve Bruhn
The entire sport of motocross lost a little when
Ernesto Fonseca
got hurt. Not only did we lose the chance to ever see one of our top athletes racing again, but we have since experienced a wave of paranoia and all around speculation that maybe we aren't doing things exactly like we should. Maybe the bikes are too fast, the tracks too gnarly, and the protection not sufficient—maybe all the above. There will always be a lot of maybes but the constant remains that we will not get to watch Ernie race anymore, nor will we get to see James Marshall, who suffered a similar fate just a few weeks earlier. While the Moates story was tragic, this was tragic and sad in a completely different way. In Ernie's honor, we did a special
Ernesto edition
.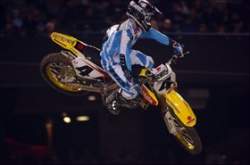 photo: Steve Bruhn
When
Ricky Carmichael
sits back in his trophy room and looks at the line of number one plates that spans his entire wall, a lot of years probably stick out. There's 1997, when he won his first title, and 2001, when he finally won the 250 SX crown—those most likely hold the most powerful memories. Be that as it may, it is hard to turn a blind eye to what the man accomplished in two thousand and six. It was a clash of the titans he really didn't have to win. It was for the sake of a warrior's pride that he gave it one last push to prove to the world that he is, and most likely always be, the greatest motocross racer of all-time. The title he won in 2006 came with more thrills, spills, and chills than any other. With
James Stewart
riding at a never-before-seen level of speed and tenacity, Carmichael was forced to dig deeper than ever had to win. And while be did succeed, it wasn't pretty. He crashed all over the place trying to hold back "The Future." (Anyone remember the yardsale in the whoops at St. Louis? How about the flying W at
Washougal
?) In fact, the last outdoor moto of Carmichael's full-time career saw him crash hard and get injured shortly after passing James for the lead at
Glen Helen
. That is what makes Ricky so great: His relentless pursuit of conquering the competition will never be forgot.
Carmichael is moving on, but he will miss the sport he truly helped become great. While they get to race in front of 120,000 fans, stock car drivers cannot hear the cheers from the grandstands; the cacophony of motocross fans around the world cheering the man that wore #4 will forever echo in history.
2006 marks the year that
Ricky Carmichael
rode away from motocross with both middle fingers in the air as The GOAT. Here's
#4 in the Number Cruncher
.
So with 2007 right around the corner, we have a whole new set of numbers and incredible stories waiting for us. Will #377 be a number we will forever look at differently? A certain teenage Frenchman hopes so. Will we finally get to see if #101 proves his worth on the U.S. market? Will we see #8 finally achieve his destiny as one of the super powers in motocross? And what's ahead for #7 and #22?

Rest assured, you can click here every Wednesday and we'll be breaking down the numbers and the incredible stories that lay under each nostalgic one that comes our way in 2007. Thanks for coming along on the ride!