This week's Shift Number Cruncher topic is a special one. It embodies beginnings and endings. For instance, '72 marks a year that started it all for American supercross: That was the year Mike Goodwin corralled a little get-together at the L.A. Coliseum and dubbed the event the Superbowl of Motocross. There is no way we could fathom that this race would spawn new industries, change the lives of so many people, and basically give birth to what's become big, BIG business today.

On the flip side to this noise, we are bringing up this week's number because it belonged to the man who ended his career wearing it in 2006. And while he walked off the track wearing roost for the final time with #7 on his plates, Stefan Everts waltzed off the Grand Prix motocross racing stage as the absolute King of Motocross at the Motocross des Nations. Even Ricky Carmichael doffed his cap in reference to his fellow legend and friend.

So supercross began in '72, and the "last pure motocrosser" (as DC calls Everts) rode off with the #72—a number they've now retired in GP motocross. As usual, we found a couple other really cool stories surrounding the seven-two and ran across some blasts from the pasts we believe you will enjoy.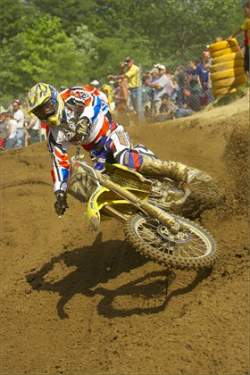 Tony Lorusso at his favorite track - MX338
photo: Frank Hoppen
We always find something really interesting when we dive into the archives and look a little closer at a particular number. For some reason, #72 really likes sand. Of course, Everts is one of the most world's most revered sand specialists, but hitting a little closer to home with 72 come some names like
Tony Lorusso
and
Wally Silva
. How about that one? Hey, back in 2000, Wally put on an incredible race in moto one of the 125 class and posted a seventh-place finish. That run alone pretty much earned him enough points to claim #72 for the 2001 season. Pictured here is another New England legend, Tony Lorusso: Tony used 8-11
Southwick
finishes in 2003 to earn #72 for '04.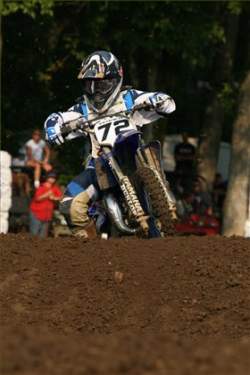 Terren O'Dell at Loretta Lynn's 2005
photo: Matt Ware
And here is another oddity involving #72. Check this out: In 2005, Terren O'Dell rode the 72 to a solid second overall with 3-2-1 moto scores. In 2006, James DeCotis received #72 and raced his way to 28th overall. Terren switched to #71 instead of 72, but was able to also finish first instead of second.

Troy Adams has had quite an up-and-down career. As one of the biggest riders on the pro tour, Troy has amazing holeshot capabilities. Shown here in 2003 running the #72, Troy's great starts and solid finishes caught the eye of Michael Holigan, who hired the Florida native to his Samsung Honda Team in 2005. Troy put in some great rides and podium finishes to finish climbing the tiddler-division ladder and land himself on Mitch Payton's Monster Energy/Pro Circuit Team.

The wave finally broke as he entered into the 2006 West Region Supercross Series as one of the favorites but suffered a most untimely broken femur. It's never a good time to break one of those, but this one was crushing for Adams. Now, the word on the street has Adams moving over Buddy Antunez' WBR/Rockstar Suzuki squad for 2007, where he will be a threat to win whatever coast they put him in.
(
Hey, there was another fast Adams—Nick—that was one of the hottest up-and-comers around, then, just like that, he was gone. If anyone has an update on Nick, e-mail me at
andy@mxsports.com
.)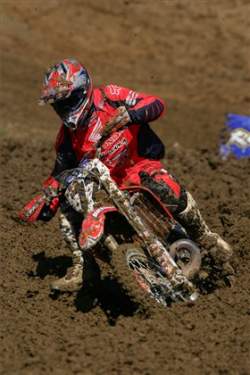 Jean-Sebastien Roy
photo: Simon Cudby
Possessing more syllables than almost any motocrosser since, like, Akira Watanabe (and then more if you count the Y), this underrated speedster from the Great White North has had quite a career. While he wasn't quite able to make it to the top of American racing,
Jean-Sebastien Roy
had some excellent seasons here. And he is the title-belt holder when he races in Canada. Whenever a few American racers venture up there, he can definitely roll out the welcome mat and put a whippin' on them.
Another interesting note on Roy is that he was one of the last of the two-stroke holdouts. One of JSR's best races on American soil came in 2004 when he rode his CR250R to a solid sixth-place overall in the 2004 outdoor season opener at
Hangtown
.
Josh Summey
has been knocking on the door for a long time. He was an amateur standout who had a little trouble turning the corner when he made the transition to the pro ranks, and he really began to flex some muscle this year. Riding for the Moto XXX Honda team alongside
Timmy Ferry
, Josh threw up a strong eighth-place overall at this year's
High Point
National. Josh isn't afraid to hit up a couple GNCCs to stay in shape, either. Expect big things in 2007 from this tough guy from East Coast.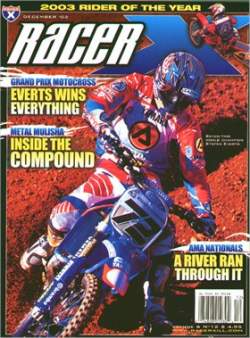 Stefan Everts was the Racer X cover boy in December 2003
We really have to give it up to
Stefan Everts
, as he is the primary owner of #72, just as #4 will always mean RC in American MX. One of the most dignified and classy champions ever, Everts really tightened the woodscrews on his riding in 2006 and let the world know he belongs on the Mt. Rushmore of Motocross, right alongside RC, Roger DeCoster, Bob Hannah, and Rick Johnson. Using a nonchalant, extremely efficient riding style, Everts found a way to beat
James Stewart
in the MXdN last week.
In our research, we ran into some other very interesting guys. Derrick Shae Bentley actually earned #72 for the 2002 season but didn't have much luck with it, as he was only able to climb to #65 for 2003. A little further back in 2000 was another Michigan Mafia member, Matt Maximoff, followed in 1999 by Shaun Kalos. And lastly, #72 ended up being the last national number for a pretty well-known rider nicknamed "Hurricane." After scoring some points in 1989, Bob Hannah was assigned #72 for the 1990 season.

We hope you enjoyed crunching down #72. If you have any other guys you know of, send me an e-mail and we'll throw you in the Number Cruncher Redux.