Number Cruncher: Ernesto Edition
As you all know by now, Ernesto Fonseca returned to the track last weekend at Lakewood, Colorado. It's been four long months since Ernesto's crash, and he arrived with his signature smile and infectious charm. Of course, the Lakewood fans had to miss watching that small guy on the factory Honda CRF450R huck that huge triple step-up and bang both holeshots like he did the year before! Anyway, for today's Shift Racing Number Cruncher, we wanted to see if we we could find every number Ernie raced with in his career. This one is for you, Fonzy, enjoy!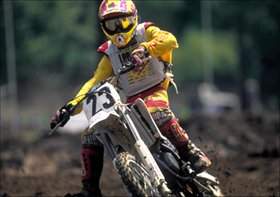 photo: Fran Kuhn
The first time I met Ernesto was at the Mini Olympics at Gatorback Cycle Park. He had shown up to the event with a band of brown-skinned racers who wore bright yellow-and-red gear that had Kodak plastered all over it. They looked funny and talked even funnier. Turns out they were from Costa Rica, and it was Spanish they were speaking. We were all hanging out in the bleachers on the side of the track watching the A classes and just being kids when Ernie walked over and started hanging with us. Ricky Carmichael, already a legend at 12 years old, was sitting with us when Ernie saw him and said, Hey, its "Chubs CAR-MIII-CHAEL!" in a heavy accent. (In the days before Aldon Baker and bootcamp, RC wore "Chubs" on the back of his pants.) We just laughed and started asking him questions about what it's like racing in another country. Everybody immediately liked him.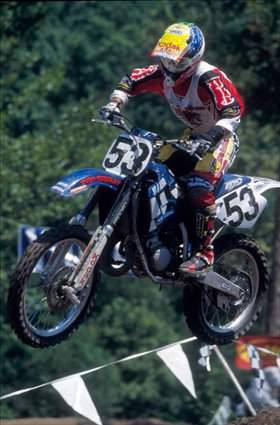 photo: DC
Ernesto made the transition from YZ80s to YZ125s in 1996. He was getting more and more help from the Buffalo brothers of BSY Yamaha, which served as his Florida base while he was racing and training there. That year he wore #53 to the 1996 125 Stock Schoolboy title with a perfect 1-1-1. In the Mod class, he finished second to Nick Wey the same year with a consistent 2-2-2.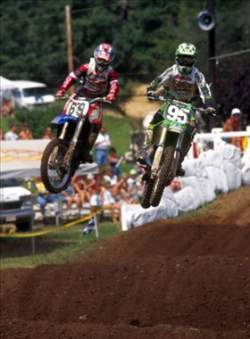 photo: Simon Cudby
Check out this picture of The Fonz racing Billy Payne wearing #69 at Loretta Lynn's! Fonzy raced with four different numbers in his career at Loretta's. The 69 was Ernesto's predominant number during his amateur career. If that wasn't strange enough, his number at the 1997 event was # 24. Anyway, Ernie would take the #69 to a third-place finish in the 125 A class at Loretta's in 1998. That's where he caught the eye of Yamaha of Troy's Phil Alderton. One year later, he would shock the supercross world.
photo: Simon Cudby
The year was 1999. Yamaha had been grooming Ernesto to be a 125cc supercross rider, and the timing was impeccable. With a major investment being put into "The Fifth Dragon," Ernesto's graduation from the amateur ranks brought him right into the 125 East. When the gate dropped at the '99 Tampa SX, the series was already over. Fonseca would win an incredible five main events that year and win the 125 East Coast championship by a landslide.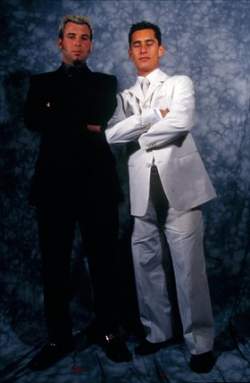 photo: Fran Kuhn
Here we have Ernesto (with his eyes closed!) and Jeremy McGrath hamming it up at the 1999 Las Vegas Supercross Banquet. The night before, wearing the #1E, Ernesto had problems in the East-West Shootout, and the win went to his future YoT teammate Nathan Ramsey. Still, the weekend marked perhaps one of Yamaha's finest hours, as Ernesto had a 125 title to match Jeremy's second of three straight 250 SX crowns for Chaparral Yamaha.
Ernesto would come into the 2000 Supercross Championship as a heavy favorite to defend his title, but it didn't work out according to plan. The title would go to a foreign rider for the second straight year, with Frenchman Stephane Roncada getting the nod this time around for Yamaha of Troy over Suzuki's Travis Pastrana.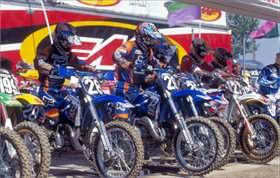 photo: Eric Johnson
Ernesto wore #1 in the stadiums but #28 in the 125 Nationals of 2000 (where, coincidentally, Pastrana beat Roncada for the title). Fonseca finished a decent seventh overall, but big changes were coming to his program and the sport in general.
The four-stroke revolution hit full song with the arrival of the first 250F machine by Yamaha, which started the whole power shift in MX with Doug Henry's 400 prototype in 1997. Ernesto was the test pilot for the bike at the All-Japan Grand Prix, and Racer X was there to give Fonzy his second cover—this time wearing #111.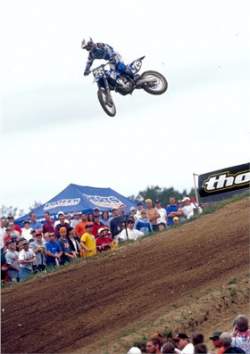 photo: Simon Cudby
Ernesto would switch to the 125 West for 2001 and become the first rider to win a 125 SX on a four-stroke, which he did at the season opener in Anaheim on the #25 Yamaha YZ250F. He went on to be the first rider to win 125cc SX titles on both coasts. As a result, he would wear #1W at the SX season-ending East-West Shootout, which, would again be won by Nathan Ramsey—wearing #28!
After that, Ernesto would ride his way into third place in the overall points, just three points ahead of Larry Ward, who also rode the revolutionary YZ250F machine, only he was riding for Moto XXX … and wearing #10.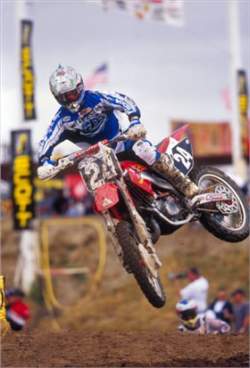 photo: Simon Cudby
Honda hired Ernesto to win the 2002 125 Outdoor Championship. While he rode his hardest, he and everyone else came up way short, as James Stewart would win the championship by a wide margin.
In 2004, Ernesto began his relationship with Answer Racing, a company that takes care of him to this very day. Ernesto went out shooting with Simon Cudby, and he landed his third Racer X cover.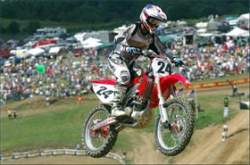 photo: Steve Bruhn
With Ricky Carmichael leaving Team Honda for the 2005 season, a vacancy was left behind for the potent factory CRF450R. After choosing to ride the CR250R in supercross, Fonseca made the move to the thumper for outdoors. To nobody's surprise, the 150-pound Ernesto would grab the first holeshot of the summer at Hangtown. Ernie would go on to have a very competitive outdoor season, battling week in and week out with David Vuillemin. It was cool to see a guy that was 5'6" and a guy that was 6'3" banging bars on 450 machines!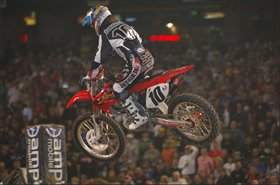 photo: Steve Bruhn
Two-thousand six would be another year of change for Ernesto. Not only would he be racing a 450 for the first time in his supercross career, but he also dumped the #24 in favor of AMA permanent #10, which had been vacated by the now-retired Larry Ward. Change appeared to be a good thing for Fonseca, as he would grab the first holeshot of the 2006 SX Series at Anaheim and proceed to pull into a comfortable lead. Unfortunately, he would go down, but it was a great effort for Ernesto and Team Honda.

But then, as you know, Ernesto's career would come to an end in early March. It's hard to find the words to describe what it must feel like for Ernesto to return to the track like he did last weekend. TFS did a cool interview with him that you can see here on Racer X Online, and Ernie sounds just like he always did: funny, positive, glass-half-full. He said he was just just happy to be at the track and watch the races and be around his old friends.

Motocross is kind of like that to all of us. The racing is very important, but the friendships you gain throughout your career are just as special. Ernesto Fonseca was one of the fastest riders in our sport, and as far as personalities go, he may be one of the greatest. His presence from week to week is missed by all, and we can't wait to have him back more often.