Welcome to something we're calling the Number Cruncher, brought to you by Shift MX here at Racer X Online. I hope you will find this new weekly feature highly entertaining, with its juxtaposition of new-school and old-school flavors. I know a lot of you out there will share my attachment to not only your own racing number, but also all racing numbers in general. For instance, have you ever spotted the #259 on an exit sign or a mile marker and thought, Hey, that's Bubba's number?

A number can be so much more than a means to differentiate competitors. I know when I was a kid, my beloved #77 was very special to me. I would always put my number beside my name at the top of my homework papers in school; if I went to a local car race, I would root for the 77 ball.

Professional motocross used to use numbers as a ranking system, and each off-season we'd wait to see who would earn what digit when the new numbers came out, or we'd even go so far as to do the math ourselves, adding up all of the points to figure out that Jeff Stanton would wear #2 in 1993, the MX Kied was #3, the headed-to-road racing JMB earned but never wore #4, and Mike LaRocco would wear #5 as a precursor of things to come.

But then, six years ago, the AMA established its semi-permanent number system (and Europe soon followed), modeled after other larger, more popular and successful sports with a mindset for advantages in marketing and rider/fan awareness. This system has worked very well for almost every number out there. The idea was to have a constant number work like the way the #23 did for Nike and Michael Jordan, or the good old #3 for NASCAR and Dale Earnhardt's legacy. The thinking was, the riders could market themselves better if they didn't switch numbers every year like, say, Doug Henry, who until the permanent system was in place, wore such digits as #19, #8, #16, #4, #15, #20, and even #1.

And that's where the rub was: Ricky Carmichael earned the #1 ten times since 2001 but only wore it for select events. And '04 AMA Supercross Champ Chad Reed never wore it, and the one time James Stewart did (Las Vegas '03 with the #1W), well, it ended badly. But that may change in 2007.

Last Saturday night, there were but three numbers on everyone's minds: RC's #4, Reed's #22, and the first number we're going to serve up through the Shift MX Number Cruncher, James Stewart's #7. When James decided he needed a change in his life and wanted start a "New Beginning" and a new number other than the #259 he's worn for his entire pro career, he could not have chosen a number richer in heritage and history. In fact, Lucky Number Seven may be one of the most recognizable motocross numbers of all time, even though it's been mostly absent the last few years. The original bad boy of American motocross, "Bad" Brad Lackey, wore that number as he chased the Europeans around the 1972 Trans-AMA circuits on his Kawasaki, earning "Top American" honors and a ticket to Europe to start racing the 500cc Grand Prix circuit. Next came "Jammin'" Jimmy Weinert, who wore that number into history in Charlie Morey's motocross-work-of-art photo that has won him acclaim since he shot it in 1974 in Ohio. We'll pick up it up with photos right there.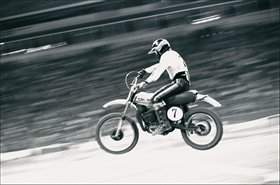 Jimmy Ellis
photo courtesy of Moto Verte
If #7 is your number, you will be proud to know that the first man to wear it to an AMA Supercross Championship was Jimmy Ellis. In 1975, the Can-Am rider from Cobalt, Connecticut, swept all four rounds of the supercross series' second year. But history does not recall this four-race sweep as a perfect season, most likely because there just weren't enough races.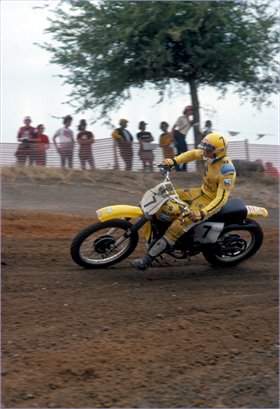 Danny LaPorte
photo: Dick Miller Archives
Danny LaPorte wore #7 in his second year as a Suzuki factory rider, but he didn't have any luck with it. In fact, in what turns out to have been the closest AMA National Championship battle ever, LaPorte lost the 125cc title to Broc Glover on a tiebreaker. Each had 240 points after the last moto, but that moto saw runaway leader Bob Hannah "Let Brock Bye" on the last lap, giving Glover the title on the tiebreaker.
Marty Tripes
photo: Dick Miller Archives
Marty Tripes was a notorious talent in the 1970s, and he wore #7 toward the end of his career. He rode for the Honda, Bultaco, Can-Am, and Husqvarna teams and so on and so forth. But Marty had some weight issues that he never beat, and the end of his career was not as stellar as the beginning, when he won the very first supercross in 1972 at age 16 years, 10 days – and that was the 250 class!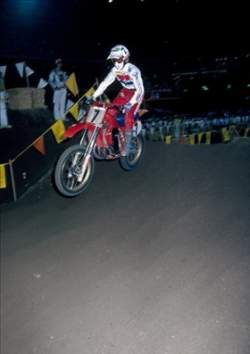 Donnie Hansen
photo: Dick Miller Archives
The next AMA Supercross Champion to wear Lucky Number 7 was Donnie "Holeshot" Hansen. He won both indoors and out in his breakthrough 1982 season with Team Honda, but in September of that year, a crash while practicing in Germany for the Motocross des Nations ended his career. He only wore #1 once, in practice at an '83 SX race, where he quickly realized he was never going to be able to ride the same again.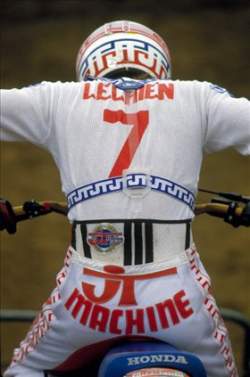 Ron Lechien
photo courtesy of Moto Verte
Ron Lechien liked being called "Machine" in 1984, but he was really just getting going on the "Dogger" persona that would ultimately be his downfall. Lechien rode the 250 class in SX and MX that year and won a single SX main (Oakland) and four 250 Nationals, but the title went to his nemesis, Yamaha-mounted Ricky Johnson.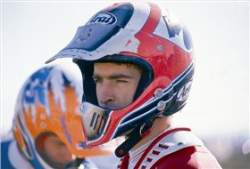 Jeff Stanton
photo courtesy of Moto Verte
After seeing the #7 worn by George Holland and Jeff Leisk in the late 1980s, Jeff Stanton took over in 1989 and, like Hansen, had a breakthrough year. When Honda team captain Rick Johnson went down with a broken wrist, Stanton stepped it up on the #7 CR250R and won both the AMA Supercross title and the AMA 250 National Championship title – the first of six titles he would win over the course of four amazing seasons ('89 to '92) before a former BMXer named Jeremy joined Team Honda.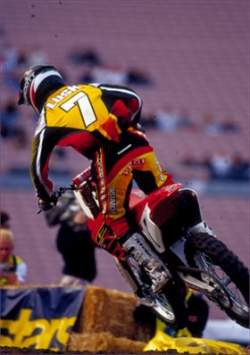 Ezra Lusk
photo: Simon Cudby
Popular heroes Guy Cooper, Doug Dubach, and
Mike LaRocco
would also run the #7 in the early 1990s, followed later on by
Kevin Windham
and Ezra Lusk. In fact, Lusk would wear the number in the last race of the last millennium: the World Supercross race at the Rose Bowl in Pasedena, in front of thousands of empty seats. But that didn't stop "Yogi," who won the race going away.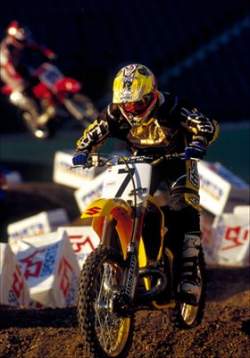 Greg Albertyn
photo: Simon Cudby
The last man to spend quality time with #7 before December of 2005 was Greg Albertyn, who snatched it up when the AMA went into its semi-permanent system at almost the exact same time that Albertyn was retiring. He wore it just a couple of times, and then it was mothballed until someone else won a title and chose it, as it had been passed over to that point by riders like Carmichael,
Travis Pastrana
,
Mike Brown
,
Grant Langston
, and
Ivan Tedesco
, who had won titles in recent years.
Finally, searching for a new beginning,
James Stewart
decided to forgo his own trademarked #259 for a new-look #7. He started with three straight wins in World Supercross and AMA Supercross (Anaheim 1) before he started having some first-turn trouble and mid-race staying power. But as the supercross season wound down, Stewart showed that he now owns this number, winning the last six SX races of 2006 going away and taking the 2006 Amp'd Mobile World Supercross title from
Ricky Carmichael
—the one title, we must not forget, that Ricky failed to successfully defend. Now James has a choice in 2007: Lucky Number 7 or an FIM #1. What will he do? Guess we'll find out in Toronto come this December!
Got a number you want us to crunch?
Letters@racerxill.com
.