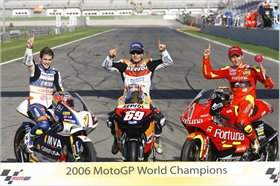 photo: Andrew Northcott
Welcome to the Shift Number Cruncher! With last weekend being one of the biggest weekends American racing has experienced since, well, the Motocross of Nations, we decided to throw a nod to the entity that made it so special.
Unless you've been hiding on a very big rock, you knew that the last round of the Moto GP series went down to the wire this past weekend in Valencia, Spain. America's very own
Nicky Hayden
rode into the event with a faint hope of capturing his first World Championship over the great Valentino Rossi. While this fact alone should have been enough to have every two-wheeled enthusiast salivating at Nicky's opportunity, the horror of the penultimate round was what captivated the nation. That's where Nicky was cleaned out in the opening laps by his teammate Dani Pedrosa and the modest lead he had built over five-time defending champion Rossi vanished faster than the paint on the side of his Repsol Honda as it slid off the track.
But last weekend, Nicky chased "The Doctor" into the final round facing an eight-point deficit. At the conclusion of the weekend I was relieved to find out there really is some justice left in the world: Nicky won! Nobody deserved to lose a championship the way Hayden just about did. He is the 2006 MotoGP World champion, and number 69 is the most popular number in America right now.
With that in mind we decided to dedicate this week's Cruncher to Nicky's number. And along the way we discovered that the interesting number carries a surprising amount of greatness.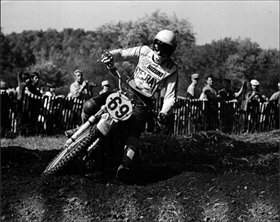 Roger DeCoster
photo: Dick Miller Archives
Here is "The Man" himself, racing with number 69 during the Trans-AMA Series of 1974.
Roger DeCoster
had lost the 500cc World Championship to his fierce rival Heikki Mikkola that year, but he began his rebound with a win in the old fall classic that crisscrossed America. He would return to Europe and add two more 500cc world titles, giving him an even set of five.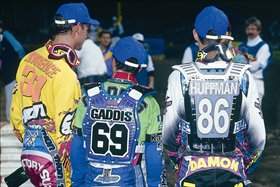 Jimmy Gaddis
photo: Courtesy of Moto Verte
Jimmy Gaddis
was one of the fastest minicycle racers in the history of the sport. His battles with his R&D teammate, Buddy Antunez, are stuff of legend. One year I watched them take each other out at Ponca City and hand the Grand National Championship over to Jeff Emig! Afterwards the two factory Suzuki stars went all fisticuffs in the pits.
While Jimmy made a ton of headlines in his minicycle days, I think he is most popular for his 1993 125 West Coast Supercross title. He was able to accomplish this feat by only winning one round of the series (Houston) and along the way he faced a miserable defeat at Seattle after claiming, "I came here to kick butt and chew bubble gum. And I'm out of bubble gum." Later that evening he went down while leading. But he soldiered don to claim victory in his hometown of Las Vegas Nevada, running the 69.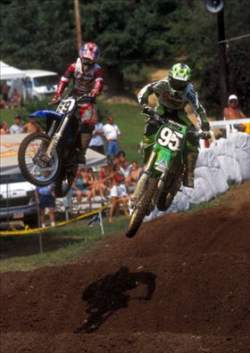 Ernesto Fonseca (69)
photo: Racer X Archives
With number 69 being such a cool number it's only fitting that "The Fonz" himself raced with it. Here
Ernesto Fonseca
battles with
Billy Payne
at Loretta Lynn's in 1998. Ernie would go on to finish 3rd behind Matt Walker and the aforementioned Payne.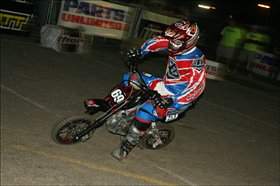 Jason Berry
photo: Jason Weigandt
Jason Berry
is our advertising representative. "JB" has spent some time as a pro BMX rider in England and knows where the throttle on a motocross bike is. Although, his primary passion has to be World Cup soccer, in which regard he is still smarting from Team Manchester United's crushing defeat.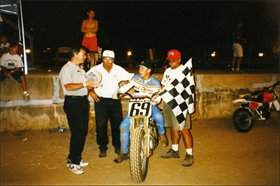 Nicky Hayden
photo: Courtesy of Honda
I told
Road Racer X
's Chris Jonnum about my plans for the Shift Number Cruncher this week and he had this to offer:
"Although the number 69 has obvious sexual connotations, Nicky Hayden actually chose it because his dad, Earl, used to run it. Earl, in turn, jokes that he ran it because he crashed a lot, so he chose 69 because you could still read it when the bike was upside-down. Although Nicky's brothers, Tommy and Roger Lee, now run numbers 22 and 95, respectively, both used to run 69 along with Nicky back when they were amateur dirt trackers, as did sister Jennifer. Apart from all wanting to emulate 'Squirrel,' their reasoning was that if one of their many race bikes broke down before a race, they could just grab one of their siblings', which they sometimes did. Now that he has won the world championship, Nicky will be trading in #69 for #1. Honda had a press intro for their new 800 on Monday night in Valencia that I attended, and the bike had #1 on it."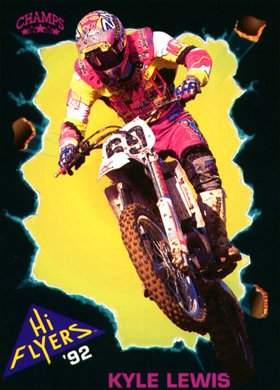 Kyle Lewis
And believe it or not, DC just received a package today from his long-time friend Kat Spann, which contained a 1992 Hi Flyers press kit. When he opened up the folder,
Kyle Lewis
' 1992 Hi Flyer card lay on top. Now that's serendipity.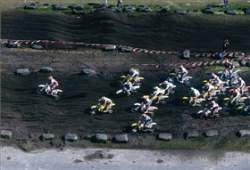 Here Kyle Lewis charges through the Daytona hoops
photo: Courtesy of Moto Verte
Check out some other guys that have raced with the big six-nine:
1998:
Pedro Gonzalez
1996:
Carlo Coen
1991:
Lance Smail

1990:
Doug Henry

1989:
Kent Howerton
1988:
Ron Dunfee

1986:
Loch Names
1984:
Jeff Schumacher
1983:
Rodney Smith


If you have anything to add on these guys or have some more number 69s that you know of, be sure to e-mail me at
andy@mxsports.com
and we will throw your contribution into the Number Cruncher Redux.