Racing numbers are very powerful. We attach so much to the numbers we stick to the sides of our motorcycles, and while some have brought glory and good fortune, other numbers carry an ominous burden of sadness and disappointment. The motocross industry is still reeling from the heartbreaking news of Marty Moates. We don't have very many full-on heroes in our sport, but Marty was one of them. It is in his honor that we devote this week's column to the number he made great - though to be honest, in the research (with help from DC and Scott Wallenberg), we discovered that a dark cloud has emerged often to loom over # 23. Though the ill fate didn't come when the guys wore the number, it ties their stories together through motocross history.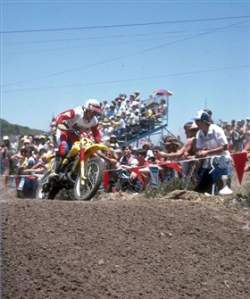 Marty Moates
photo: Dick Miller Archives
Marty Moates
wore the #23 on the greatest day of his motocross career. You've heard folks talking about since last Friday, but to reiterate, June 22, 1980 was a pivotal day in motocross. It was two years before Brad Lackey became the first American to win a world championship, and a full year before Team USA turned the motocross world upside down at the '81 Motocross des Nations. Moates' win was truly a moon shot for American motocross, as he beat the European MX gods in a Grand Prix race on national television. Marty's win, on a privateer LOP Yamaha, signaled the beginning of the change in global motocross fortunes that reverberates to this day.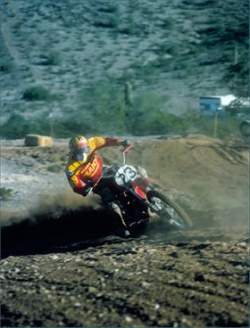 Gaylon Mosier
photo: Dick Miller Archives
Before Moates' triumph with the 23, it had been around tragedy.
Gaylon Mosier
wore the number in 1976 while racing for Wheelsmith Maico. Mosier was a well-liked, highly respected racer who had a big smile off the track, a fierce demeanor on it. He won AMA Nationals on a 125 and 500, and SX mains in both the 250 and Open class. But in 1979, Mosier was tragically killed while riding his bicycle while training in New York near
Unadilla
.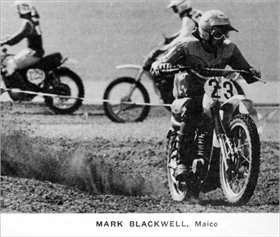 Mark Blackwell
photo: Racer X Archives
Going back to the olden days of motocross, the 1971 AMA 500cc National Champion (based on being "Top American" in the Trans-AMA Series) was a man named
Mark Blackwell
. A class act if there ever was one, he rode for the Husqvarna factory team and, for winning, he got to go to Europe as a bonus. After winning the '72 Daytona SX in the 500c class, he left for the Grand Prix Series, but in one of the early rounds he was hit in the eye with a stone and lost his sight in that eye. Mark eventually got his sight back, but he remains colorblind to this day. He tried to make a comeback, and he's shown here running the #23 at the Daytona Supercross in 1974. While Mark's racing career would be cut short by his vision problems, he's still involved in motorcycles; today he's the main man at Viking Motorcycles, a cruiser-bike builder.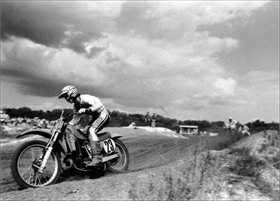 David Bailey
photo: Dick Miller Archives
The #23 has to be a very special number for "The Little Professor." In 1982,
David Bailey
rolled from Kawasaki's box vans over to the box vans of Team Honda to begin to fulfill his destiny. He was tall, skinny, wore Fox gear, and just flat-out flew! The following year, Bailey would begin wearing JT motocross gear, and the championships followed in short order. When you look at this picture, from the '82 St. Petersburg National at Cocoa Beach, it is hard to fathom that in just four short years, his racing career would all be over. Fortunately, his life as the Icon was really just getting started.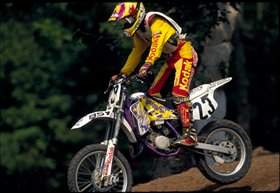 Ernesto Fonseca
photo: Racer X Archives
I know I am not alone when I mention that what happened to
Ernie
still haunts me. I was lucky to know "The Fonz" since his days riding a YZ80 with the Kodak gear, like when he was #23 at Loretta Lynn's in 1995, racing against
Travis Pastrana
on 85cc minicycles. You never saw a guy smile bigger or heard a guy laugh harder in the pits. While the world is lucky that it still gets to see him smile, it's a tragic shame that we cannot watch him race anymore.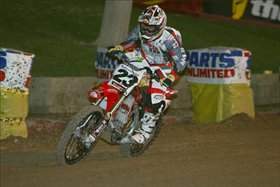 Kyle Lewis
photo: Steve Bruhn
The #23 now resides with
Kyle Lewis
, and even though he has the nickname "Lucky," Kyle has not been devoid of serious heartache and misfortune in his racing career. Lewis was the man in the mid-1980s as he scorched the mini classes on his KX60s and 80s, and later CR80s, wearing Fox motocross gear and running my beloved # 77. Kyle's first professional series was the 1987 West Region Supercross series. His first win would come at the San Diego Supercross, but the race was marked with tragedy instead of triumph: Kyle's father passed away from a heart attack while Kyle was on the track racing. (Coincidentally, this horrible event was only two weeks removed from David Bailey's accident.)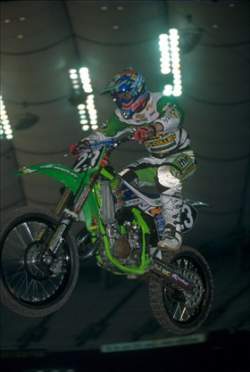 photo: Jim Talkington
Fortunately, #23 hasn't been too bad for
Nick Wey
. The number was good to "Nyk" as it adorned the sides of his number plates when he won his first outdoor national. The only unfortunate thing to emerge from Nick's career is the unbelievable tendency the factories have to look past his name when they announce their lineups. It makes absolutely no sense that there is not enough room in our sport for
Nick Wey
to have a factory ride.
Beyond all that, Denny Stephenson twice earned the number (in '91 and '93) and enjoyed success, although he did begin his nasty string of broken wrists wearing the digit. Jo Jo Keller raced with the 2-3 in 1983, and then Kenny Keylon took over in 1984. On down the road a little ways in 1986 came a hard-charging rider from Michigan named Eddie Warren, who used the number to be rookie of the year and win a couple of 125 Nationals. Ron Tichenor earned the number for the first of two times in 1988, then the spectacular Micky Dymond wore it on his trick 1989 factory Yamaha when he had the wolf on the back of his Troy Lee helmet and that bad-ass black and pink Answer gear.
Current Kawasaki Team Manager Mike Fisher ran #23 in 1990 and raced a Kawasaki. Jeromy Buehl held on to it in '94, then his former Peak Antifreeze teammate Brian Swink raced with it in '96. And finally, I bet a lot of you out there didn't know that Mike Kiedrowski is a member of the 23 club too. Mike earned the number for the 1998 season, which he didn't compete in.
If you guys have any other 23s out there, hit me up at andy@mxsports.com and I will throw you in the Redux.