San Diego, CA
San Diego
Monster Energy AMA Supercross Championship
Like at the opener of Monster Energy AMA Supercross two weeks ago in Anaheim, a lot of stars had their chance to shine at the second race of the series in San Diego, but in the end Eli Tomac overwhelmed them all. One by one, the contenders made their mistakes while Tomac remained steady, methodically working his way to the lead after an average start. His final pass was on Cooper Webb, who was once again game after his strong runner-up ride at Anaheim. Once Tomac had the lead, it was time to strap it to go the distance, with Webb's late-race craftiness versus Tomac's mega-fitness. While Webb threw a lot at him, Tomac stayed steady to hang on for the win, marking the first supercross held at the new Snapdragon Stadium.
"To be honest I never had good results at [previous San Diego stadium] Petco [Park], I always struggled on the tighter floor and tighter layout," said Tomac. "We had a good racing surface, dirt was nice, and yeah it was another good one for us. Honestly we've just been chasing practice tracks to find in California, we did time in the high desert or in Hemet, or just some mud days in Corona. Feel like we've been practicing mud for six weeks, so it's nice to be on a good surface."
Tomac might be better than he's even been, which is a scary thought considering he's already the defending champion of the series. Webb, though, is there to provide the challenge, logging a solid ride to prove Anaheim 1 was no fluke.
"I got off the start which was really key and was able to lead some laps which was cool," said Webb. "Eli was riding really good and I tried to latch on, I feel like our pace was pretty strong. I made a few mistakes in the middle, then I tried to make a run through the lappers, it was really hectic. I think, overall, I'm really happy with the way the season has started.
"He just kept me honest the whole time, and I knew that was going to happen," said Tomac, who stretched the lead to about 3.5 seconds at one point, until a big mistake and some traffic allowed Webb to close it back to about 1.5 with two laps to go. "A couple of those guys, they were just battling the whole time, especially in the bowl turns. That's just the way it goes sometimes, especially when you're in the front, man. It keeps you on your toes, especially when you know he's right there."
"He missed one rhythm due to a lapper and that helped a lot," said Webb. "But then he definitely dropped the hammer there. It's tough, we're both racing hard but they're racing too and maybe one lap they don't get out of the way. It's almost like a battle within the battle. I maybe pushed hard at the end where maybe I should have pushed in the middle."
Now, remember what we said about contenders making mistakes? Malcolm Stewart crushed his heat race and looked like, again, he could emerge with his first-ever 450SX win, but instead he crashed twice and finished 15th. Chase Sexton had a big crash in the whoops in his heat, recovered to win the LCQ and somehow get a good start in the main, only to get knocked down by Justin Barcia. Jason Anderson was running third at the halfway point and keeping Webb honest, but then he crashed in the mechanic's area, and it took a long time to get his bike going again. A sure podium turned into a disappointing seventh. The final podium fight came down to Barcia and Ken Roczen, and they dueled. At one point Roczen put his new Progressive/Ecstar Suzuki ahead of Barcia, but Barcia fought back down the inside of a bowl turn. Roczen kept it close but couldn't fine a way back around, settling for fourth. Sexton, after his knockdown from Barcia, got to the Roczen/Barcia battle, but wasn't quite close enough to make a move.
For Barcia, third was a huge rebound after his Anaheim 1 disaster, which included two crashes and an 11th.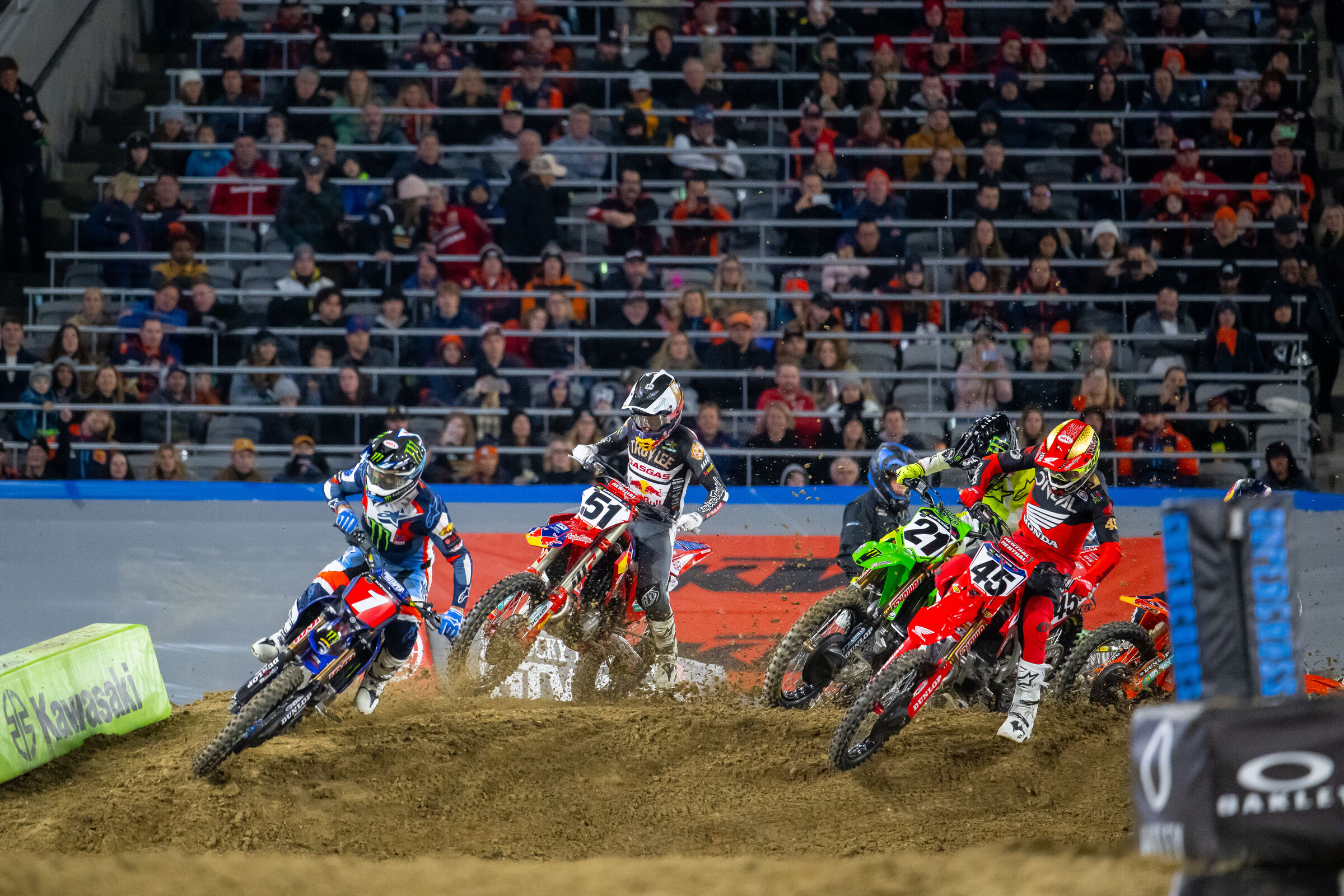 "For me the new bike has been great, it's very easy to make small changes and adapt to the tracks," Barcia said of his new-generation GasGas. He laments making too many bike changes at Anaheim 1, and now he's gone back to his basic setup and didn't make any huge changes. Anaheim, that was a weird one, tricky track, was just off all day. It's good to have a good result, there was a lot of pressure the battle was intense. I felt like I didn't breathe the whole raced, I was super tight. I rode well but not as well as I'd like to, Cooper and Eli pulled away. Kenny made a pass on me, I was able to get back by him. I think some of the guys behind me were jumping whoops, I blitzed the whole time. And we got into lappers quick. Kenny was stoked on it, we talked about it after the race and he was happy."
Roczen's fourth was followed by Sexton's fifth.
"I didn't know he was right behind me," said Sexton. "I mean, he took me clean off my bike. Not ideal. I feel like I rode okay, lap times were good, and from where I was at on the gate (from the LCQ) I was stoked on my start. Wasn't a great night."
Dylan Ferrandis was up in the mix early with a decent start, but he didn't quite have the pace of those ahead of him, he took sixth. Anderson recovered from his crash for seventh ahead of his teammate Adam Cianciarulo, who holeshot the main, rode well leading a few laps, and then hung on. Aaron Plessinger and Joey Savatgy rounded out the top ten.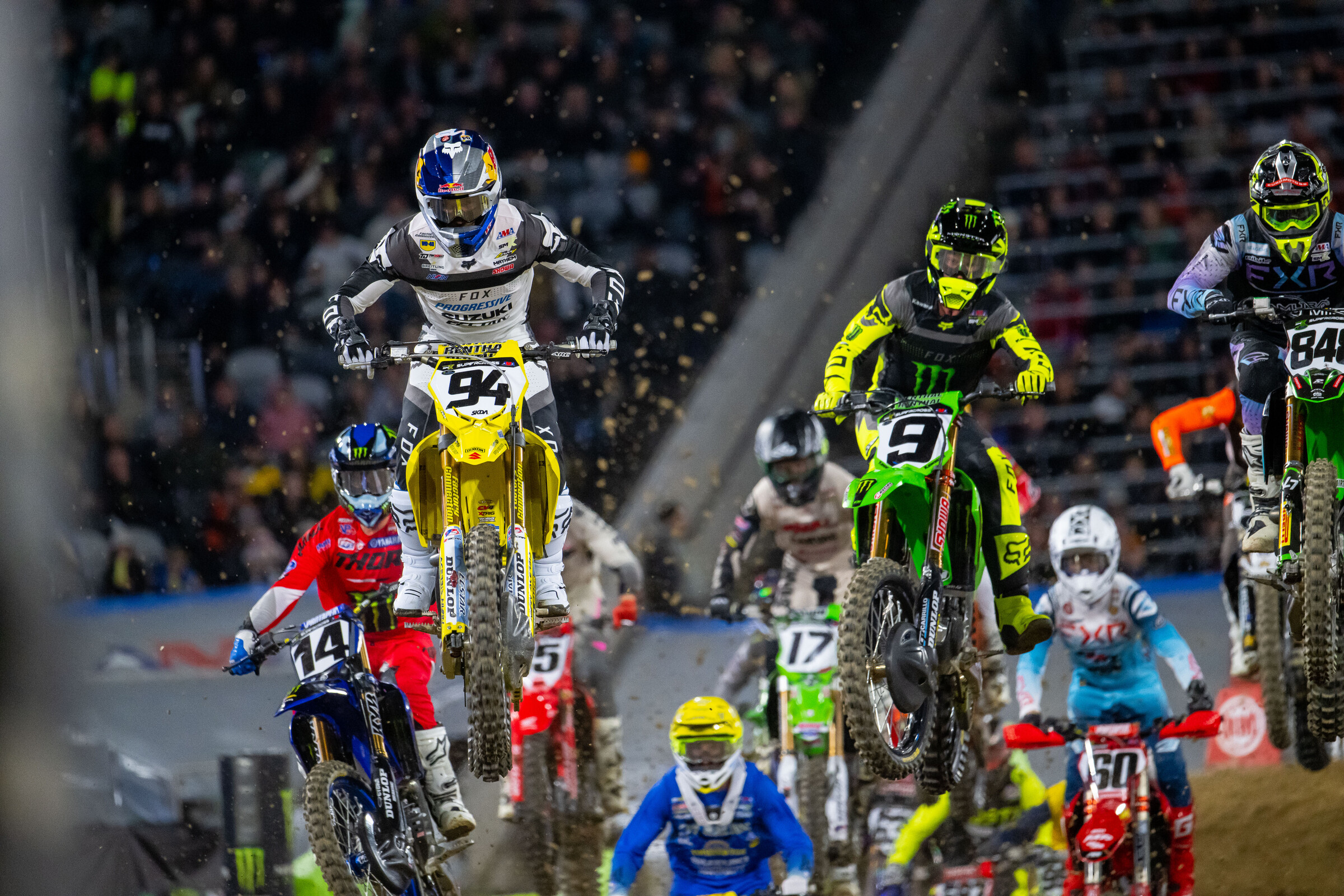 In the 250 class, there were few surprises, as the podium was a mirror of the Anaheim 1 race, with Jett Lawrence leading every lap, and then Cameron McAdoo giving chase until he made a mistake. With that, McAdoo tighetened up, and RJ Hampshire pulled through for second. It's the same podium as Anaheim 1.
"The track was very unpredictable at Anaheim. This track was a lot easier," said Lawrence. "At the start it was trickier because there were deep ruts, but as the night went on it got harder. This time I was able to ride a little bit faster, at Anaheim you were just trying to almost trail ride, just to get around. We were able to do the normal speed, and I had a blast."
Hampshire was more than happy to take second after a big crash on Wednesday that hurt his head.
"Yeah, beginning laps weren't that great for me, and Cameron was pulling me. I had a long week so I was thinking third was all I had. Then I had a line…..he ran into a couple of lappers. I was just clicking them off. To have back to back podiums, I'll take it."
McAdoo, of Monster Energy/Pro Circuit Kawasaki, was bummed to have made the mistake that opened the door for Hampshire.
"With three laps to go, similar thing as Anaheim, I made a pretty big mistake and I got arm pump," said McAdoo. "Honestly arm pump is not something I usually struggle with. That's on me, I need to make sure I hit my marks. I know what's causing it, I clipped a tough block and it sent me forward. I need to eliminate those mistakes."
Enzo Lopes was very good again on his ClubMX/Muc-Off Yamaha, he took fourth after a good start. He and his teammate Phil Nicoletti were second and third off the start behind Lawrence. Enzo rode well, not quite enough to hold back McAdoo or Hampshire, but it was good. Pierce Brown was challenging him, but he crashed, and had to settle for fifth on his Troy Lee Designs Red Bull GasGas.