Anaheim, CA
Anaheim 1 (A1)
Monster Energy AMA Supercross Championship
Our man Filthy Phil Nicoletti is back in action! The crowd was loud at Anaheim, but Phil kept it quiet, methodically clicking off laps en route to a solid eighth-place finish in the 250SX West main event on his #69 Muc-Off/FXR/ClubMX Yamaha.
This means Phil did more than any of the rest of us did: he actually raced Anaheim. With that knowledge, he's ready to answer your questions.
Got a question for Phil Nicoletti? Send it to Phil@racerxonline.com.
(Note: Some questions have been lightly edited for clarity.)
During one of the Racer X preview shows they were talking about [Dylan] Ferrandis needing to get a good start if he is going to do well. But he never has, he just doesn't. I don't understand why somebody can't just teach him how to get a start?
Stan "The Stump Grinder"
Teaching someone how to get a good start is like teaching me how to jump a quad in the middle of a rhythm! Either you got it, or you don't. And let me assure you, when it comes to quads, I don't have it! Starts seem so basic, but it's a hard skill to master. I don't care if you're [Eli] Tomac. Nowadays there is a fine line with 450's power on starts. You have to find the sweet spot with the right throttle position and RPM and to then match that to the grate, and the tacky dirt or slippery dirt in front of it. With the grate, it takes away a lot of skill IMO. It's much, much more consistent than dirt. The only way the grate really changes is if it's super wet. But for Ferrandis, it been quite common to come from the back of the pack, and obviously for the outdoors that is much easier to do with the time. If you start 10th in a supercross, you are already eight seconds behind by the end of the first lap. For him, it's going to be really hard to pass people, and make up that eight seconds when you're battling those gnarly guys. You can practice starts all day long on a Tuesday and feel dialed, but to execute that exact system Saturday night is extremely hard.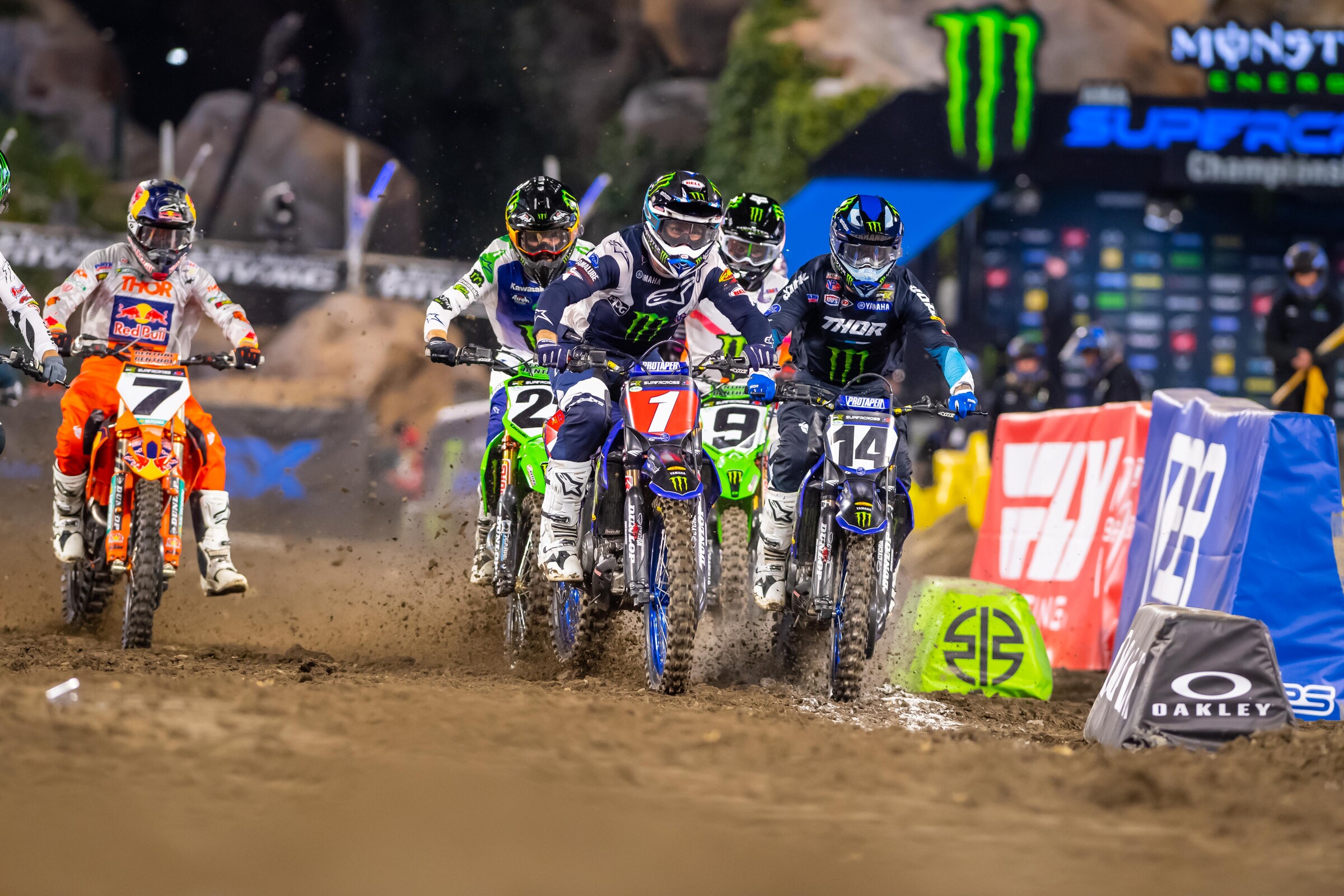 Hey Phil, something here reminds me of being in jail, 30 years ago for a bag of weed (different world now). They always wanted you to pick up some new skills so there would be less of a chance of going back there. Being a construction worker, of course, I got put in the laundry. Kind of working against your skill set, right? Well, you're from the east, your facility is on the east coast, that's where your skill set is....so you're racing west? Makes perfect sense! Comparing it to jail may be a bit of a stretch, but we all know how you hate California, so maybe not! Team dynamics and all that, blah, blah. I …get it, I just wanted to get the filthy take on that. Good luck!
Roostzilla
Actually, nowadays, east and west coast don't vary as much as it used to. The dirt across the board from stadium to stadium is much more similar than it used to be when I first turned pro, and even back in the late 90's early 2000's. The tracks are more east coast like IMO. West coast does really get rutted up pretty gnarly. It might not look like it on TV at times, but if you were to walk it after the race, you'd say HOLY SHIT. The Denver SX last year actually had some of that stereotypical west coast SX. But now, that to me is more of a myth, because you rarely see it. The dirt quality of the stadiums are really good nowadays.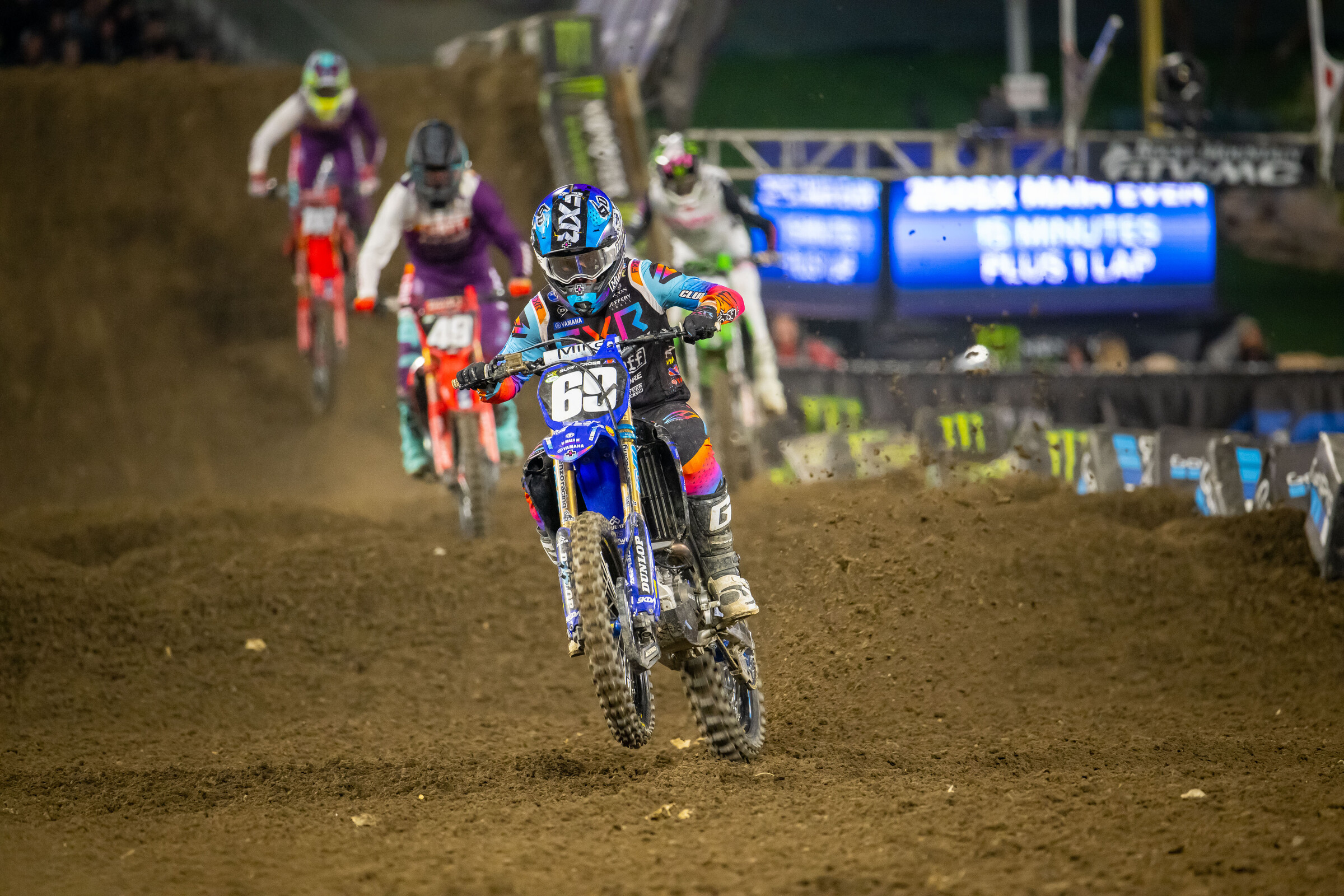 Phil,
Okay seriously practice times on Saturday were not good. You really picked it up for the night show, maybe all of your friends telling you it's time to hang it up helped light the fire. Negative re-enforcement, I guess. Anyway, qualifying a solid 21st didn't give you a good gate pick, but then I caught you cruising down the start straight in your heat, dead last. Then you just went inside and passed like 15 riders in the first turn! Take me through this strategy and are you just gonna take 21st in practice each week and make this move in every heat race?
Weege
Practice was absolutely miserable. I've been in the game for a long, long time, and I've been through that feeling plenty of times before. I'm an over thinker, and in practice I over analyze. I hate it. But I just have to remind myself that when the gate drops, I'm a racer. So I had a bad gate pick for the heat races, like you said. The split start sucked, and was quite unfair, but I qualified so bad anyway, I didn't deserve a good spot. I started way in inside, and my jump was so-so and the guys on the right side got the edge on me. I didn't want to force an issue, especially because the 250 guys don't really think all that well in the first two or three corners. So I just sat back and looked for some holes. It worked, I got inside and ended up getting out decent. In the main, I executed the start much better. I started on the outside because I wanted some more room to move around in case I ran into some trouble or guys went to brain off mode in the first corner. I found a hole and came out around fourth or fifth. I wasn't doing some of the rhythms and that's on me 100 percent. But I didn't give AF! I just did what I needed, and rode the track as hard as I could, even though I was giving up a lot of time. Kitchen was doing the rhythms in front of me, and Robertson was doing them behind me, but I didn't care. I set into my pace and did what I could for the whole main without giving up eighth place and crashing back to 18th because of something stupid. I'll take it. As for the qualifying, the track had me a bit spooked, and I didn't want to throw the season away, going for a one second faster lap time at 2:35pm when the main event was at 8:50pm.