Pierce Brown, Austin Forkner, Malcolm Stewart Updates Following Anaheim 1 SX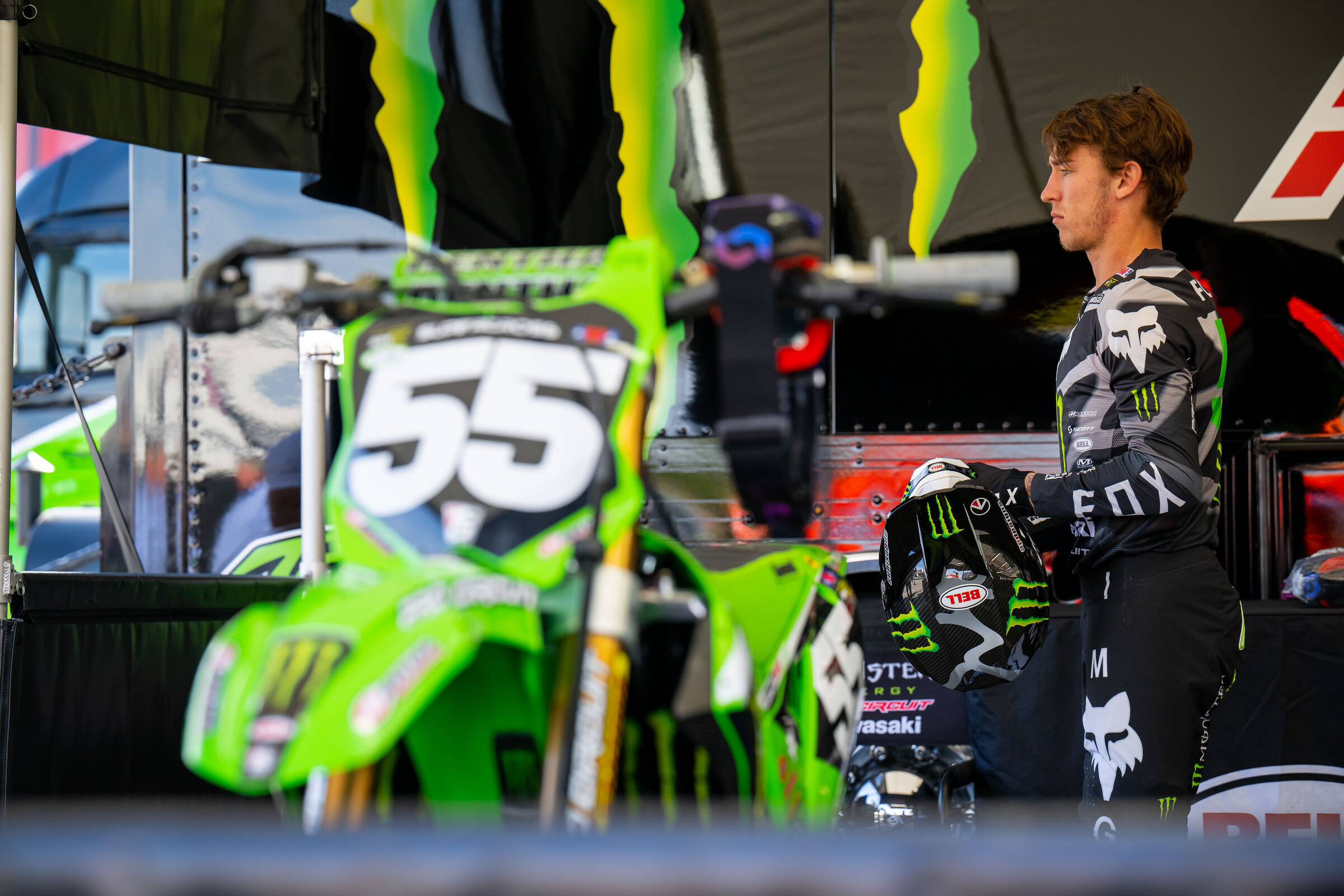 Anaheim, CA
Anaheim 1 (A1)
Monster Energy AMA Supercross Championship
The opening round of Monster Energy AMA Supercross took place last night and the Anaheim 1 Supercross delivered some great racing all night long. However, a few riders suffered crashes. Factory 250SX riders Pierce Brown and Austin Forkner and 450SX rider Malcolm Stewart were three athletes who suffered separate crashes last night. Today, we have some more information on all three riders.
Pierce Brown went down in the second turn of the second 250SX heat race when he scrubbed hard jumping into the turn. He hit the ground hard and did not remount, as he was sidelined for the remainder of the night. The Troy Lee Designs/Red Bull/GasGas team said the following about Brown in the post-race release sent out early Sunday morning:
"Pierce Brown started off the day on the gas, qualifying in the third position. But a hard crash in his heat race proved to be the end of his evening. After being seen by the Alpinestars Mobile Medical crew, he was transported to a local hospital for further evaluation. The good news is that he's already been released, and is headed home."
Kellen Brauer was one of our guys on the ground at the race and spoke to new team manager Max Lee following the end of the night show.
"Max Lee at TLD GasGas said that Pierce has a bone contusion in his tailbone. Might not be ready for Oakland but said nothing was broken and he'll be back soon"
Max Lee at TLD GasGas said that Pierce has a bone contusion in his tailbone. Might not be ready for Oakland but said nothing was broken and he'll be back soon

— Kellen Brauer (@kellenbrauer) January 8, 2023
This morning, Brown himself took to his personal Instagram to provide an update.
"Update from last night: all goodnight nothing broken Be back soon"
"Rider error cost me the night. Thankfully came out with no serious injuries just gonna be sore for a little bit. Past behind us onwards and upwards from here📈"
Austin Forkner, who suffered a wild crash off the start of the 250SX main event, has yet to provide an update himself, but the Monster Energy/Pro Circuit Kawasaki team said the following this morning in its post-race recap:
"Like McAdoo, it had been three years since Forkner lined up for a race in Anaheim and showed his excitement with a great qualifying lap that put him on top of the board. The pole position had him in the same heat as his teammate, but Forkner had to work through the pack after a small mistake in the opening laps. He would regain the positions to finish third in the heat race.
Forkner was lined up to the inside of his teammate, but didn't get the jump at the gate drop and trailed McAdoo down the start straight. His wheel ended up getting tangled with another rider and the impact caused a crash that forced Forkner to sit out the main event. He will be getting further evaluation from his doctors this week to determine if he can line up for Oakland."
We will provide more information on Forkner when information becomes available.
You can watch Forkner's crash in the highlights video, provided by Monster Energy Supercross, below.
While running third in the 450SX main event, Malcolm Stewart suffered a crash on an on-off tabletop where it appeared he hit neutral jumping off the tabletop. Stewart was able to remount before officially finishing 22nd. Luckily, Stewart said in a statement provided by Husqvarna that he is okay after the crash.
"The day started out pretty slow. I didn't really ride that well in practice and the track was pretty tough, but I got to a point where I was like, 'You know what? I just need to turn this dayaround,' because I felt like I work too hard to get to this point. I got a decent start in the main event, and just did the best I could. I started riding, clicking off laps, making some good passes, and smart choices. I was leading the main for a while, which was amazing. I don't think I've done that in my whole entire career. Just having all that pressure and dealing with it, if anything brings confidence to me because I know where I belong. I'm very proud of myself. Unfortunately, we did have a crash with three laps to go. It was a big crash for sure. I'm glad that I'm healthy and walked away from it, so we live to fight another day and I'm more proud of myself because of how my day was going and me turning it around and going like that, and doing what I'm supposed to do just brings more confidence for me. I'm looking forward to Oakland."
Stewart's crash can be seen at the 1:42 mark in the 450SX highlights below.