Detroit, MI
Detroit
Monster Energy AMA Supercross Championship
A few days prior to this past weekend's Detroit Supercross, privateer Logan Karnow posted on his Instagram that he had lost support from his title sponsor Motozone and asked the motocross community for some help to keep his program going. Karnow explained in the video that his sponsor had "cut all ties" with him and shut off his credit card that was paying for his flights, hotels, and expenses to get him to the races. Motozone later took to social media on Friday and again on Saturday morning explaining Karnow had breached their contract and that "Due to confidentiality reasons we cannot disclose the details of this breach." Karnow found out later in the week that they were working to repossess his bikes leaving him without anything to ride this weekend in Detroit.
The motocross community stepped up huge by donating enough money for Karnow to head to Kennedy's Cycle Shop in Elyria, Ohio, on Friday morning and purchase a KX450 off the showroom floor. Amazingly, Karnow then rode his way into his third career 450SX main event at Detroit and earned a career best finish along the way! Before he did though, we caught up with him just after qualifying on Saturday to hear his side of this whole situation.
Racer X: Let's just first talk about your season. Started off with a bit of a slow roll in the 250SX West division but then you got the ninth at Anaheim 3 and then you made the main in the 450SX class at Arlington. Just kind of summarize everything so far and how you're feeling.
Logan Karnow: Yeah, I'd say it's been a pretty good start to the season. I've made every 250 main aside from the one. I had a pretty big get off at San Diego, but other than that, I'm pretty happy with my season. That ninth was good, making my second ever 450 main event was huge. And then yeah, everything's kind of come downhill since then and I'm sure we'll get into that in a second.
Yeah, well let's just briefly talk about it. You came out this week on social media and explained you had a situation come up with your title sponsor and you were looking for a little bit of support and help. Kind of talk us through what you had heard and when maybe things started to fall through?
So, basically everything was going good the first few weeks of the season and then we started running into some problems right after I had that good ride in the 250 main event with the ninth. My team owner went MIA on me for about a month, hadn't heard nothing, and then I woke up on Tuesday to all these false accusations. I can't explain details having lawyers involved but there's a reason previous sponsors still want to do business with me. It's because I'm always very thankful to my sponsors and I appreciate every dollar I am given. There's a reason that Julien [Perrier] at PRMX wants me back. I'm very smart with my business and for this dude to try and accuse me of all this stuff freaking sucked. Basically, took my transport and my bikes, so I ended up driving home and trying to figure this stuff out. I went to my local dealership yesterday and they gave me a great deal on the bikes. Kennedy's Cycles in Elyria, they hooked it up. With all the support I've gotten, it paid for that bike and then some! It's amazing to see all the support I have in this industry. I can't thank everybody enough. They're going to keep it going for sure.
Like you said, the support has been overwhelming since you put out that video. Who's reached out, how have people helped out, and how much money has been raised so far?
A lot! A lot of money has been raised. [Laughs] Pretty much to where I can get two bikes now. I've had a lot of people send me money that I didn't even know they knew who I was. I mean, the Team Fried guy [Tom Journet] sent me money, Aaron Plessinger actually texted me, a lot of people in the industry who I really didn't even know that they knew who I was. Yeah, it's crazy. Everyone's coming together for me and, yeah, it should be good!
We know moto has always been a family sport, but how reassuring of that vibe has this whole experience been? Obviously, it sucks you've had to go through this, but you've had so many people come up and offer support. I'm sure it's kind of rewarding in a sense.
Yeah, it's humbling really. When I made that post, I was like, "Man, if I can just get enough money to at least get me to the next few races." At that point, I didn't know I was losing my bikes. I didn't know I was losing my bikes until Thursday. That's why we were at the dealership on Friday morning. And this is my local race too so I was like, "I can't miss Detroit! Whatever I gotta do!" So, I personally bought my own bike. First time in my life I've actually owned a dirt bike. I've always rode for Kawasaki teams and stuff that made sure I personally had a bike like PRMX and the Madd Parts Kawasaki team. It's been a crazy 72 hours to say the least but we're here and hopefully if we make the main event tonight, it will be a nice little "F you" to you know who. [Note: Karnow did make the 450SX main event in Detroit and picked up a career best 15th as well.]
Tell me about the plan moving forward. Did the money that was raised make it possible now to continue for the rest of the series and what is your expectations for bikes and the program you'll be able to do going forward?
It's definitely enough to keep me going for the year. It's overwhelming like I said. So, I got a 450. The 250, it's going to be hard to buy a 250 and get a motor and, you know, 14 days from now I've got to be racing in Seattle. I've been talking with Julien at PRMX. I think he's going to let me rent a bike, so I at least have a bike to race. I might end up at South of the Border next week so I can try that out. Not to ride for him, because I have a lot of personal sponsor deals and I can't do that, just let me use a bike and hopefully everything works out. I think it will.
What sort of feedback have you gotten from the sponsors that are with you still? Have they reached out and what have they said, or what have they maybe tried to do to help you along as well?
Yeah, damn near every sponsor that I have reached out and asked me if they could do anything. I hate asking for help. I hate accepting money from people. So basically, all my sponsors that asked, I said, "Don't even worry about it." I've raised plenty enough money so I can keep racing, so we'll see. Hopefully I can make some money on my own and go from there.
Back to the racing side of things, it's been a pretty decent season like you said. What kind of goals are you putting on yourself to maybe find that next step?
Well for 450s, I think the 450 class is getting a little bit weaker. Some guys have gotten hurt and stuff so it will give some privateer guys a chance hopefully to make a couple 450 main events. In the 250 class, I think top 10 should be the goal. I kind of got lucky. Some guys crashed and stuff that night, but I felt like my riding was good. To be 8-12, I don't think that's unrealistic for the West Coast.
Is that the goal that you had set yourself in West coming into the season and you achieved it, or did you exceed your goals with getting that ninth?
I would say I definitely exceeded it. I think last year my results were very good because East Coast was very weak last year. Coming in, I wanted to at least be in all the main events and go from there to try to get top 15s and stuff, which I did. Yeah, top 10s are the goal now after getting one.
Tell me a little bit about your training program this year. Where have you been riding, who have you been working with, and how has it been going?
So, I have a trainer, his name is Daniel Loub. He actually trains with Peter Park. He actually interned with him and then got a full-time job out in Santa Barbara. So, he's been a huge help to my training program. My offseason was spent with Bubba Pauli, Joan Cros, and Preston Taylor. I was riding at his track for the whole offseason. I rode for his team last year and I think that goes to say that I didn't do anything wrong on this previous deal because my previous teams are just here to help me. So, I think that shows that I'm good with my sponsors.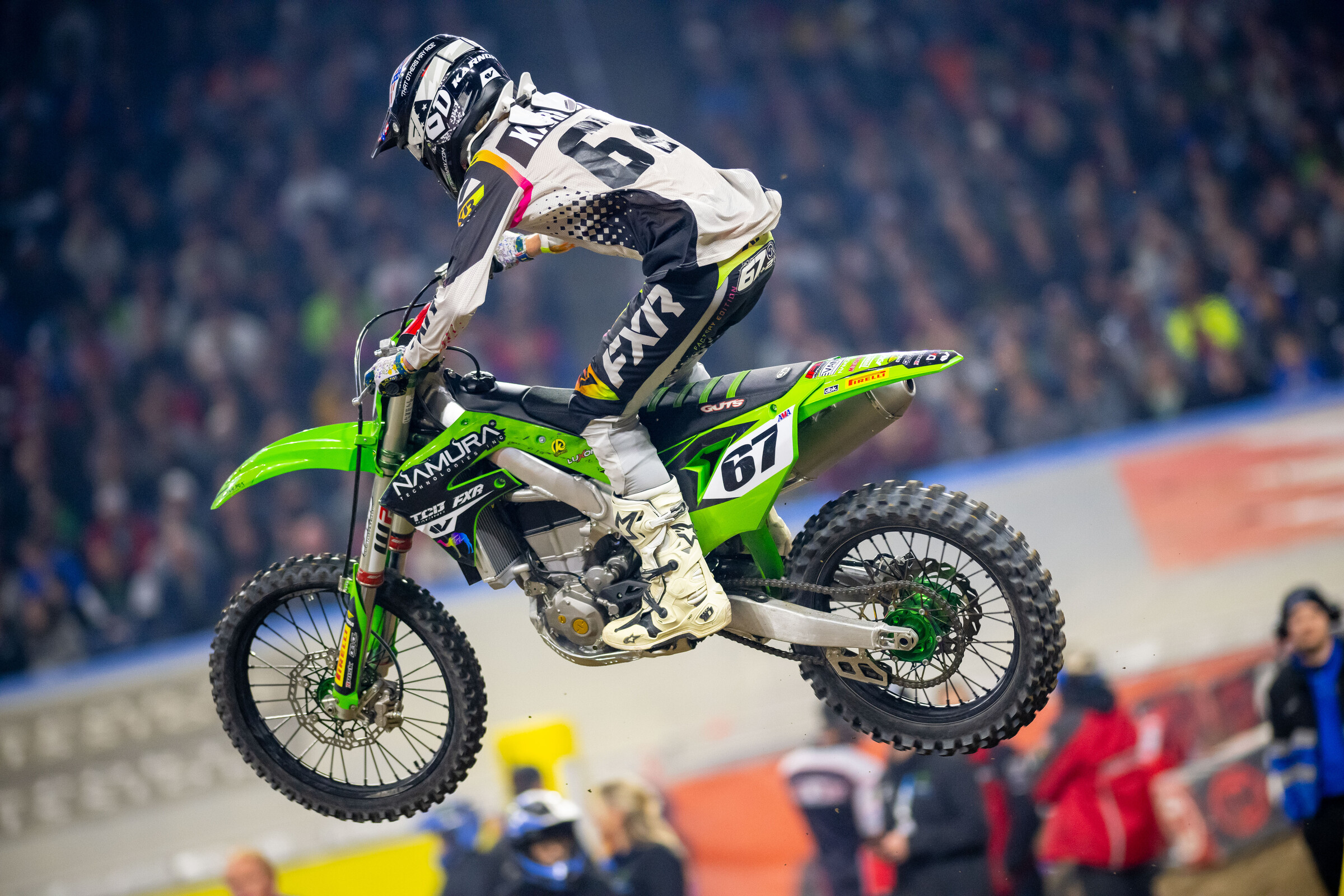 Mindset-wise, how are you trying to just move past this at this point? Is it something you really just don't want to think about this weekend?
I actually made a post on Instagram this morning just basically saying, "Please don't bring up everything that's been going on."
Well, sorry!
No, no. [Laughs] I'm just sick of talking about it really. It's all I've talked about all day today, but I actually deleted [the post]. I was like, "I don't want to sound like I'm being disrespectful." I know it's just because people care. Today I just want to focus on riding my dirt bike that I bought 24 hours ago and go from there.
Has it been hard to adapt to the bike at all? Getting a whole new bike worked in on a race day like this, has it been difficult?
Oh yeah. I was just out there doing heat cycles on it. [Laughs] It's definitely a bit more rigid though. It needs to kind of settle. I think we'll be all right. I think I actually ended up qualifying 23rd which was actually my best ever in 450s. So, hopefully we'll put her in the main tonight!
Who would you like to thank for getting you to the races this year?
First off, everybody's support. Everybody who has donated and helped me so I can keep going racing. Namura Pistons, Rick Ware Racing, Kennedy's Cycles, FXR, Motosport, TCD Racing, VertMX Graphics, Flow Vision, Blud Lubricants, Kdeam Optics, Devol Racing, Pirelli, Risk Racing, Luxon, Guts Racing, Lonesome Camel CBD, DirtBikeKidz, Fist Handwear, Phoenix Handlebars, 6D Helmets, Daniel Loub, Atlas Brace, Dirt Tricks, Veteran MX, Cody Leighton AC Engines, No Toil, HGS Exhaust, Cell Sauce, Rekluse, Cycra, Travis [Delnicki] my mechanic. He's not the best mechanic but he does what he can. [Laughs] You know dude, just everybody. I've got probably 40 to 50 people helping me out to go racing and if you hear this, you know who you are, and I appreciate everything.