Detroit, MI
Detroit
Monster Energy AMA Supercross Championship
A wild night at Detroit's round of Monster Energy AMA Supercross led to heartbreak for title contenders, but career bests for others, like Cade Clason (tenth), Vince Friese (sixth), and Brandon Hartranft (ninth).
Steve Matthes chatted with Clason and Friese after the race and Jason Weigandt caught up with Hartranft today for their thoughts.
Racer X: Tenth place! Took advantage of some gnarly chaos there, but still you have to be stoked.
Cade Clason: Yeah I'm pumped. My whole family is here. It's pretty cool. I kind of lucked into it, right? Everyone went down and chaos happened, but I kind of eared it, right? The first ten minutes was a hard battle with [Brandon] Hartraft, and then when I got lapped Mookie decided to run into me and I bent my rotor, so I rode the rest of the main event without a front brake. I didn't crash. I rode really hard. I'm pumped because I'm starting to feel like myself again. I don't think my fitness is quite there yet. I'm pumped for these guys, A-Ray was in the main, and that's the first time this team has ever had two guys in the main. A-Ray gets 17th and I get a 10th. It's cool. Our team is really good but we've just had some crappy luck. Yeah man, I just want to be up there again. I don't think this is going to happen every weekend, but top 15 is our goal.
You were 13th in qualifying at one point, you got bumped back, but your qualifying speed has been good.
Yeah I want to be the best privateer. I want to battle with guys like Hartranft and A-Mart and guys like that. The better I feel the closer I can get to them and do it.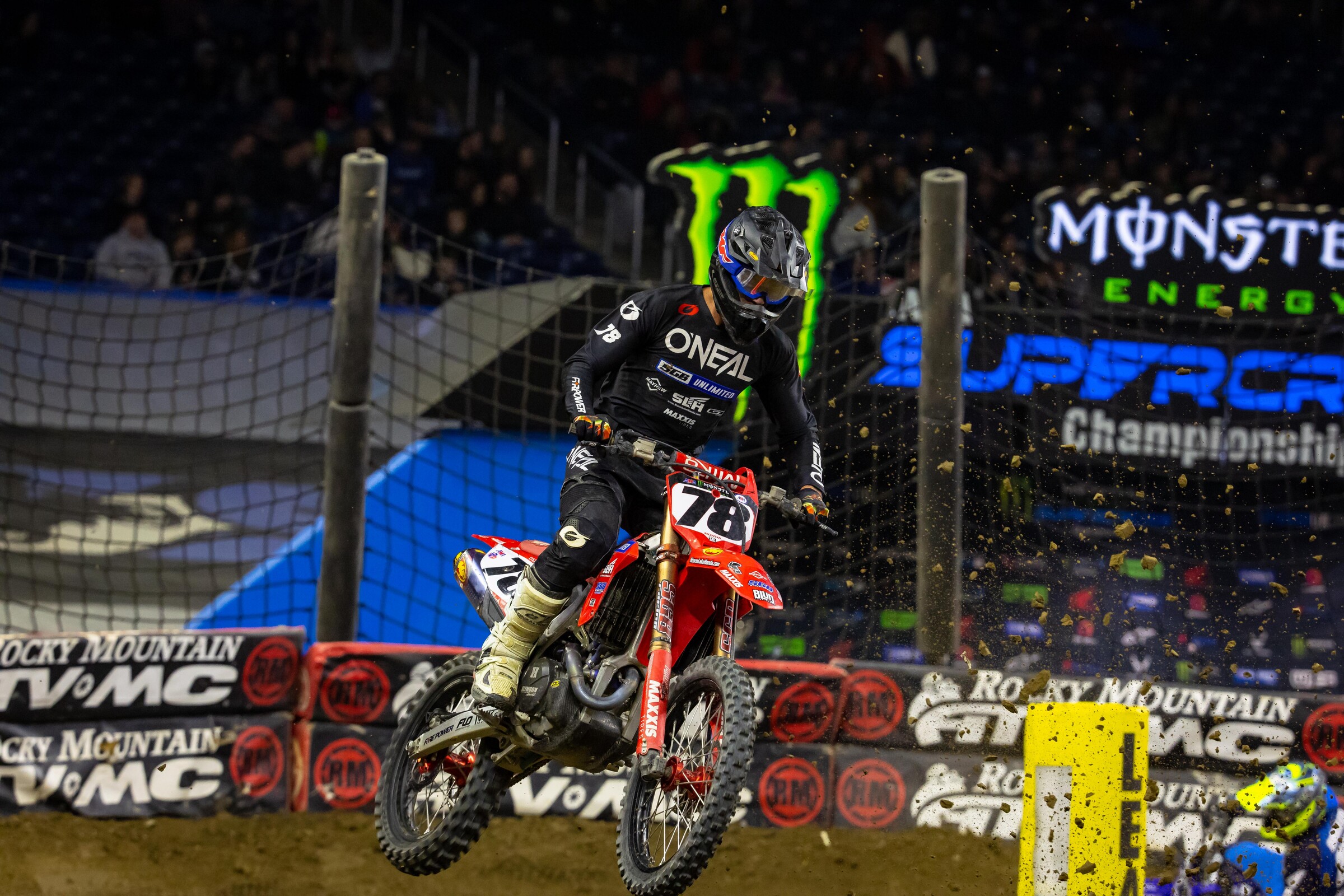 How was the track for you?
It was gnarly but I think I found a good rhythm doing certain lines and just kind of stuck to it. I just ditched the quad after a few laps and found some smooth lines I could do for 20 minutes. I just kind of made it happen. Hey, I didn't do anything to make Coop (Cooper Webb) case that triple, did I?
No I don't think so.
Okay. He was next to me and I didn't know what happened. And I was like "Shit, man." Even if it benefits me, I don't want to see those guys crash. Those dudes are the faces of our sport.
Racer X: Vince, you rode well and you pulled off a sixth. I didn't watch you much because there was so much going on around you. But how was it?
Vince Friese: Yeah, it was wild, for sure. That was the first bad start I think I've had on the 450, and it's in one where I could have used a good one. I went from basically battling for a top ten, looking at the board in ninth or tenth, and then four or five laps later I'm battling for a top five! Man, I'm bummed for those guys. I'm a fan and I want to watch the show, too. But I'll take a career best, a sixth, and build off of it. This was Tony and Genova's plan. Ride the 250 in the West, get some results, then let these guys on the 450s fade out a little bit and be fresh and excited coming off the podium on the 250.
So you've been happy on the 450?
Yeah, tonight, overall I haven't executed a main event. I haven't gotten a start, solid laps and no mistakes. I'll get a start and make mistakes, or not get a start and not make mistakes. That was one of my goals for tonight, but I didn't execute my start. We have one more on the 450 in Indy and then back on the 250 in Seattle.
Track was weird, it caught a lot of guys. I guess it was ruts, transitions, dirt…I thought it was a basic layout but it caused a lot of carnage.
Yeah it was pretty sweet dirt for Detroit, but it was just rocks, really. They need to sift this dirt. There was big pieces of glass, metal, someone, Feld, AMA has to take care of that for us. You name it, it was pretty wild, and the main thing was rocks for us. It got down to the hard Detroit base and then the rocks would come up. It almost bit me a few times. Other than that, it was better than the basically Vegas (hard pack) Detroit dirt we've had in the past.
Racer X: Okay the career best was great but the season overall keeps getting better and better. What's the reason behind the improvements this year?
Brandon Hartranft: Career best was for sure great. Definitely got some gifts but you have to be there until the end. It's such a long season the 450 class. The improvements this year are just believing in myself. Bike is getting a lot better. My preparation for this year was so much better as well. I knew what I was getting myself into this year compared to last year. This off-season I had maybe three bad days of riding, honestly. I also switched up my days of riding way different than years past. But it's mostly believing in myself.
What made this Detroit track so tricky on everyone? Or was it easy and dudes just crashed anyway?
I thought the track was high speed at Detroit. And track wasn't super technical, it was just soft at the bottom of the faces which was making people endo. It's hard to predict what's going to happen when the faces are like that. The whoops this year have been tougher than normal. But for instance [Dylan] Ferrandis and myself crashed in the heat races cause the faces spit us awkward off the jumps, just because the jumps were hard to predict. So just a weird track this past weekend with rocks, soft dirt, and hard dirt.
Insider question: I remember you getting a start in a heat race at Houston last year and you learned the first lap intensity of the 450 class first hand. How gnarly are these guys in this class?
[Laughs] Yeah I remember that, too! It's like I have done the reverse effects this year. My starts were sick last year and I didn't ride good. This year my starts aren't as good and I'm riding so much better. These guys just don't get tired. It's tough. Ask Chiz, the 250 guys are really fast as well but you can't predict what they're gonna do. The 450 guys just hit their marks every lap…well besides this weekend.