In just over a year, Monster Energy/Star Yamaha Racing has grown from a new team in the 450 ranks to a team currently holding the 450 National Motocross Championship in Lucas Oil Pro Motocross and the current points lead in Monster Energy AMA Supercross in the 450 class. What are some of the philosophies that have led to this success? We chatted with team manager Jeremy Coker to talk Tomac and much more.
Racer X: I want to ask you about the success you've had here with Eli Tomac, but first, let's get some of your background. You and Christian Craig. You're brothers?
Jeremy Coker: Christian is my brother, we have the same mom, different dads. So, I've been around the industry since Day 1 of my life. Been around, tried the riding part but didn't have those genes! Mike [Christian's dad] said "Look, you don't got it, Christian does, so Christian is in." And I was fine with that! I liked it, wanted to stay with it, so I just picked up tools and started working on Christians bikes and figured out a way in. The first professional team I was on was Troy Lee Designs, I worked with Tarah Geiger in 2010, that was really fun and learned a lot from that. I worked for Christian for a year at Troy Lee as well. After that I had the opportunity to operate a small race team, 5150 with Jake Canada, we had a good season, I believe privateer of the year. In 2014 I was approached by Brad Hoffman of the Star Racing Yamaha team to work with Anthony Rodriguez. Then Brad asked if I wanted to engines for 2015, and I did engines until 2019. Then we got the 450 program and they asked if I wanted to manage that team. It was a big challenge, but they know I like challenges, so I accepted the job. It was my time to shine so I better do something!
Were you behind the scenes asking Christian to come to the team or was it just coincidence?
It's funny, Bobby has been trying to sign Christian for many years. We tried signing him every year, but he was racing for GEICO Honda, which was owned by his father-in-law. He felt like he had a good thing going over there. We approached him again even before we knew that team wasn't going to be a team anymore—and he was told they had a lot of amateurs coming up so he might not have a job there anymore. So, it was the perfect time.
One other off-topic thing, we have heard that the Star Racing Yamaha is something like ten pounds lighter than the factory Yamaha 450 from 2019. How is that possible?
It's funny, people always think that a factory bike is the lightest thing out there, but a lot of teams, you see it in photos, they have data and sensors all over the bikes. They're trying to treat it like an F1 car, but it's not an F1 car. You don't need that stuff, so pulling that stuff off saved weight. Then we spent months and months on titanium bolts and aluminum bolts, cutting plastic, cutting of collars that you don't need. Our muffler alone is almost two pounds lighter, after months and months of working with FMF. The clutch system is lighter. The heaviest part of this motorcycle is the engine. Taking as much weight out of the engine was our number-one goal.
So, this all leads to a great summer last year with Dylan Ferrandis and by then we knew you had signed Eli Tomac. I saw a Yamaha video recently where you talked about wanting to sign Eli and add years to his career. So, it wasn't just a bike and mechanical thing. You think, as a person, that you could connect with Eli and motivate him later in his career.
It was my number-one goal. You get someone like Eli Tomac who is a multi-time champion. We got the outdoor championship with Dylan, but you see Eli right there, still winning races and getting on the podium. You know this guy has more in his tank. He wouldn't be training and trying as hard as he does if he didn't. I get to talking to him and I notice that he's not enjoying the sport anymore, he's not having fun, he's not enjoying the races. That's when I took it to heart. Not only do I want to get Eli Tomac on my team, but I want Eli Tomac to come to the races laughing and enjoying the sport like he used to in his amateur days and the beginning of his pro career. No matter what, this sport, it turns into a job. The day it turns into a job is the day you want to step away from it. So, my number one goal is to make it seem fun like it did when he started. You see it. He laughs, he smiles, he talks more than I've ever seen him talk. That's huge. With our program, we got him around these young kids. They have nicknames for each other. All the way down to him and Dylan get along good. We did some pre-season testing in Arizona, and they drove together back from Phoenix! It's created a fun aspect for Eli and his family. His father, John, he has a headset on at the races. That gets him to enjoy it again. He brought Eli up, he knows what he's capable of. You bring back together what they had going when they first started.
The April 2022 Issue of Racer X Illustrated
Blue Expressway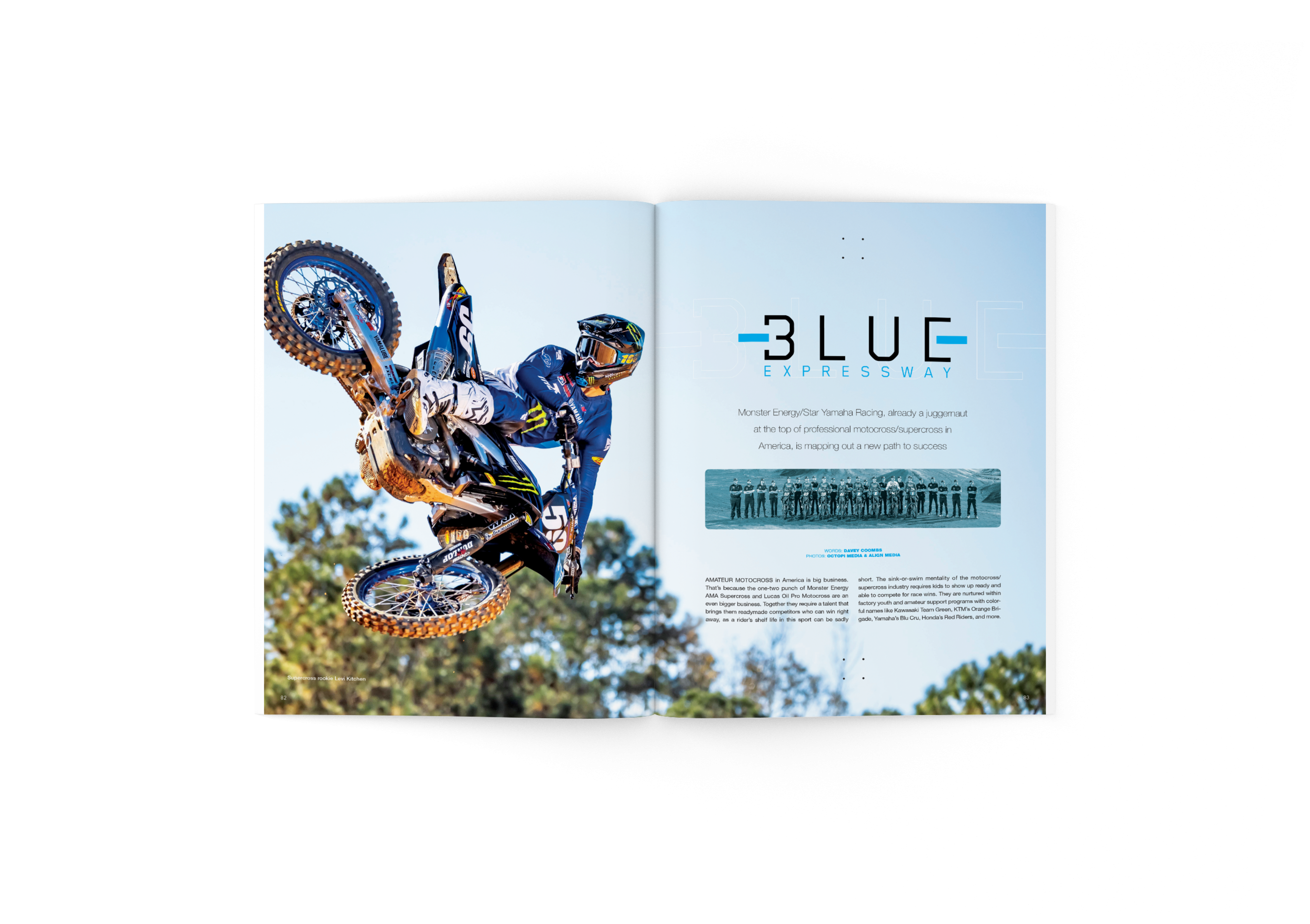 Monster Energy/Star Yamaha Racing, already a juggernaut at the top of professional motocross/supercross in America, is mapping out a new path to success.
Read Now
Preview Now
So, we think, with a team, it's motorcycles and technology. But did you pitch Eli with all of this, the personality side?
Absolutely. Approaching Eli Tomac was a big deal. Luckily, I know him from amateur days, he and Christian raced amateurs together. Everyone knows Eli Tomac made a ton of money over there [Kawasaki]. I told him, hey, I can't pay you what those guys pay you, but I can give you something they're not doing, and that's having fun. You're going to have to take a big pay cut, but let's have fun.
Let's not forget, with bonuses, if you win a few extra races or titles throughout the year, you make plenty of money back.
And that's what I told him. You might not have the guaranteed money up front, but with what I plan on doing with you, you're going to make that money back in a heartbeat.
Are you surprised to have success this quickly?
Not surprising. We needed last year in supercross to learn the motorcycle, and last year kind of screwed us with the Saturday-Tuesday-Saturday races, because we weren't able to get back and test during the week. I'm sure every team will tell you that. So, the beginning of supercross we weren't that great, we had a break around Daytona, and boom, we got better and better. We won outdoors, we learned a lot, and that instilled a lot of confidence in our motorcycle. With Eli, we showed up at his house in Colorado with his handlebars and Dylan Ferrandis' outdoor suspension. The plan was to only ride one week of motocross. But after two days he came in, put up his hands and said, "I can win on this bike." Then we switched to supercross testing and everything was just flawless. We were very confident going into Anaheim….and Anaheim set us back. We had to regroup and go back to work. Everyone on the team, our suspension guy Ricki, our crew chief Rich, everybody together, we focused quickly and fixed the issue immediately.
I think it's no secret that Eli Tomac has always been a late bloomer and takes a little while to get going early in the season. The reason for that, I think, and he's said it himself publicly, he confined himself too much in the past. Getting him here early in the season, riding with 11 250 riders, that is why it's working well for him early in the season. That is why he has the red plate. When you ride by yourself for so long, it takes time get used to passing other riders, jumping next to other riders. And Eli and John, they knew that.
He said at Anaheim 1 you did need to reset a bit, but I thought in qualifying he looked good. You weren't satisfied.
Hey, I told my guys at Oakland when we went 1-2 [in qualifying], I said "Hey, we've got the daytime down. But when that sun sets, something happens." That was kind of our fault. Maybe we built a qualifying bike and not a main event bike. A lot of that has to do with our starts were pretty pour. When you have 15 good guys, it's not easy to get a good finish if you start back there. We had to get our starts better.
We always hear how gnarly and beat these tracks are in the 20 minute mains. So that has to change things, too.
Yes, and that's one of the advantages we have with having 13-14 guys on our test track. If you only have one or two guys riding and then you prep it every few days, it's never going to feel like the race track. Even with 14 guys on our test track, we still can't get it where it is at the race track. You go walk the track after the podium, the track looks…more like a GNCC! How do these guys even get around? It's a fine line. You don't want to ride a track like that every day because it's dangerous. But you need to ride a track like that every once in awhile.
So, you got him to buy in on having fun, buy in on riding with teammates. Then the starts. Eli has historically not been a great starter. But you weren't willing to just accept that.
Correct. At the beginning his starts were so bad, and I had to step back and say, "Is it us?" So, I stepped back and did some research. In his 450 career his first lap position is not good. So, I said, "We not only have to improve the motorcycle, but we have to improve you." In the beginning of his 450 career his starts weren't great, but he was still winning. Now, we have to fix that. We changed some technique stuff, but you have to change the mindset. Not only does the motorcycle have to be better, I have to get better. And once you believe that you need the start and want the start, you're going to get the start. That's' something we've been working on with Dylan, too. You have to believe it.
We have always talked about your team owner Bobby Regan getting on his riders like a football coach. He's not afraid to yell at his guys. We're hearing that about your team, but we're also hearing you bringing out the fun in it. How do you do both?
It's a fine line. You have to do both in a lot of sports. There are times when I have to yell at you and set you in line, there are times when I'm going to have to pat you on the back and we will get in line. You need to be there for these guys in the times they need you. We're going to pump you up with confidence, but we're also going to tell you "You need to get it together." If you have a bad night, we're going to tell you about it and let's fix it. It's a fine line, but I think we've come to perfect that fine line. Now, with multi-time champions like Eli and Dylan, I can't tell them, "You're not training hard enough!" They are. No one is harder on themselves than them. I have this thing I live by. I'll never tell you no, but I'll tell you I told you so. When they want to do something or try something, I say, "Hey, I don't think it's going to work, but hey, let's try it." If it doesn't work, I'll tell you I told you so. But I will not say no.
I'm glad you hit on that. One thing we keep hearing about is the freedom. You're a factory team, but supposedly offer more freedom than other factory teams. Now, it makes sense on paper to just give the rider whatever he wants, but I've talked to teams. Sometimes they already know what works and doesn't work. They don't want to go the wrong direction or waste time. They know the engineers who built the bikes. Do you feel like you have more flexibility than a regular factory team?
Absolutely. I'm an open book to trying anything that Eli and John, or Dylan and DV [David Vuillemin] want to throw at me. Like I said, I will not say no. We have no red tape. Freedom is there. At the factory level, they have a lot of people to answer to. Your answers are coming from Japan or Austria, and it takes nine people to say yes before you can do it, and by the time that ninth person says yes, you're a month into the problem. Yes, the freedom is there. These guys want to try something? No problem.
Listen to the full podcast with Coker below: