Anaheim, CA
Anaheim 1 (A1)
Monster Energy AMA Supercross Championship
It doesn't seem all that long ago that reigning two-time MX2 World Champion Marvin Musquin and new teammate Ken Roczen decided to cross the pond and come to the USA in the winter of 2010. For Musquin, it was a full time move with no looking back as he left a #1 plate vacant in MX2 to chase the American supercross and motocross dream. Now, 12 years later, he could be heading into his final professional season racing. He doesn't want to put a period on it yet, but his contract will expire after the final Monster Energy Supercross race this season. Whether he continues beyond that or not, he's had one heck of a run with one single team this whole time. Musquin and Red Bull KTM will be heading into their 14th year working together and there have been many wins and championships along the way. We caught up with Marvin at the Red Bull KTM team intro last week to ask him about his time at KTM and what lies ahead in 2022.
Racer X: Fourteen years with this brand, with this team. I'm sure thinking back to 2009 and you're going from the Honda program to KTM, you're leading the world championship, you probably couldn't have envisioned you'd spend 14 years with the brand, and you'd have the career that you've had with it. How do you reflect on the time that you've had with KTM so far?
Marvin Musquin: Every time I look back when I started with KTM, it was a pretty special moment because I switched in the middle of the season in GP's back in 2009. They gave me a great opportunity and two years later they gave me another opportunity to move to America. I said yes right away. Twelve years later spent in America, I'm still here racing. It's amazing.
You've seen the whole evolution of KTM kind of in the U.S. as well. When you got here, you and Kenny came together, but Shorty [Andrew Short] and [Mike] Alessi were the 450 riders, but they were on 350s. Then [Ryan] Dungey comes over, and this whole program has evolved in the U.S. into what we see now. How wild has it been to kind of see that evolution from inside of the brand?
I've always been impressed by KTM, the factory. They're always trying to improve the bikes. I remember when they first came out with the electric start and then they put it on the production bikes. That's been over ten years ago. That's a little example of all the things that they've done. I've been through KTM but different bikes because they improved it. I have my championship bikes at home, so when I look at them, the one with the kick start back in 2010 for example and carburetor and stuff like this, you see the evolution of the frame, the suspension, mainly the shock. You see the progress. Like you mentioned, Ryan Dungey, when he came on board and Andrew Short on the 350 as well. Many, many things like this. When you see this bike, I'm impressed.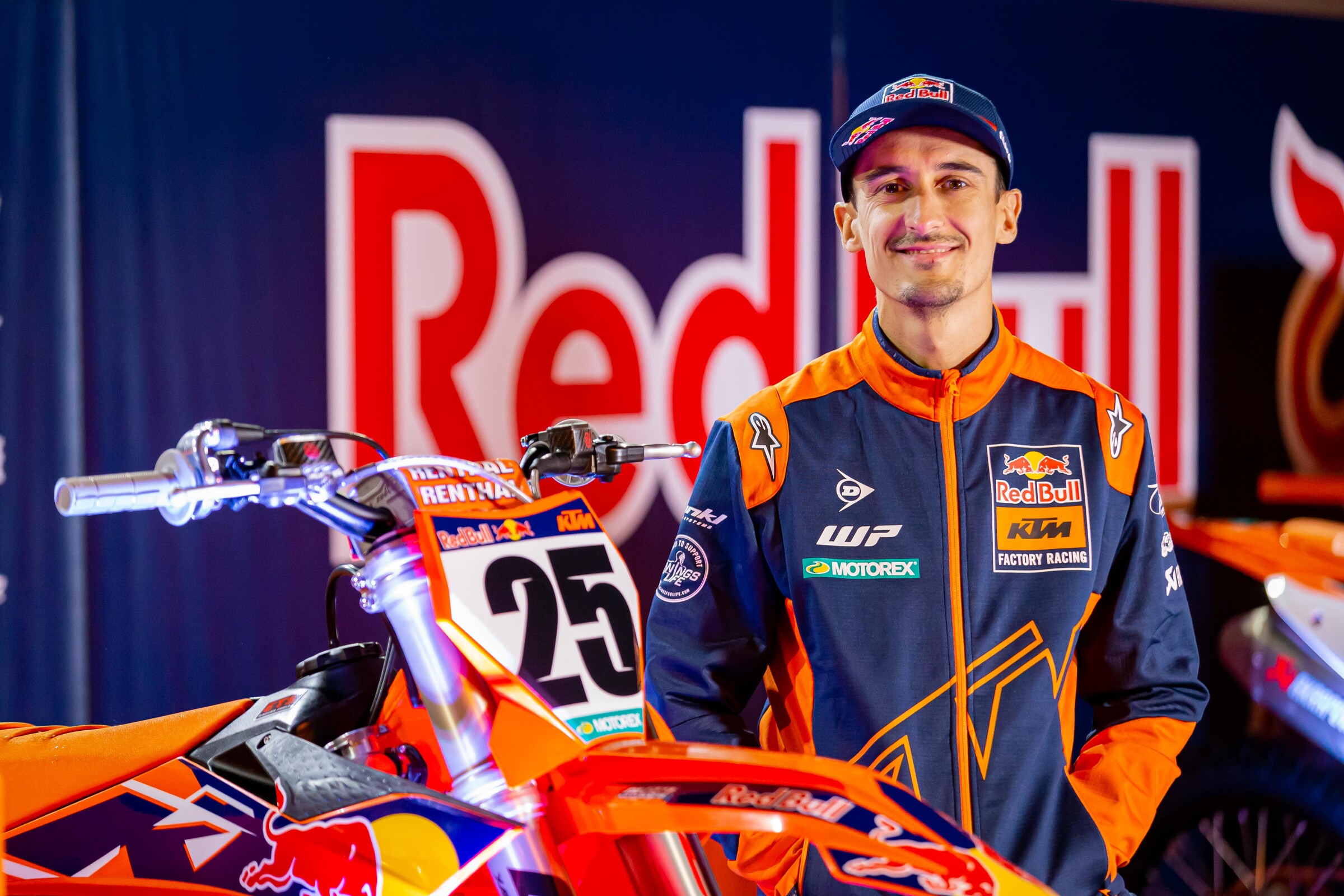 Talking about this new bike, you've seen many iterations of the factory edition coming out basically a year before the new model would come out. How do you interpret these new models? Is it like, I'm so used to my current bike, I don't want to switch? Or are you actually excited for these new models and what's to come on them?
I was super excited for a new model. I've been on the same bike for a couple years now. So, I knew KTM was working really hard at the R&D here in America and in Austria at the factory. For many years they've been working on this bike. So, it's finally here and we're getting ready to race it in supercross. So, it's exciting for the riders, but for the people that work for it, too, back at the factory in Austria. So, I'm excited to do good with it for them.
You're getting a little bit up there in age and there is always some talk about "is it Marvin's last year? When is he going to retire?" How do you look at what you want out of this year? In the past maybe it's like title or bust. You want to win the championship, or it's kind of a failed year, I'm sure. Is it still that way with you where you want to win this title at all costs? Or are you like, I understand wins and stuff here would be great too?
Of course. It's always easy to say I want to win. I want to win races; I want to win the championship. It's always easy [to say that], but there are so many guys that are capable of winning. I can tell you eight or ten guys that are capable. We've seen it in 2021 already. A lot of guys were capable of getting on the podium. It's going to be even more I think this year. So, the competition will be super tough. So, I'm just excited on the new program this year that I have and new bike. We'll see what we can do with it. To be honest, getting podiums would be great.
Talking about your program, you're working with David Vuillemin pretty much full-time at this point as a trainer and a coach. How has that transition been?
That's exactly what I wanted. I knew DV's program was different from what I've done. This year I decided to stay here in California and not go to Florida. A lot of things like this have changed. It's been going good. With the new bike, we're not able to go on a public track until today, I would say. So, it will be nice to go out there and to ride different tracks. Obviously, we have two really nice tracks up here right next to the shop. So, it's nice for the team, but it will be good to see other tracks, see how the bike is working and be even better for Anaheim.
Coming into 2018, you had won Paris, you had won a lot of off-season races, you were totally in the groove and went out and won the [Anaheim 1] opener. Now we're hearing you're flying at the test track. You win Paris again this year. Is there a little part of you that's like, I could come out and win right from the get-go? I'm going to win the opener and leave with the red plate?
No, I'm definitely focusing on myself but not really thinking like this. I think Roger [De Coster] got excited one day because I was going good and then he said I was flying. I don't want to really hear that. It's super nice coming from Roger, but we've seen today that Aaron and Cooper are really fast. So, it's good for me to see them. They were in Florida for a couple weeks and now they're back for a week, so it's good to ride with them.
Is there actually a little bit of you can feel when you're in the zone or you're riding as well as you think you can ride? Thinking back to those years like in '18 when you came in fully on top of your game, are there times now where you still feel like, this is what I felt like in '18, or this is what I felt like in '15 when I won the 250 title?
A little bit, but it's hard. You have the feel, but everybody is so good. So, it's little by little that you can gain on those guys. Back in '18 it was great. I won Anaheim 1, but then I was not comfortable going into Houston, so the main thing is to be comfortable and consistent on every single track. That's the main goal for me. Unfortunately, I missed the championship that year because I was not consistent on every track.
---
Main image: Spencer Owens