Anaheim, CA
Anaheim 1 (A1)
Monster Energy AMA Supercross Championship
As Cooper Webb heads into his fourth year with Red Bull KTM, he heads into his first year on a brand-new machine. KTM rebuilt their 450 SX-F from the ground up and announced the 2022 Factory Edition machine at the team intro last week. Webb has already been riding the bike for a while, and actually a lot longer than you might think. It was revealed that he even first rode the bike back in 2019 as KTM was working through the kinks of development. So now with 2022 right around the corner, that new bike is ready to hit the track as Webb hopes to successfully defend his 450SX crown this time around. We caught up with him at the team intro last week to ask him about the new bike and what he hopes to improve on for 2022.
Racer X: That's a nice #1 plate on that bike. I'm sure it's looking pretty good to you, too. But it's on a new bike as well. You talked a little bit about riding it way back in 2019, so you've kind of seen the evolution of what they've done with it since then. What do you think of the bike so far?
Cooper Webb: So far, it's been great. Like you alluded to, I was fortunate to ride it a few years ago in a stock production form, and back then I knew how good it was going to be. So, it's been a great transition. Testing has gone really well right away. I've been on the same setting now for about six weeks. I'm usually a guy that's constantly testing and changing stuff but my mechanic has had it easy. He hasn't had to change one thing. Super excited on that. I think it fits me even better. I think it's a very raceable bike. I feel right at home on it. I'm really looking forward to going racing. It's good now that we can announce it and kind of have people see it. We've been so scared looking over our shoulder when we're riding, making sure no one is looking. It's been fun, though.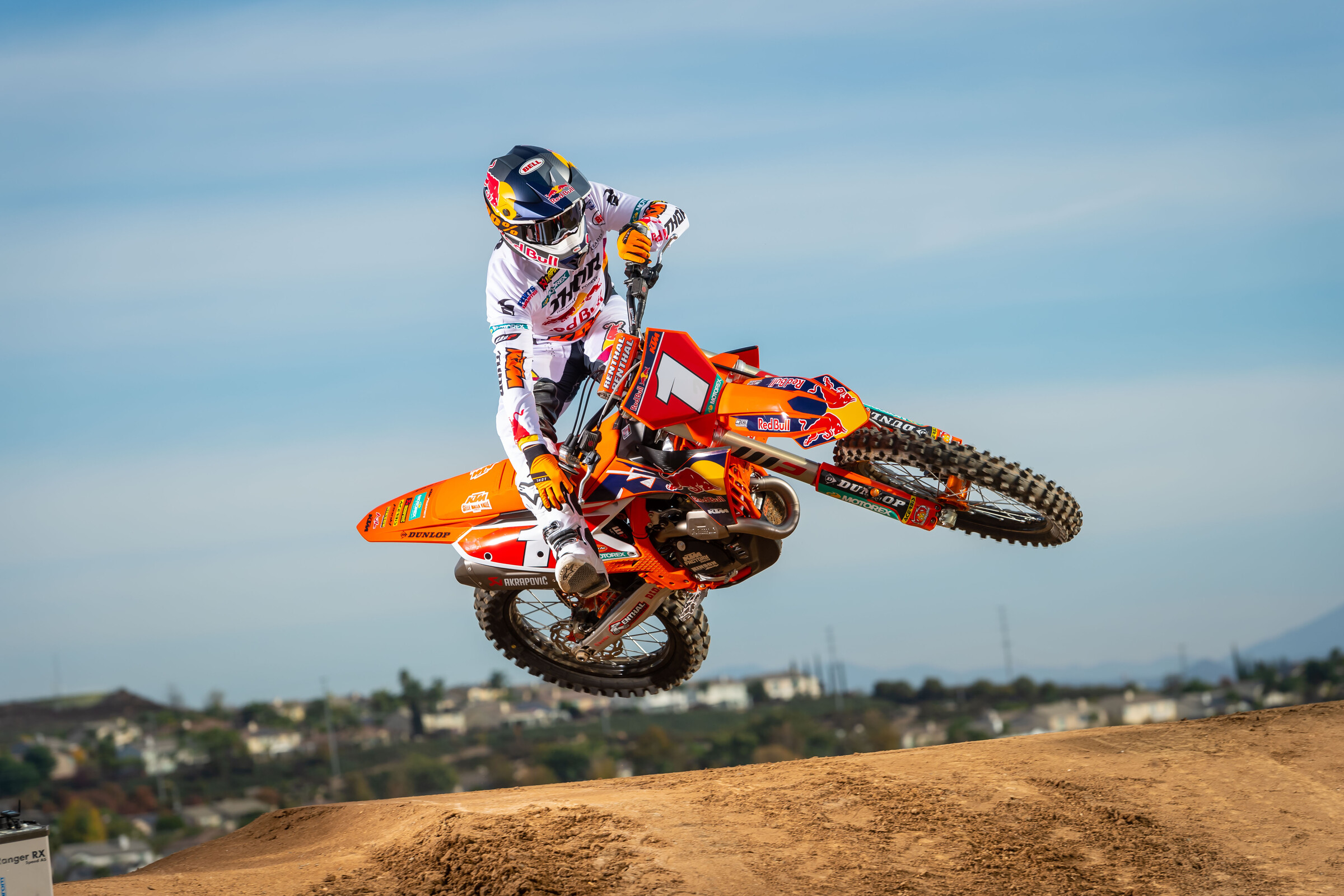 Hiding it and testing in silence to a degree, has it almost been a little nice though because you don't have to go on social media every day and post and keep up with everything? You just have been grinding and testing.
Yeah. It has some positives and definitely some negatives. We basically got told is no one sees this bike, or your ass is on the line. So, that was a little tough, but definitely it's been good to be able to just focus on that and as a team and as a group really just focus on us and not have to look at other teams or look at other riders or say, how can we be on their level or improve or whatever it is. So that's definitely been nice. We were here in California for a long time just because of lack of parts and obviously not wanting people to see it and stuff, and then we were able to go to Florida the last few weeks. It's been good to be able to go to different tracks, different places and have the same result, alluding to not changing one thing. So, that's always good. We've been back here this week and back with the teammates, kind of seeing where you stack up and stuff. That's always cool. It's that time in the off-season where it's definitely counting down. Title defense starts now.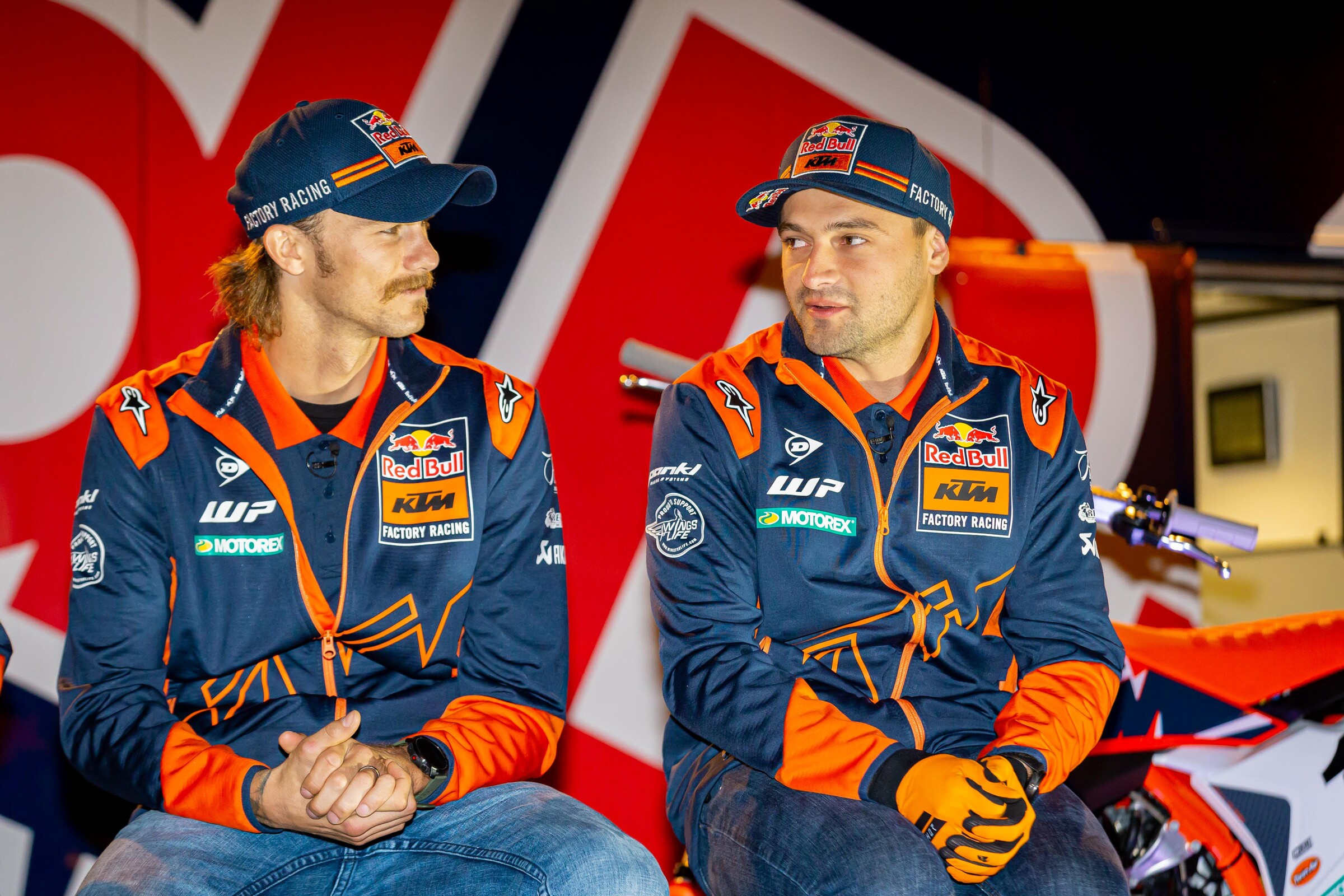 In terms of not changing as much, like you're talking about, this is basically year four for you going into an off-season with KTM. Is this arguably the best off-season that you've had then with the program so far?
Honestly, I would have to think so. Coming off last year was the first time I actually completed a full 450 supercross and outdoor season. I was able to really actually take some time off and kind of reset and recoup. Then we were able to get on this about mid-October, which was super nice. I haven't spent this much time in California. In the past I've definitely been more Florida-based, but I think there was a benefit in that and staying out here and being with the team and learning the bike together and me and my mechanic learning what works, what doesn't, and just kind of running through it before you go to Florida and you're kind of on your own, in a way. I think that has been a huge benefit. So, a little different off-season for sure, but it's been really good. Probably my best so far.
When you look at your three seasons in supercross so far with KTM, I feel like you almost started a little slow and then hit an upward trend started coming about halfway through the season. Are you trying to eliminate that and start strong? Or are you actually happy with the progression you have throughout these seasons?
That's something that I need to be better at and that I think I've been definitely aware of. I've never won the opener in the 450 class, so that's a new goal for me this year. I want to start off strong and finish strong. I think I'm able to do that. Like you said, I've always started off a little off. In 2020, it was too late, by the time I got going and I had the one mistake, and my championship run was kind of over. Last year same kind of thing. Started off a little slow and was able to turn it around and get on a roll, but in this day and age you can't afford to do that. Someone gets on a roll and gets too far ahead, it's too little, too late sometimes. So, I think that's obviously the goal to be much better at the beginning of the season, come out swinging. We're back at Anaheim which is sweet. I think it will kind of have that little pizazz where you want to come to Anaheim and win that thing.
Now you have a new teammate [Aaron Plessinger] that's coming from a similar situation to what you had going from 2018 to 2019, the Yamaha to KTM switch. He has had a little bit of success, but maybe not what he has hoped in his career. Same thing for you. You had a little success on the Yamaha and then you came here, and obviously your career has taken off. How do you reflect on that whole transition in your career and looking at where you are now, a two-time supercross champ?
It's great having AP on board. We were teammates on Star. That's the biggest difference. He had Bobby Regan still yelling at him last year. [Laughs] It's been really good. Like you said, that transition, coming from a different team, we're in that same boat where this team is great. They take you in with open arms. Our goal is a common goal, and that's to go out and perform. So, it definitely makes it super special, super easy. I think it's been a fast, crazy four years. I feel like I just signed here not that long ago and it's year four. It's really cool. I feel super comfortable and confident on this team and definitely want to continue to have success with them.
Looking at the field that you stack up against this year, you have basically all the rookies from last year with one year more experience. You obviously have [Dylan] Ferrandis winning the outdoor title. Does it feel like a little bit more ramped up pressure now?
It's tough. It's the same storyline every year. You have ten or twelve guys that can come in and win, so you never know. This might be the year that it actually happens where we have twelve different winners. You never know. I'm pretty confident in what I've done in the past and what I'm doing and continue to do. I know what it takes. I'm the only guy on the starting line that has won multiple supercross championships in the premiere class now. So, I feel like I definitely still kind of have the upper hand as far as experience and knowing what it takes. But the guys are going to be fast. They're going to be hungry. They're going to be a year better and more experienced. They're going to learn from what they did wrong the year before, but that's where I try to do the same thing. Try to eliminate what we did wrong and improve and get better. Definitely not going to be easy, but the goal is the same and that's to go out and try to win.