Occitanie, France
MXGP of France
FIM Motocross World Championship
Main image courtesy of KTM Images/Ray Archer.
---
There were shortcomings that also turned to advantages as Lacapelle-Marival served as a first-time host of Grand Prix racing this century. The compact and narrow track has staged a popular pre-season international race for years but has always been deemed too small and incapable for MXGP compared alongside the likes of former Motocross of Nations venues like St Jean D'Angely and Ernee. The limited size meant MXGP and MX2 were largely processional affairs but there was a lot to savour from this twelfth round of eighteen.
For a start Red Bull KTM's Jeffrey Herlings and Monster Energy Kawasaki's Romain Febvre conspired to share moto wins and take the contest down to the last laps and last corners. While there were only three lead changes in total, the mix of Herlings' brilliance and Febvre's potency led to intense racing, multiplied by the loud cheers from French fans packed to the fences, which wound-up the tension and the sense of spectacle. The atmosphere was generated and heightened by the fact that this was the first Grand Prix to be free of COVID-19 restrictions and limitations since the Netherlands in March 2020 and before large areas of Europe entered lockdown.
The site is set amid a quiet medieval town that had to practically shutdown for the race. The spectator banks were packed, the paddock was also full, and the expectancy for the French riders to deliver hit the rev limiter. There was real atmosphere here! Then there was the track itself. For all its inadequacy to accommodate the speed and power of 21st century 450s the old place certainly had character. Fans could lean over fences and feel the exhaust heat or be hit by roost in some of the tighter corners. The roars that greeted Febvre's forceful pass on Herlings in the first moto and his move in the second race, and the support for MX2 World Champion Tom Vialle's double moto haul in MX2 was a heartening 'welcome back' to the sport.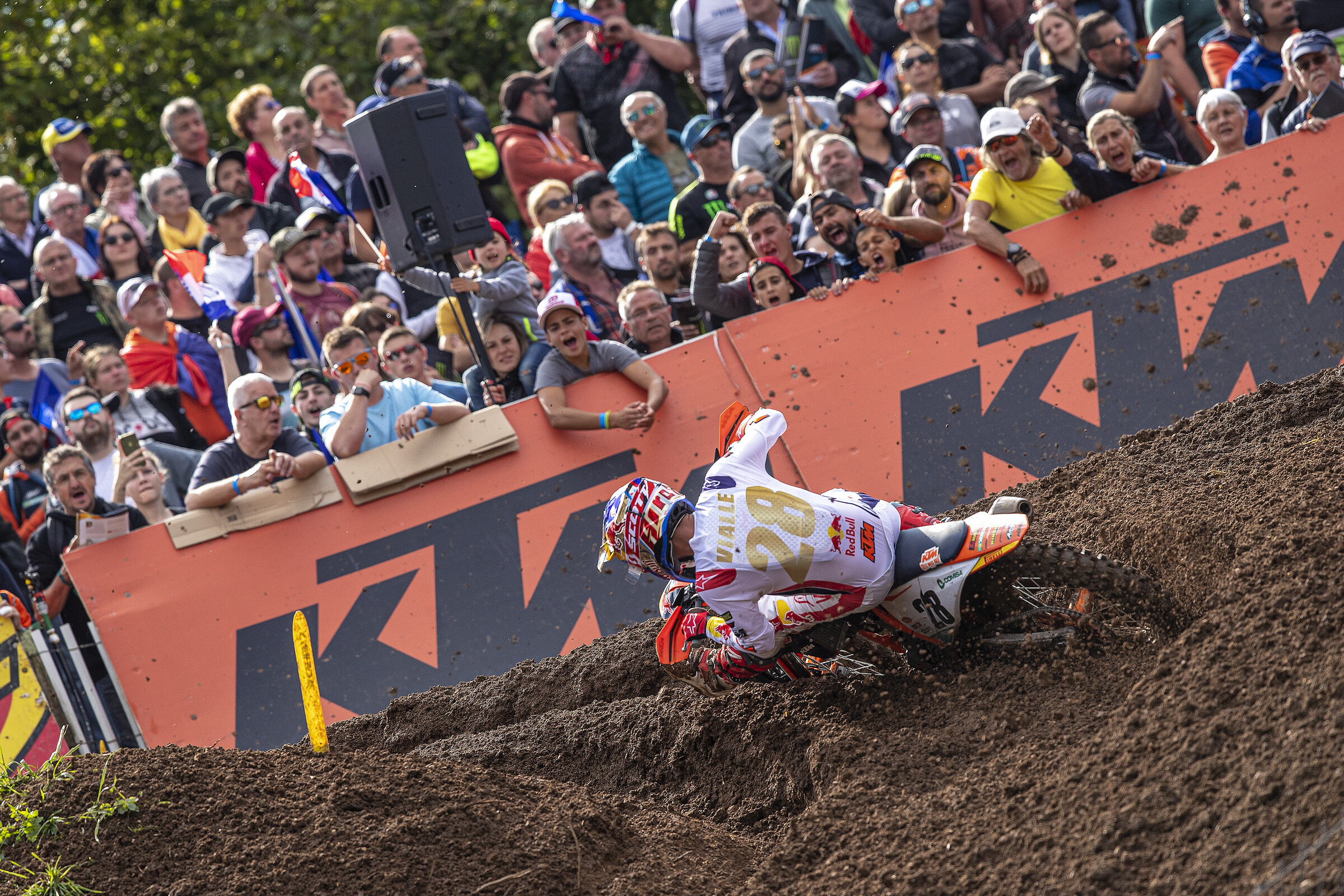 Herlings and Febvre split the motos, and Herlings emerged with the overall with the 2-1, spoiling the chance for Vialle and Febvre to sweep the motos on home ground. In the first moto, Herlings claimed he was struggling with arm-pump due to a miscalculation with a set-up that was too firm, although he did close a five-second deficit to just seven tenths of a second by the flag. In the second moto he and Febvre battled again, and Herlings would counter with a daring block pass to hold the lead and take the moto win.
MXGP
| | Rider | | Motos | Bike |
| --- | --- | --- | --- | --- |
| 1 | Jeffrey Herlings | Netherlands | 2 - 1 | KTM |
| 2 | Romain Febvre | France | 1 - 2 | Kawasaki |
| 3 | Tim Gajser | Slovenia | 6 - 3 | Honda |
| 4 | Jeremy Seewer | Switzerland | 3 - 6 | Yamaha |
| 5 | Antonio Cairoli | Italy | 5 - 4 | KTM |
Full Results
"It was hard to pass, as you saw," said Herlings. "It's a tight track. It's not like some places in America like Fox Raceway where you have 25m of width. There was just one, fast line. But that's also the nature of MXGP, which is also a positive point because you really learn how to ride a bike. When there are ten lines in each turn then it's beautiful but when it's like this you really get a feel for the bike, when it's hard and slick. There are positive and negatives. Same for everyone."
"I was racing here back in 2010 on an 85…and for an 85 it is a good track! Maybe for a 450 it's too tight but we cannot pick which track we race we just have to adapt," said World Champion Tim Gajser who rued ineffective starts to go 5-3 and fill the last spot on the podium but drop from first to third in the standings as Herlings regained the red plate and Febvre also consolidated his credentials for a second title. Incredibly the trio are split by just 10 points in what is the closest world championship dispute since 2008. "The red plate means nothing at the moment because we are all so close," said Febvre.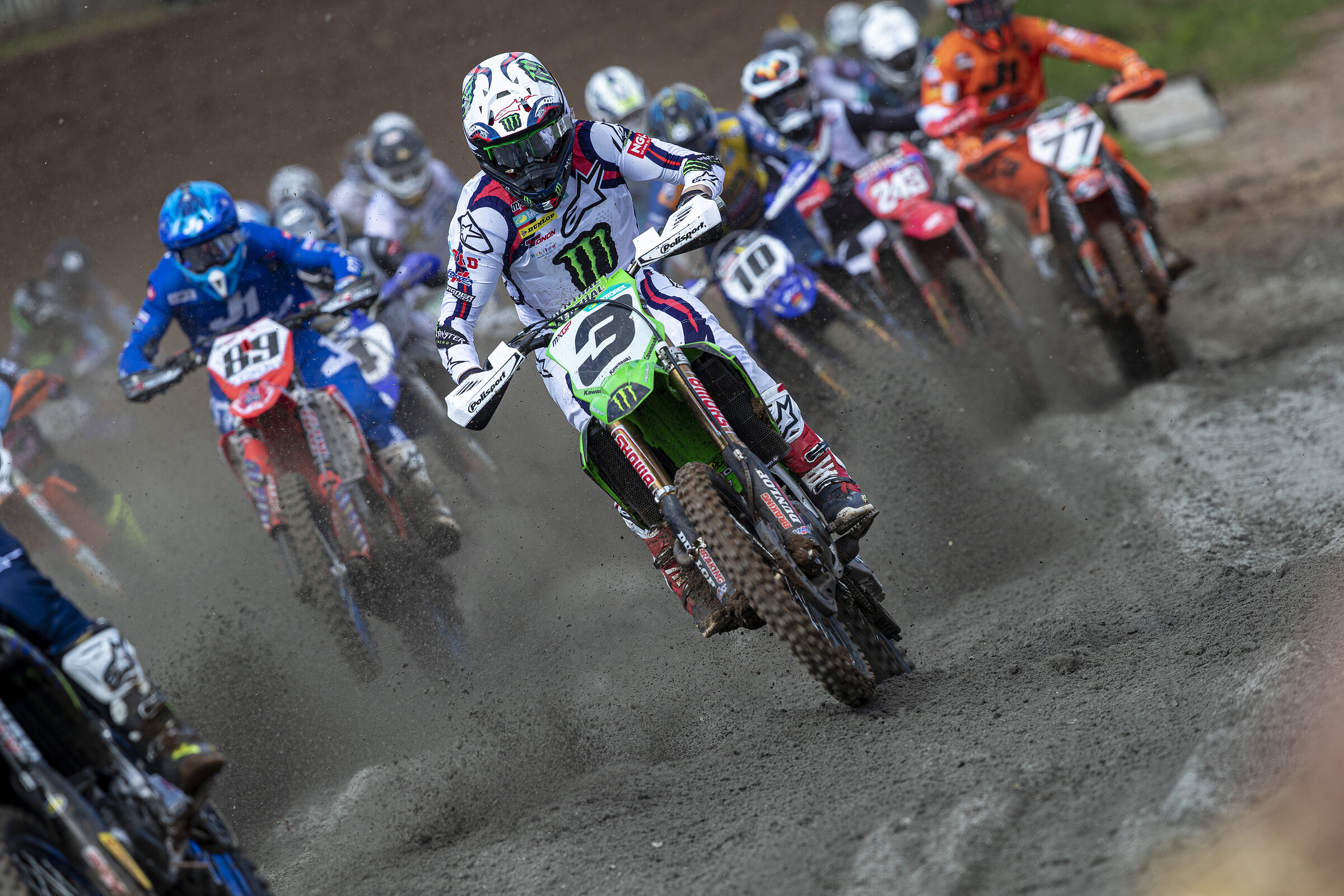 MXGP
| Position | Rider | | Points |
| --- | --- | --- | --- |
| 1 | Jeffrey Herlings | | 550 |
| 2 | Romain Febvre | | 532 |
| 3 | Tim Gajser | | 530 |
| 4 | Jorge Prado | | 482 |
| 5 | Antonio Cairoli | | 451 |
Full Standings
There was minimal position swapping in the top ten of both MXGP motos and for all the nostalgia and electricity at Lacapelle this was a reminder that 'old-school' does not necessarily mean the best grades. Much in the same way that a full MXGP calendar of new-builds like Afyon in Turkey would be abhorrent so would a schedule full of decades-old venues like Lacapelle.
-After the drama of his first moto finish-line crash with teammate Jorge Prado in Germany last week, Herlings was back to his usual roaming self in France. His exquisite maneuver to pass Febvre for the second moto win was both aggressive and masterful and sucked the bluster from the French crowd in one swoop as he then immediately peeled away from the Kawasaki man with three laps to go in trademark fashion. "I knew on this track you had to make a statement. I had that chance and had to grab it," Herlings said. The win pushed the 27-year-old to the top of almost every statistics pile in 2021: the most wins (5 from 12), podiums (10) and moto wins (9 from 24). He also raised his career tally to 95, six away from the all-time record. His indication of form came in the morning with his eighth Pole Position, but only by three tenths of a second from Febvre with both riders almost two seconds quicker than their next nearest pursuer – a stronger Monster Energy Yamaha's Jeremy Seewer, who would finish fourth overall.
-France saw the resolution of the controversial Prado/Herlings collision in Germany. Prado insisted it was a racing incident. "I took one rut on the left that just led me to the middle of the ramp, and I just let the bike go because it was the last lap and I didn't imagine Jeffrey would have been sprinting to the very last metre," he said exclusively. "I took the rut because I knew the exit of the track was on the right of the landing after the finish. At the very last second, I heard his bike, I looked to the right and I knew we were going to crash. Many people said I was going to block him, which is not correct and there was no point in doing it. Maybe I should have kept going [left] a bit more but knowing I was first I just relaxed and put myself in a good position for the exit. It was a pity."
Herlings gave a mature view and was certainly less emotional than in the immediate aftermath of the crash when there were some tensions in the KTM camp. "Everything is fine, even though what happened should not have happened there! I'm not pissed at him because many people forget he's only 20-years-old and there are riders around him with much more experience. He has a lot of dedication, he's super-talented and didn't want to give up his position. From one side it's good that he took a little injury because he's learned that you cannot get away with everything. It's learning and I had to do the same. I think he is one of the most talented riders – if you see what he does – so no hard feelings. We're both fine."
Starlet Prado was able to ride to 14th overall for some points and is 62 adrift of Herlings. Crucially he believes the ailment should be better for round thirteen this week and his home Grand Prix in Madrid. "It's an injury where I feel the progression every day," he said. "It's not like a broken bone that takes much longer. You still need to take a cut seriously because it was very deep. If I'd had a crash, then it would have been very bad. Luckily my position on the bike is still OK. I cannot really lean back that much because I cannot extend my arm but at least for riding it was good enough. I need to take care of the stitches keep them as clean as possible."
-Still struggling with his own injury was Team Italy talisman Tony Cairoli. The Sicilian was fifth overall and appeared stronger than his outing in Germany last week but the smash to the ribs and damaged muscle from his practice crash at the GP of Sardinia a fortnight ago is severely limiting his capacity. Cairoli cannot train on the bike and finds any exercise difficult, therefore affecting his competitiveness in the motos. In the second race at Lacapelle he could not hold off the marauding Gajser and lost the podium because of it. "If I had two weeks with rest then it would be okay but now, I'm just hitting it and it all takes longer," he lamented.
-Credit to Denmark's Thomas Kjer Olsen, an MXGP rookie for 2021, for giving the Rockstar Energy IceOne Husqvarna Factory Racing Team a seventh place overall and his second-best ranking of a tricky campaign to-date. The tall 24-year-old placed behind the consistent Standing Construct GasGas Factory Racing's Pauls Jonass while rumors swirl that both riders will be teammates at Standing in 2022 on works Husky's.
-Misfit Italian MXGP class rookie Alberto Forato rode to ninth overall for his first eye-catching result since nearing the top five in Turkey. Forato, one of the bulkiest riders in the class, has been racing this season without a knee ligament, but has still turned some unlikely speed on the SM GasGas.
-In MX2, World Champion Tom Vialle capped a week in which he announced his new four-year KTM extension and transition into MXGP with Red Bull KTM by 2023 by a dominant display. Holeshots were key to his escapes for what seemed like training motos, even though Vialle said that he found the track "sketchy" and admitted that the fans at Lacapelle did not see his best speed. It was sufficient though as former GP winning father, Frederic, looked-on and beamed with pride. Vialle and Herlings have doubled-up in the world championship as winners in four of the twelve rounds so far. Vialle now has the most MX2 GP wins (5) and motos (9) and is racing up the standings since recovering from a broken hand. He is now just 22 points from the top three. With Vialle uncatchable the energy of the crowd switched instead to current championship leader and Monster Energy Yamaha rider Maxime Renaux. The Frenchman's starts meant he had to work hard to pass teammate Jago Geerts (an impressive fifth overall behind Rockstar Energy Husqvarna MX2' Jed Beaton considering he'd been ill with a stomach bug on Saturday evening) and then KTM's Mattia Guadagnini to go 4-2 and deepen the scarlet of the red plate to 91 points thanks to his tenth podium from twelve.
-After an indifferent day in Germany, rookie Guadagnini arrived back on the box with second overall. The Italian's first ever GP Pole Position helped towards his bright starts, and a 2-3 and brought him to within four points of Geerts and second spot in the championship. Red Bull KTM had initially hoped for a top five finish for the former European Champion in his maiden term, but he could over-deliver in what has been a physically tough but invaluable learning campaign.
"It's quite different for me: a lot of races!" he smiled. "I've never actually raced this much. It's something new and it's not so easy to be fully focused and have a great feeling on the bike every weekend. For sure I am learning a lot this year for next year…but I think I'm doing a good job for my first season in MX2."
-From the old to the new. MXGP heads now to the Arroyomolinos; a district south of Madrid and the capital of Spain. The Intu Xanadú circuit - located next to a freeway and a vast shopping complex - was built last year. With Spain following France's example and relaxing restrictions on sporting events, the bike-mad territory could see a large attendance.
MXGP
| Position | Rider | | Points |
| --- | --- | --- | --- |
| 1 | Maxime Renaux | | 582 |
| 2 | Tom Vialle | | 462 |
| 3 | Mattia Guadagnini | | 459 |
| 4 | Jago Geerts | | 457 |
| 5 | Jed Beaton | | 431 |
Full Standings