Mt. Morris, PA
High Point
AMA Pro Motocross Championship
With High Point Raceway marking the first eastern race of the 2021 Lucas Oil AMA Pro Motocross Championship, it also introduced and re-introduced some riders to the scene. Some were eastern-based privateers who have raced before but didn't make the trip to California or Colorado, but we also saw some new kids use High Point for a professional debut. With rules saying riders can now try a few pro rounds without losing eligibility for the Monster Energy AMA Amateur National Motocross Championship at Loretta Lynn's Ranch, High Point served as the perfect spot to get experience against the best in a 30+2 format.
Jack Chambers, of the Rides Unlimited KTM amateur squad (that team also began racing pro events this year in Monster Energy AMA Supercross, but Chambers won't race supercross until '22), made his pro debut at High Point. He had fantasy motocross players around the world buzzing when he qualified in the top ten in the 250 class, but the rest of his race day ended up getting really wild. A first-turn crash in moto two, for example, left he and Jo Shimoda's bikes tangled for nearly 10 minutes!
We texted Chambers yesterday to hear his story.
"I was so excited building up to the race weekend, riding and training at 83 Compound with the Lawrence brothers and a few other pros," explained Chambers. "I wasn't as nervous as I thought I would be, as it's my first time racing anything but amateur nationals and GNCC type stuff. I sat on the line for qualifying with total confidence knowing how much work I've put in to get to this point. I was fastest in B group, which didn't surprise me, but even better, I ended up sitting ninth after the first round. The track didn't get much faster so I went out in the second session and was fastest again in my group and that put me ninth overall going into moto one. Looking at the names on the qualifying list and seeing my name as the top KTM rider and also in front of people like reigning supercross champ Colt Nichols may have led to the jitters and a rookie mistake on the gate.
"I ended up hitting neutral about 10 feet out of the gate. I couldn't believe that happened—it doesn't happen very often as many starts as I practice. Starting dead last wasn't ideal after I had the confidence of qualifying ninth. After that, the first moto was basically a wash and I spent the next 35 minutes trying to work forward but with some falls that were costly, so I didn't make it very far!"
After a 33rd in moto one, Chambers headed to the gate for the second moto, but he knew his gate pick would be far worse than the ninth pick he had for moto one.
"The second moto I was ready to rebound and make it a good one," he said. "With a horrible gate pick, I was forced to the outside. I was kinda mid pack going into the first turn, I think Shimoda hit someone's rear tire and completely turned right when we were all going left. I saw him at the last second and tried to avoid it but we ended up getting tangled up and unfortunately lost almost four laps trying to get back going."
We texted Shimoda to asked what happened from his perspective:
"I got hit by #90 [Dylan Schwartz] and I hit #38 [Austin Forkner's] rear wheel and fell over to the right," texted Shimoda. "My bar got stuck in the rear wheel of another rider."
That rider was Chambers. The two bikes were now stuck…and they simply would not come apart!
"Yeah, it was crazy, definitely the most stuck I've seen any bikes," said Chambers. "When I hit the ground I felt my bike kinda' lift up in the air. I was stuck underneath for a second but once I got up I saw the bikes were tangled but didn't realize how bad. There were two guys already helping out, Jacob Martin from PC [Pro Circuit] and Derik Dwyer from Star. I waved over my mechanic Dalton Keeven and he asked to cross the track to come to the first turn. I then saw Jo's throttle side bar in my spokes and they were yanking on the bikes trying as hard as they could to pull them apart. I got mad for a second realizing my shot of a solid second moto was gone. I then I just wanted to finish and complete my laps to get experience and ride my dirt bike!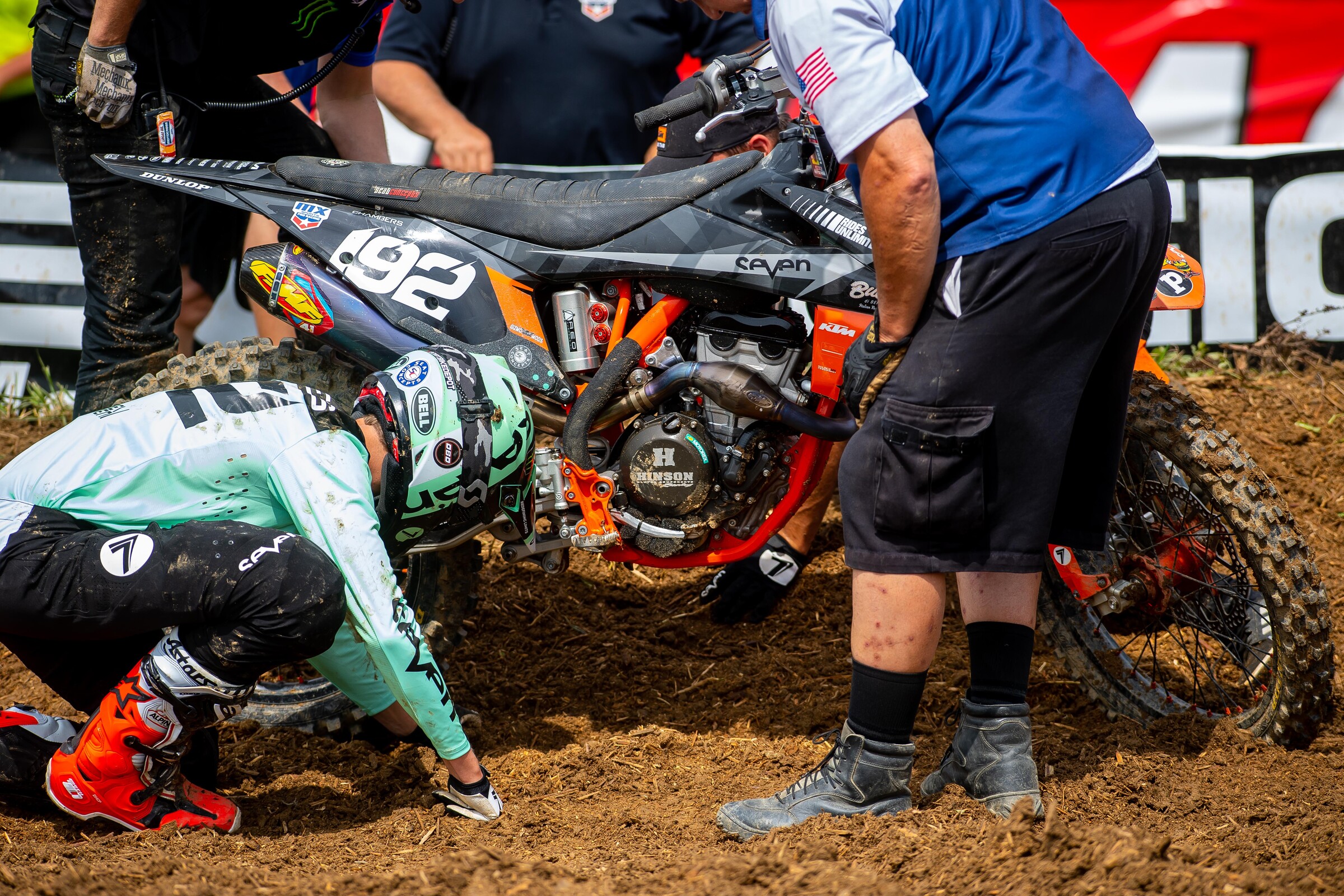 "We ended up stuck there so that Jo and I were discussing what happened. As some say we were talking about what, 'Sushi restaurant we were going to after the race,'" Chambers laughed. "The leaders then came around starting their second lap but bikes were still together. One of the mechanics popped off the master link and clip to get my chain off and then the bikes finally came apart. By that time they were coming around for another lap and I'm still sitting in the first turn! My mechanic then grabs the chain to put it back on and since another mechanic took it off he couldn't find the master link and clip that was taken off. We were sifting through the dirt to find these tiny pieces. If anyone has ever put a chain on a bike before they probably know the clip has to be in the right spot to pop on easily. My mechanic worked so well under pressure and popped it back on in seconds. We then saw that three spokes were broken/bent and another missing. My mechanic then wrapped the one spoke and pulled another out of the rim and said, 'Get on let's go.' At the time I was still in shock and disbelief this has just happened, and now I was starting my race as the leaders came around starting their fourth lap."
That led to a strange situation for Chambers, who wanted to log laps and gain experience but not mess up the situation for the leaders.
"I hopped in behind [Justin] Cooper as he was leading at the time and tried my best for at least three laps to stay with them. I was getting the blue flag on almost every jump. I kept my distance from ruining someone's race but continued with mine as I should have. If bad luck could hit someone all at once I believe it was me that day! We will move forward and onto RedBud this weekend. Then we begin prep for Loretta's."
Chambers is still pretty new in his development process, but he's already thinking about how quickly the future will become the present. He hopes that, Yes, soon mom and dad might not have to foot the bill for his racing!
"My plans for this year were to race A class after only being in B class for 6 months during the 2020 season. I look forward to ending my amateur career this year and taking the next step in moving to the pros! We made the decision to race these two pro nationals last minute to further prepare myself for Lorettas. Looking past that, I will start my 2022 supercross prep shortly after Loretta's, depending if I decide to race any more pro nationals. Huge thank you to all my sponsors helping make this process a little easier on myself and my parents! Soon enough my parents won't have to foot the bill for all of this and I will be making a living giving back to them for all they sacrificed."