Main Image by Ryan McLeod
Welcome to Racerhead and a rare early off-weekend for Lucas Oil Pro Motocross. We're only two rounds into the series, but Hangtown chose to move to the back of the schedule for 2021 after missing 2020 due to COVID-19 restrictions in California—otherwise we would already be a quarter of the way through the series. Instead, after starting Memorial Day weekend at Fox Raceway in Pala, and then Colorado last weekend for an excellent Thunder Valley event, this break comes with ten rounds yet to be run. Next weekend we will be back at High Point Raceway, which also could not happen in 2020 due to restrictions in Pennsylvania. Those are almost completely gone now, though pit and paddock access will be very limited for spectators. Hopefully by the time we get to RedBud, or maybe Washougal later in July, things will change enough to make it all seem like we're back in 2019 again.
High Point is the home race for Racer X and MX Sports, which means I get to spend the better part of these couple weeks working at the track, doing things I used to hate doing as a kid—moving grass, weed-whacking, building fences, and just getting the place all cleaned up—but now love getting outside and doing. It's also cool to see my hometown slowly filling up with big rigs and motocross fans. Right now, we have a half-dozen team semi haulers parked right outside my office window, with more to come! Check out the video I shot on Wednesday:
As far as the first two rounds go, I think the racing has been outstanding. I don't think a lot of folks would have guessed that at this point Ken Roczen and Dylan Ferrandis would be the two 450 race winners and a single point apart in the standings, let alone that multi-time champion Eli Tomac would be struggling to even be inside the top ten—especially at his home track! The 250 Class was shaping up as a battle between former champion Jeremy Martin and Honda's 17-year-old Jett Lawrence, along with brother Hunter and Martin's Monster Energy/Star Yamaha Racing teammate Justin Cooper. Unfortunately, and for the second time in 2021, both J-Mart and his older brother Alex both got hurt on the same day. Both are out, and the 1-2-3 last weekend was Cooper, Jett, and Hunter. If I had to pick a pair of new winners in this series at High Point, I would absolutely pick Aaron Plessinger in the 450s and Hunter Lawrence in the 250s, as both seem to be gaining confidence and might be due for wins.
Speaking of the Lawrence brothers (and the Martins as well), I spotted this in Mitch Kendra's News & Notes from Thunder Valley:
"According to Honda, this is the second set of brothers to land on the same overall podium in AMA Motocross, joining the Martin brothers, who did so in both 2016 and 2017."
Turns out it happened once way before, and by another set of Honda factory riders who were also brothers! In 1973, at the Lake Whitney 250 National in Texas, brothers Gary and Dewayne Jones went 1-2 in the overall results aboard their Honda CR250M Elsinore motorcycles.
A note on Jeremy Martin: After he won the first moto at Thunder Valley—the 36th of his career—he went down early in the second moto and was putting on a charge up through the pack when he crashed again and ended up breaking his hand. J-Mart went to the Alpinestars Mobile Medical Unit for an X-ray, and as he was leaving, MX Sports' Jeff Canfield and myself ran into him and offered our condolences on having another injury. He said, "You know, I was going to win this championship. I'm sure of it. But what are you going to do? My shoulder was out of socket for an hour and a half [in supercross], my wrist is jacked up, and now I've got this [broken hand]. Do I try to keep going and getting wins or just stop and get everything fixed up and come back and start all over but healthy? I think I'm going to just get it all fixed up and come back when I can.…"
What was so interesting about that to both me and Jeff was just how certain Jeremy was in his voice when he said I was going to win this championship. I'm sure of it. He was absolutely flying in that first moto, and he was flying when he crashed in the second moto too.
Besides the Martins bad luck, the ongoing problems for Tomac as well as defending 450 Class #1 Zach Osborne, there were a lot of good things to discuss about Thunder Valley, including the massive crowd that turned out that seemed like the biggest one for David Clabaugh since he hosted the 2010 FIM Motocross of Nations there in Colorado. I mean, the place was absolutely packed with motocross fans who all seemed to be extremely glad to be back outside at the races together and not having to wear masks, for the most part. It felt like 2019, only much bigger. But the thing a lot of people have been talking about is the track itself. Shane Schaffer carved out a very good track, added a few changes to the northern end, and then did a fair amount of watering on Friday afternoon, only to have a fierce windstorm come along that night and blow dry the track. It turned out to be much less moist that anyone anticipated, but rather than hit it hard all morning with water, it was decided to just water what they could between races and see how it all turned out. And when a red flag came out for the first 250 moto after Jerry Robin got knocked out in a corner when another rider hit him from behind as he was falling, they backed the start of the second moto up from 3 p.m. to 3:30 p.m. to give them a little more time to water. The result was a much harder pack track than usual, and without some of the deeper grooves that tend to develop as the day goes on. It was definitely a change of pace from what the riders saw at the opening round at Fox Raceway in Southern California, where it was so dry that they had no choice but to put as much water down on it as they could. At Thunder Valley it only got a little dusty in a couple of sections, and certainly not enough to cause vision problems for even the back of the pack. And the vast majority of the riders I heard from, as well as the ones Steve Matthes spoke to for his PulpMX post-race Pro Circuit podcast the takeaway was almost universally positive. We will certainly be discussing changing up the track prep a little at future races, weather-willing, so stay tuned.
And while Lucas Oil Pro Motocross is not racing this weekend, thankfully MXGP is finally getting started over in Russia with the previously delayed opener set for Sunday morning. The COVID-19 situation has been much different in Europe and other parts of the world than it currently is here, and that has wreaked havoc on the calendar. But the MXGP faithful have been patient and hopeful, and now the battles between reigning champ Tim Gajser and title hopefuls like Jeffrey Herlings, Jorge Prado, and Antonio Cairoli can finally begin. You can watch the second motos live on Sunday morning on the CBS Sports Network, with MX2 at 8 a.m. ET and MXGP at 9 a.m. ET, or you can watch it all live by logging on to www.mxgp-tv.com. Here's wishing all of the MXGP paddock a safe and entertaining return to racing in Russia, I will definitely be watching before I start the big lawnmower here at High Point on Sunday morning.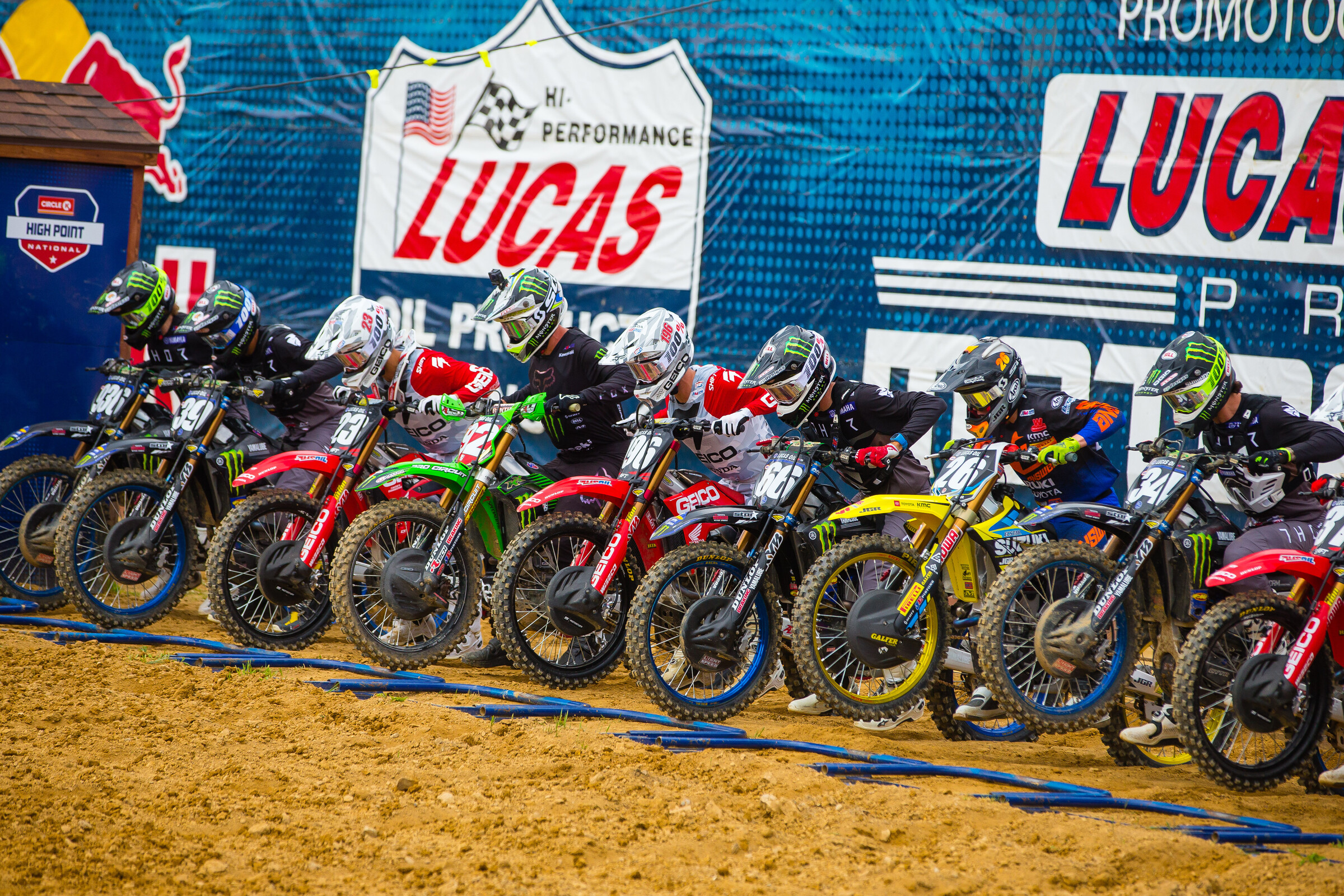 Reset Button (Jason Weigandt)
High Point will serve as the pressure point in this Lucas Oil Pro Motocross Championship. It's been fun watching this 450 talent stack, with eras colliding and established winners battling super-fast newcomers. The opening laps of the first 450 moto at Lakewood really sealed it in, as you could barely even keep up with the passes. In the end, though, we've already seen a theme emerge—Dylan Ferrandis and Ken Roczen are the only guys to win motos so far. Two races do not make a series, but it's up to all of the other guys in this deep field to make a statement at High Point. They get a weekend off to reset, they get what should be a totally different track as we head east. This is the chance for riders like Cooper Webb, Marvin Musquin and Eli Tomac to turn things around, Chase Sexton and Adam Cianciarulo to capitalize on their speed, or maybe Zach Osborne to claw his way back in (although that's going to be tough with a nagging back problem. Zach told us his back was really coming around the week before Thunder Valley, but then he jammed it and the pain came back, which impacted his riding, and that led to a few crashes while running up front in moto 1. He tried to ride moto 2 but couldn't hang on.)
So, can anyone turn their season around at High Point? It's happened before. In 2014 James Stewart started the season off the pace—rare for him. A knee injury late in the Monster Energy Supercross campaign caused him to miss some testing time. James went 6-6-5-3 in the first four motos of the season, but the real issue was the gap. At the opener, he was about a minute-and-a-half behind the leaders in both motos. (To give you an idea, 90 seconds covered the gap between first and sixth at the 2014 opener. This season, 90 seconds covered first through 13th at round one. Things have tightened up.) Was James really going to find a minute just by doing some testing? Well, he did! At High Point that year, James suddenly busted out a 1-1, holding off Ken Roczen, Ryan Dungey and Trey Canard, and it didn't even look hard. That High Point race has become overshadowed because a few days later it was announced that James had failed an anti-doping test a few months earlier in supercross, and his season fell apart. But if you remove that story for a moment and look only at his results early in the season, you can see a sign of encouragement. Riders can make up huge ground just with bike changes and an overall reset into motocross season. That's what riders like Tomac, Webb and Musquin need to hear right now (Jason Thomas hits on this in detail down below in his Pro Perspective).
As for the 250s, I think the narrative is a little more set already. It was really not a surprise to see Jett Lawrence, Hunter Lawrence, Jeremy Martin and Justin Cooper taking the podium spots early this year. They might have been the four biggest favorites coming into the season anyway. Is there anyone else waiting in the wings of the 250 class ready for a breakout? Maybe Colt Nichols, just to name one? It would be cool if it happened, but we could be looking at Coop versus the Lawrence brothers this summer for the title, now that JMart is out. Big bummer there—his attempts at a third title in this class continue to be star crossed.
Anyway, a rider who didn't hit the results he wanted at the first two rounds can point to the weekend off as a spot to make up ground. That makes High Point critical. Can't wait for next weekend!
Pro Perspective (Jason Thomas)
Two rounds into the series, most riders have a good idea of where they stand. For those who are struggling, this off-weekend provides an opportunity to turn the proverbial ship around. It's difficult to really make progress when races are back-to-back, as most efforts are geared toward recovery. To take steps forward, riders would want to really up the workload and/or put in countless hours testing new settings. This past week presented a perfect opportunity for that. If your name is Eli Tomac, Cooper Webb, Marvin Musquin, or Austin Forkner, this break couldn't have come at a better time. Those riders are expected to be in the mix for wins and really haven't been anywhere near that battle as of yet. I would bet this week was a hectic one for many, leaving no stone unturned in hopes of regaining form.
Everyone's challenge will be a bit different, though. Some seem to be lacking fitness, some need to find more raw speed, and some look unwilling to push the edge, which usually points to discomfort with the motorcycle. Those individual needs will be attacked head on again today, most throwing the kitchen sink at their problem. If solutions can be found and implemented before High Point on June 19, the season could be saved. It's very easy to think each round is the most important of the series, and I could likely build a case for that (I may do that just for fun). I do firmly believe that these early season off-weekends are pivotal, though. If you're unable to sort out your problem in these early opportunities, chances of fixing it in 2021 will wane quickly. This week was a great chance to fix what ails. Hopefully, our struggling protagonists can take a step forward.
Finally, for me, check out privateer Josh Varize's interesting weekend.
McAdoo (Kris Keefer)
Even with the spectacular crashes we have seen from Cameron McAdoo as well as the season-ending injury he sustained at Pala, I would consider this year a breakout year for Mac. With a Daytona main-event win as well as heat-race wins and other laps led, this year has been his best. I know it's tough to say that when a guy is out of the outdoor series after the first round but look at where he's come from. From driving Christian Craig's motor home and borrowing a bike from Steve Matthes in order to race Red Bull Straight Rhythm to getting on the coveted Pro Circuit Kawasaki team and winning the Daytona SX. I feel like there is a lot to be proud of while Cameron is currently laid up on the couch with a knee injury.
I got an update yesterday that McAdoo underwent a successful leg/knee surgery that should take him off the bike next three months, but he will have the backing of the Monster Energy/Pro Circuit Kawasaki team next year. Our sport is brutal at times, but it's good to see that the PC team is sticking with the likable kid from Iowa and not ditching him. Sometimes getting knocked down will give a rider a reset that could make for an even better, hungrier type of racer. This time off could also smooth Mac out on the track when he returns, which could make him one of the favorites to win a 250 regional title in 2022. I wouldn't bet against him….
---
Hey, Watch It!
Our man in the film room Kellen Brauer posted another very informative and interesting Race eXamination that takes a deeper look those amazing first laps of Ken Roczen, as well as the track conditions that made for some really exciting and entertaining racing at Thunder Valley:
Weege and Max Anstie teamed up again for the Twisted Tea Best Post-Race Show Ever, and Max has a different opinion on the track prep, and then Weege lets Jalik Swoll throw Matthes way, way under the bus after a career-best seventh overall:
Motocross Action's Josh Mosiman has been doing a Zoom-like "This Week in MXA" feature throughout the year. He called on DC this week to discuss the television package with NBC Sports, MAV-TV and peacock streaming, as well as a few other topics, check out their conversation here:
---
Head-Scratching Headline/s Of The Week
"White House press charter plane delayed by cicadas"—CNN
"Revenge Spending" Clears Out Lamborghini for Most of 2021"—Bloomberg News
"The Lamar Odom-Aaron Carter fight heralds the end of civilization"—New York Post
Random Notes
For the latest from Canada, check out DMX Frid'EH Update #23.
Thanks for reading Racerhead. See you at the races!