Pala, CA
Fox Raceway 1
Lucas Oil AMA Pro Motocross Championship
The last time Alessandro Lupino raced on American soil, he was riding his Kawasaki to a fifth-place finish in race three of the 2018 FIM Motocross of Nations at RedBud in Buchanan, Michigan. Even though the 30-year-old Italian has been racing the FIM Motocross World Championship for over a decade, he still wanted to knock another "first" off his list as he packed up and headed to the USA to race the opening round of the Lucas Oil AMA Pro Motocross Championship. He'd never raced a full American Pro Motocross National before but was excited for the challenge and came out firing on Saturday. After qualifying fifth overall on the day, suddenly there was a lot of spotlight on how he would fair in the motos, but an untimely first lap crash put him on the back foot for much of the racing action. Still, he was all smiles after his 13th-place finish in 450 moto two and we caught up with him after the race to hear all about his American experience.
Racer X: The day started tremendous for you, qualifying eighth in the first session and then fifth in the second session, but then you crashed in the first moto and had to charge your way up. Came back for 13th in the second moto. What was the whole experience like?
Alessandro Lupino: Yeah, it was a really good experience. We came here just to have fun and do some training and I did not expect that I would be so fast in the qualifying sessions because we changed our bike. The suspension setting, it was too soft for here, so they made a new one completely yesterday and we have a stock bike. So, we just went out there for training and it was good. I threw away the first moto. I made a mistake on the first lap when I was in the top 10, something like that. And then I had a technical problem, so I needed to stop. The second moto, the gate from last [gate selection] was so, so far away from the corner. [Laughs] So, I tried, but yeah it was okay. It was fun. I'm a little bit disappointed because I didn't push 100 percent because I was in the back, so I didn't want to take any risks in the motos. But it was a good experience and I'm happy that I did it. Maybe I would like to make it to another one in the future.
Yeah, I think you were coming out here to do this one and Thunder Valley, but you just ended up doing this one, correct?
Yeah, the plan was to do the first two, but they changed like two weeks ago my planned calendar in Italy, so I have the Italian Championship. So, tomorrow morning, I fly back.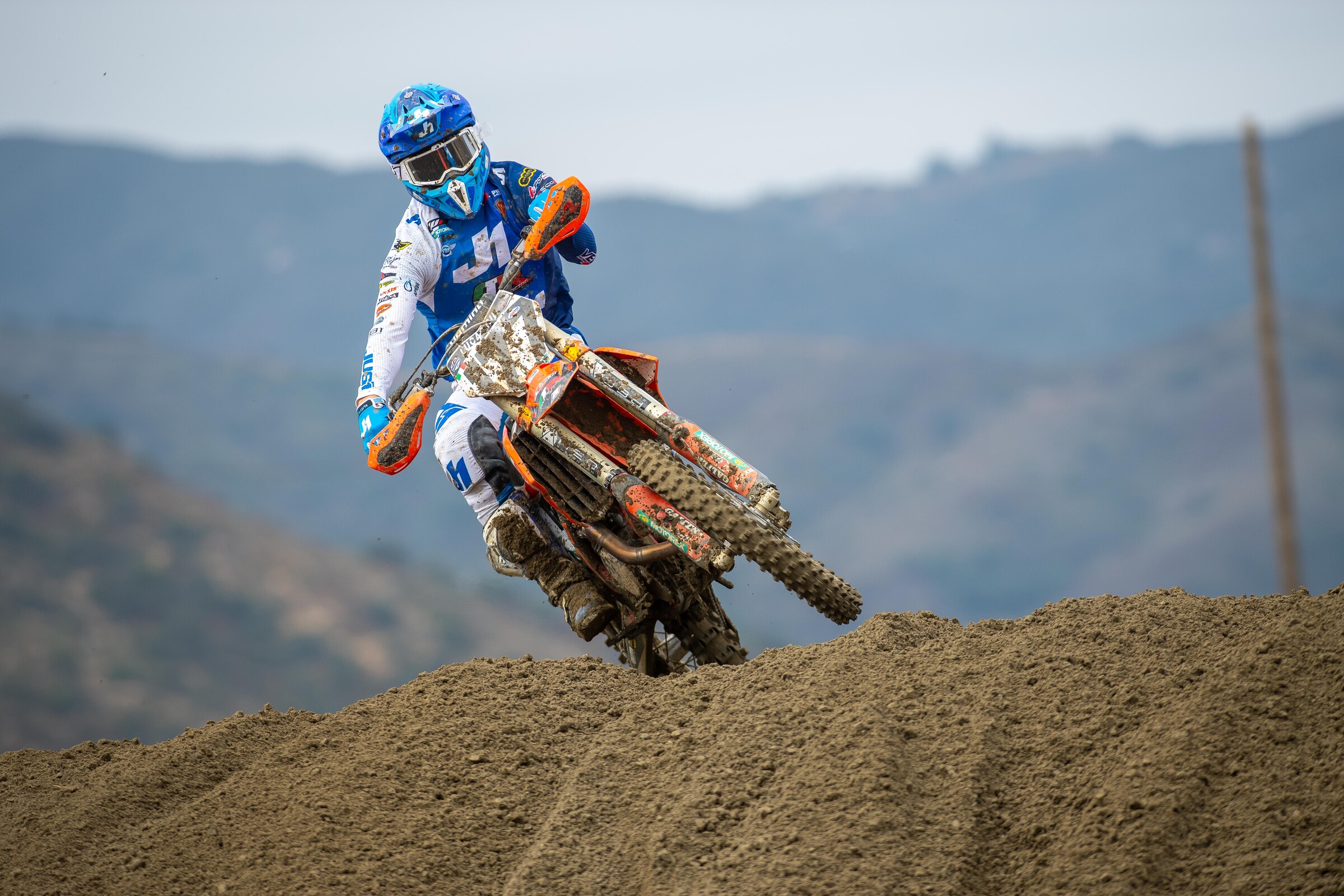 So, I was talking to Zach Osborne about you yesterday and he said that you were talking about tracks out here and they were a lot different than you expected, but how different were they? Did you think they were going to be epic and they kind of weren't?
No, when I was here the first day, I went to State Fair [MX Park] and it was so busy. The track was like five meters wide, and they pass everywhere with like 20 meters in the second moto and I'm just like, "that's not possible." And then people were cutting this way and another one the other way, so that's one that, to be honest, I don't like. We go on the bike a lot and it's already dangerous to be training every day, and it's more dangerous when you go on one track like that. So, that's the only thing I don't like. But then, we went to Lake Elsinore. They rented the track and invited me. It was really nice. I enjoyed the track a lot. Because here in the USA, you ride, but you enjoy riding. You just want to keep on going because the tracks are nice, they have nice corners. In Italy especially, because the summers are really hot, but even Europe during trainings the tracks are not well prepared and not nice. So, we are always struggling. We have to go on an illegal track or something like that to have a good training, otherwise it's not possible.
So now you've come out here and raced Fox Raceway and raced RedBud [MXoN], so what track on the calendar would you most like to race if you were able to come back again?
RedBud I like a lot. Even Thunder Valley. I raced that in 2010 for des Nations, and I liked the track a lot. Even this one was pretty nice. I enjoyed riding, but this one was maybe a little more dangerous. More Europe style let's say.
How is it racing with all of the Americans though? Because normally when you've raced here, you raced des Nations which is a lot of GP regulars so the track might develop a little bit differently. So, what did you experience actually racing a full day with them as opposed to what you've experienced in the GPs?
I expected that they would be more aggressive, but they were pretty good. Even with me coming here, I expect that they would be aggressive in the motos, but they weren't. So, they are clean on the bike, they are clean riding and I'm less scared to ride here than in Europe. Because Europe, it's very true that many years there are always the same riders, but there's always the five or six riders that are dangerous. I mean, not dangerous, but aggressive. So here, even the fastest guys or the slowest guys, they are still clean. So, I enjoyed it a lot. The only big difference is that five minutes of free practice.
Yeah, not much time to develop the bike, huh?
Yeah nothing. Like this morning, we had the new setup, and I was like, "I hope it's good, because I cannot change it." [Laughs]
So how much development and testing were you actually able to get done out here to help you in the Italian Championship and the GPs this year?
I'm curious because like I told you, Friday night they made a new setup because I did three training [sessions] here. But my suspension that worked really good in Europe was really soft here. So, we didn't understand that. Why such a big difference? So, thanks to WP and Athena with Get, they made a new setup this morning that was way, way harder than what I ride Europe and it worked! I had a little bit of stress, but it worked, so I'm curious to go back in Europe and try that setting. So, I will ship it with me, and this is the only thing I brought with me, but we will take it back and see how it works on our tracks. Maybe it works really good, and all the guys will say we have a good bike, so it will be interesting to see it on our tracks.
Who would you like to thank for helping you get out here and do this?
For sure, my team MRT. They are from Italy. And then KTM, WP, and Just1 are the guys that made this dream come true. So, thanks to them that I got to do this nice experience.