Salt Lake City, UT
Salt Lake City 1 (East)
Monster Energy AMA Supercross Championship
The 250 class is in a bit of a rebuild for 2021, with a slew of first-time winners, including several by rookies and second year supercross racers. Now Monster Energy/Pro Circuit Kawasaki's Jo Shimoda is on the list, holding up strong under pressure from Michael Mosiman and Jett Lawrence to net the win on Saturday in Salt Lake City.
Shimoda, who will turn 19 in a few weeks, is much more consistent than the average teenaged racer, which is what netted him third in last year's 250SX East championship, and 250 Rookie of the Year honors, and is what has kept him in this year's title fight. It's slim, but mathematically Jo is still in contention against Colt Nichols with this weekend's Dave Coombs Sr. East/West Showdown remaining.
Shimoda spoke with the media following his victory.
Racer X: Jo, you're the first Japanese rider to win a supercross event period. How does that feel?
Jo Shimoda: It feels amazing. I knew something was coming. I had a few podiums this year. The race I did today was more like, I just kind of kept my pace. I knew I wasn't the fastest today, but finally I just got a holeshot and with the whole race it was not easy, but I knew it was coming. So, I'm pretty happy with it.
You were really consistent last season. You finished in the top three in points. You're really consistent this season. You're still alive going into the finale. You said you weren't the fastest rider tonight. Is that your style? Do you feel like you're more in control than a lot of the other 250 riders who have great races and then bad races? Is that something that you actually try to do, or is that just the way it has worked out the last couple years?
I do feel like I'm a little bit in control, but I don't think consistency sitting in fourth in fifth, I don't think you call it consistency. If you're fourth and fifth for all the races, you'll never be the champion. My goal was to be consistent in 1, 2, 3 spots. It's getting better and better, so we're going to keep going like this way.
I'm just curious. We know that racing is 100 percent self-talk. You never stop talking to yourself. I'm kind of wondering what kind of things were you saying to yourself to get through that? You've never won before. You're coming through to win. What are you saying to yourself to calm yourself down or to get yourself elevated? Was that fender slap planned for your first-ever win?
All I was thinking is just get a start. I'm a pretty bad starter, so that's been my first goal. Just get out there, try to lead some laps, and then see what happens. That was the first step for me.
So is there something you were saying to yourself to calm yourself down while all that pressure you were under?
I don't know. Just don't do anything stupid. I don't want to lose anything. Me and Jett were talking after the race, and you don't think about it, but the body reacts to the stress and the pressure. I handled it okay.
Can you tell me about the lead there? Mosiman was trying to get around you. He must have taken a dozen pass attempts. How were you able to keep your cool? Then eventually Jett was behind you as well, and you held on. How was that experience?
Honestly I think I handled the pressure not bad. I didn't make any mistakes in front of him. But the lappers obviously were cross jumping in front of me. That kind of slowed me down a little bit. Being in the lead, first half of the races, I was a little bit nervous and tight. It's gotten better and better at the end of the race for sure.
Just talk about that fender slap. Was that a planned move to thank the team?
I was practicing it all week. Every time I crossed the finish line I was tapping it. That was the best time to do it, I guess. [Laughs]
Going into the next race you're going to be up with some other rivals that you haven't raced with obviously this year. Some that you battled at Loretta Lynn's and stuff like that in the past. Are you the type of person that has watched some of the other races and really studied what they're doing and kind of come up with a plan of attack? What's the plan for next weekend?
Yeah, we study a lot. We actually have a meeting after the race at PC. I even go there for West guys just to learn and get ideas. But racing-wise, I don't really care who's going to race against me. To me, for right now I need to give my best at races. Even today, still riding tight and not 100 percent. So just for right I don't really care about the other guys racing with me.
How was it having Jett up there? He was probably the first person to catch up to you today after the race. I think he was happier than you might have been. How was that?
He's cool. He's talking shit all the time, but we're good friends. Something funny here. Before the race, he actually told me he's going to finish first and I guess I'm going to be finishing behind him and he's going to pass me for the championship, but I think I beat him today. I don't know how he feels, but we're good friends so it was fun to have him.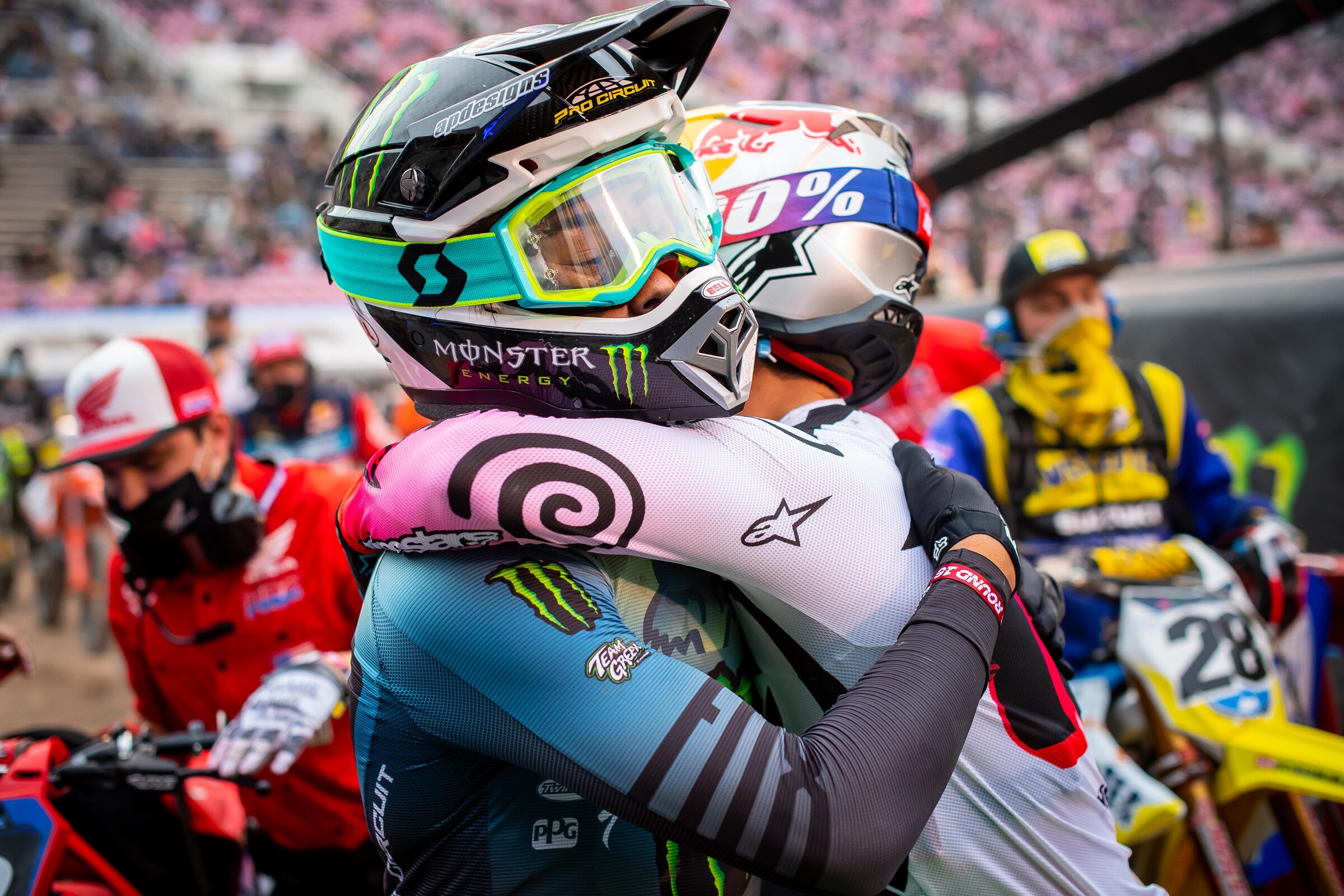 When you got that first podium earlier you talked about wanting to earn it. Can you point to anything specifically that you did over the break that made you really be able to earn this finish tonight?
The past season, my goal was to be in the podium, which I got the podium two times. On this break, we set our brain to winning now. I think that's the biggest change we made, is to go racing for winning, not to finish inside the top three.
When you saw your teammates Cameron McAdoo and Seth Hammaker win earlier this year, did that kind of motivate you? Did you think, I can do that? I want to prove that as well. Did that add any extra fire to you coming into these last two rounds?
Yeah because when I ride supercross at the test track, Cameron and Seth are always there. If they could win, I could win. I was actually the only guy who was not winning in the PC team. So that motivated me a lot, for sure.
We did a podcast a few weeks ago and you said that you struggled taking your practice speed to the track. You were bringing about 80 percent. So how many percent did we see tonight? How close to 100 percent on the track? You were pretty scary at whatever you were tonight.
I would say 85-90 still. When you feel good, you don't even get tired and you're lap times just keep improving and improving. I can't wait to have that feeling on the race day.