Salt Lake City, UT
Salt Lake City 1 (East)
Monster Energy AMA Supercross Championship
This one was a long time coming. After turning pro in 2011, Malcolm Stewart won the 2016 250SX East Region Championship for the GEICO Honda squad, but then found himself pointed out of the class and without a ride for the 450 class. He bounced around, trying to build his own team on a Suzuki in 2017. He picked up a fill-in ride with JGRMX in 2018, but really didn't find his stride until he joined the SmarTop/Bullfrog Spas/MotoConcepts Honda team in 2019. It's odd to look at it on paper, because Malcolm only completed one and a half 450 mains that year, but he showed next-level speed battling for the lead at Anaheim 1 and again at Glendale until a terrible crash in the whoops left him with a broken femur, ending his season.
It wasn't all bad, though, because in those two races alone the world saw Malcolm's true potential. His goal for 2020 was to make it through all 17 rounds healthy, and he did that, showing a new level of consistency that left him tied for sixth with Zach Osborne in the final standings.
Although the MotoConcepts squad has proven plenty capable at a high level, Malcolm moved to full factory status with Monster Energy/Star Racing Yamaha for 2021. For a rider so close to a 450 podium before—he had two fifths and a fourth during last year's run of seven races in Salt Lake City—a podium visit in 2021 seemed almost inevitable. Yet, Malcolm again found himself logging super-consistent runs around the five to nine position. Through the first 15 races of 2021, Stewart finished in a single-digit spot nine times. Three of those were top fives.
Time was running out to get that podium. Malcolm's Atlanta run was curious. He ran up front at the first race but appeared to take a mid-race breather, literally backing off the pace and losing a few positions before regaining form and finishing 11th. A big crash early in the Atlanta 2 main bounced him out of the race. At Atlanta 3 he put together a great rebound, crushing the big whoops in his usual fashion and riding strong to the end, taking sixth.
Then came Salt Lake, which for some reason seems to be a good place for him. He spent most of Saturday night stalking series' leader Cooper Webb, nearly making the pass a few times. Then Webb turned up the jets as he normally does late in the race and got away, but Stewart kept charging and held on for third. Finally, a podium for Mookie.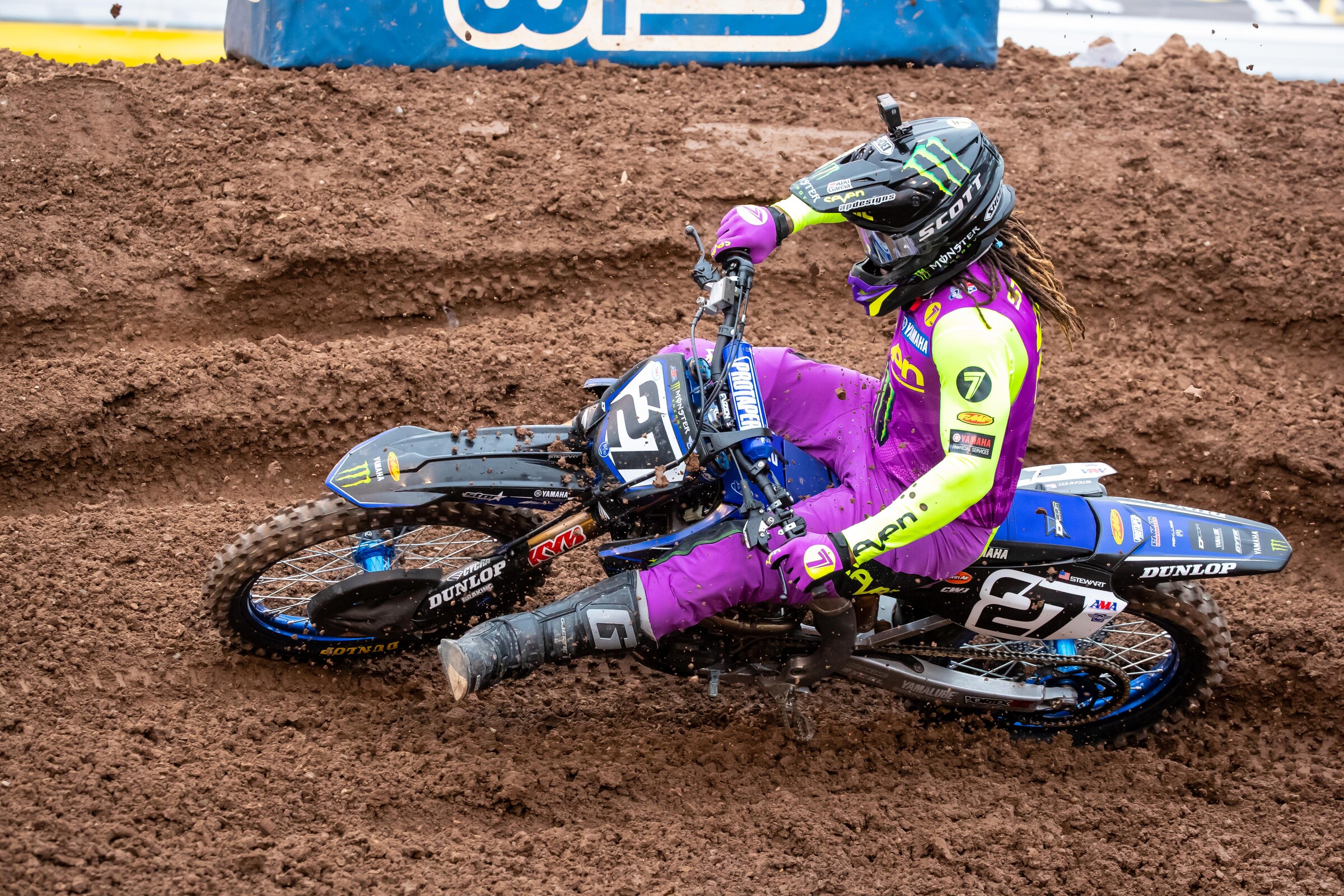 Saturday night's press conference was cut short due to riders heading to the airport to catch red eye flight's home. Mookie was able to answer a few questions before boarding time, though.
Racer X: Malcolm, you were hot on Cooper Webb's heels basically for the whole entire main event. You just had amazing whoops speed. It seemed everything clicked for you. Did anything lead up to this day happening or was it just kind of bound to happen?
Malcolm Stewart: For some reason, I like Utah. I always had a really good result here and always rode good here. The track was tough. I guess I would say it was easy, but what made it tough was just because everybody was doing the same thing and it was so easy to make a mistake. I was in that little pack with me, [Jason] Anderson, and Coop [Cooper Webb]. It's always fun just to have that battle, just to be in the mix with the guys because half the time I've been in the back just riding by myself or whatever. I just tried to make a couple passes. I tried to go for a pass on Coop and he just turned it up on me. It was kind of like the ship was sailed from there. I did everything I could to try to hang on to that #2. It was still a good race for me just to finally have that first podium for me. It's been one of those times. You just try to do everything you can to happen, and finally to have that succeed, it just takes a lot of weight off my shoulders.
Talk about that podium. That was a long time coming. You've been kind of flirting around in the area of it, but to make it up there, I don't think I've seen you grin that broadly maybe ever.
Yeah. It's cool to finally get that podium. It's always been one of those goals that I felt like I should have achieved a long time ago, but it definitely took a while for me. Just being in the race. Again, I've made a lot of struggles and things like that in my past that I felt like after we had the two-week break I definitely got the bike a little bit better and even fitness a little bit too. The 450 class is tough. If you ain't in the race and you ain't in the mix, you ain't going to get a podium in the back. That's for sure. It's all about just making a couple passes at the beginning and just finding yourself in the race, in the mix. I'm beyond stoked. It's a dream come true for me to finally have that. Now I've finally got that taste of it, so now I'm ready to have some more.
I think Swanny [Gareth Swanepoel, trainer] was working you pretty hard on those motos during the break. I saw you walk back to the truck one day like you were Guy B years old.
Oh yeah. That's part of it. Obviously you can't replicate a race for sure, but he does the best he can. Hats off to Gareth Swanepoel. He's been with me pretty much since the end of 2018. So it's finally starting to pay off. I'm here. We're here and we've finally got a podium. Let's just keep going.