Thanks to MIPS for setting us up with interview time with Honda HRC man Mitchell Evans, a relatively young talent in the MXGP class. The Australian has shown great promise of delivering results for his team, but injuries wrecked his 2020 season and have delayed his prep for '21. However, the MXGP schedule has been delayed, too, so that gives Evans more time to recover.
We got on the phone with Mitch during his team photo shoot last week to learn more.
Racer X: Your injury last year, I guess that kind of lasted a little while. How is the wrist doing?
Mitchell Evans: Actually I had two injuries last year. I had the shoulder reconstruction in April and then came back through the season and broke my wrist in Spain. So it's been a long process. The break was much worse than we first thought, so the process took a lot longer than what we would have liked. But finally we're back on the bike, so it's happy days again but it's still a slow process. I've just got to take it day by day. I still have a lot of pain when I ride, so I can only ride once or twice a week, but at least I'm back on the bike and getting in some laps.
So you can't do the full load yet?
Yeah. I can only really ride for an hour max before it gets too painful. Also, I'm still trying to recover it, to get the movement back. So the more riding I do, that means the less physio on it. The wrist is one of the joints that take the most amount of beating on a motorbike. The more riding I do, the more I've got to just sit and let it recover. So we're still trying to do physio on it every day, basically. So it's a fine balance of being able to try and ride as well as recover the joint.
With how long this series is going to go and even the delay to get it started, this might help you. A lot of guys might come in over-trained for a long season. Do you think there might be a small advantage here?
Yeah, absolutely. I even found that last year when everybody was still training full-time during the lockdown. I only started riding two weeks before the season restarted in Latvia and everybody else had already been riding for those three months. I read other people doing interviews and they were complaining about feeling burnt out. But for me it felt like I was just getting started again. After you have five months off the bike, you're just itching to get back on the bike and do some other sort of training other than cycling or gym. So for me, I'm loving every minute of being back on the bike and being grateful for every day that I get back on the bike. Honestly, I don't mind the season starting later. For me, it would be perfect if it doesn't start until August or September. The later the better!
How did you feel in the races before these injuries?
We started the season really strong last year, so I was very pleased with that. It was a little bit disappointing because I didn't really quite reach my goals. The best I finished was top five overall and I really wanted to be on the podium. But every time that I was top five overall, it was only just a couple of points I missed out on being on the podium. So it was always really close. Once I started again in Latvia, it was difficult with the three rounds back to back within eight days because you know you're not ready or prepared, and yes, racing that much does improve your fitness a lot, but if I had had an extra week or something those other races could have been a lot better. It was the same for everyone, so can't really complain too much there. With the amount of injuries that I had and the results that I got, it was the most fun that I've had ever racing. Just that fact alone made it the most enjoyable. That's what made me happy about how I rode. The results on paper weren't so good, but how I felt riding and my fitness and the improvements that I made, I was really stoked on.
Why was it so much more fun last year?
Many years before, I've started the season really strong and then started to drop off throughout the year and I struggled to keep my fitness there, whereas last year I just kept building every time. Every time I got on the track I was doing better, I felt better. So it was just that progression of feeling better each time I was out there. It became addictive.
You still feel like you've got more progress in you if you can get healthy here?
Yeah, absolutely. I think it was only just the beginning before I broke my wrist. The weekend I broke my wrist, I felt like that was going to be my weekend to either win or end up on the podium. So, I felt like I was only just sort of getting back to my full potential before another injury struck. But that's the way it goes sometimes. You've got to take it on the chin and just get back up. I've moved across the other side of the world not just to make up numbers. My goal is to be world champion, so we're going to keep striving for that.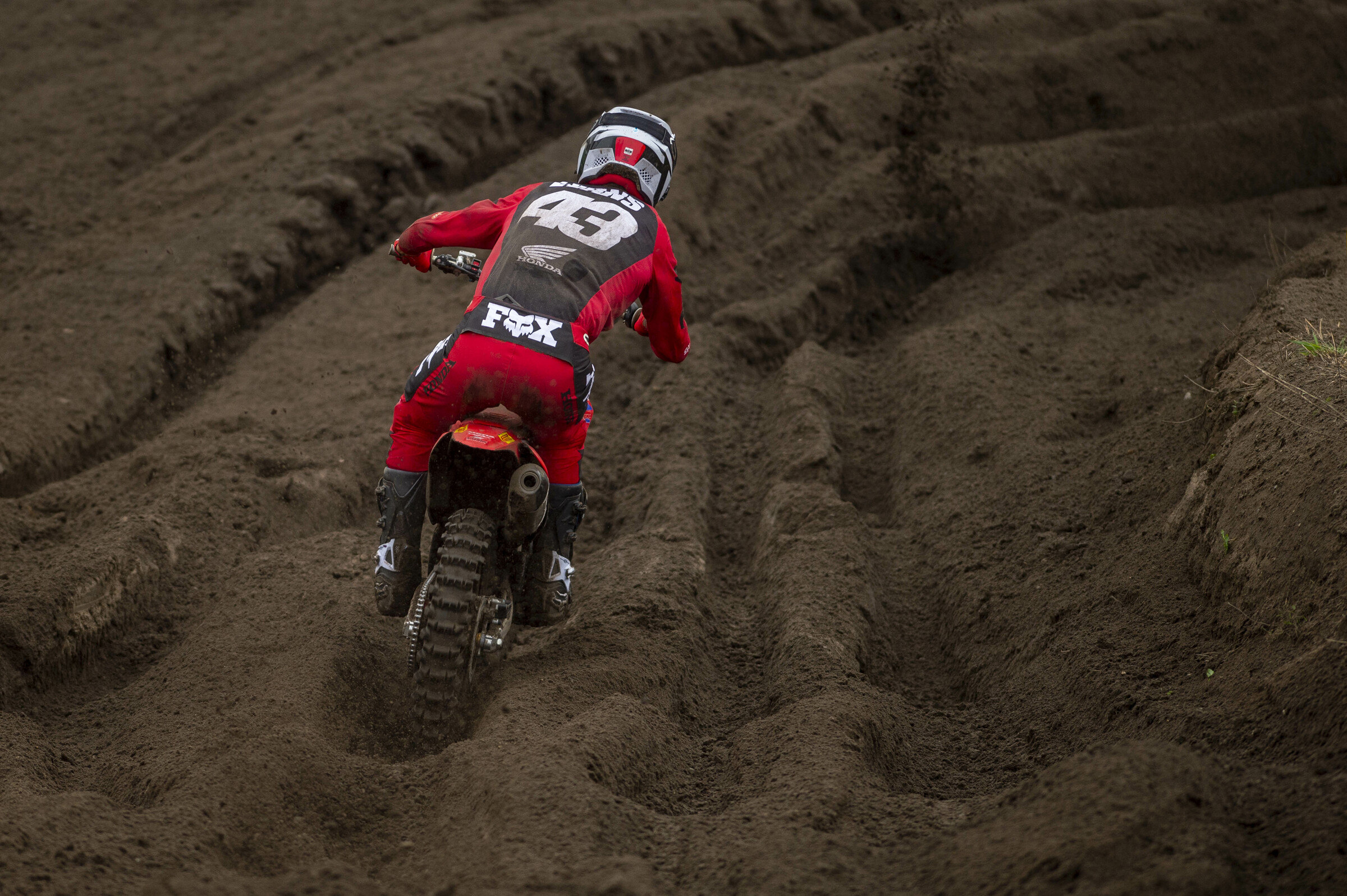 For you, was going to the GPs always the goal or were you just thinking you would stay home?
Yeah. The goal was always to move overseas, whether it was America or Europe. I didn't really know. For sure when I was younger growing up, we always were able to watch supercross on ESPN. Honestly, I never actually followed the MXGP until I got here in 2019. So, my goal was always to get to America and race supercross there. I've seen what the Lawrence's did. They moved to Europe first. Maybe I thought that's a stepping stone of getting to America. Now that I'm here in Europe and I've seen all these different tracks and different cultures, I'm actually loving it so much here. I got a good program going at the moment, so I'm quite happy where I'm at now.
Tell me if I have this right. I've talked to Michael Byrne who had been your team manager over there for the des Nations. Was those races a big part of what got you on the map, to have GP teams start to notice?
Yeah, absolutely. It's actually funny. We're actually here at the Maggiora track today and that's the first Nations that I did in 2016. I was just a fill-in for Jed Beaton who had broken his collarbone the week before. I was a late call-up, and I had actually never raced a thirty-minute moto before until I got here. That's kind of what opened up my eyes to overseas racing and Europe racing. So from the day I got home from MXoN, I put a plan together and my plan was to in two or three years' time to either get to America or get to Europe. After two years, I got the chance to represent Australia again at MXoN in Red Bud. Thankfully had some really good results and that's what put me on the map and got me here a year later. So it was pretty cool to look back and see that something that you think you're not ready for it at the time, but if you put in the hard work and believe it, it can be done. Definitely very appreciative of Byrner too. He helped out a lot in that process.
How had you not done thirty-minute motos?
I was 17, I believe. I was still racing the under 19 class in Australia. We did two, twenty-minute plus one lap motos. I was still going to school. I was actually in my final year at school. I wasn't even training full-time. Honestly, I wasn't even really taking it seriously. I was still going to parties on weekends and having good times with friends. Once I finished school that year, that's when I signed my first factory deal and was able to do racing full-time. The work that I put in then and the time that I was able to put in the work is what made the biggest difference.
How do you end up as a 450 guy now?
It kind of had a lot do with Nations as well, given that there's two spots for a 450 at Nations and only one spot for a 250. I knew with Hunter being in Europe at the time that unless he was injured, there was a better chance for me to get a spot on a 450. So, that's why I wanted to move to the 450 so early in Australia. I did that in 2019 and put in a good enough year to get picked for Nations. So that was part of the goal, part of the plan that I had put together to get over here. Plus I'm a bigger kid too, so I like the power of the bike a lot more than a 250.
So this was actually your plan? You kind of knew that Des Nations could be your chance to impress people?
Yeah, absolutely. I didn't see any other race where the whole world was watching. It's difficult because it's only one race out of the year, but I thought if I can do something good enough then it's a better shot at just racing than staying in Australia.
You've got MIPS on board with you and your team now. I don't know how much you know about that, but it's pretty cool. It's a thing that a couple different helmet companies use, which I think is pretty neat. The helmet technology, it's just evolving so quickly. As a rider, is that something you think about?
I'm a big advocate about safety and especially when it comes to protecting something like your head. You break a bone or something and you can get it plated and it won't ever be the same, but you can get by in life. If you injure your head bad enough, then sometimes you can never be the same from that. Being someone who has struggled a lot after they've had a concussion in the past, it's something that I rate highly is helmet safety. From the science and technology that I've seen behind MIPS, I think MIPS is the best choice.
What we've learned here is that the helmet rotating, like sliding around on your head, that reduces the impact. It's how it all twists and turns. That really helps with that. So I guess that's what they're learning with science.
Absolutely. They've gotten the idea from how your brain works inside your head, so if it can give you a little bit more room to slide then it's going to help, for sure. I think that with motocross, whenever you crash it's never just a simple you land on your head in the same way. It's always different every way. That's the hardest part about it, too. The forces that we undertake, especially when we crash, is like no other sport, really. So you've got to have the best safety equipment protecting you, for sure.
I know you're not 100 percent now, but at some point you'll get there. What is your goal by the end of the season? Is it a certain spot in points? Is it podiums? Do you need to win a GP?
For the moment my goal is just to be on the line at round one, at this stage. If we can achieve that, then for sure my goal is to get podiums. That was my goal last year. My goal was to win a race and an overall, so it's going to be the same this year, regardless of the injury. I believe if you believe in it enough then you can make it happen.