Atlanta, GA
Atlanta 3 (West)
Monster Energy AMA Supercross Championship
On Saturday at the Atlanta 3 Supercross, Justin Cooper led the first lap before a mistake in a tight turn allowed his young teammate Nate Thrasher to take over the race lead. Thrasher went on to win the race as Cooper finished in second place. But due to crashes from Cameron McAdoo, extended his points lead to now 20 points over Hunter Lawrence and 22 points over McAdoo with only the Dave Coombs Sr. East/West Showdown remaining. Following the race, Cooper spoke with the media via Zoom.
Racer X: Justin, you mentioned on the podium that you didn't gel with this track. Was it a little bit of that, trying to find that balance with the bike?
Justin Cooper: No. I've had a main setting for all the other supercrosses, then when we came here we definitely changed some stuff to get more comfortable, kind of the outdoor setting. You have that long straightaway with the sand. It feels pretty outdoorsy. So you had to change some stuff, I feel. I found a setting that I liked for all three. I didn't try to reinvent the wheel and find something I didn't really feel comfortable with. I just kind of picked my battles and picked a good setup that I felt could get me around the track the way I wanted to. The track was definitely tough tonight. Like these guys were saying, the whoops were tough. Definitely didn't feel comfortable skimming them all main, so I went to the jump line. That's probably what was losing me a lot of time, but I just felt like it was a safe option at that point.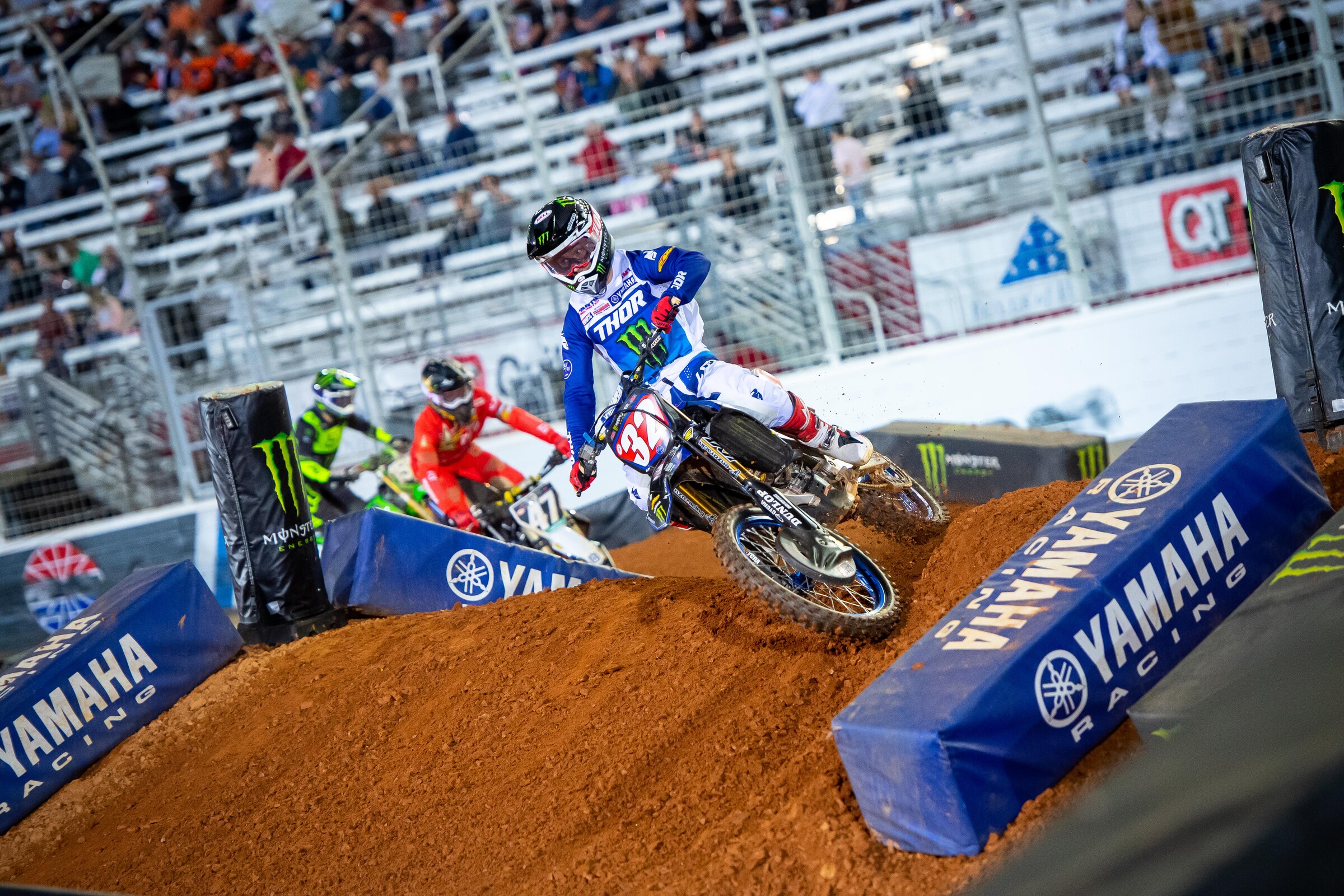 You're in a whole lot better position for the championship now than maybe coming into here. Talk about that a little bit and how that factored into tonight's event.
To be honest, I saw Cameron [McAdoo] was down in the whoops out of the corner of my eye. I didn't see Hunter [Lawrence] anywhere. I didn't know what happened to him. I found out that he crashed later on. I just couldn't get myself to push. I was in I felt like too good of a position points-wise to do anything stupid. I kind of just rode it on home. Nate [Thrasher] was definitely riding good. I was kind of just pacing off him. All in all, it was a good race for points. Just the track was really brutal tonight so I didn't want to do anything to throw anything away.
How do you feel going into Salt Lake? Obviously the pressure has got to be ramping up. It's a new position for you.
I would say most of the pressure would be coming into this. I had two points at the first race and four points at the second one, and then I got the win that extended it to nine and now 20. That win the other night was big for the championship. I felt like it was a deciding factor. I knew I had to bring my A game to that race, and that's what I did. I felt like I rode really good that night and did what I had to do. That was a make or break kind of ride where it could go either way. I could lose points or I could establish myself as the guy to beat in the championship. I felt like that was the race for me to do that. This race just played out good with the points scenario for me. Definitely takes the pressure off going into Salt Lake. It will be fun to race the East [Region] guys and see where we stack up against them. We'll give it 100 percent there and maybe try to win that. That would be cool.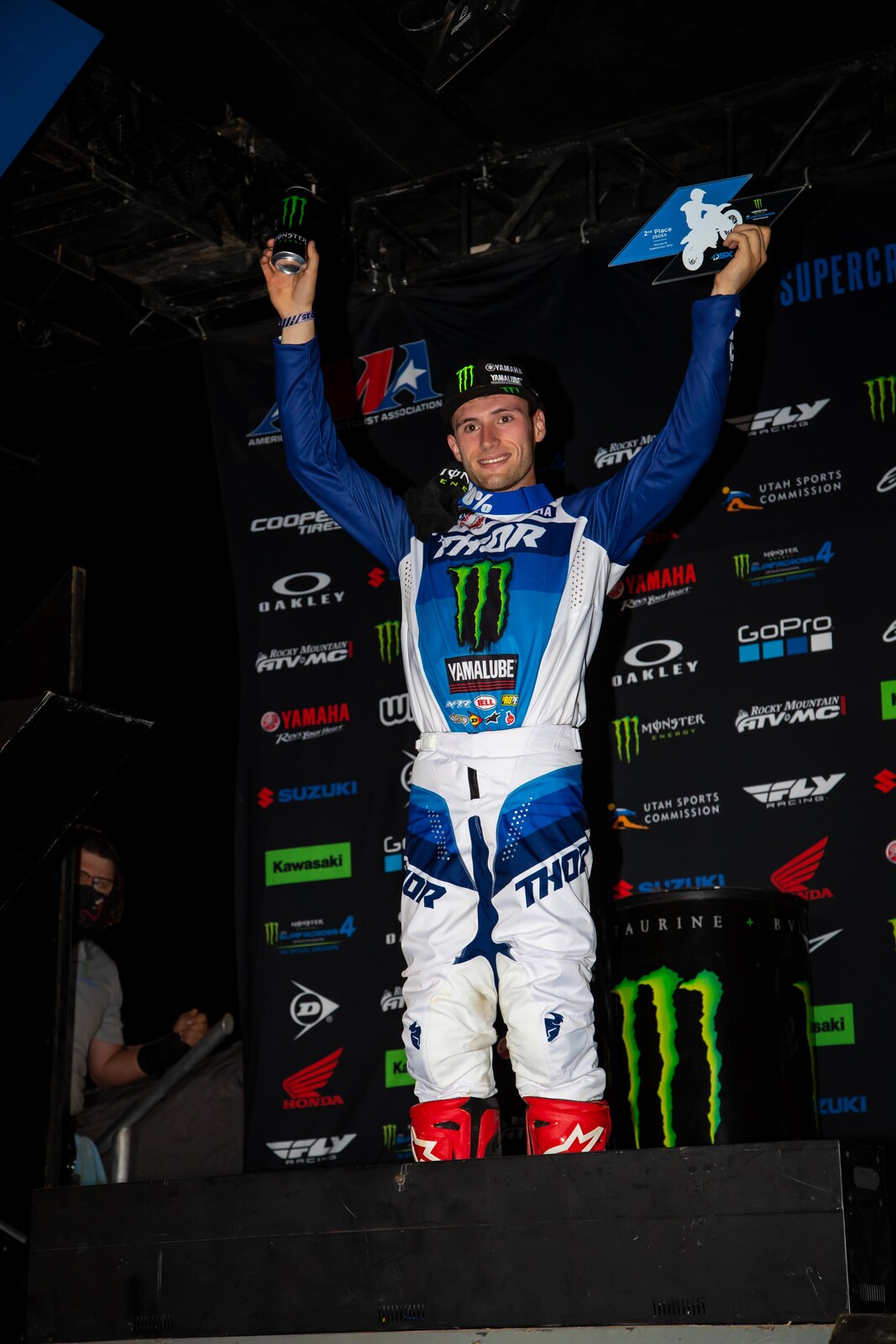 Hunter Lawrence suffered a crash early on in the race and had to fight back from 18th place after the first lap. The Honda HRC rider was able to make his way into the top ten by the end of the third lap and when the checkered flag flew he had managed a fourth-place finish. As mentioned, he will enter the final race of the year at the Dave Coombs Sr. East/West Showdown 20 points down to Cooper. Here is what he had to say about his day via a post-race press release from Honda:
"My weekend was bittersweet. I was looking very promising with P1 in both qualifying sessions and a heat-race win—looking really good for the main. On the first start I put myself in a great position and moved into second right behind [Justin] Cooper and was feeling really good, but then unfortunately we got red-flagged. After the restart, I came through the pack in fifth and then Cameron [McAdoo] nearly fell off his bike going into the sand section. I don't think he was where he needed to be, mentally or physically. He swerved right in front of me, and my only options were to either land on him or try to scrub off the track and miss him, and that's what I did and ended up landing in the Tuff Block. I'm pretty frustrated about that; with that crash, to finish two seconds behind third place, I think I could've won, considering how good I was in the whoops and how good I was feeling. I'm pretty bummed with how the night ended, but stoked with how the team and I operated during the day and how my riding is going, so I can't wait for Salt Lake City."
Eli Tomac finished in third place in the 450SX main event to earn his eighth podium finish of the year. Unfortunately, the Monster Energy Kawasaki rider sits third in points, 24 points behind second-place Ken Roczen and 40 points behind championship leader Cooper Webb with two rounds to go. Following the race, Tomac spoke with the media via Zoom.
Racer X: Eli, Cooper Webb mentioned that this track was hard with the bike setup and you want the stiff suspension for the supercross but then also there's some rough stuff in the sand. Did you guys have any issues like that with your balance? Eli, you have a lot of experience with the bike setup. Justin is still in the 250 class, not as much as Eli. Did you guys end up finding that balance? Was that something that was kind of difficult this week?
Eli Tomac: Tonight I made a change before the main and it was better, just period. That was a little frustrating knowing I left something on the table for Tuesday and this afternoon. At least we made the change for tonight main event time. It was for me better riding. It was still third place, but I had them in sight, as to where Tuesday I felt like I was getting a little bit left in the dust. So, more comfortable there. Like you said, it's really hard to hit the nail on the head for setting-wise just because you've got so many different obstacles going on—big whoops, high speed. It makes it good, though. It makes it technical and keeps everyone really scratching their head. I enjoy something different.
You cleared that sand section completely. It looked amazing on TV early. Did you do it again? Why did you do it? Why did you not do it anymore? Was it slower, faster, dangerous? Did anyone else do it?
I did it early on. I think it was early in the race when we were more bunched up, so I just wanted to just do something different. It was a little bit slower, though. It looked cool, but there was some hang time involved. I think most of us tried it at least once throughout the day. I wished it would have worked but it didn't. That outside just had too much ground speed.
How big was it? How far were you flying there?
It was big but it wasn't crazy, crazy big. You got to kind of time the jump before it and then really gun it. It wasn't like I'm going to die if I case it, kind of thing.
When you were in that battle with Cooper [Webb] and Aaron [Plessinger], it's two guys you've ridden with quite a bit but never really in that close of a battle like that. You guys were within the same airspace for quite some time. You're a veteran of the sport. You have an established riding style. Are you still learning things from them when you're being them, or are you so focused on your own initiative that you're not even thinking of what they're doing?
Tonight I learned I wasn't good enough in the whoops. That was frustrating. I was close, but I felt like I'd make some time after that big set of whoops that side of the track and then I'd give a little bit away in the short set and then a tiny bit away in the long set. I'm trying to learn and figure it out. The rest of the track I felt good. I feel like I can use some of my experience that way. Always trying to get better. Never stop learning.
Watch the full Atlanta 3 Supercross post-race press conference below: