Arlington, TX
Arlington 3 (West)
Monster Energy AMA Supercross Championship
Two ways to look at Ken Roczen's Arlington 3 round of Monster Energy Supercross. On one hand, it was his best race of the Arlington trio, as he led laps and finished second (he went 6-3 at the previous races). On the other hand, he led and was passed in a straight-up fight by his title rival Cooper Webb.
As he has all year, Roczen is focusing on the positive. The Honda HRC rider talked about it with the media on Monday night.
Ken you've been through more adversity than most athletes in the world. Some of the riders in the press conferences have been talking about finding that extra five percent, or 1 percent, or whatever it takes. What will it take to that small percentage point back and get that red plate back? Do you know where you and your team are looking to get back in front of Cooper Webb?
Ken Roczen: Yeah, obviously Cooper has been on it, it's hard to make up points when he's always second or even first for that matter. Arlington was a bit of a rough one for us, especially to start off, but I guess the thing I can hold on to is that by Arlington 3 I was more like myself and at least I had good starts and was able to lead laps. In the first bit of the season things were really going my way, but it can also go the other way real quick. The good thing is we have five races to go and I'm holding onto that. I left Arlington feeling a lot better than I did when we started. I went back to some old settings on my bike that we had at the beginning of the year. That's why you try, you find something you want to work on and you go into an off-weekend and you try to improve. Sometimes that doesn't work. I went back to my base setting and I started riding better again, but all in all it's nothing we haven't already talked about yet. The points are slipping away a little bit, but everything is still open and that's what I'm holding on to. We haven't ever had two weekends off during a supercross season. It will be nice to get a little reset and then go again. I'm keeping my head high and in good spirits.
Ken, you made a beeline for the starting gate and it looked like you were really checking out the gate lines. What were you studying there? Also, with the metal grate starts, how critical is that first 20-30 feet out of the gate compared to the end of the starting straight?
Well, I just wanted to see what had the best rut. We all get practice starts and they don't ever fix it, so by the time we get to the main event it's pretty beat up and there's only a handful of ruts that are good. For this start I don't think it mattered this much if you are outside or inside, those longer start straights really help that compared to Arlington 1, where it's really difficult and position is really important. I just tried to go to the best rut out of the gate. With the mesh, I like it because you don't have to do as much kicking. The dirt in supercross is usually pretty hard, at least compared to motocross. You have to control it right off the gate. If you just dump it and give it a handful you're going to end up double clutching it and then you're behind everyone's bars and it's closed off.
Ken, first of all, when you had the holeshot and the lead did you feel that it might have been able to get away or did you know the battle was going to come? Second, the sand section appears to be where you lost a lot of time. What happened in that section?
Well, just because you get the holeshot you can't think at all, "Man, I've got this." Twenty plus one is a long main event and I know there were some good guys behind me, so I knew it was going to be a battle. My problem in the sand section was that in the heat race I think I had a line that worked really well, I kind of finished the turn there and I was on the inside for the turn heading to the finish line. I was just too narrow minded there and stuck in that line for the main event. I should have just cut down from the main line and hopped over the little kicker that formed there. It was a lot easier that way. Where I finished the turn, more on the outside, it seemed like the sand was deeper there, it would get pushed up and I even almost pushed the front a few times. I made a few mistakes in there where I pretty much just singled all the way through the sand. I should have just caught onto that. I lost too much time there. Same with the whoops. I should have just gone to the middle line, there was kind of a rut and there were some that were really low, so you could kind of bounce through there. I stuck to the left side where they were a lot bigger. It worked out okay sometimes but I feel like in the middle you carry more momentum and carry the angle back across the start straight. Sometimes you can catch on to that, but sometimes when you're leading, and I think Cooper said this in the race before, sometimes when you're leading you can try things and it will actually come back to bite you. Those guys behind you can kind of follow you and pick their battles, but if you're in front you have to go off of instinct. That's where I have to learn and I simply didn't catch on to that line fast enough, and I think that's where I lost my time.
Everyone has been pretty safe so far. We've all been through a ton of COVID testing and you've passed. With the points so close and two weeks off, do you do even more, as far as isolation?
You don't want to treat it like the off season. For me I'll just be enjoying some time at home. We live at the lake, so I feel like we have the vacation in our backyard. Two weeks off is quite a long time to have in the middle of the season. But you can't lose focus and we'll continue to do what we have been doing.
Ken, we all heard your podium speech, and you focused on the positives and there's obviously reasons to expect you to do that. The flipside of that is that there were some negatives, you lost those three valuable championship points. How do you keep that negative stuff from creeping into your process?
Simple. It's racing. You just never know. It doesn't seem to matter if it's media people, or fans, or whatever, I can win a few races at the beginning of the year and everyone is on my side, and then something switches, Cooper wins and everyone goes on that side, or Eli wins and everything goes to his side. I just feel like it changes so much that in the end, it's just racing. It's 17 rounds, and things can just change. So, what am I going to put my head in the ground for? These three races are done and there's nothing I can change about them now so there's no need to pound my head into the ground and think of what I could and should have done different. You don't always need to reinvent the wheel just because you didn't win. So that's what I'm trying to hold on to over these last five races. We will just see.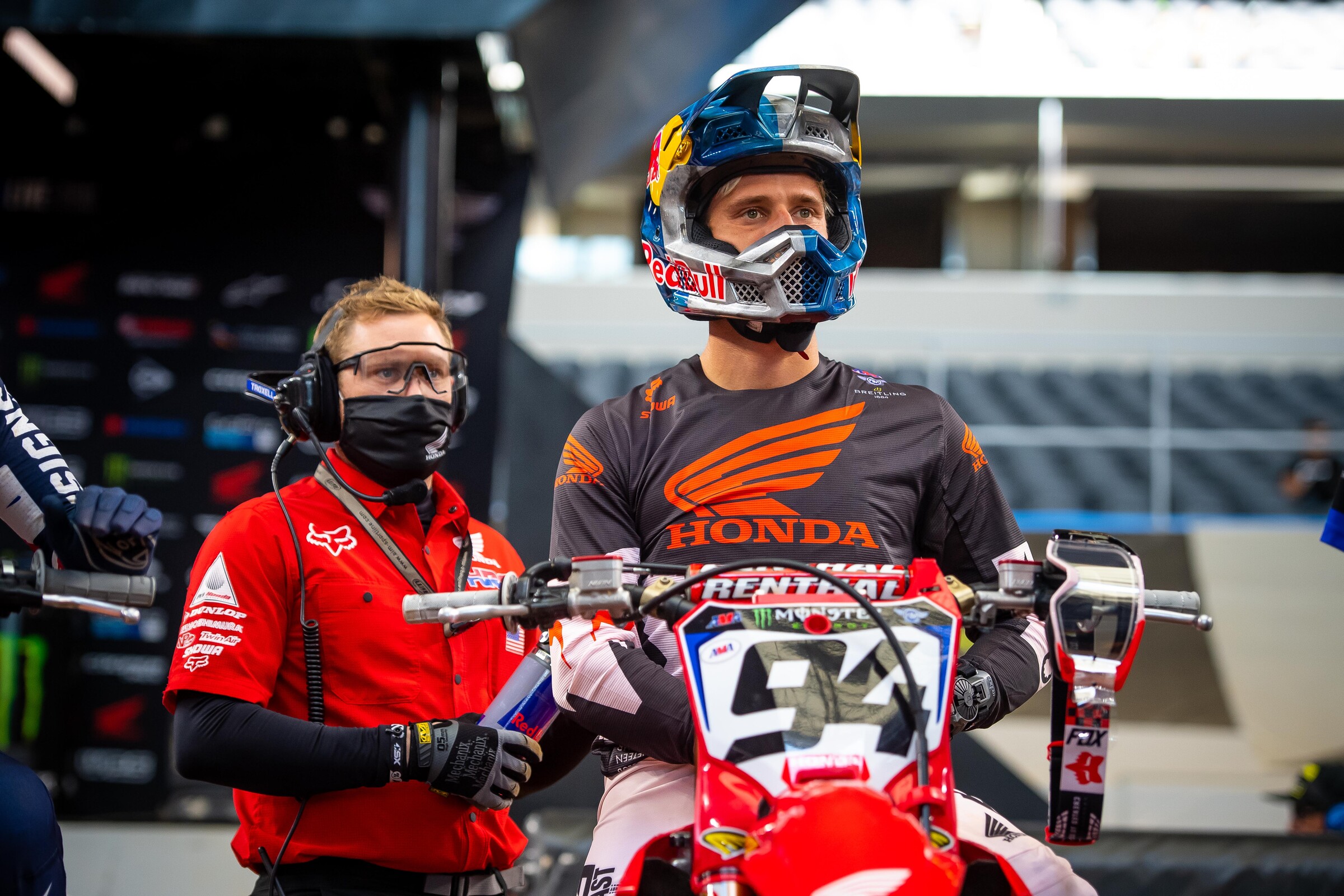 Ken can you talk about how important the first race in Atlanta might be?
Well, it's five rounds so every race is important, especially when Cooper wins and he creeps away in points. There's less and less time to make that up. All of the races are important, but we're going to come to Atlanta 1 and try to put ourselves in the best position. Overall, my starts have been good, and I think that's part of a very important thing for these upcoming rounds.
You and Cooper both seem to find each other on the starting line in the main event no matter what. Good rut, bad rut, good gate pick, bad gate pick. Is that a strategy?
As far as strategy, it's so hard to predict things. If I'm second gate pick and he's tenth in my eyes it's more of a coincidence if we end up side by side. You have to look at which has somewhat of the smoothest rut. Sometimes I look at what gives me the best position on the starting gate, but I'm usually just judging the rut. Sometimes it ends up next to him, sometimes not.