Daytona, FL
Daytona (West)
Monster Energy AMA Supercross Championship
Unpredictability is one of the things that make racing so damn entertaining. Sure, not every race has explosive results with major championship implications, but there's always a good chance something crazy might happen every single time the gate drops. There is no script, and if there was, it'd simply read, "Let's see what happens!" That's especially true of Daytona, the only supercross race of the year that's sprinkled with elements of motocross and is known for producing startling action. With Monster Energy AMA Supercross heading into the 51st edition of the Daytona Supercross this weekend, we figured it was time to look at some of the more entertaining moments that have happened over the last two decades in the infield at Daytona International Speedway.
2013: Weston Peick vs. Bobby Kiniry in the LCQ
The battle for the final spot to the 450SX main event could not have gotten any closer in 2013. On the final lap Peick and Kiniry were battling hard, and as they approached the finish line neither was willing to let off, resulting in both of them launching the jump side-by-side. Kiniry was initially credited with second, but that was overturned by AMA officials. Then-privateer Peick wasn't informed right away, however, and afterward a camera captured his frustration at coming up just short in the LCQ.
Side note: We've heard this battle, with Peick and Kiniry going all out side-by-side down the final straight, helped inspire the idea of Red Bull Straight Rhythm.
This one came out of nowhere. Coming into the race Chad Reed and James Stewart were tied for the points lead, and unsurprisingly, all eyes were on them when the gate dropped. Mike Alessi took the lead initially, but it was none other than J-Law, who was competing in his very first 450SX race and had also qualified fastest, who took over the lead on lap three and did his best to make a break for it. It nearly worked too, and had it not been for the combination of Lawrence gassing out and a hard-charging Reed, Lawrence would have won his very first 450SX race. Oh, and Lawrence might have snuck inside some tough blocks in the first turn, which helped him get up front. There was always a little extra layer of drama with J-Law!
Go to the 1:09:40 mark in the video below for the 450SX main event.
There have been some pretty muddy Daytona races, but this one has to be the absolute wettest. Rains heavier than a stack of Sears Catalogs (that's a Cliff Clavin reference, kids) left the track better suited to personal watercraft racing than supercross. The 450SX main had been shortened to just 12 laps. Reed got out front and was in control, but with just a few corners to go his Yamaha had all it could handle and expired. That allowed Kevin Windham, Reed's title rival that year, to cruise by and take the win. If Reed hadn't lapped so far up it would have been disastrous for his championship situation, but since he'd lapped so many riders he was still credited with seventh, despite DNF'ing the race.
There aren't too many people who can say they've beaten Ricky Carmichael straight up, especially at Daytona, but Reed joined that exclusive club when he bested the GOAT in one of their best and last epic battles aboard two-strokes. The live-feed helmet cam footage and awesome side scrolling shots made it that much better for the viewers at home, too. Lap after lap Carmichael dogged Reed, and at one point was all over him. The action was so good even the announcers stopped talking, allowing the viewer to hear the screaming two-strokes while viewing the race through RC's helmet cam. Reed held solid, but Carmichael was on the edge and it showed. RC made mistake after mistake as the race wore on, and finally, with just a few laps to go, made a big mistake in the whoops, shot off the track, and was left to pick his bike up off the asphalt.
2005: Josh Hansen vs. Josh Grant
The action in the 125 Class (now 250SX) in 2005 was hot too, thanks to the efforts of the Joshes. The two had a fantastic battle, which finally boiled over when Hansen dove to the inside of a right-hander. The two collided and went down, but both bikes stayed running. Hansen had the edge following the dustup however, and rode away with the win. Afterward the two congratulated each other and seemed perfectly happy, but later in the season reports surfaced of the two having an altercation following Dallas that resulted in fines from the AMA for engaging in behavior detrimental to the sport of motorcycle racing.
2018: Bray-tona
Justin Brayton winning Daytona in 2018 was about as likely as our own, penny-pinching Jason Weigandt upgrading to a compact car at Hertz. That's no disrespect to Brayton, either. He's a fantastic rider, but let's face it, he hadn't ever won a 450SX race and isn't considered an outdoor rider. To break through for a win at Daytona, the most outdoorsy track on the circuit? C'mon maaaannn! But that's exactly what happened! In one of the greatest rides of the veteran's life, he found himself in the lead at Daytona while perennial Daytona favorite Eli Tomac was buried. Tomac was coming fast as the race wore on, but Brayton was laying down heat too, and as the laps clicked off it became apparent Brayton was finally going to lay a patch of rubber on Victory Lane. When he took the checkers he became the oldest competitor to ever win a 450SX main event, a record that still holds today.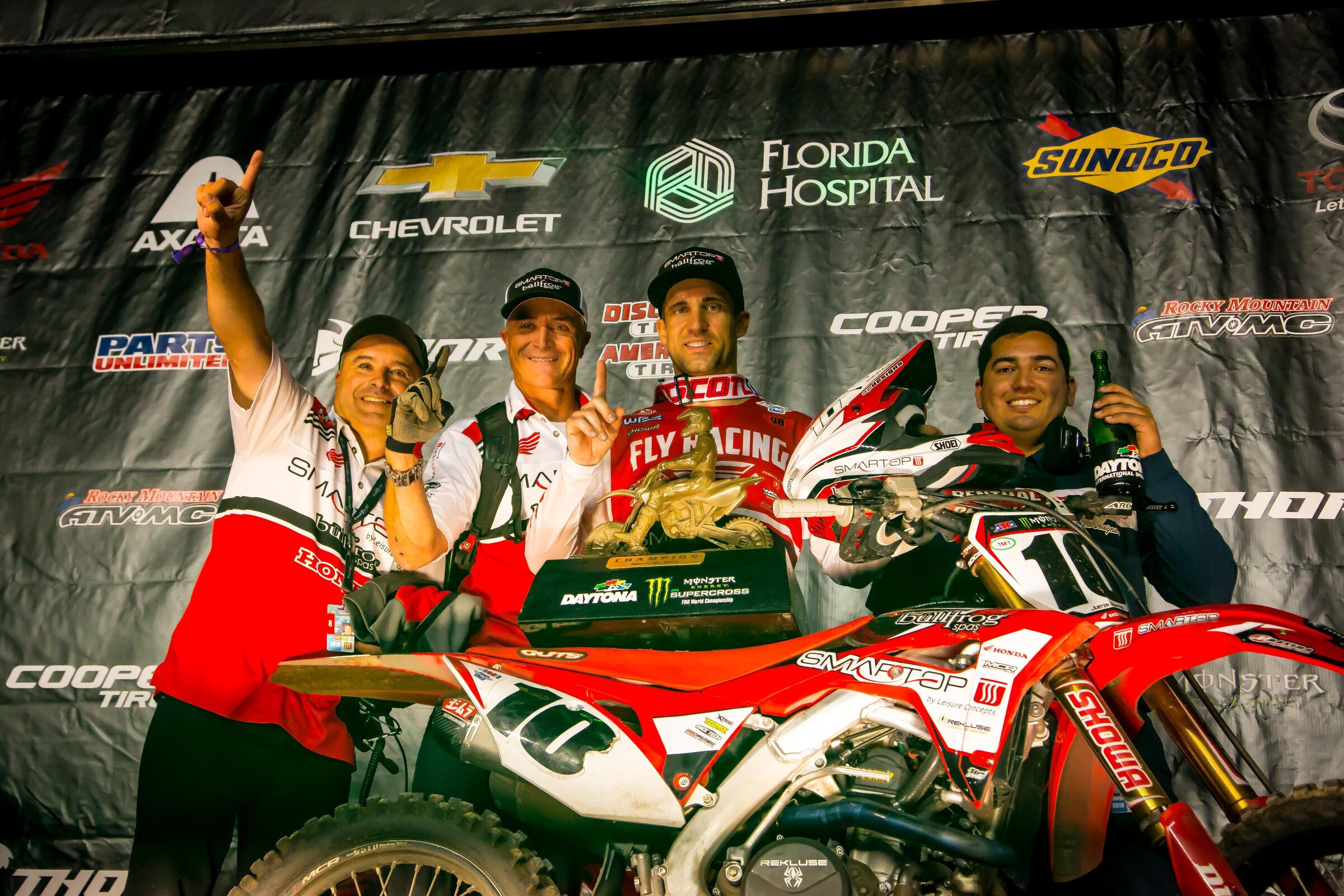 2000: Carmicha-tona
Carmichael's premier class championship years didn't come until 2001, but he started winning on a big bike in 2000 at Daytona. He did it in grand fashion, too. Not only did he defeat the King of Supercross, Jeremy McGrath, but he became the first Floridian to win the Daytona Supercross. So great was Ricky's pace that day that he lapped everyone except McGrath, David Vuillemin, and Sebastien Tortelli! What else do you expect from the GOAT?
Stop us if you've heard this before—James Stewart was performing a superhuman on a motorcycle, then crashed. Unfortunately it's a familiar tale for one of the sport's most talented riders of all time, but on this night, he was doing something so spectacular it's still talked about, despite him not even getting the win. In short, he was using a small bump to boost over an enormous wall. You can check it out in the video, but it doesn't do it justice. The reaction from the boys in the booth, however, does.
Getting your first win is special, but doing it at Daytona is next level. Just ask Garrett Marchbanks, who was on fire there last year. At the last race in 2020 before the COVID-19-induced break, Marchbanks was stunning, leading every single lap of his heat race and the main event en route to what is sure to be one of the most memorable torch lightings of his career.
2020: Tomac The Fourth
As stated earlier, Daytona is Tomac's terrain, and in 2020 he notched his fourth 450SX win at the World Center of Racing, and also the fourth in five years (only that Brayton 2018 win kept Tomac from an incredible five-straight). Last year's win was especially large, because Tomac and Ken Roczen were tied for the series' lead heading into the race, and the two old rivals battled right down to the end, with Tomac emerging the winner. This year Tomac aims for his fifth Daytona win, and if he gets it, he will tie Carmichael's all-time mark for most victories at this prestigious event.
Bonus
Tomac vs the Rollers in 2015