When the curtains fell on the 2020 season of Monster Energy AMA Supercross, it marked the first time that Kyle Cunningham wouldn't be immediately gearing up for the Lucas Oil AMA Pro Motocross Championship, and after the summer passed, the gate fell on the 2021 season of supercross, again without Cunningham's presence. Instead of racing, the Texan has been busy building a coaching business, KCMX. We needed to learn more, so we dialed up Cunningham to get the details on his new gig, as well as his official status as a professional racer.
Cunningham's career highlights include a 250 podium indoors and out, and a career best of fifth in the 2011 250 National Motocross Standings, riding for Star Racing Yamaha. Oh, and there was the night we dubbed him the "Vegas Assassin" for riding his Valli Motorsports Yamaha YZ450F through the pack to finish fourth at the 2010 Monster Energy Supercross finale, behind Ryan Dungey, Chad Reed, and Kevin Windham.
Racer X: Kyle, what's up? You're into the coaching business now. How'd you get into that?
Kyle Cunningham: Last year, when I got hurt in Atlanta, I went back home and did some coaching, which led to starting KCMX Training and I've just been in the building process since. It's been really fun so far.
How do you even make that happen though? Anyone can put out a sign and say they're a coach, but how do you actually acquire students?
In the past when I was racing full time, I'd had people reach out before and ask if I was interested. And over the years I've been a part of doing some of the Panic Rev camps and stuff like that. And when I started KCMX training, I looked at it as an opportunity to, for the local guys around my area, to share the experience and knowledge I've gained over the last 24 years of racing. Some people reached out and it's something I have a passion for, and I was able to get the coaching thing going.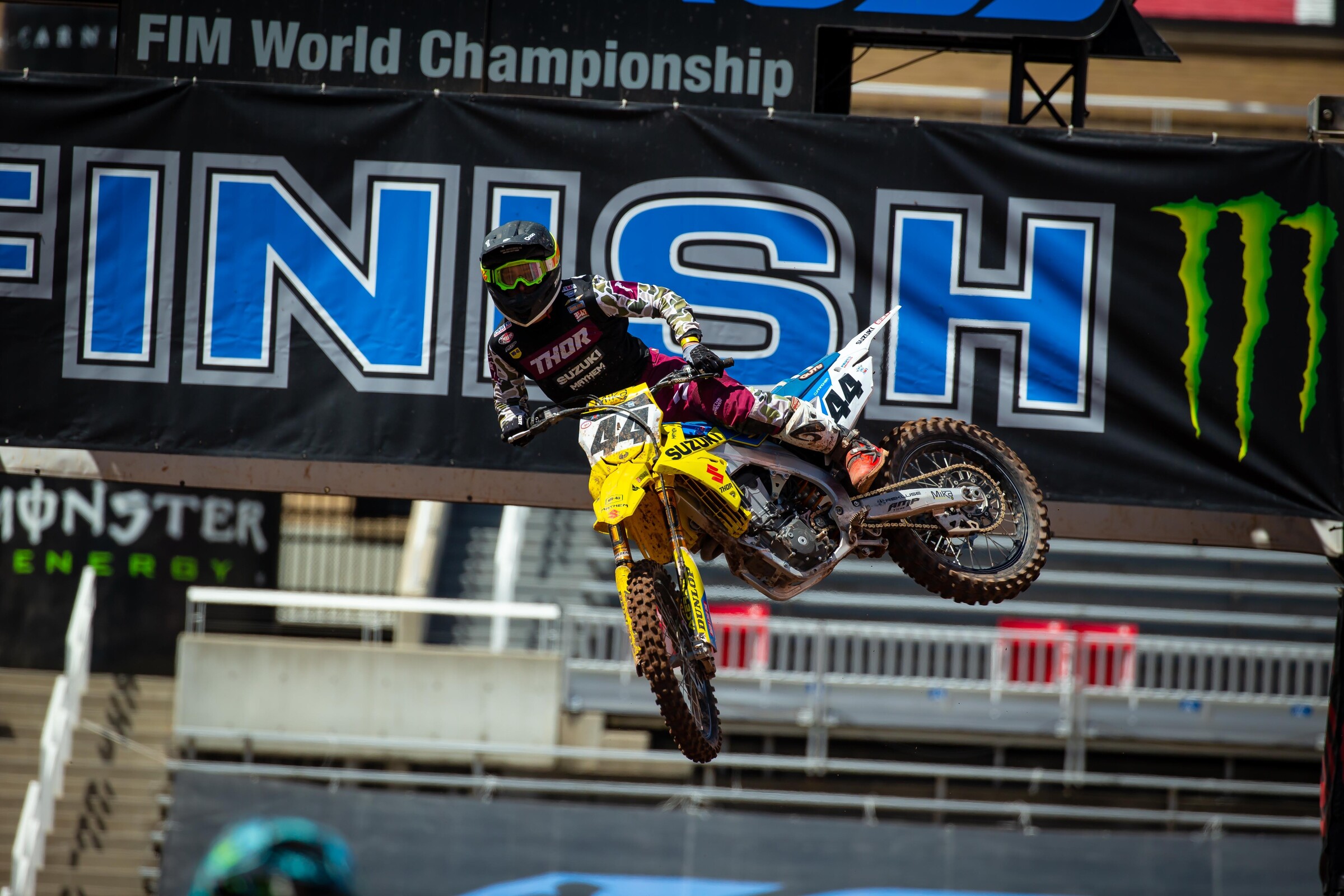 What age ranges are you working with?
The age groups have been really cool. It's not about coaching people solely to win races. All ages and bike sizes are welcome, including the guy who just rides with his buddies on the weekends and wants to improve his technique and get better. My age group ranges anywhere from five to 35, and beyond. There aren't any restrictions.
What's your favorite age though?
I don't think I have a favorite man, but it's really cool to share the knowledge with these 50[cc] and 65[cc] riders, and to talk to them about technique, and actually see the progression in short periods of time. It's very rewarding to see, especially at their young age. I remember being the same way when I was working with guys like Brad Woolsey, and other top pros at that time who came out and rode the local tracks around me. Just looking up to them and absorbing the advice they shared on how to do things properly on a motorcycle was awesome. Whether it was something as simple as learning how to let the clutch out, or the difference between finishing third or first on the weekend. I've had fun with everyone I've worked with since starting coaching, but it's been really cool working with the 50 and 65 kids. You look at them and you think, Man, these guys could be the next group of guys we're watching in ten years. But I enjoy everyone I've been able to work with.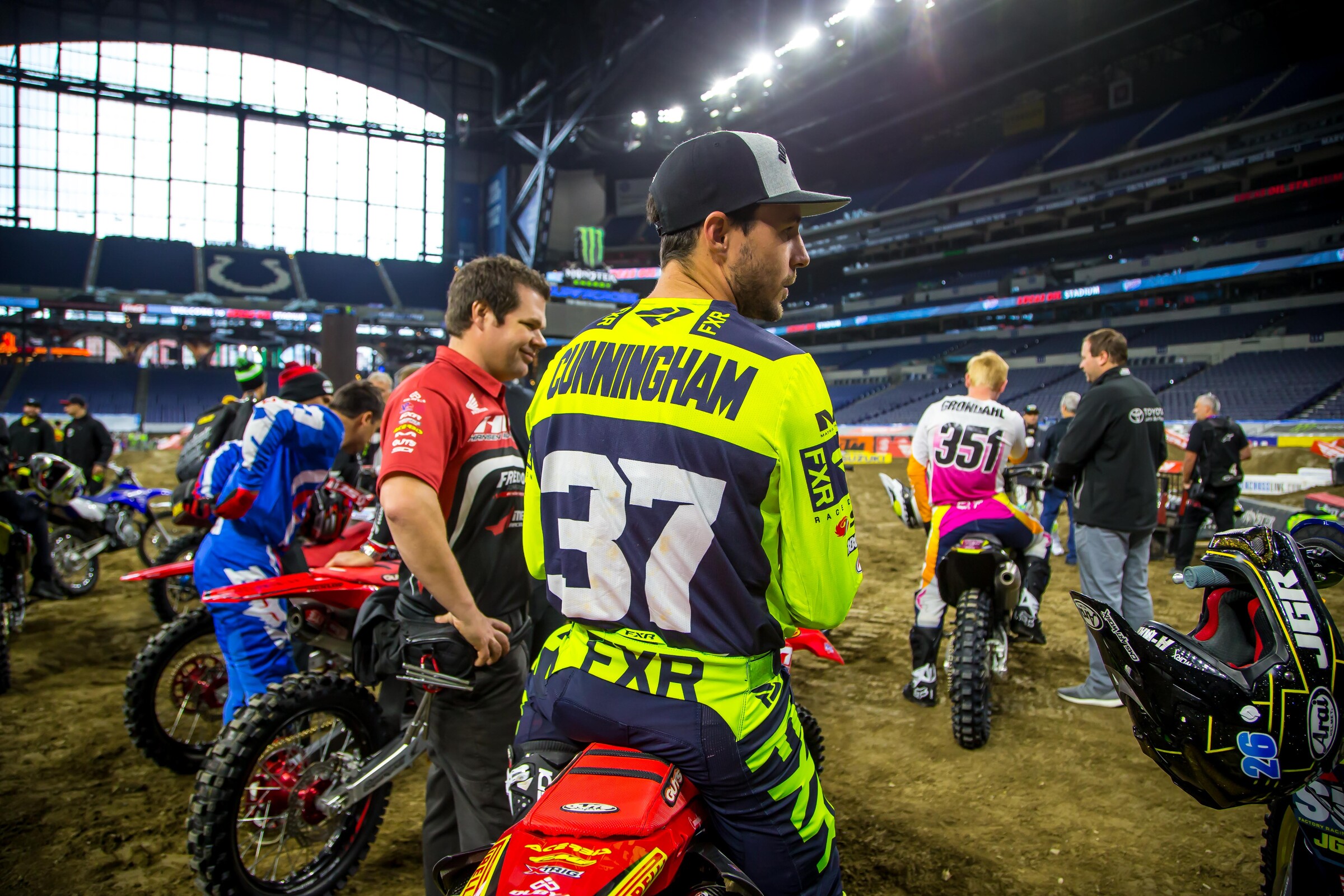 How does someone interested in your schools get in touch with you?
It's a lot of word of mouth, and I post everything on social media. Anything on there has my work phone on it, so you can reach out, direct message, send a text, or put in a phone call. My email is on there as well. I keep up to date on what I'm doing on my social media platforms, and I've added KCMX training, too. Everything I do is there—camps, upcoming events, and my weekly schedules. And if anyone has any questions, they can reach out there.
Check out Cunningham on Instagram: @_kylecunningham and @kcmxtraining_
Let's shift gears. I recently saw a post somewhere of you with a Kawasaki and for a minute I thought you were getting ready for the nationals. Turns out that's not the case, so what's your official status as a professional?
That's a tough one, Aaron. I haven't really said anything about that.
I know!
Well, I picked up a new Kawasaki the other day in a deal with Team Green and Progressive Powersports so I can ride with the kids and maybe do some racing around here, potentially. After all the years of racing I still enjoy riding and I'm out at the track three or four days a week and I want to ride. But as of right now, for the future, I haven't really looked at chasing any supercross or motocross races. It's not really in the plans for me. Over the off-season I looked at the opportunities that were there and, really, I've just enjoyed the coaching so much, and sharing with the local kids in my area in the Texas motocross community. I'm also going to be a part of some race promotions stuff with Oak Hill MX too, so I've got that going. I'll be riding, but as far as racing, the plan isn't to chase any professional races.
So, you're not retired, but you're retired.
Yeah, I guess you could look at it that way. [Laughs]
Was that something you arrived at after thinking about it a lot, or it's just where life's path led?
It's definitely something I thought a lot about. I spent a lot of years racing, and there were a lot of ups and downs. Some really good spots, and other times I was struggling to make it to the races in a pickup truck. Fortunately, the people around me were so supportive of my program, even when I did it on my own. The way things played out, and not having a bike and being able to prepare and get ready… If I'm going to show up and race, I want to be able to give it 100 percent and know I have all the tools to make it happen. That wasn't there, and right now I'm enjoying what I'm doing with coaching and being home a little more has been nice.
It certainly seems like it'd be a hard decision to make, considering it's something you've worked so hard to do for basically your entire life. But like you said, it's probably nice to be home on the weekends too.
Yeah, I'd say so. I'm 31 years old and I've been doing it for 24 years. I've been doing it for a long time. Not doing the outdoors last summer, that was the first time I'd been home, unless I was hurt, for a summer in a long time. I still watch the races, obviously, and still have a love for the sport. But I also look at it and think how fortunate I was to have the career I did for as long as I did. I think I turned pro in 2007. But it's really nice to be home more often, and I'm having so much fun coaching. It's time for a little change of pace.