Orlando, FL
Orlando 2 (West)
Monster Energy AMA Supercross Championship
Hard to believe that the biggest 450 team in the Monster Energy AMA Supercross pits isn't a factory team or the much-ballyhooed "49 rider" (we joke, we kid) Monster Energy/Star Yamaha Racing outfit, but actually a private team in SmarTop/Bullfrog Spas/MotoConcepts Honda. Say what you will about Team Owner Mike Genova or Team Manager Tony Alessi, but these two continue to pour everything they've got into this squad, both through financials and labor. It's due to this that extra 450 riders who deserve good rides actually get on—no one wants to see someone like Broc Tickle or Shane McElrath left out in the cold.
The four-rider team—McElrath, Tickle, Benny Bloss, and Vince Friese—leads to a busy operation. So much so that only Friese races on a 2021 Honda CRF450R, the others race 2020 Hondas to make sure they have plenty of supply for bikes and parts.
So far the results have been okay—no huge outstanding runs like that legendary Daytona race win from Justin Brayton a few years back, but this team has always looked at results in a different way. They even use a bonus structure designed to pay for solid finishes, which is different than most teams that pretty much only pay for podiums or top fives. So when Tickle is grinding out a 13th at Orlando 2, there might be a paycheck on the line for that. It's a realistic and difficult result to get in this loaded 450 field.
Currently Tickle sits 14th in points, Friese is 17th, Bloss 20th and McElrath, with only two races under his belt after starting the year injured, is 22nd.
The team sent a detailed piece this week outlining the first half of the season. Here's a recap straight from the squad.
SmarTop | Bullfrog Spas | MotoConcepts | Honda Midseason Report
As the return to competition looms, Team Principals Mike Genova and Tony Alessi take a moment to share their remarks about the four-rider roster, their well-developed CRF450R motorcycles, and expectations going into the remainder of the series.
The team's decision to field four riders in 2021 was a massive project from all involved, but the effort was worthwhile when all four MCR bikes lined up in the 450 main event at the Orlando Two Supercross. "It's a considerable amount of daily logistics and preparation, but this is the most cohesive group of individuals we have ever worked with," noted Team Manager Tony Alessi.
"People often think that hiring extra riders is all about salary. That's part of the equation, but the real concern is if you have enough people to provide direction and materials to manage the equipment used," stated Team Owner Mike Genova. "Tony is excellent at it, and no one can handle it better than him. Are four guys necessary? We don't think so, but we wanted to come in strong and show that we are growing to benefit the industry and give riders an opportunity. It's a load, but we're capable of it and proud of our size."
The ongoing pandemic is a challenge that the team must be mindful of through the entire year, as it has required a change in procedures at the events, limited fan interactions, and altered public exposure for sponsors. "This is a difficult time for any race team to work with sponsors. We are concerned that we're bringing sponsors the value they are looking for due to limited pit access, but we're doing everything we can to keep them involved," said Genova. "We're hoping to keep everything in line for the future and keep them excited for 2022 and 2023, and I think that's all any race team can do right now."
All four riders are now active on the racetrack and expect to improve their results when the supercross series returns to action this weekend at Daytona. Alessi assessed each rider heading into the second half of the year.
"Benny [Bloss] has improved his qualifying times and heat race results but is still progressing towards his best main event finish," said Alessi.
"Broc [Tickle] is playing the long game by staying healthy and consistently improving the motorcycle," Alessi said. "We will see the best of him in the second half of the season." Tickle is 14th overall in the championship standings.
"Vince [Friese] came into the season as the team's pacesetter," Alessi said. "Unfortunately, a series of crashes left him at a lower physical level for much of the first half of the season. As he recovers from the injuries, we expect to see his best races yet to come. Still, Vince is 16th overall in the championship standings."
"Shane [McElrath] was injured in the preseason and, unfortunately, did not complete his testing," Alessi explained. "He returned to racing just before the halfway point of the series and is trying to race himself back into shape and finalize his bike settings. Shane has shown the ability to qualify and race at an elite level, which was evident during his first race back, and we look forward to seeing how the second half of the season rolls out."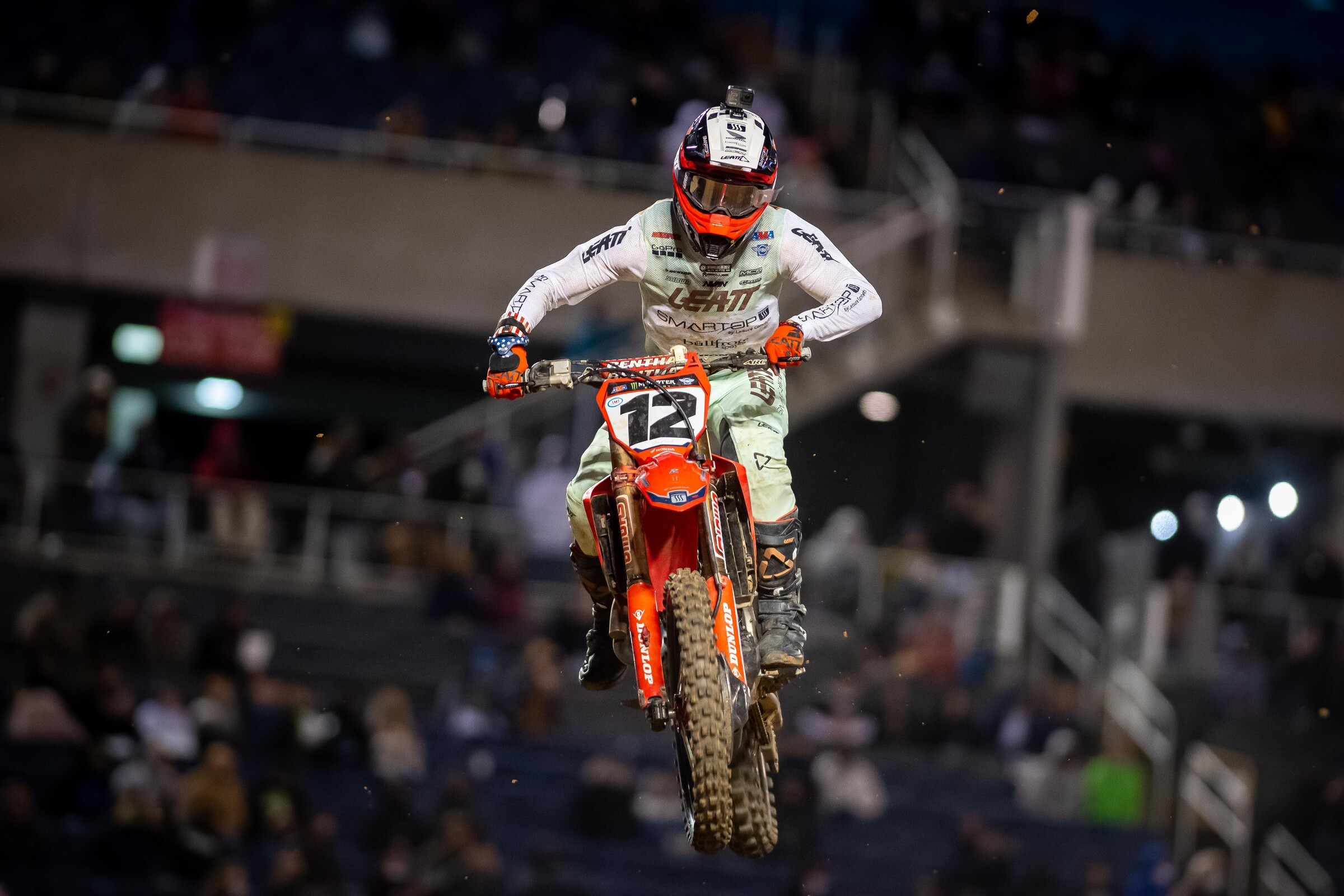 Genova noted how close the competition is this season, not only through the whole field, but his specific group of riders.
"All of our riders have strengths and weaknesses, but all of them are in the same area at the end of the night. This year has been tough, and there is a lot of parity," said Genova of the overall program. "The best guys in the sport can finish in 10th place in one race and then on the podium at the next race. We're not excluded from that challenge. We haven't had one guy have a major success compared to the others, and there's still a lot of racing left, and we could see a breakout ride here or there.
"Only three guys in the series have performed much better than everyone else in the series, and it's hard on us because we keep finishing in the same area. But that's okay because it's tough out there, and our guys need to be okay with it," Genova acknowledged. "Our guys are healthy, our bikes are good, and everyone gets along with one another. That's a success to us, even if it's not a number."
Although the supercross season is far from complete, the team noted that the Pro Motocross tour is being kept in mind. "The Pro Motocross races for the summer are pending at this time. Certain team criteria will need to be met for these races to occur," noted Alessi.
"Our position has always been that we want to support our riders and sponsors by racing Pro Motocross, but the challenge comes at a great cost. We will go racing, assuming that all of our guys or even one of them is in a position to do it mentally and physically," stated Genova. "We want to be competitive because there is no benefit in spending money to be at the back of the pack. What's the benefit of that? I'm not trying to spend the company into bankruptcy. We will take it as it comes, and how it looks will be decided soon."
The next race for the SmarTop/Bullfrog Spas/MotoConcepts/Honda will be the 2021 Daytona Supercross on Saturday, March 6.