Indianapolis, IN
Indianapolis 1 (East)
Monster Energy AMA Supercross Championship
Many things can change in Monster Energy Supercross, especially in the early season when the racing is amazing, but sometimes the best recipe for action is just another classic Eli Tomac and Ken Roczen duel, and that's what the first leg of the Indianapolis triple header put on offer. The now-veteran duo and friendly rivals outlasted the pack on this Saturday night, and Roczen showed great fight to come out on top of Tomac in a battle that came all the way down to the last lap. After losing the lead on the last lap a week ago, it would appear to make this win that much sweeter for Roczen. However, his new-found calmness means he's already moved past the last few races.
'I've just had huge motivation to win in general, it had nothing to do with the last couple of rounds," said Honda HRC's Roczen. "It got hyped up more and more, which is to be expected, it was a big deal, but I was over it and had moved on well before everyone had stopped talking about it. I just wanted to win, that's all. I'm just trying my hardest, but I'm not getting on this "I've had seconds and firsts so I'm the guy now." I'm just trying to put the ego aside and just enjoy the process."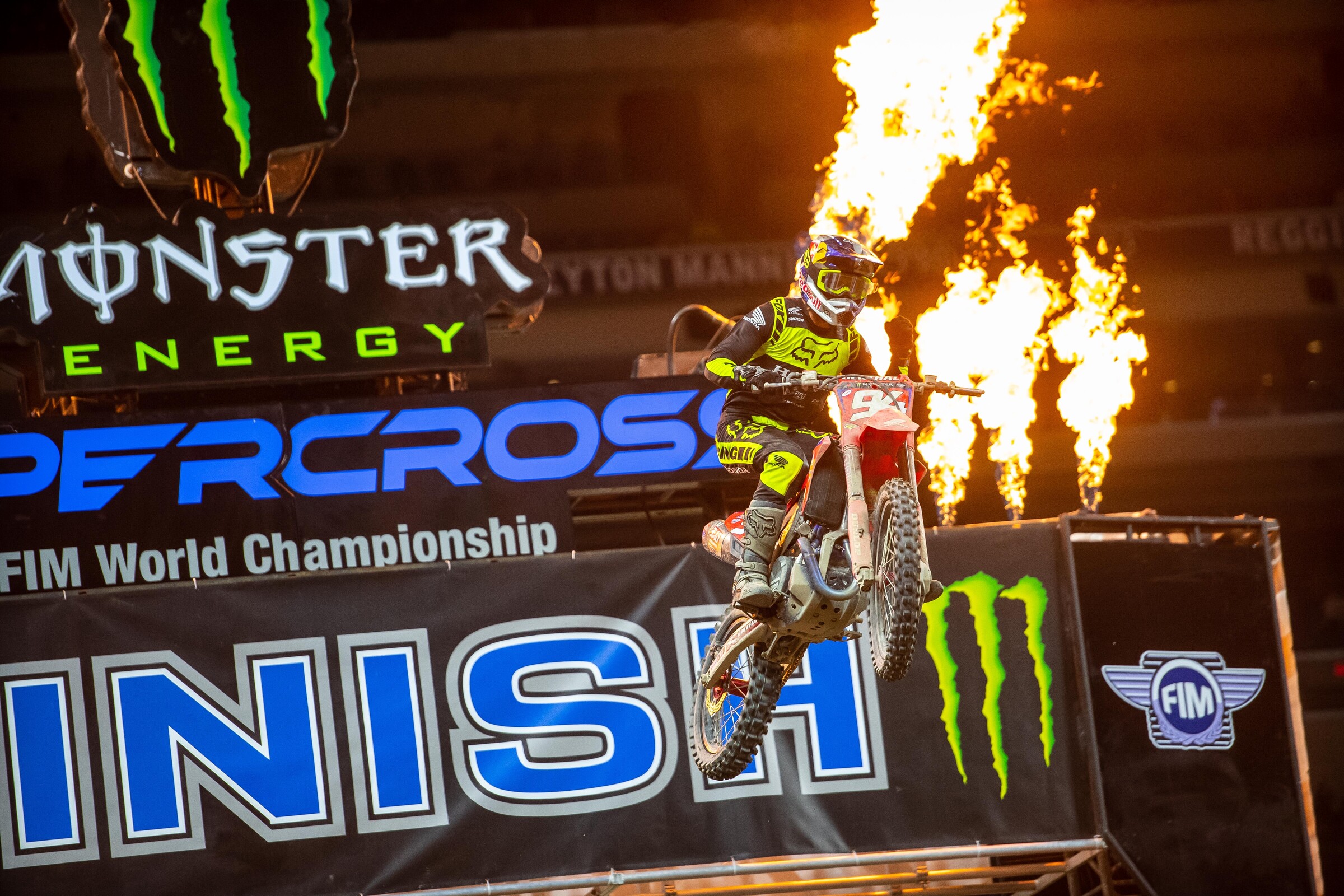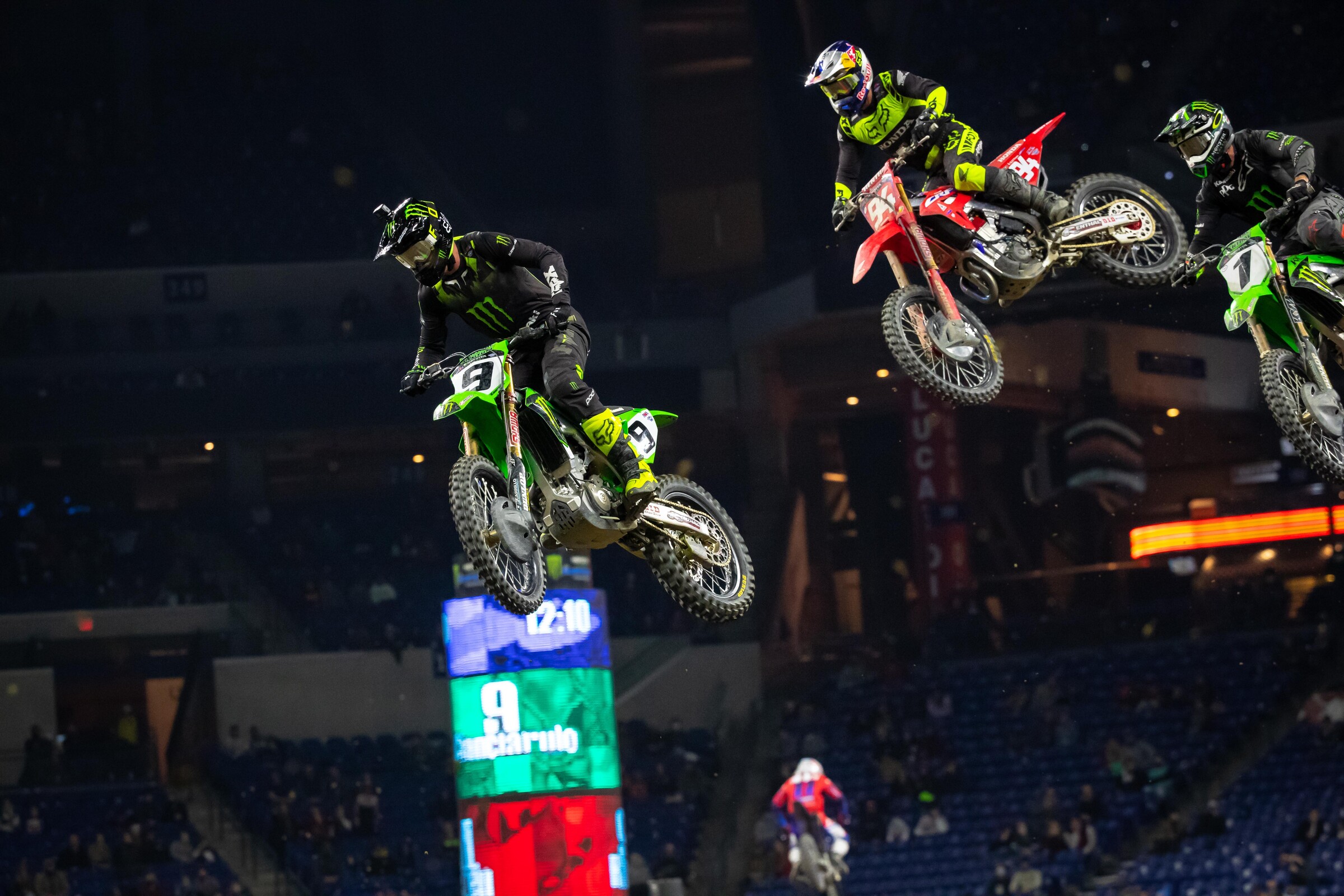 The racing was so good between them that Tomac couldn't even be bummed with the second. Tomac actually led the race early after a great start, but then fell after the whoops, handing the lead to his Monster Energy Kawasaki teammate Adam Cianciarulo. Cianciarulo then held the lead for a bit while Roczen tried to figure out how to get around, stalking his friend for the lead. Tomac started to close back in on them, so Roczen had to do some quick thinking to get around Cianciarulo without getting passed by Tomac. Once Roczen finally figured out how to get Cianciarulo, getting inside in a 180, Tomac quickly-but barely—followed him through, nearly colliding with his teammate. With Tomac up to second, the race was on. Roczen bobbled and went off the track at one point, and he—no doubt remembering the points he lost two races ago for a red cross glad violation—decided to cruise while off the track and make sure Tomac got around him, to prevent any chance of a penalty. Handing the lead to Tomac is normally lethal, but Kenny struck back immediately in a corner, sneaking inside and taking the lead right back. Roczen then pulled away, but Tomac regrouped and put in one last hard charge to nearly get back to him on the final lap.
"The start there was cool, hell of a race for both of us," said Tomac. "We both made our mistakes, and he schooled me in that sweeper. I was sleeping on that one, I gave it away on the outside. That was one of the best races of my career, to battle like that, it was really exciting. I'd love to be on top, but that was fun and we'll get them next week."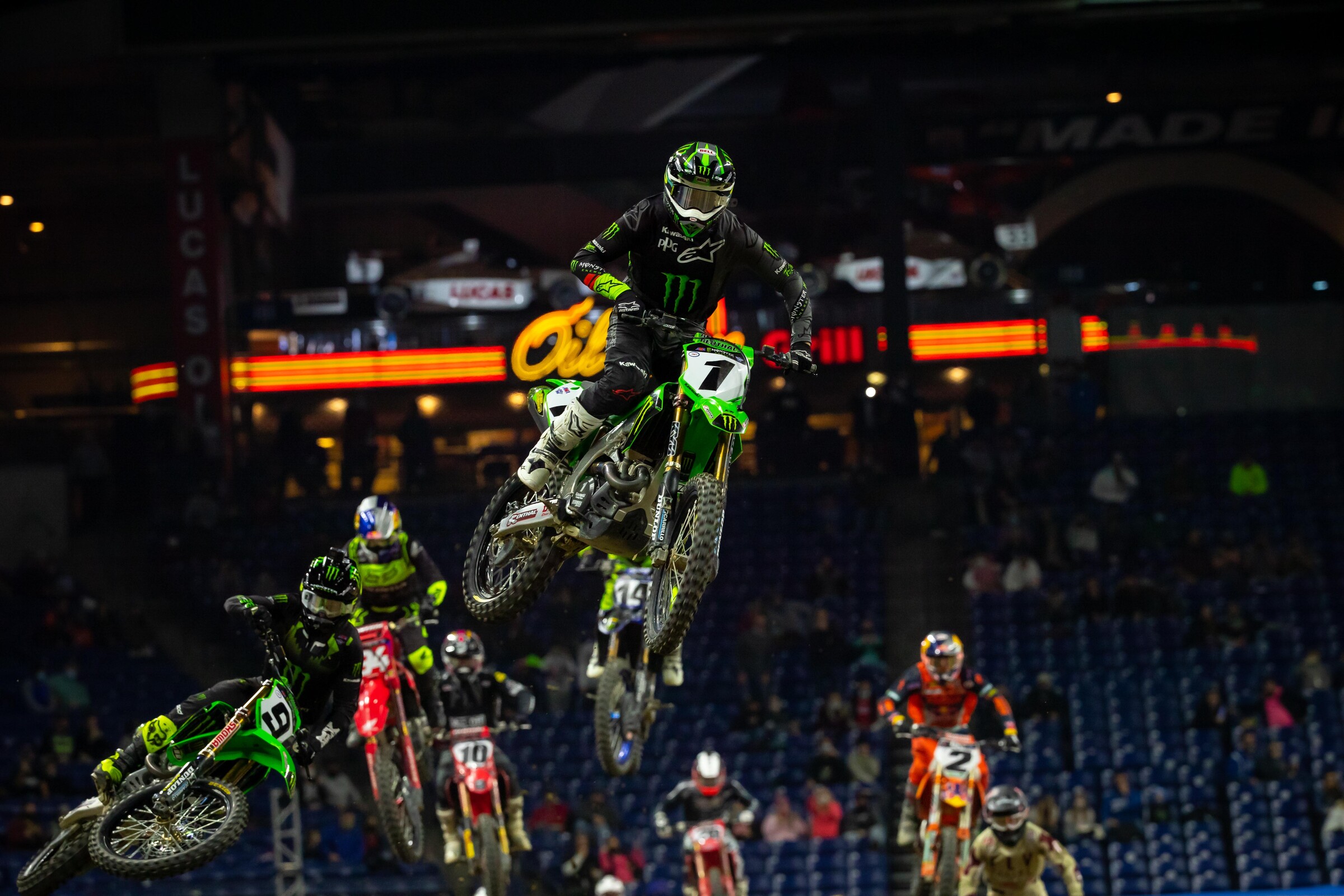 As deep and talented as this year's field is, the old favorites are beginning to rise back to the top, as Cooper Webb battled back to third on his Red Bull KTM. Last year's top three in points are back to being top three in points early in 2021. Webb felt like he had a great start, but Joey Savatgy got an incredible jump on his Rocky Mountain ATV/MC KTM and edged ahead of everyone, and Webb got shoved around a bit. He was eighth on the first lap and had to battle through Savatgy, Mud-Off Honda's Justin Brayton, Monster Energy/Star Yamaha's Dylan Ferrandis and Cianciarulo to net third.
"It was weird, my start was really good, Joey came out like a rocket ship, he braked gnarly and Eli came around us on the outside," said Webb. "I got bottled up behind him, and ended up going back to fifth, then I made a mistake in a rhythm and went back. Early on I saw who was out front and I was like, "Shit, track position is key." I was trying to get around and I started making little mistakes trying to force things. I kind of took a deep breath and calmed down and accepted those guys being out there and out front. I knew if I could get Ferrandis or Savatgy a fourth would be there, and if someone would make a mistake we would be good. Adam ended up going down and that kinda made third more reachable. Yeah, like the guys are saying, it's track position right now, and it wasn't great for those two laps."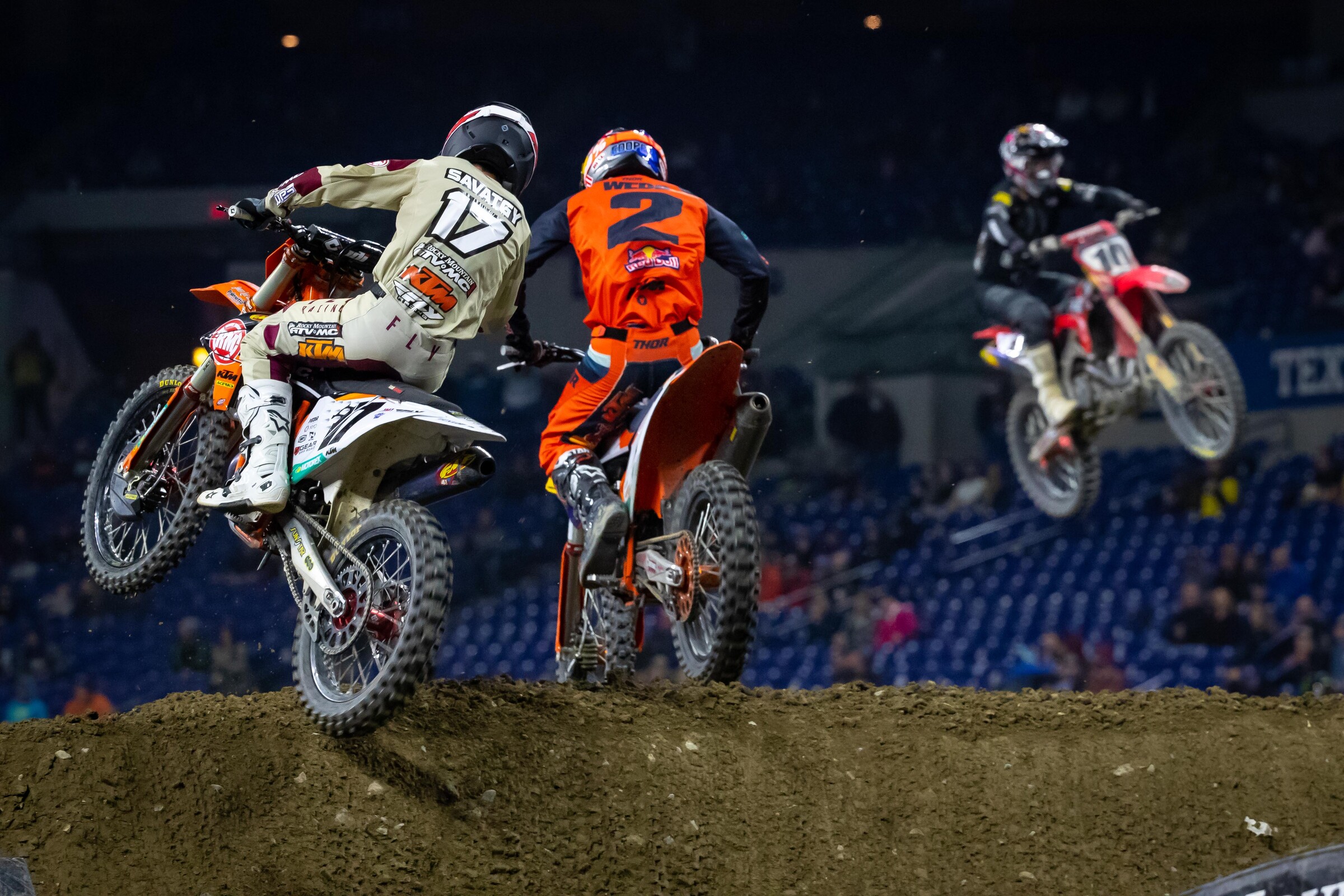 For Cianciarulo, a fall while running third proved costly. He had a big gap over the rest of the pack, but by the time he got up, Ferrandis was right behind him, and soon Webb was as well. Webb struck late to get the spot, but Adam hung tough for his second fourth-place finish of the season. Zach Osborne didn't start well but caught fire late on his Rockstar Energy Drink Husqvarna and stayed within striking distance of Webb down the stretch. That started passing riders together, but one more mistake from Osborne allowed Webb to get away. Osborne he did put an aggressive move on Ferrandis to net fifth, not far behind Cianciarulo.
Look, this 450 pack is still deep. Roczen and Tomac were way gone, and Webb's fight for third was good, but the Cianciarulo/Osborne/Ferrandis group was very close across the line. Several other riders had rough nights. Marvin Musquin was very fast at a stadium where he has won before, keeping heat on Cianciarulo in his heat race. But he was again down early in the main and in last, just like at the last race. Somehow Marvin came all the way back from 22nd to eighth, then he crashed again. Net result: tenth. Justin Barcia also had a bad night on his TLD/Red Bull GasGas, he was down with Malcolm Stewart early. They fought through the pack together but then Barcia had another mistake and went off the track, he ended up a disappointing 13th.
Honestly, on a track this soft and rutted, simply avoiding mistakes was key. Jason Anderson had a bad night going after a fall in his heat pushed him to the LCQ, but he won that and rode strong enough in the main to get seventh. Savatgy was good for eighth, ahead of Plessinger and Musquin. Stewart ended up 11th, ahead of Brayton, who crashed near the finishline and lost several spots. Behind that came Barcia, Broc Tickle, and Martin Davalos, who had a crash while running inside the top ten.
The action came down to the final lap in the 250 class as well! Colt Nichols absolutely seized the top of the class by taking his second-straight win, this time leading every lap to net sole possession of the points lead. The craziness came behind him, as two other title contenders were down in a heap on the last lap. Craig had Jett Lawrence all over him and decided to go super aggressive and basically not turn and attempt to push Jett off the track. Instead, he hit a tough block and went over the bars, collecting Lawrence with him. That allowed Michael Mosiman and Jo Shimoda to steal the final two podium spots.
More on that in a second, for now, just know that Nichols is rounding into a solid all-around package for this title.
"I was able to kind of keep tabs on those guys, I was trying to manage the race from the front," said Nichols, of Monster Energy Star Racing Yamaha. "I could see Jett closing on Christian at times, and I heard the crowd going crazy as I went across the finish, and I knew they weren't cheering for me! Overall I was happy to be out front away from the drama. Definitely made my life a lot easier. I knew Christian was behind me, that was comforting, I knew he wasn't going to do anything that crazy. Felt good."
Lawrence's charge was impressive, he missed a shift on the start and then crashed on a wall jump, but put in an amazing late-race charge to rip into third and nearly get Craig for second, until Craig engaged in max-defense mode and took them both down. Mosiman grabbed his first podium of the season with second. Mosiman also knocked down Jett in his heat race—revenge for a takedown last week.
"I didn't want to say anything, or just use words, I just wanted to show it with my actions," said Mosiman, of TLD/Red Bull GasGas. "I wasn't gung-ho "I gotta take this guy down" but an opportunity presented itself. Crowd went nuts! It was fun and the team was amped, and I think Jett and I are cool, he gets it, we first bumped at the end of the night. Clean night, better start and I was with Christian and Colt out of the gate. I made two mistakes on lap five or so. I haven't seen the Star guys all year, but there was a time where I was actually settled in behind Christian, and I was like "Wait I should pass him!" Big progress tonight, Jett really put it to us tonight and really came through. There's more speed out there, I just have to find it lap by lap."
"It wasn't really a podium, because Jett went around me, he was riding really good tonight and Christian was ahead of me, too," Shimoda, of Monster Energy Pro Circuit Kawasaki, admitted. "So it ended up being a podium, but the next time I get a podium, I want to get a podium myself."
Lawrence was quite emotional after the race with fourth on his Honda HRC machine.
"I had a really rough start, neutral off the start, and on the wall jump I stalled and I was an idiot for that," he said. "I thought I could get Christian in that last corner, we came together and I wasn't too phased but we got tangled up and I couldn't go. I put my heart into these last two rounds and it sucks that it ends up like that."