Southwick, MA
Moto-X 338
Lucas Oil AMA Pro Motocross Championship
Aussie Brett Metcalfe had a long career here in the United States riding for Factory Connection Honda, Monster Energy/Pro Circuit Kawasaki, factory Suzuki, and factory KTM, and even found time to head to Canada and win the MX1 title up there. Metty's been gone from the U.S. for a while now, but he's still been racing back in his home country the last few years. We caught up with Metcalfe to talk about what he's doing now, go back through some of his time racing here, and more.
Racer X: You rode for Penrite Honda down there and the owner, Yarrive Konsky, has his Muc-Off Honda team over here in the U.S. also. With everything going on, how is the status of the team going forward down there?
Brett Metcalfe: It's been good. I guess first off, the status of the team, Penrite is an oil company, Australian-owned and based. Unfortunately for next year they had a different direction in their company motives. So that hasn't lined up for Yarrive to reconnect as a title sponsor with Penrite. So everything at this stage is still good. The team is solid with Honda with a multi-year deal there. Then Yarrive has been a great friend of mine for a very long time, since we were kids. So it's been really cool to connect. Even back to when I was on GEICO Honda in 2010 he was contacting me like, "Can you come back and do some racing?" Every year we'd connect and he was checking to see what was happening. So it's cool to finally be able to do it now.
But anyone who knows Yarrive, he's a 24/7 guy. He doesn't switch off. So, as far as getting title sponsorships and stuff, there's no problems there. I think the U.S. team is pretty solid. They're already locked in with some stuff. The Aussie team here, we're good to go. It's just fine tuning a few things here and there. Everything's good.
By the way, you're eligible to ride 250 supercross now. Has he hit you up?
No. I did consider that a little while ago. I know I'd still be good. I've actually ridden a 250. The team rider down here, Kyle Webster, I did a quarter of a lap on his bike last week. It's fun. I loved it. But to go back and do that, it's a big commitment. I just thought about hitting the whoops again in fourth or fifth, carrying that mega entry speed. I was like, "Do I really want to do that again?" No, I like just leaving it in third.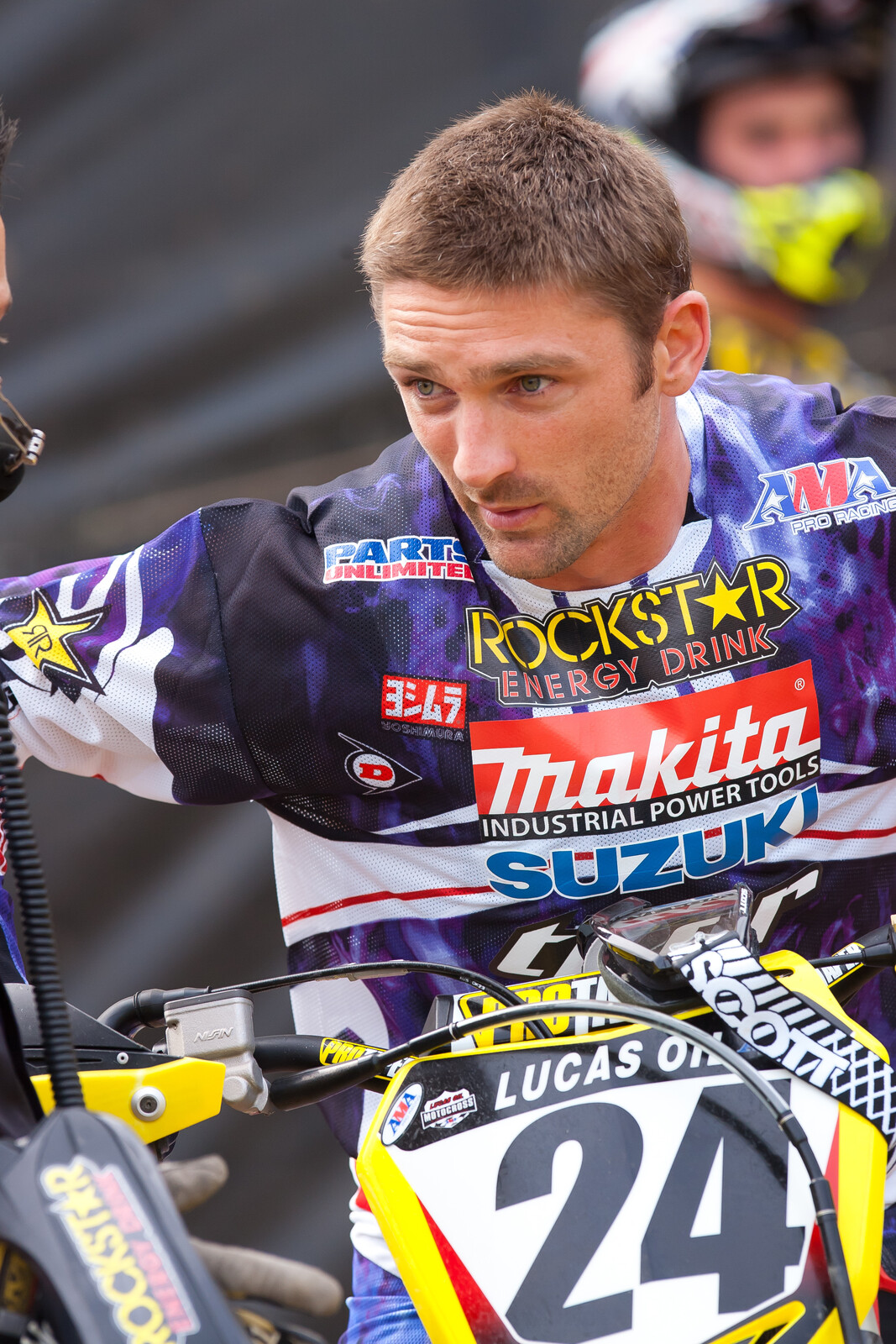 It's probably a lot safer for you to not do it. How old are you?
Thirty six.
So you still got it. It's fine. Obviously a lot of the Australian stuff, like everything, got affected by this COVID-19 thing. How was it affected down under? What did it do and what does it mean for the series going forward?
Twenty twenty was a complete write-off. It was kind of sad because the original promoter down under, Kevin Williams, he had been doing it for 20 plus years. This was his last year. He had already announced, "This is my final year, I'm checking out." He's done his share of fair time of it. Then obviously COVID came in and he basically pulled the pin on everything. Motorcycling Australia [MA] stepped in. They were going to try and run something, but it was too difficult. Australia really clamped down, I think more than any other country in the world. The regulations on it were just too strict. We couldn't cross borders. We couldn't go interstate. It was really difficult to host events. You had to be in a hub for two weeks if you traveled interstate, in a hotel room. So it was just too difficult for privateers, for anybody to do it. So basically this year was swept out from racing. We had some local state racing, so that was cool. It was the first time I got to actually become a state champion in a professional senior career. I enjoyed it. My kids got out there and rode.
So there were a lot of cool, little things that stemmed from not racing the nationals. This year was a complete write-off for it. Moving forward, I think everything is looking really good in Australia. The motocross series is going to be revamped. The governing body, MA, they've taken over it. There's another group working with them. It's looking really good. The series is going to be on TV again. There's going to be a lot of little, cool things happening. It's good for Australian motocross and good for the next generation coming through.
I thought you guys got a few races in. I wasn't quite sure.
Each state ran some events, but there was nothing nationally. It was all shut down. It was just too difficult. We were sitting here like, how can the GP's be running and how can America be running? We literally, each state, we had barely any cases compared to what the U.S. have, and yet we weren't allowed to do it. We were all kind of screaming. Just how it goes.
What's your biggest regret looking back in your racing career in America? Do you have any like, checking the gas on your RMZ before the moto where you got hurt?
I did that, though. We had that full before we started the moto. That was just the wrong fuel tank.
Not to bring up some bad memories, but do you have some regrets?
Not really. You mentioned PC. KTM, I probably could have stayed there an extra year. I took too long making the decision and then it was off the table. Then that year they brought out the new four-stroke and that thing was a weapon. It was really good. I went to Yamaha and rode the two-stroke, so it was still a struggle. So there was two years where I really slumped there just because of two-strokes. My time at PC was awesome. I learned a lot. I progressed a lot. I don't regret that move going over to FC Honda.
You had great results with FC, so I'm not saying that, but I know there were some hard feelings with Mitch [Payton]. He thought maybe he had you. I don't remember the whole story now.
It was a story. Looking back now, at the time then it was awesome. I don't really have too many regrets other than maybe I could have been a little bit lighter on myself at times. Then I look back and I think, if I wasn't as hard as I was and pushed as hard as I did, maybe that's what helped me get through and have a long career there. I don't regret any of it, really. The biggest regret is I think I should have come back to Aus[tralia] and just re-grounded myself here and got out of there for a little bit, and then went back. I wish I had done that a little bit. Other than that, I loved it. I traveled the country in the motorhome. I got experience, memories forever from there. It was a dream. Traveling the country, racing the best events in the world, it was cool. When you're in the moments, you're just so stressed over what you're going to do, how you're going to compete, and if everything is right. Then when you go there, like the last couple years I've gone to Anaheim and stuff just to watch, and you see the guys stressing and what you used to go through and you're like, "Man, what are you stressed about? Chill out. This is awesome." But when you're the guy with the helmet or you're spinning the wrenches, it's on. That's what it takes.
You won Southwick. That's something to always put there. What's your greatest racing memory, or is it Southwick?
Southwick would be the pinnacle. I guess when you look at it up on a board, the top rung would be that. But some side notes would be probably the U.S. Open in '05 was cool. I won that in the Lites division. Okay, it's the 250 or MX2 class, but that was a good little stepping stone for me. My first year, '03 on KTM, in supercross I finished fifth. I had a couple podiums. That should have been a fourth. I had a DNF at the last race. My shock blew up and I DNF'd. So that would have been a fourth in the championship in the first year over there. That's pretty cool. Not a lot of dudes go out and do that. So that would have been good. Then obviously Chad [Reed] goes and wins his first year, so you're always riding in that shadow. So that was good.
Then also, the race that stands out, and I still have the jersey which means a lot, was 2010. This is painful to talk about. It really is. Two thousand ten Southwick running out of fuel on the last lap. [Editor's note: This is a different incident of running out of fuel than discussed earlier in this interview.] So I still have that jersey. That moment in that race, it was devastating for me and for the team because we did everything right. We had oversized fuel tanks. We did fuel testing during the week. We knew what were capable of. It just ran short. That means probably the most to me, maybe even more so than winning the next year. A mentor of mine told me, "You didn't win that race, but if you could take the finish line, that wasn't anything you had done. If you took the finish line, and took it five corners and placed it there, you would have won. So you did nothing wrong. It's just the finish line was in the wrong spot. If you look at it like that, you're a winner." That helped me get over that hurdle of always feeling shitty about that memory. I'm like, it's a bummer for us, but it wasn't. That actually means a lot to me, that moto.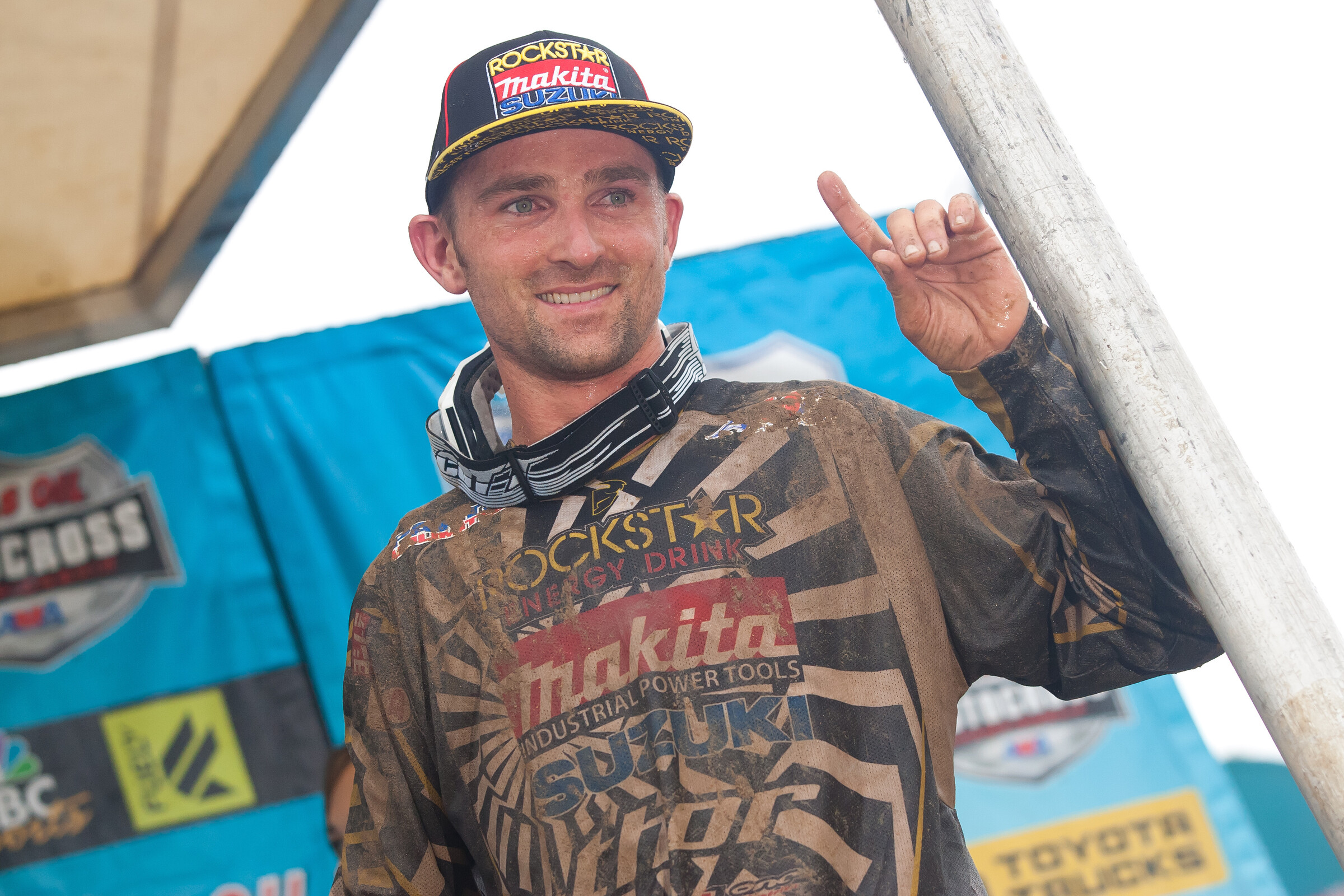 That was a heartbreak for sure, running out of gas there, but it was so cool to see you win. I interviewed you in your motorhome after the win and I remember I was so excited for you to have this redemption one year later. I think everyone was happy for you.
That will always be on top. It's one win, but man, if I hadn't have got that I'd still be a little sour. So that was huge. The cool story was my dad flew over. That was the first time he had flown over that year, or for a couple years I think. He got in the night before and it was like a 36-hour trip for him. He got in the night before. I hadn't seen him for maybe a year. I saw him on race day. He was there. It was all exciting. Then for that to happen and him to be there in that moment was pretty special just for everybody involved—for the Suzuki team and everyone there. It was cool. Obviously [Ryan] Dungey had that mechanical in the second moto then came back and made the race. So the day was just like, "Wow, that was crazy." I finally got one and he made it to the race and finished third still. Pretty amazing. I passed RV. That didn't happen too often.
How do you look back on your Suzuki time? The whole gas tank thing, and you had some big injuries and that sucks. As a mechanic on a race team, that's the worst feeling ever when you know the rider got hurt because of something that happened with your motorcycle. Do you look back on that with a little bitterness, or are you happy with your time there with the Rockstar Makita Suzuki guys?
I'm happy. To live that experience now, at the time I was a little bitter after it ended and stuff but when I look back… I was bitter at the time. I knew what had happened. Now I see it from a different perspective. How are they going to take ownership of that? Maybe it was something overlooked, or maybe it wasn't. I don't know those answers. Maybe they don't know those answers. So I understand. I see it from a different perspective. It didn't end up great, but I still had a good time there. I had a good relationship with Mike [Webb]. The mechanics were cool. Everything was good, it just didn't end the way you'd hope. I don't look back on that at all with regret.