They say you're only as good as your last race, and the last races weren't good for Aaron Plessinger. The 2021 season will represent reset time for AP, who is back with his old team (Monster Energy/Star Racing Yamaha) after two rough, injury-riddled years on the Monster Energy Yamaha (in-house factory) team. Aaron remembers well that when he was going strong in the 250 class, he was going head-to-head with riders like Adam Cianciarulo and Zach Osborne, who are now hot picks to do some damage on 450s in '21.
Can Aaron get back up where those guys are now? We talked about this and other topics in part two of our interview.
Check out part one with Plessinger if you missed it.
Racer X: There was so much hype coming out of the 250 class, but then you had the big injury two years in a row, really. Some guys would start saying, "People forgot about me. I'm more motivated than ever to prove to everybody wrong and remind them that I'm still here." But I don't know if you operate that way. Do you think about that stuff, or are you just doing your own deal?
Aaron Plessinger: You definitely think about it, but that's not my main goal. My main goal is to get me back to where I want to be before I worry about anything else. I think if I get back to where I want to be, my results will show those guys what I'm about and what they forgot about.
You just look at the other guys in there, like AC [Adam Cianciarulo] or [Zach] Osborne. You've been in that group the whole time, you battled those guys in the 250s. So they're up right now, because they were really good outdoors. Do you look at that and say, "I used to battle those guys?"
Yeah, I do. I didn't really watch that much of the outdoors series just because of that reason. I watched and I was pumped for those guys, really, really pumped for those guys. I like those guys. But for me, it wore on me and it was kind of frustrating watching those guys get the results, and then I'm just sitting on the couch. I was just like, come on, man.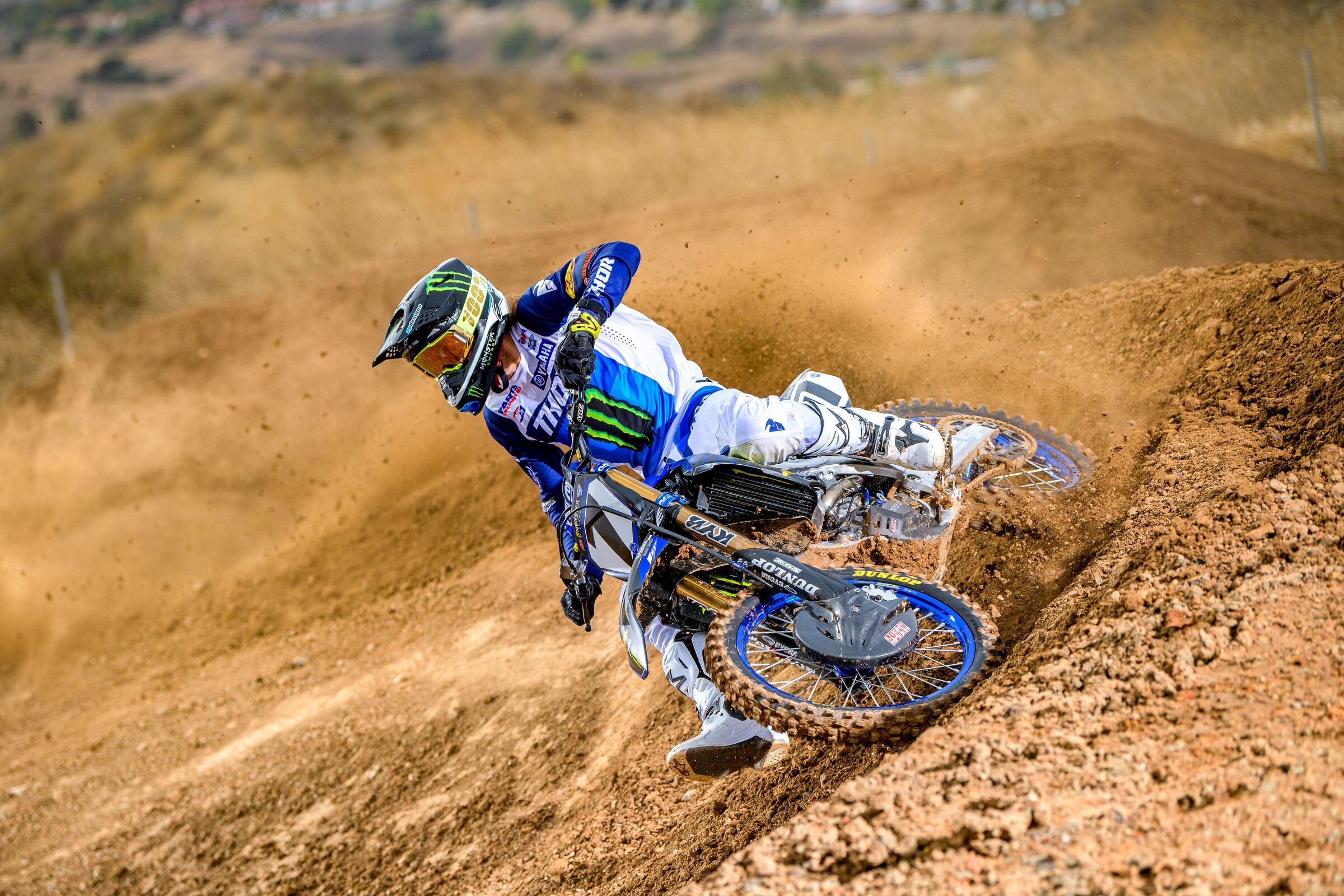 I want to ask you about having Malcolm Stewart as a teammate. I feel like you guys always got along pretty well. You weren't teammates, but we saw some races where you guys danced together on the track after the race, stuff like that. That's got to be cool. Has it been pretty fun working together?
Yeah. Malcolm is awesome. We get along really, really good ever since we raced each other. We had a few heated moments there for a little bit, but who doesn't when you're racing for a championship? I look up to Malcolm still. He's an awesome rider. The skill he has in some places is five-star. Look who his brother is. I feel like he can teach me a lot, and maybe he can learn a little bit from me. But I love having him as a teammate. He keeps the morale high and the pace even higher.
What are these motos like? We keep joking that Star has 49 riders. What are these days like when the track is packed?
[Laughs] Dude, it's a supercross. It literally is like a supercross race! It is crazy in so many ways because it's like five 250s and then three 450s. Even though Dylan doesn't ride with us as far as motos go, he's still out there riding. When I was riding outdoors, I was looking in and I was like, wow, this is actually crazy!
Does it help actually? I'm sure it beats the track up more like a real race. Does it feel more like a real race? Is it good simulation of the real thing?
Yeah, definitely. When you've got ten guys out there duking it out to get to the front, and we usually start slowest to fastest so everybody gets in there and battles at one point.
Real passing has to happen.
Oh, yeah. Real, real passing. [Laughs] There's been a few moments out there for sure.
That's awesome. So you guys load up tear-offs and everything, whatever it takes like a real race?
Oh, yeah. The only thing we don't do is a full gate drop. I bet if we had a full ten gates you can bet we'd be doing a full gate drop.
This is the same old Yamaha track? That part hasn't changed?
Yup. We're still up here on the top of the hill.
What about the familiar faces? I would assume most of Star is still the same people. You were only gone two years. What's it like to be back?
Yeah. The only thing that's really changed is new mechanics. It's amazing to be back and just to talk to the guys and get to work with the guys again and have some old teammates, Justin Cooper and Dylan and Colt [Nichols] and everybody. I didn't really know how much I missed it until I got back. So it's amazing. I love it.
So when you first started hearing this might happen, did you immediately think it would be awesome?
I was going to wait and see. I didn't want to get my hopes up, but I knew if it happened it was going to be unreal. I knew it was going to be really, really good. I didn't really get my hopes up, but when they said, "We're taking over." I was like, All right! Let's do it! Let's go!
You're healed up, the bike is different, you're back on your old team. This is like a nice reset, it sounds like.
Yeah, definitely. I was talking to somebody the other day and they said that it was like a reset. That's the perfect analogy for it. It's a big reset and probably one of the best resets I'll probably ever get. I think this year is going to be one hell of a year. I think this is going to be like how my rookie year should have been.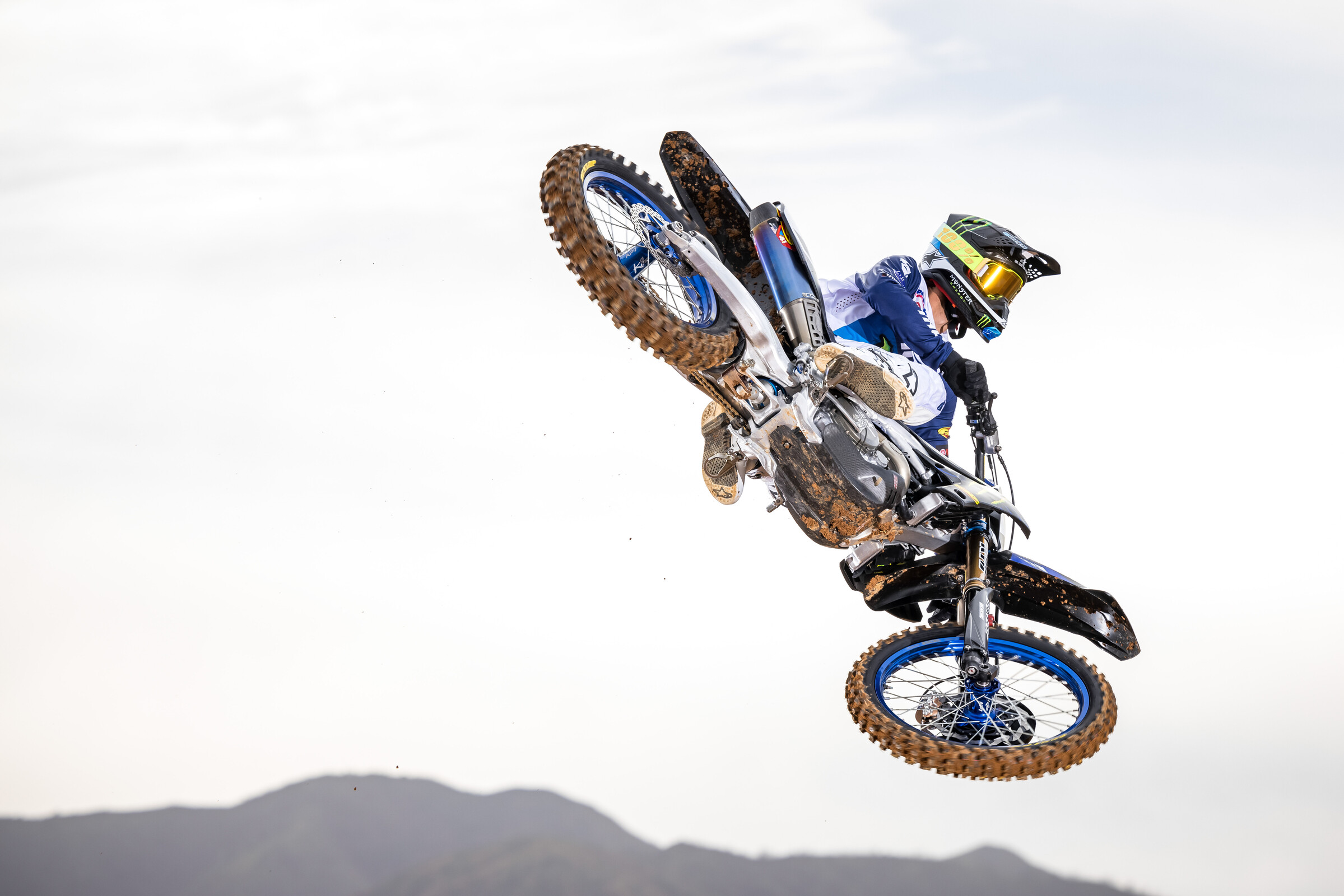 I remember Anaheim 1 of your rookie year. I don't remember what you got. You got fifth or seventh or something, but you were so pumped! You were talking to Matthes and I in the press conference and you seemed more excited than the guys who were on the podium!
[Laughs] Oh, yeah. It was the 450 class! There's 20 guys on there that potentially could win and are supercross champions. So when I was battling with those guys, I was still really, really star-struck in the moment that I was racing those guys and actually on the track with them. So that kind of played a part in it. That was a season high. Then my best finish was fifth in Atlanta. That was a pretty cool moment also.
I do feel like when everyone goes through the list of contenders, and then we add you coming in healthy and ready, it does get crazy. So many fast guys. That's good to know that you're planning on coming in with a head of steam and ready to play.
Oh, yeah. I'm going to be up there. [Laughs] I'm going to make that #7 look like the old #7. It's going to be a good time.
Hey so is this bootcamp time? Is that why you said you were super busy?
Yeah, pretty much. I've been gone from the house. It's usually 8:00 to 5:00. I have a break for lunch and then that's pretty much it. It's like a normal job right now. It's pretty deep into bootcamp.
And you're dead at the end of the day? At like 6:00 p.m. at night when you're back in your house are you're feeling it?
Oh, yeah. I'm barely talking. Kendall's [Plessinger's wife] is asking me something… I'm like, "Okay…" Falling asleep in my dinner!
---
Images courtesy of Octopi Media