Mike Alessi left a legacy at Loretta Lynn's Ranch, tied with James Stewart and Adam Cianciarulo for the most AMA Amateur National Championships at the event in the Youth classes (Kevin Walker holds the all-time record, in total, via championships in the Vet classes). No doubt, Mike and the whole Alessi crew were dominant (and also controversial) in their time hunting amateur race wins. Well, Mike is starting to channel some of those old-school vibes again. He's no longer competing at the professional level on a weekly basis, but he's searching the calendar for races he wants to do, including the Dubya World Vet Championship at Glen Helen this weekend, and a fresh run at Loretta's in 2021.
On Monday, we were talking to Mike's dad Tony about the 2021 SmarTop/Bullfrog Spas/MotoConcepts team. Mike happened to be sitting next to Tony as we were talking, so we fired some questions his way, as well.
Racer X: Tony, you texted me your to-do list for the week earlier today. I see some 800/801 notes on there about riding at Glen Helen. You're working with the boys this week?
Tony Alessi: Actually yes, Mike is right here with me. Say hi.
Mike! Wow you're bringing it back. Driving with dad, going to go riding this week at Glen Helen?
Mike Alessi: Yeah, well we've got the World Vet Championships this weekend. I'm 32 years old, and I'm trying to go out there and win it like I did last year. Defend my title.
Is this a two-stroke thing?
Mike: Not this one. I'm on a SmarTop bike.
Tony: There is a Saturday race for 125s, so Jeff [Alessi] will race that. Mike will be on the real one, the 450 class, for Sunday. Keeping it rolling.
So the Alessis rocking up to a race at Glen Helen. That has to bring back some vibes.
Tony: Yeah, it's really enjoyable. Lori at Glen Helen is always welcoming to Mike and Jeff and the family. We've been riding that track for 30 years. It's good to come back and support their events. It's fun.
You've got some other plans for 2021, Mikey boy? Other races on your to-do list?
I do but with COVID[-19], the biggest thing is trying to figure out what races are happening out there. Still a lot of uncertainty. Obviously I want to race. Loretta Lynn's is my big plan. I want to go back and race 25+, and battle Mike Brown for that title. Then I want to race Open Pro Sport and battle those kids for that title. I just don't know about sponsorship money. That's the main thing. I need four-five sponsors that are willing to not only help me but my program, the way I want to do it. I can't just fund it out of my whole pocket. Hopefully I can find those companies and we can go after the 12th and 13th title at Loretta's.
Cool. Hey, you're in California right now, but where do you call home now?
I'm in Jacksonville, Florida. That's home for me, that's permanent. We have a house that's quiet and secluded and peaceful. This is what everyone wants to do, and that's to be happy. I've put in a lot of years. I was fortunate to travel the whole world, go to Australia, England, Ireland, France, all over. It's been awesome, but then where we live near Jacksonville, [in] Hilliard, it's a quiet, peaceful town: 2,500 people, one gas station, one stop light. You go into a store and everyone is like "Hey Mr. Michael, how you doing?" "Hey Miss Danielle, how you doing?" I love it. I really do.
So you're settling down.
Yup. My wife and I have been dating since we were 15, so we've been together 17 years. Our daughter just turned two over the summer. Yeah, it's good. My passion is still racing. It's who I am and what I want to do. It's my lifestyle and I don't want to stop. I'm not going to put out a press release saying I'm retired. I'm still racing and I want people to know that. I'm still competing and trying to win.
So you don't know what events, but you'll still be swinging a leg over.
Yeah, for sure. If it's the Vet National this weekend, the Two-Stroke Nationals, Loretta's, or if the 125 All Star races come back to the pro nationals, that would be something I would entertain doing.
Hey Tony, meanwhile, you had a little project going already at Loretta's in the B class this year with Luke Kalaitzian. He ended up second in both of his B classes.
Tony: Yeah, I really like Luke. At the moment I'm not sure what I can do for him. I think Honda might be steering some of its amateur budget into other teams, maybe with Michael Lindsay, but I'm not really sure. With the current state of affairs, all budgets are getting cut at the manufacturer level. I don't know how to do it without help, and my budget is stretched having four riders in supercross. So I actually called him with Michael Lindsay to help explain things. Great kid, great family, and I'll do anything I can for him, if he wants to go riding he can ride with us when we're riding. But currently, with all the budget cuts at the manufacturer level, unfortunately, and me having a four-rider team in supercross, I'm going to have to be really tight on everything.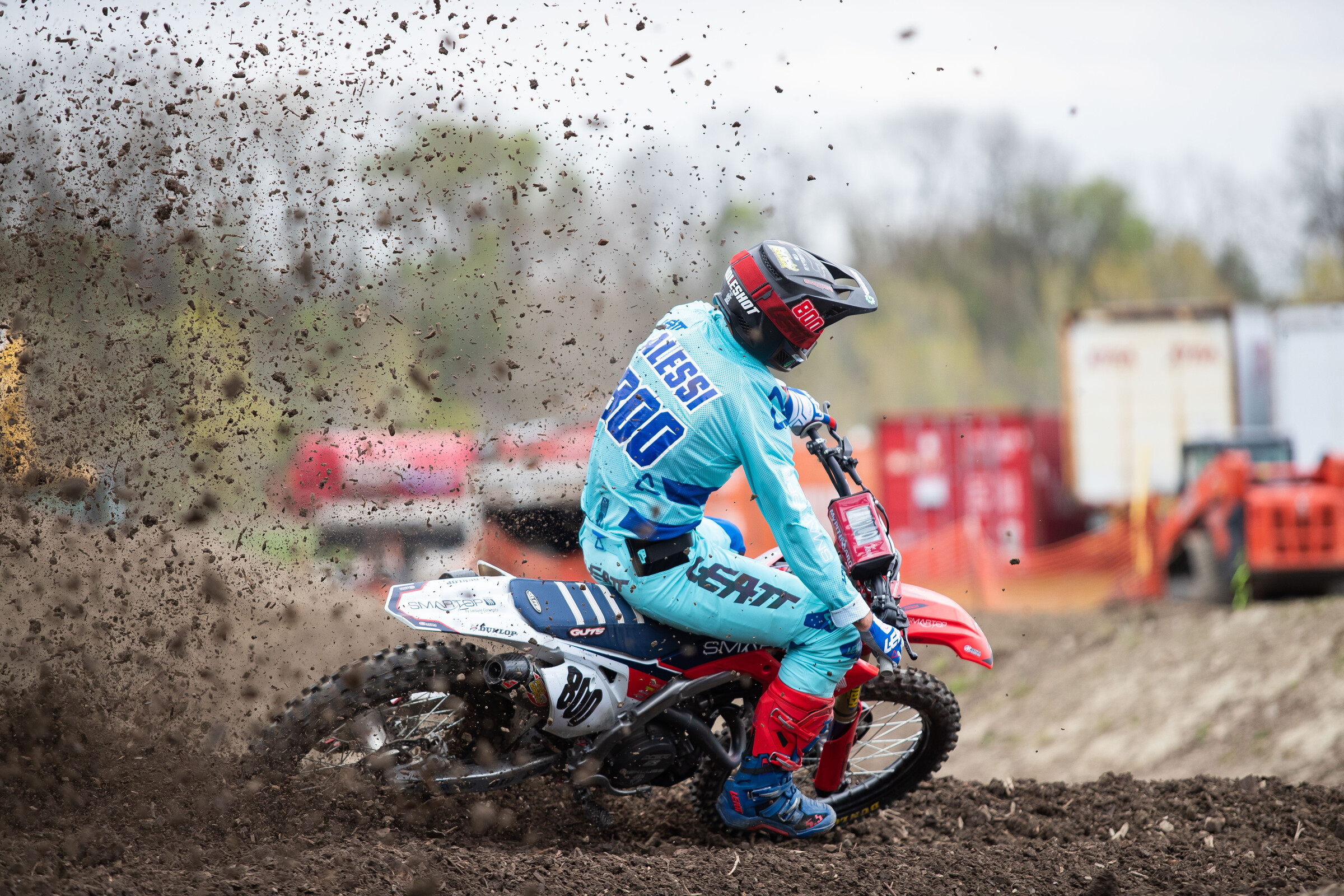 But if someone has an opening, you'd recommend him?
Absolutely. Great kid and well qualified rider.
Got it. Well Mike, good luck this weekend at the World Vets.
Mike: Thanks. I'm happy. Like I said, I'm really enjoying life. I didn't win the major championships, but I can look in the mirror and I like what I see. Now I'm just enjoying it, enjoying racing and being with my family.
Okay boys, go do dirt bike stuff.
Tony: Yup, we're rolling to the track. Rock and roll!