The SmarTop/Bullfrog Spas/MotoConcepts Honda team is at it again. The team, owned by Mike Genova and managed by Tony Alessi, continues to find riders left without a seat in the factory game of musical chairs and then gives them a full effort with the potential to beat the factories. The squad announced its 2021 lineup last week, with Justin Hill and Vince Friese returning to the lineup, and Shane McElrath and Benny Bloss joining the team. Now the work begins to get all four ready for the '21 season. We called Tony Alessi on a Monday morning to get his take. As a bonus, we ended up talking to Mike Alessi about his plans to race some big amateur races next year, so we'll have that interview later this week.
For now, here's Tony on the MCR team for Monster Energy Supercross in 2021.
Racer X: First of all, you announced the team last week. Is this a big Monday now that you finally have it locked down, or has this actually been in the works for a long time?
Tony Alessi: Initially, from back between the end of supercross and motocross, I was putting the team together and I wanted to have two top-ten guys, and then Vince [Friese] as my development guy on the '21. But there ended up being more riders available than I expected, so that ended up turning into a three-man team and then a development rider with Vince. So that's where we're at now.
So, you dealt with this when the previous new Honda came out in '17, you actually had some of your guys racing 2016s. So that's the plan again here. Some of your riders will be on 2020s?
So initially Honda told us that not everyone who wants to buy a '21 CRF450R is going to able to buy one. So that was our first red flag—the supply might be limited. Also, you can't get aftermarket triple clamps for those bikes, you can't get an aftermarket clutch, you can't get a lot of exhaust systems. Nothing is available. That's really tight, it's November already. It would be too risky to commit to the 2021. Our 2020 Honda, we've had four years of development with good riders like Justin Brayton and Malcolm Stewart. We'll put three of our racing guys on that bike, and we'll put Vince on the '21. Vince is really good at testing. That will help us develop the 2021 for the future.
Well, it's good to hear you're thinking this long term. With COVID, we definitely heard a lot of teams living on thin ice. Were you ever worried the team wouldn't return?
I never had any fear of not running the team unless Feld ended up not running a supercross series this year. We will participate if there's a place to participate. We're a self-funded team, so we can race even if we don't have sponsorship. So, we're in a little bit better position than other teams that need funding to go racing.
So, this is just because Mike Genova will pay for it?
Exactly. Mike Genova supports it. It's his hobby and his passion, like it is mine and the rest of the people on the team.
So, let's talk about the riders. We'll start with Justin Hill. He was starting to come on at mid-season, then COVID hit and he was not the same rider after that break. What was your take on him from his first year on the team?
Well, obviously Justin Hill is a huge talent guy, he just needs the right environment. Before COVID hit, I thought he was going to be the top-placing rider on the team. He was really putting in results, he was qualifying great, winning heat races, getting top-five finishes. Then COVID hit, and we were initially told by Feld that we might be back racing supercross in October. So, I sent my guys home! I told them to go on vacation for a few months. I brought all the bikes back and I told them we'd pick it back up before the season starts again. Obviously, that whole plan changed when they decided to pick it up in June. My guys weren't ready. We only had two weeks on the bike before Salt Lake.
So, you think he can get back to where he was before the COVID break?
Yes. He does have a few challenges going on at the moment. He has the birth of a new child coming in a week or even less. It takes time to adjust to that situation, and we're aware of that. He recently got married and they built a house up there. They will have to spend a little more time in Oregon. So, those are challenges, but we expect that he can come good. He's a high-talent guy and he really gels with the team. So, we think he can get back there, yes.
Okay, McElrath. He kind of slipped between the cracks, pointing out of the 250 class but not winning a title, so he didn't have a guaranteed deal or as much leverage as he could have. How did you make that deal happen?
I don't watch football much, but Mike [Genova] is a fan, and they talk about first round draft picks. So, the last two or three months, that's what I've been thinking about here. He's like a first-round draft pick. Second in 250 supercross, third in motocross. He has good stats and credentials, he's a good guy, so that's obviously someone you're interested in. But he's a top guy, so it takes a while to get a deal with a guy like that.
Has he ridden your bike much?
No. He did do a couple of days testing, and honestly it looks like he's been riding our bike for our team for five years! He really does. He's a really good fit, a genuine professional. So, I'm looking forward to that, for sure.
Okay so you said you wanted two top-ten guys. So, with Hill and McElrath you have that. What made you add a third position and also have Benny Bloss?
Benny is our wildcard guy. I think he is getting ready to have a breakout year. He qualified first at the end of the one of the Utah races, he won a heat race, and he was on his way to a podium finish in the main event, but he ended up crashing with Vince. I just looked at that and said, "That doesn't happen by accident. That's a fast guy." So maybe with the right components with team and equipment and getting good starts, maybe he can be our breakout guy. He rides good.
Seems like you enjoy projects like that.
I think that's a big part of it. A lot of us live to make things better, no matter if it's a track, or a house, a car or a rider. We always strive to do better. If feels good to do that. I saw someone say "Why Bloss? He's been in the class three years, he doesn't make it to all the races, his best finish is a 12th." Well, I believe we can make him better. I believe there's motivation with that. It's something to be excited about.
Some teams have basic numbers on paper. They want podiums or they want wins. You seem to have different goals for each of your guys, and you'll be happy if they get that result. It could be a sixth or an eighth or a tenth. You're happy as long as they're reaching their max.
Absolutely right. Look at when we had Malcolm. His best season finish in the 450 class before he came to us was a 17th. He was generally a 10-20 guy in individual results. Yeah, he had one or two races in there that were top 10s but look at what he did with us last year. He was top ten in almost every race, and he had a high finish of a fourth. He made 17 out of 17 rounds of supercross. We created a platform for him. He wanted to get a factory ride, but you can't get that unless you have the credentials to get it. We created a platform for him to get there.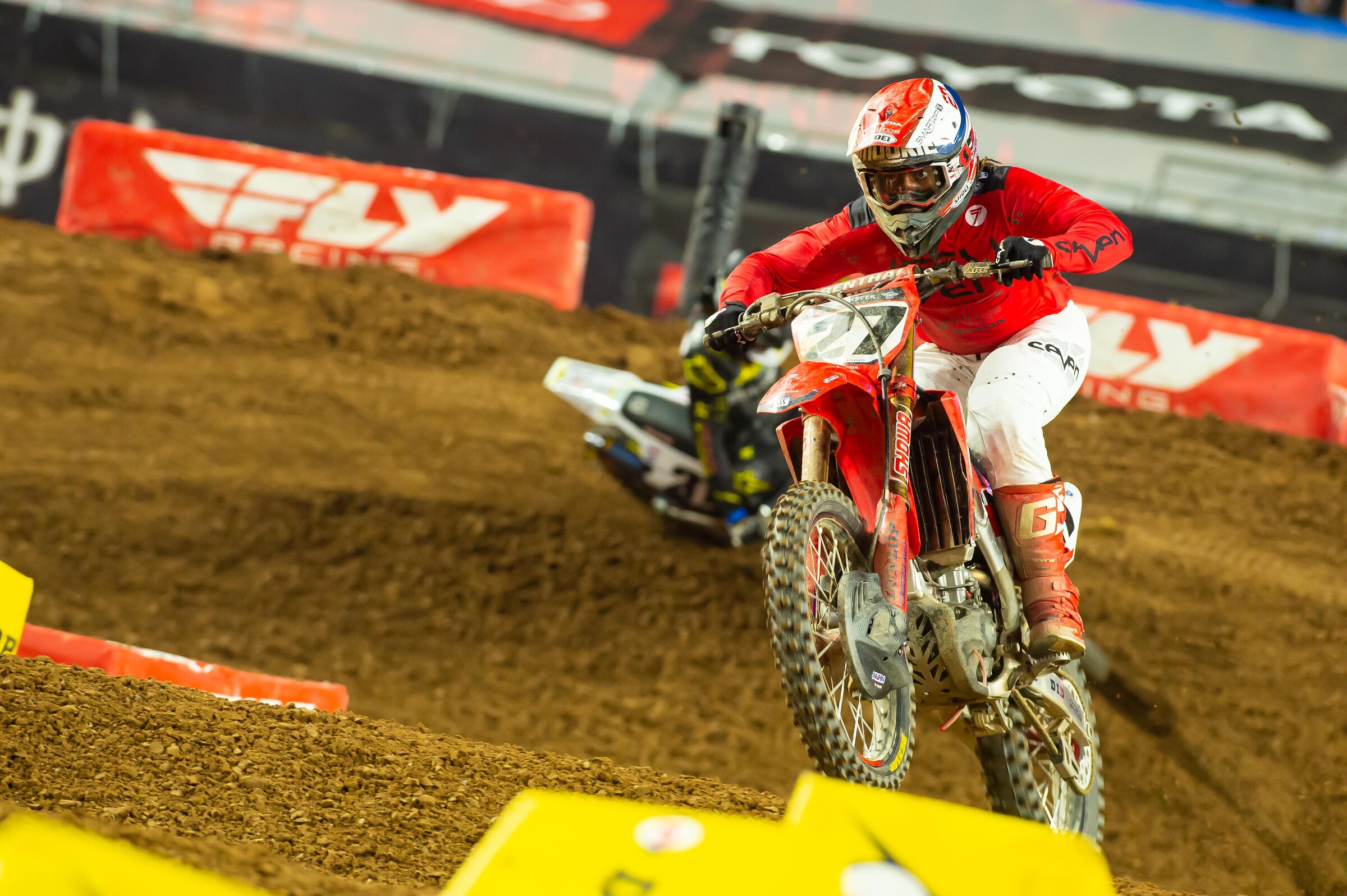 So now Malcolm moved to Star Yamaha. Do you look at that like a disappointment, like "Oh man if we had two more years with him, we could have won races!" Or are you happy to be the launch pad to get the guy to a factory team?
We always want what's best for the rider. Our job, like I've said, is to take the rider and make him better. If he has the chance to earn more money or whatever it is that is better with another team, then we've done our job. We did that with McAdoo. You were there at the Daytona Supercross amateur race, actually. I told you we had this kid, and next thing you know he's battling Forkner, then next thing you know he's on our team as a pro, almost getting top fives, then he's on GEICO Honda and now he's on Pro Circuit. That's just one of those stories.