Lakewood, CO
Thunder Valley
Lucas Oil AMA Pro Motocross Championship
Eli Tomac earned his second win of the 2020 Lucas Oil AMA Pro Motocross Championship. The Cortez, Colorado, native earned his 25th career 450 Class overall win, which is fourth-most in the all-time history books. Following his win at the eighth round, he sits fourth in the 450 Class points standings (278 points), 47 points out of points leader Zach Osborne (325 points). With one round to go—although mathematically possible—Tomac's chances of earning his fourth straight 450 Class title are very unlikely. The Monster Energy Kawasaki rider spoke with the media following the race.
Racer X: Eli, talk about your day. You said yourself on the podium it felt good to have a day where you felt like yourself. We saw you ride this way in Ironman and then it just didn't necessarily keep going from there, but we've seen this. We know it's there. We saw you second moto last week. You're there. It maybe hasn't been at the level that you want or that we've been used to seeing you, but talk about the day. It's your home track. I'm sure there's a little bit of extra motivation. All in all, it was the Eli Tomac that we're all used to seeing. So what was different today for you?
Eli Tomac: Great day. Really I don't know. I've been kind of searching these last few races here and just not been able to move forward. Today I was able to go forward. Obviously, I got a better start in moto two. I chopped out a lot. Everything just felt right. When things get going, they go right. So that's what it was for me. The track developed well into the second moto. It was really smooth in the morning and then got pretty rough for moto two, more than I thought it was going to be. I thought the thing was going to be a massive freeway the whole day but it turned into a nice racetrack.
Eli, how important is it to get wins as the season wraps up? It's been kind of a rough year for you, but how important is it to close out and win like this for you in the long run?
I need something. That's what I've got in my head right now, is just try to get a win or two here to finish of the season. It's been a weird year. So that was my motivation today. Let's get another win before this thing is over.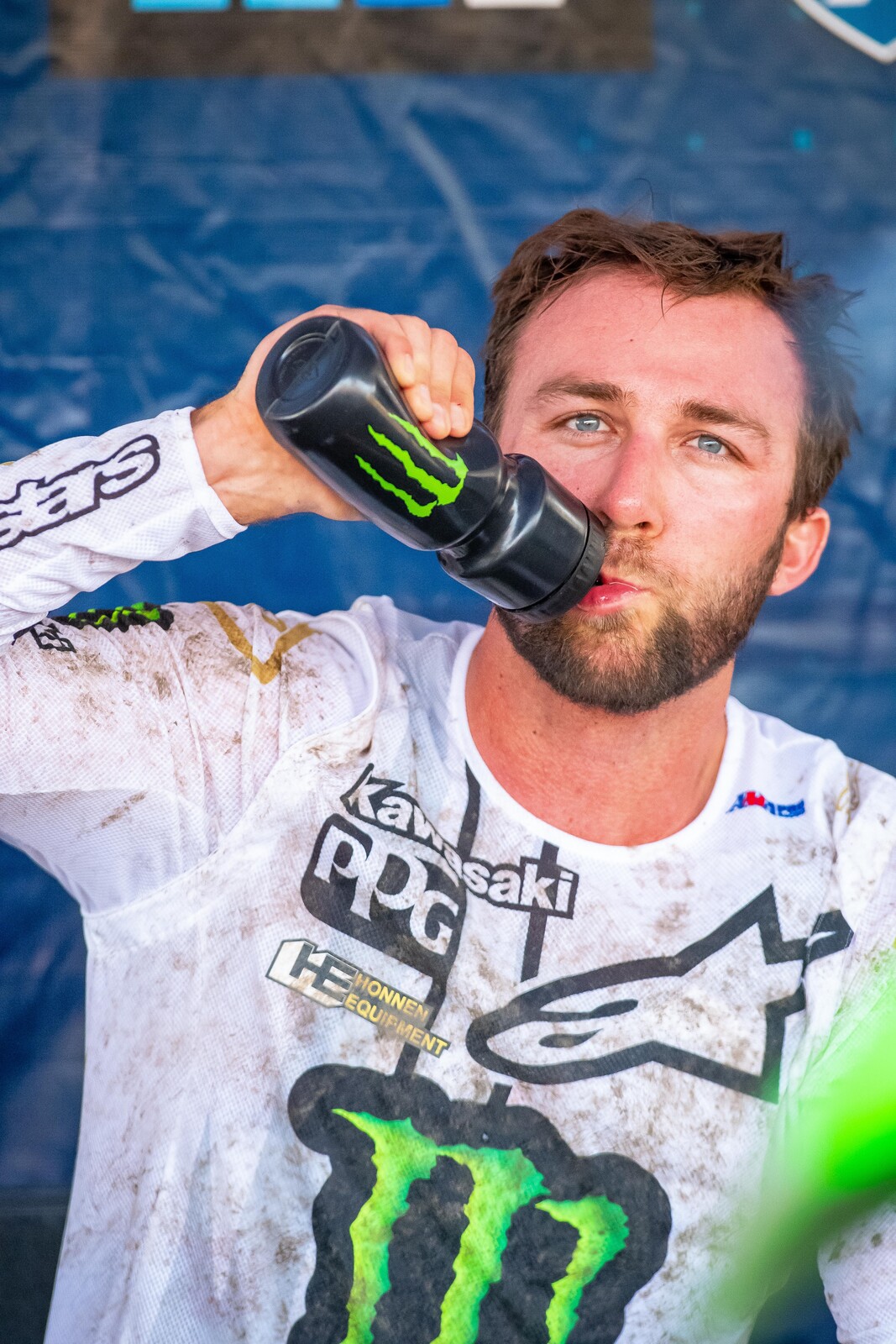 How was the track shaping up in the second moto? It looked like it got really slippery. A lot of the 250 riders were losing the rear on faces of jumps. How was the track for you in the second moto? Because you got faster.
Yeah, the track just got more torn up. The uphill rollers section, I actually really liked that. It was really torn up, but if you could get it good and get your manual right and get your driving right you could get that triple really clean. I was catching guys there. It just got a little bit gnarlier from moto one. Moto one actually, the beginning of the moto I thought the thing was way over-watered. Moto two wasn't as wet that way, but the opposite it was more torn up. So like I said, it turned into a pretty good track later on.
It sounded like it's been really, really dry here lately. It's really, really dry in the area right now. Eli, you're a Colorado guy but you're from a completely different part of the state. Being out there amongst the fans and everything today, anything you do people just freak out. What is it about being the Colorado native guy that you have a bigger turnout here than other places? There are other dudes that go race at even more home tracks that don't get the fan support that you get.
Tomac: I have no idea. Maybe we've got some good moto enthusiasts up there. I wish we had more moto stuff down here in the southwest corner but we really don't. The Denver people get fired up.
It must be like a mountain bike thing or something because even in that second moto, I don't know if that's something that you can hear out there on the track, but as you were making that charge you could hear it all the way through that valley.
Yeah.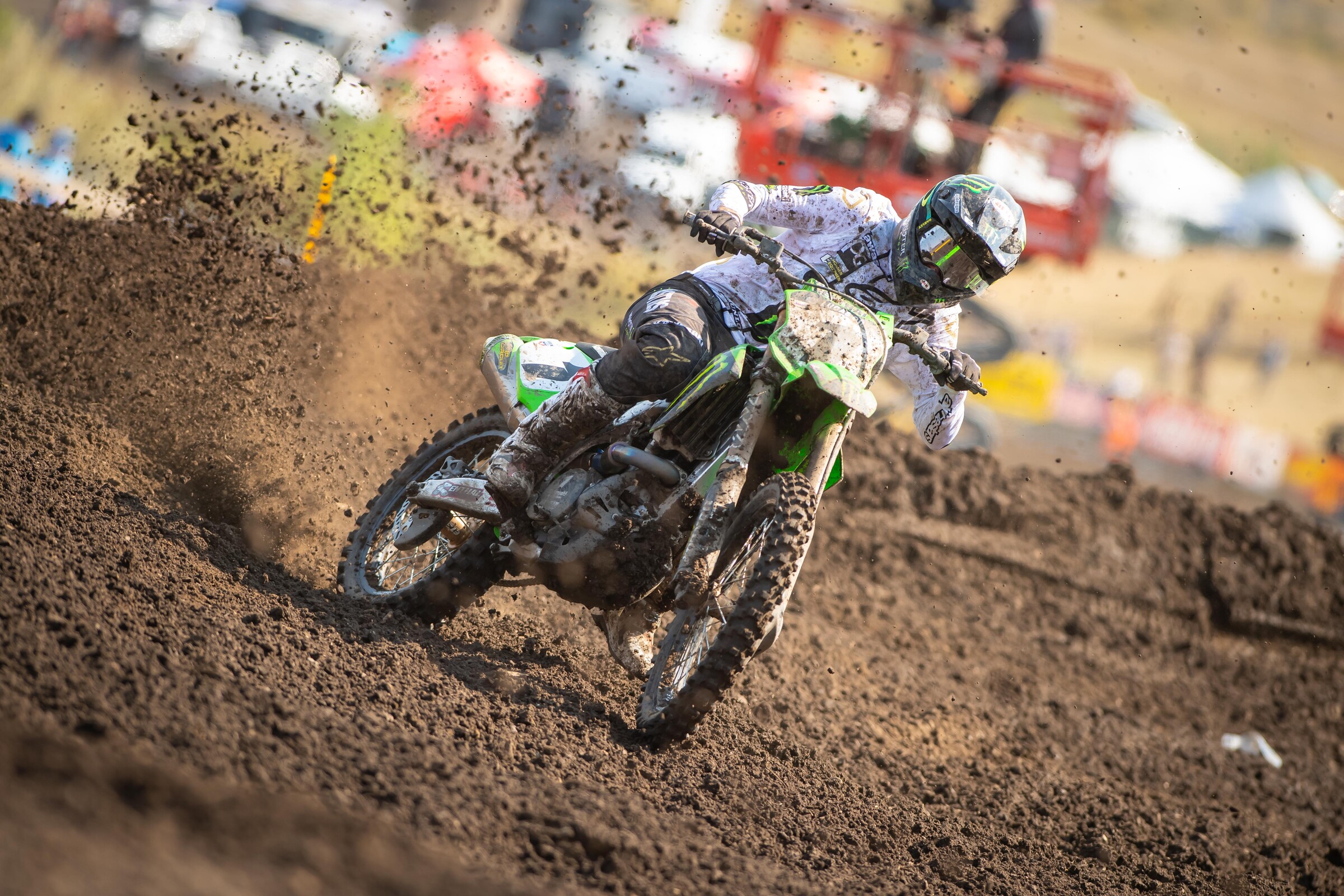 You're mathematically still in the title hunt but it obviously is going to be quite a long shot. Does this almost show how difficult it is to win three in a row? The fact that this year hasn't been a major problem; it's just been tough. Does it show how difficult it is to actually win this title year in and year out? Because this year it hasn't been bad, but it's just been tough. So does it almost prove even winning one title, let alone three, is really that difficult?
Yeah. None of it's easy, and then in the 450 Class it's just like you can't ever make that mistake. That's what happened to me in supercross as well. I finally had a year where I never had the big mistake. That's it. You got to be the man. You got to be consistent.
So there's not any major, particular thing that you can even point to here that's been different these last two rounds compared to the previous three, right? You haven't made anything drastically changed.
I've changed a little bit on the motorcycle. I will say that. That's why I was able to come forward this week. There was some changes there.
You can watch the 450 Class Thunder Valley National post-race press conference archive or listen to the audio from the post-race press conference below (the 450 Class starts at the 25:03 mark).