Jacksonville, FL
WW Ranch (Florida)
Lucas Oil AMA Pro Motocross Championship
With Max Anstie finally back in the U.S., it's tempting to believe he's out to make a statement and show everyone in America what they've missed during his decade in the FIM Motocross World Championship. He doesn't quite see it like that. Although Max is now considered a veteran of the sport, he still sees this American adventure as a long process, and anything he's doing in 2020 is just a learning process for he and his Twisted Tea/HEP Motorsports Suzuki team. Each week, he points out that he's still working through a painful Achilles tendon injury, which doctors have said would take 12 months to truly heal (Max is just over nine months past the injury). Also, the HEP team is racing the Lucas Oil AMA Pro Motocross Championship for the first time. So while Max's summer has featured a few breakout rides, like leading most of the way during moto two in the mud at Loretta Lynn's 2 National, and a great second moto ride at the WW Ranch National which saw him in the battle with the lead group of 450 riders, he hopes this is just the start (He even gained 27 positions—40th to 13th—in the first moto but his result did not jump off the results page).
"I didn't move all the way around the world to just go home," he says. "I'm working on things. I like my team, and I honestly believe with the HEP guys we have the potential to grow. It's a new team that never did outdoors, I'm coming in with an injury, we're not getting help from the JGR lot [people] it's literally just me, my mechanic and my crew chief who are pulling things together. It's different and it's new, but we're in the race and there's potential to grow. I'd love to stay here and do supercross. Of course I know supercrcoss is going to be tough. I do believe with a good 12 weeks of training and work, we'll see what happens. I want to stay, I didn't come all the way out here just to come back and go home."
Anstie, who spent a few amateur seasons in the U.S. as a KTM prospect, and then one pro season with Star Racing Yamaha, has always wanted to scratch that American itch again. He reminds people constantly that back in his younger days, his dad ran his program, and with how often he mentions he no longer works with his dad, it's obvious that he knows his dad's influence might have messed up his U.S. dealings in the past. Now he's finally found a chance to come back—partially because he lost his Rockstar Energy Husqvarna ride in the GPs, but partly because he always had an eye on coming back here anyway.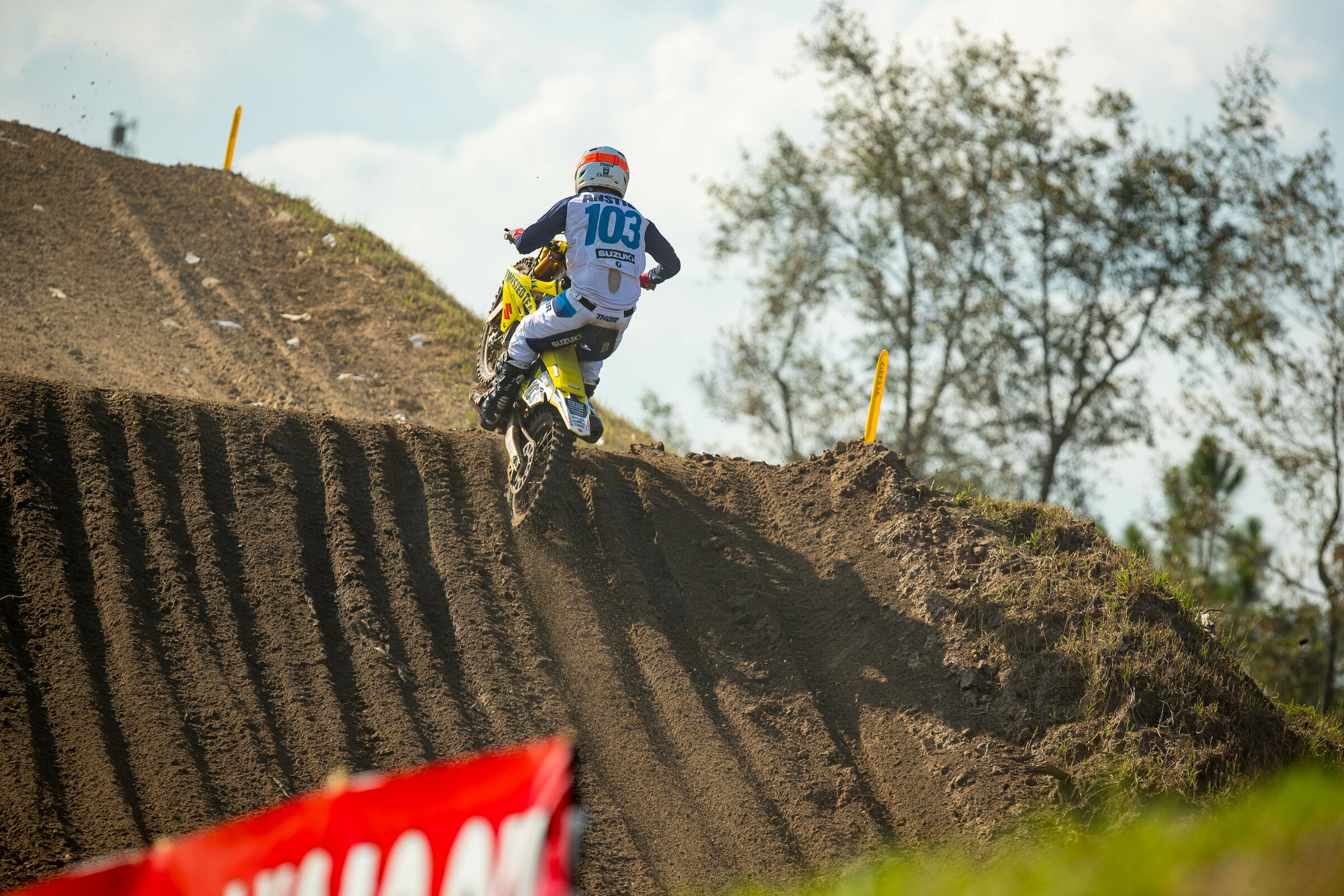 "I've been saying for a long time to the people closest to me that I'd like to come back to the U.S. and give it a go," Anstie said. "I grew up age 14, 15, 16, did the amateur thing, and the style of tracks is what I like. I'm glad we've just been able to have a championship, and I think all of the tracks have gone well. Yeah, I've done a lot of those tracks back when I was 16 on a 250, but that's a long time. Millville, that's a cool track. I never went up that big hill—didn't do that 10 years ago. A lot of cool places and tracks, and I'm just happy we're able to go racing."
While he enjoys the American tracks, he's had to re-adapt, too. For example, while the WW Ranch National is considered one of the sandiest on the American circuit, it doesn't even compare to the bottomless sand tracks of Europe where Anstie usually did well.
"WW Ranch, yeah, that's not really sand. It's sandier, but I ran the same bike setup, suspension wise, as Millville. I feel like a lot of the tracks here in America, the way they prepare them, they get big breaking bumps, but they end up feeling about the same. In Europe, you can go from Italy or Czech Republic where it's rock hard and slippery and you need the bike to be soft and smooth to get traction, then you go to Lommel and it's totally different. Majority of the way they prep these American tracks, they [get] big ruts, big berms you can turn off of, there's traction everyone and the bike setup doesn't need to change. I think as a whole this season has been solid for me and my team. As far as testing goes, the track's in Southern California, the tracks there, I figured pretty quickly, are not the best. So we're learning every weekend. I'm happy with the progress I'm making."
Anstie hopes to stay with his team and take what he learned into 2021, as well as give supercross another (actual) go, as the Achilles injury cost him his chance this season.
If all goes well, and Max gets on the podium, he says he has no hesitation about taking a swing of his sponsor product on the box. We've become accustomed to seeing energy drinks on the podium. What about some Twisted Tea?
"Yeah, I don't mind, I'll drink one," he said. "I drink the champagne if they give me that as well. I'd drink the Twisted Tea and the champagne! I don't mind that at all!"
You can check out this interview (from a mid-week press conference via Zoom) in the archive below.