On Saturday, the Lucas Oil AMA Pro Motocross Championship will run its first race in the month of October since 1992, when the series concluded on October 4 at Budds Creek Raceway in Maryland. And next week the 2020 series will conclude on October 10, the latest it has run since the 1991 conclusion on October 13 at Unadilla. With the tenth month on the calendar in mind, we thought we would take a look back at some of the more memorable races that have run in October.
1992 Budds Creek National (October 4)
Mostly remembered for a young Jeff Emig's absolute blitz in the 125 class, where the Yamaha rider ran off with both motos and the '92 championship over Kawasaki's Mike LaRocco, this would also turn out to be the last AMA race ever run by French sensation Jean-Michel Bayle. The '91 AMA Supercross, 250 MX and 500 MX Champion, Bayle was more focused on his coming debut in road racing the following year. JMB pretty just cruised through the last 500 round in Maryland, even slowing to let Kawasaki's Mike Kiedrowski by at the end to ensure that Kiedrowski got the title, rather than his teammate Jeff Stanton, with whom he did not get along.
2018 Monster Energy Cup (October 13)
The concept was simple: If one rider could win all three main events, not only would he win $1,000,000, so would a fan that was chosen by a drawing. Monster Energy Kawasaki's own Eli Tomac looked like he would be the man to do it, dominating the first two races, only to get a really bad start in the third. But on the last lap his then-teammate Joey Savatgy decided to slow down and wave Eli into the lead, allowing him to take the million-dollar prize, as well as that lucky spectator.
1990 Unadilla National (October 14)
The last round of the long 125 National Championship Series came down to a battle for the title between defending champion Mike Kiedrowski of Team Honda and Suzuki's Guy Cooper at Unadilla, on a cold and wet fall day. The popular Cooper came out on top for the one and only title of his professional career, though one year later Kiedrowski would rebound for a second 125 title of his own, only this time on a Kawasaki. Also, that afternoon, Team Honda's Rick Johnson would win the 500 class, marking the last win of his own storied career.
1970 Trans-AMA (October 11)
This race at LaRue, Ohio, marked the AMA's first-ever sanctioning of a professional motocross racing series, the Trans-AMAs, which were meant to compete with Edison Dye's popular and unsanctioned Inter-Am Series. The winner of this first race would be the multi-time FIM 500cc World Champion Jeff Smith of Great Britain aboard his BSA, though Support class winner Brad Lackey would be the rider featured on the cover of the next week's Cycle News!
1974 Unadilla Trans-AMA (October 11)
The '74 Trans-AMA Series opener was the beginning of one of the most impressive streaks of the decade, as Suzuki's Roger De Coster won at the Upstate New York mecca for American motocross. De Coster would best his teammate Gerrit Wolsink and Yamaha's Hakan Andersson for the win, with Jim Pomeroy earning top American honors in fourth. This win by De Coster would be his first of five in a row at Unadilla, where he would top all-comers from 1974 through '78, including a couple of epic battles with Unadilla's favored son Bob "Hurricane" Hannah.
1980 San Diego Supercross (October 25)
Two and a half months after the second-to-last rounds (a weekend doubleheader in Philadelphia) the final AMA Supercross was held at Jack Murphy Stadium in San Diego. The winner of the race was the winner of the 1980 AMA Supercross Championship, Team Yamaha's Mike "Too Tall" Bell.
Read more on the 1980 San Diego Supercross in the feature below:
The November 2020 Issue of Racer X Illustrated
Vintage Vault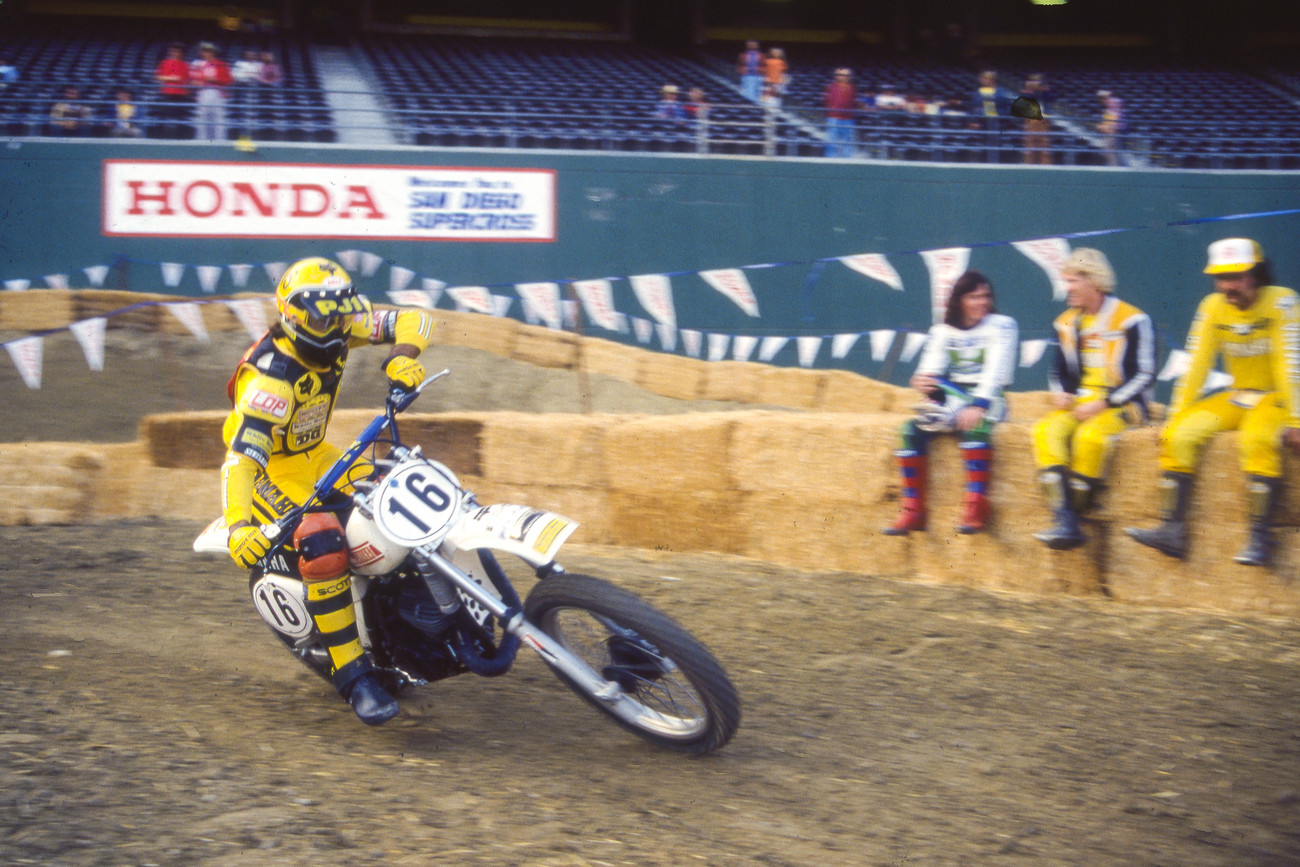 Looking back at the 1980 San Diego Supercross.
Read Now
Preview Now
1982 RedBud Trans-USA (October 3)
In the waning, dying moments of the once-grand Trans-AMA Series, by 1982 changed to something called the Trans-USA Series, had dwindled to just three rounds: Spring Creek, RedBud and Unadilla. The factories had all mostly quit the tour, and it was obvious that it was about to end. But at the RedBud round Donnie Cantaloupi ended up winning on a big-bore 499cc KTM, the one and only time in the 13-year history of the series that a KTM would win. Oh, and the last champion? Michigan Suzuki rider Dave Hollis.
1998 U.S. Open of Supercross (October 10-11)
The original U.S. Open of Supercross was a special event built to shake up AMA Supercross as we knew it with more dazzle-dazzle, and it certainly did. Held in the MGM Grand Garden Arena in Las Vegas, the event was part-race, part-cocktail party, and all fun. The first winner? Team Suzuki's Damon Huffman, who pocketed $100,000 for the victory.
2018 FIM Motocross of Nations at RedBud (October 6)
One of the latest Monster Energy FIM Motocross of Nations ever held, the return to the U.S.A. at RedBud was met with a lot of hoopla and fanfare, but not very good weather. Team USA took an unexpected beating as well, with the French earning a fifth straight win. It was a good event, but when it comes back in, say, 2022, let's make sure it happens in September when the weather in Michigan would have a better chance of working out!
1971 Delta, Ohio Trans-AMA (October 24)
Before Jordan Jarvis made it in for the second moto of the 2020 Florida National, and before the '83 Denver 500 National where Dorene Payne made the 40-rider field, there was Kerry Kleid. She was a fast, young woman from New England who wanted to race against the men. After winning a legal battle with the AMA for accepting her license application at first, only to refuse to let her ride when they realized that she was a woman, Kerry Kleid was allowed to compete in the 250 Support class at the Trans-AMA at Delta, Ohio.
1972 Honda Hills (Ohio) Trans-AMA (October 1)
This particular Trans-AMA is not famous for who won that day (Finnish Husqvarna rider Heikki Mikkola) but rather who didn't win. After this race Sweden's Ake Jonsson went on to win the last nine rounds in a row aboard his Maico to win the overall championship.
2001 U.S. Open of Supercross (October 12-13)
Probably not one of Ricky Carmichael's favorite moments, even though he won the race. This was the time when he was talked into wearing a king's crown and throne and lowered from the rafters of the MGM Grand Garden Arena to a booing audience, who obviously thought it was a jab at the all-time King of Supercross, Jeremy McGrath, who was dethroned by Carmichael that year in AMA Supercross. It was also RC's Honda debut, after more than a decade on Kawasakis.
1967 Pepperell Inter-Am (October 29)
We will end out list of October events by going all the way back to the very beginning of professional motocross in America. It was on a ski slope at Pepperell, Massachusetts, that Edison Dye hosted his first Inter-Am Series event, bringing over a host of top European riders to showcase what was mostly known in America as "scrambles" racing. The year before Dye, the U.S. importer for Husqvarna, had invited over just one rider, Torsten Hallman, to show what a Husqvarna could do in the hands of a world-class racer. The next year he wanted to do a whole series of events across the country, so he invited the other leading brands to participate as well in his series. Ironically, Husqvarna themselves did not send over their team's actual race bikes and had to uncrate brand new stockers just a few days before while Joel Robert, Dave Bickers, and Roger De Coster had their works bikes with them. A crowd of 5,000 witnessed this historic event which marked the birth of professional motocross in America. And it happened in October.
---
Main image: Roger DeCoster from Unadilla 1974 from the Dick Miller Archives.