Usually, by September everyone already knows who is riding where for the next season. This season, though, has been unlike any other. Plus, the rumors are crazier than ever. Here's some of the gossip Racer X is hearing for 2021.
The GEICO Honda Rumors: At the Ironman National, the Factory Connection Racing Team (AKA GEICO Honda) staff was informed that GEICO would not return as the team's title sponsor for 2021. That was apparently not a move that the team's ownership saw coming, leaving them with scant time to fill the title sponsorship hole for 2021. Ouch. As the team's deals are structured, if GEICO goes away at the end of the season, all existing contracts with riders go away, so for the moment everyone under that tent is a free agent (this situation may apply to team staff, as well). This does not mean all hope is lost. The Factory Connection Racing team is hurriedly trying to find a new sponsor, or a way to restructure to keep the team rolling and riders and staff employed.
This team has lots of riders, and many on long-term deals. For Jeremy Martin, his current deal, set to run through 2021, could be up. Jeremy even told us in the pits at RedBud that as of now, all he can do is look at himself as a free agent and try to earn a ride again for next year. He will use this for motivation. He could certainly end up back at Factory Connection Honda if they find the sponsor and budget, though, and considering how well things are going for the group right now, you'd think everyone would like to keep this going. For young riders like Jo Shimoda, Carson Mumford and Jett and Hunter Lawrence, they also face unsure futures. Again, the team hopes to find the budget to keep racing in 2021.
One scenario we've heard is running a smaller 250 operation out of the Team Honda HRC semi. This could give a few of the riders a home even in the Factory Connection team can't find the funding to run as it normally does. Rest assured, there will be factory Honda 250 riders on the track next season. We're just not sure who they will be, or what logos will be on those bikes.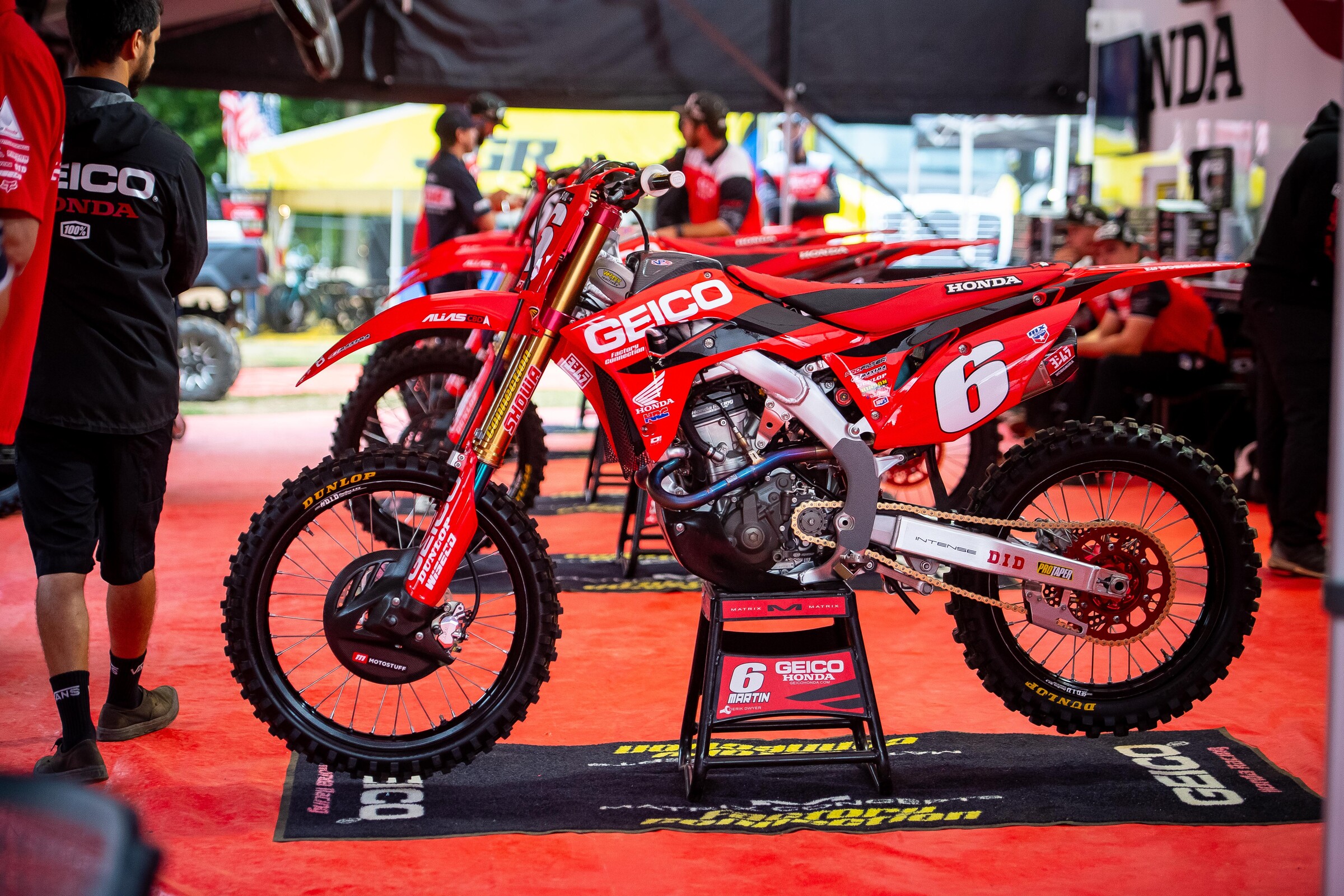 The Dungey Rumors: For a few months, we'd heard some snippets that seven-time AMA premier class champion Ryan Dungey was mulling a comeback for 2021, and possibly on a Honda. It was too early to tell how serious this rumor was, or if it was gaining any traction. Then, over the RedBud racing weekend, our Steve Matthes heard from multiple sources that Dungey's comeback could be a go.
As we had heard it, the comeback could tip on Dungey finding the right funding to go racing.
Dungey would not be signed by Team Honda HRC proper, but would instead run his own effort and lease a works CRF450R from the factory team. He would have to find the sponsorship dollars to pull that off. As the GEICO example shows above, sponsor dollars are never a certain thing.
Lately, we've heard everything from Dungey's prospects of getting a sponsor are looking better, to there's no deal coming and it's not happening. You can file this one under exploring options, but not even close to a done deal.
The Gas Gas Rumors: Everyone knows that a Gas Gas team is coming to the U.S. eventually, a quick look at the MXGP effort with Standing Construct Gas Gas pretty much shows the model. The Troy Lee Designs team has been linked to running the Gas Gas operation in the U.S. Essentially, the Troy Lee Designs/Red Bull KTM 250 riders could move to Gas Gas (basically, KTM's with different colors, similar to what the Standing Construct team did in Europe). Also, a 450 rider would be added to the squad. This Gas Gas 450 ride has been the subject to much conjecture. We heard Dylan Ferrandis was an option, but he's now most likely to stay with Yamaha (more on that in a moment). With Ferrandis off the table, we heard Justin Barcia and Joey Savatgy linked to a Gas Gas 450 deal. We then heard Barcia was in…only to then hear he had re-signed with Yamaha. But now, we've heard it's not over, and Barcia to Gas Gas could still be a thing. Or not. This is probably the most pivotal spot up for grabs right now.
The Yamaha Rumors: It sure sounds likely that factory Monster Energy Yamaha team as we know it will cease at the end of the season. Monster Energy/Star Racing will be tabbed to run the factory Yamaha 450 effort alongside its existing 250 effort. Star already has a ton of riders both in the pros and amateurs, thus leading to the constant joke that Star will employ 48 riders in 2021.
Not quite, but Ferrandis looks likely to stay with the team and race a YZ450F next year, and Aaron Plessinger, who already stated he still has another year on his Yamaha contract, will be his teammate. Plessinger rode for Star before (during his days in the 250 Class), so this fits pretty well. At one point it seemed like Barcia was staying, also. Even if Barcia doesn't ride blue again, is there still room for a third 450 rider?
One crazy thing to consider through all of this: usually the silly season rumors are at their hottest by RedBud. That was the case again this year, except RedBud took place two months later than usual! Most of the time, deals are long-since sewed up by September, and riders debut with new teams on October 1. Many 2020 contracts had to be revised just so deals wouldn't expire before the final two rounds of the Lucas Oil AMA Pro Motocross Championship, which take place after October 1.
Contract talks usually begin in late spring and stretch for a few months. This spring, everyone was dealing with a global pandemic and had no idea what would come next. So, everything pushed back quite a bit. The late dates, the crazy stories above, and the economic uncertainty surrounding a global pandemic have made this one of the strangest silly seasons ever.