No matter what sport you're talking about, an athlete who's perceived as just in it for the money is rarely popular with fans. But someone who's driven by the love of the game is almost always endeared. Ben LaMay is one of those riders. The likable privateer has been at it for over a decade, and despite not ever reaching factory status, is still going strong (he even started his 100th career national in the 450 Class at the 2020 Ironman National!). We caught up with LaMay to chat about the current season, his career in general, and how is appreciation for racing seems to swell with each passing gate drop.
Racer X: What's up, how are you, and what's been going on?
Ben LaMay: Just trying to enjoy the weekend off before the homestretch to finish the series.
Where do you spend your time during the season? I know you're from Alaska, but obviously you aren't living up there.
In years past I've lived in Dallas, but about two months ago the wife and I moved to Denver. I'm a Colorado resident now.
Nice, it's awesome out there. Well, anyway, racing, man. How's the season been going for you?
It's alright, I'm trying to enjoy it and do my best. The competition is pretty tough this year, but I'm close to where I expected to be. A little bit better results would be nice, but I'm right in there.
The level of competition has been talked about a lot this year, and it's something that gets talked about every year, but I agree, this year it really seems elevated in the 450 Class. Going down the results, it's crazy.
Yeah. I didn't race supercross this year, the competition in supercross was unreal, and there are some guys who don't race outdoors, but even so, if you go down the list you can see factory guys all the way to 15th and 16th, easily. Then there are the fast privateer guys, like myself, who are anywhere between 13 to 20. Getting points is tough on the weekend, and getting in the top 15 is really hard. It's really tough, you've got to have all your eggs in the basket.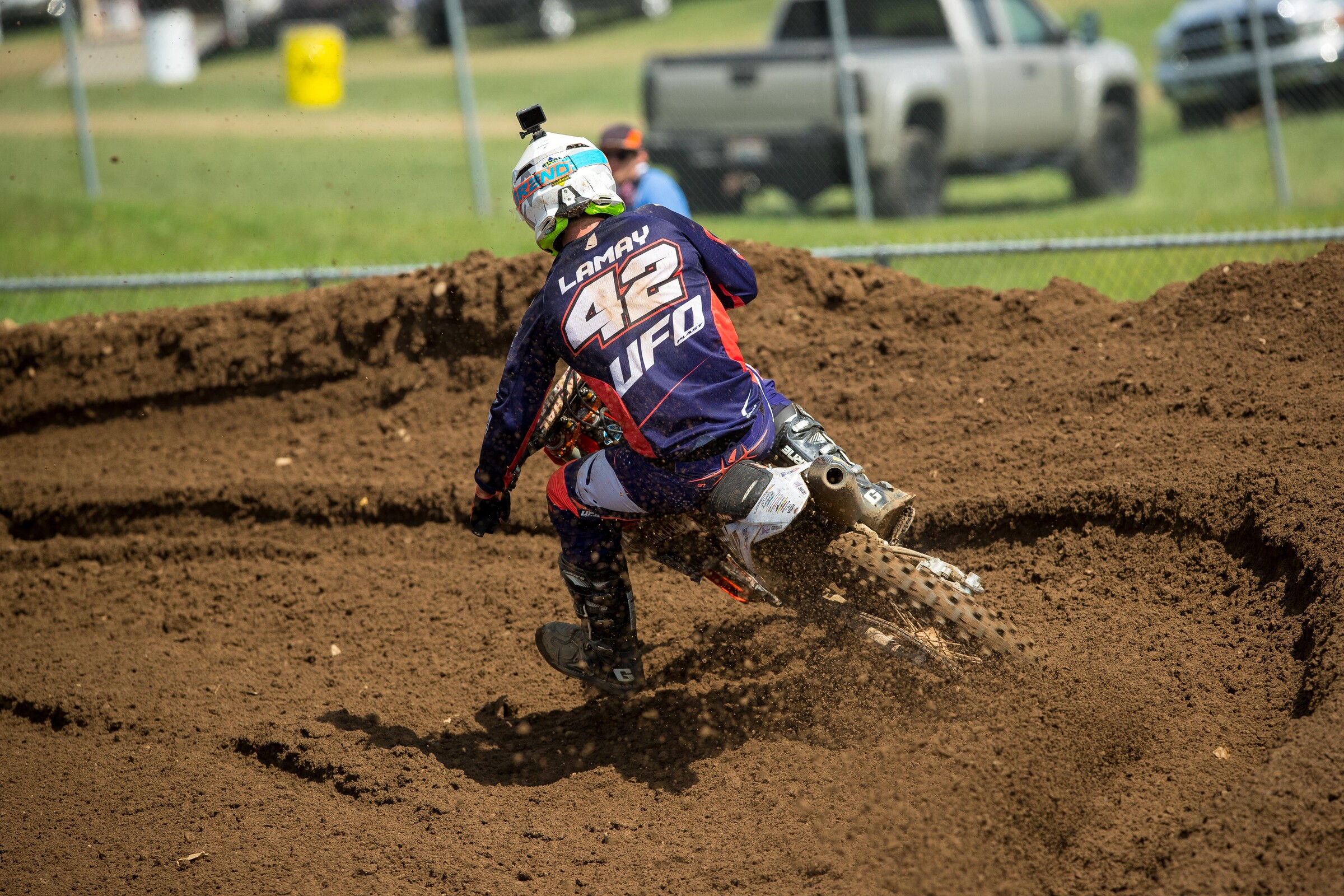 Yeah, Justin Bogle is in 16 right now. I know he's coming back from injury but still, that's thick!
Yeah, I've been around him each race. He's awesome at starts, which is where he gets me. He's always in the top ten. He always puts himself in the top ten, while I'm kind of the opposite, I always have to work my way through. There are some fast dudes this year.
The schedule is different this year. Does that affect you at all?
For me there's no difference. I don't think anyone really thinks there's a difference. The only thing that will come into effect now is the temperature. It's going to be cooler. That means the intensity is going to be higher and you're going to have to have a higher level of intensity for longer. In June or July, you might hit the wall and fall off, while the guys who are super fit can just keep trucking along. Coming up we'll probably see some 60 or 70-degree weather, which is really cool for a National.
You've been at this game for quite a while now, since what, 2009? How has your approach to the whole traveling circus evolved?
Yeah, '09 was my first year. I actually did the last three nationals after Loretta's in 2008. So technically I started my pro career in 2008. I'm 29 now and I love racing, and I love riding dirt bikes. The only thing that maybe has changed is, I don't take it as cutthroat serious as I mentally did before. Obviously I still take it seriously and still want to do my best, but I try to enjoy it. Every time I line up I enjoy it. I love being behind the gate, racing against other competitors, and the process of racing. It's not, "I have to do this, I have to do that." It's not all on the line to get a ride, to get paid, or whatever it is. I don't put that kind of pressure on myself mentally anymore. I enjoy racing and I do it for a living, it's my income. It's a job, yes, but now I look at it more of having fun and enjoying the task at hand.
That seems like a really good mindset. I never raced pro so I have no clue, but from the outside looking in it seems like a cruel trick. You spend so much time hustling and hustling to achieve and achieve, then you blink your eyes and it's all over before you had time to actually enjoy it. It's gone.
For sure. Growing up as an amateur, my dad was really hard on me. I was always the first one at the track and the last one to leave. It was always cutthroat. And there were some guys whose parents took the other route. I know a lot of top guys whose parents had them put in the work, but they didn't go overboard. It wasn't cutthroat, they didn't have to do X, Y, and Z every day. I think that approach, for longevity as a pro, is better. Riding your dirt bike for fun every time you get on it, rather than it being a job, is better. I know a lot of top guys I raced against growing up who are no longer racing because they got burnt out and they were tired of the work. I think it's really important to enjoy it as a sport and not as a job. It can be over before you know it. You can get injured too, you never know. You have to enjoy it every time you get on the track.
If you could go back to 2008 and tell your rookie-self one thing, what would it be?
I'd definitely tell myself to not be so nice. I was too nice to the guys around me. If I could start over again I'd definitely give the middle finger to my competitors more than I did. I think that was one thing I didn't take advantage of, being more of an asshole on the track. I think that hurt me a lot. Growing up I was just too nice, plain and simple.
Yeah but your nickname is the Alaskan Assassin!
Yeah and I try be that now! I'm kind of at the end of my career I'd say and I'm not going to be able to keep racing for a lot longer. I want to, but it's just the way life goes. I don't want to just let people go around me as easily as maybe I did ten years ago.