Glen Jean, WV
The Mountaineer
GNCC Racing
After a split from the FactoryONE Sherco team in April, long-time KTM man Steward Baylor has been riding, testing, and racing several brands. First, he made his return to the National Enduro Series on a Husqvarna FX 450. Then he showed up only a few weeks later on a Kawasaki KX450, which he continued to race the National Enduro Series on.
After its typical summer break, the Grand National Cross Country (GNCC) Series resumed over the weekend with The Mountaineer GNCC in Glen Jean, West Virginia, and Baylor made his return to the series for the first time since taking second overall (and earning Sherco its first-ever GNCC overall podium finish) at The General GNCC in mid-March. However, it wasn't a Kawasaki Baylor raced over the weekend. Nor a Husqvarna. Instead, Baylor was given the opportunity to race one of the AmPro Yamaha team's practice bikes for this weekend. As Stu reiterated in the interview below, it's not a week-to-week deal, it wasn't a test ride for the team, it was a lucky happenstance to ride a fully prepped practice bike for one race. So what does the future hold for the South Carolina native? Even Baylor himself is unsure.
Racer X: What are you up to? Are you actually training?
Steward Baylor: I just had a biscuit. Some hash browns. Got the dog a biscuit too.
I would expect as much. Hey, you got yourself your own treat this weekend.
[Laughs] Yeah you can say that!
Seriously. Let me start with this: How is this possible?
Honestly, I don't know. I mean, I think I've proven at this point I can win on any brand.
How much time did you have on this Yamaha?
A lot more than I had on the Kawasaki that I won the enduro on. I think I had an hour and 20 on the Yamaha this week. That's better than the 15 minutes I had on the Kawasaki I bought. I got that on a Friday night and took it racing!
So, this Yamaha deal was not something you've had in the works for a while?
No. I've talked to multiple teams, trying to figure something out. I was talking to two different people; I was kind of led on to think I would have something. I did end up getting an offer from another manufacturer, but it wasn't right for me. I knew I was capable of winning and they were giving me the offer of a fifth or sixth place rider. On paper, no matter how you look at it, I've had a longer run of better results than anyone across GNCC XC1 class and National Enduro. I feel like, with Kailub [Russell] stepping away [for 2021], I feel like I should be the number-one pick. It sucks when your phone isn't ringing. I've been a little more silent than normal in the last few months, and I guess in racing you're quickly forgotten, and only as good as your last race. My last result was really good in the GNCC, but again, you're quickly forgotten. I worked hard this off-season, I was in the best shape I ever was, and it was my intention to run with Kailub all year. I think I was ready to do that. Then things changed. Right now, I'm trying to find the team that is right.
What's this Yamaha deal? Week to week. Is it for next year?
No, I have no clue. It was, "Here's a practice bike, we'll go racing on the weekend." With the Kawasaki I purchased, it was my practice bike and my race bike for the last six weeks. I've done riding schools on it. I just didn't trust it or myself to line up for a three-hour race on it. This deal, it was a used bike, but they went through it and they had mechanics who helped me out. They worked on the bike while I went and pedaled the course and did what I had to do. I needed someone who would give me a shot this year. With my other offer there was no opportunity for this year, it was just sign me for next year for nickels on the dollar, and maybe we'll help you this year. So, the AmPro deal helped out. Cory, Lucas, Randy, those guys helped me all weekend.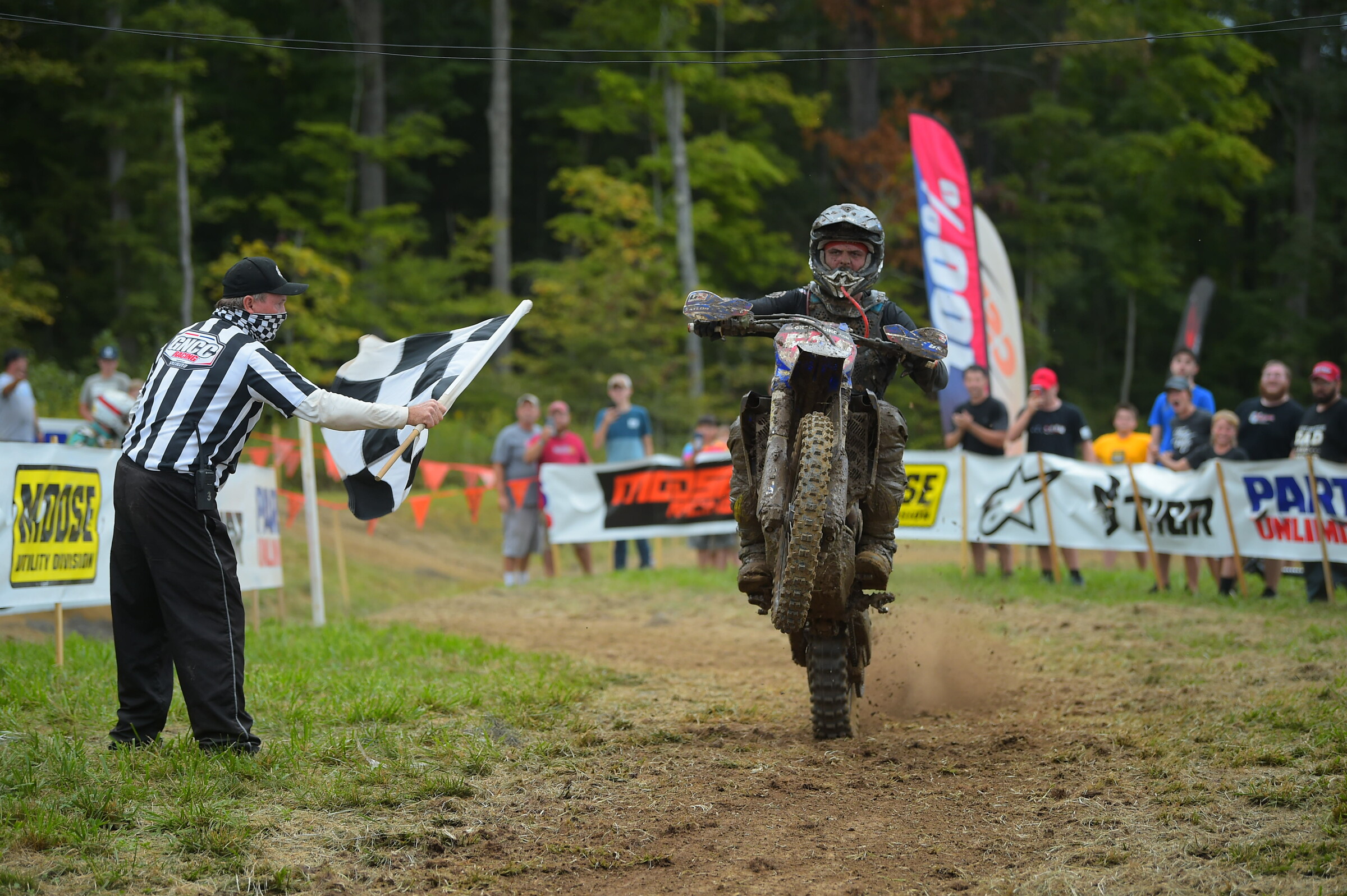 So, you were like an extra guy this weekend?
One hundred percent. They ended up pushing my bike under the tent, but they weren't even supposed to do that. I have a couple of personal sponsors that conflict. It was just a last-minute deal, there was no promise or guarantee. I was fine with it. I think this season I've ridden four different manufacturers' bikes. The way my year is gone, I'm not expecting anything from anyone. Every time you do, it's just another swift kick in the balls.
So, will you race the next race for AmPro Yamaha?
I don't really know. My situation now, I have to make sure my house payments are paid. Although my weekend went well and we won and we made some good money there, my riding schools, even though that's not what I want to do, they're paying the bills. If nothing comes about in the next few weeks, I don't know if I'll finish out the GNCCs. The National Enduros are still questionable. I still have a shot at the title there. So, I might race those and pick up riding schools to make sure I can make my payments at the end of the month. I don't have a plan moving forward. If me winning, and then that big crowd at the finish line cheering doesn't say everything about me, then, I guess I'll leave that up to the teams.
So, you gave the Yamaha back?
Correct. I gave it back to them and I have my Kawasaki in the trailer. I don't know if I'll be racing the Kawasaki at the next National Enduro or what. At this point, if nothing comes about, I've only got two other manufacturers I haven't tried. Maybe I'll just try to put those on the box, and then no one can tag on my shirt tails and say it's the bike. Motorcycles, I get it, everyone wants to say they have the best thing. But the best thing is the best rider. Like you said, I guess it's part of this legacy I guess, I guess I've got the story, and I know for a fact that I have the fans. It's cool to see, the fans keep me pumped up, but at the end of the day the fans aren't paying the bills. I wish the guys who make the decisions at the end of the day would actually come to the races and see I have the right persona. If I've got to change to make money, I'll do it, but when you walk around from campfire to campfire at these races, you don't see people in suits. You see people in cut off T-shirts holding a beer. Those are the guys that are buying motorcycles. I think the corporate play is all wrong. From my perspective everything is completely backwards. They should be trying to relate to their customers. The only people wearing buttoned-down shirts are on pro row.
So, you think they know you're fast, but you think your reputation is working against you?
I think it's 100 percent that. Everyone is scared of what I might do or say. Granted, I've ridden for factory KTM, so I've raced in a corporate environment, but again, people forget things real fast. I can work in a corporate world, but I would prefer not. I want to enjoy racing. It's not fun sitting on a bicycle and sweating in the South Carolina heat all summer. But it's fun on race day and I want to keep it that way. That's the hardest part to get across to the manufacturers and teams. We've got to have our differences. In every other sport you're allowed to act however you want because that's marketable. In ours, it's such a small loop and everyone thinks there's only one way to do things. It's definitely tough.
How did the race play out?
I moved into second on the first lap and rode behind Ben [Kelley] for a little while. He had some good lines. On lap two I got a pit board, "It's time to go." I was wondering if I should play it safe, but I could see [Josh] Toth and Layne Michael and Kailub [Russell] were close to us. So, I dropped the hammer, and Ben knew it, too. When I made the move on Ben, we both picked up the pace, drastically. We were rolling. We didn't really go back and forth. We had a lot of different lines. I'd see him over in one line while I was in the other. I just tried to keep my head down and avoid the big mistake. That's the hard part. A lot of it just comes obviously with maturity and age. A big thing is a lot of guys see Kailub as the fastest guy on the track. There are days where he is, but I think week in and week out, Thad has been the fastest, Kailub is just the strategist. I've said it so much. It's so hard to let the race play out right when you're in that position. This weekend, Ben was fast in one half of the track and I was fast in the other. I let him get close where he was fast, and while he was doing that I was just trying to slow down and relax and be ready to push when I got to my section. I waited until the last lap and then I pushed, and halfway through I got a pit board that said I was ahead by a minute. It wasn't the typical way I would go about it. I tried to put some more thought into it.
Were you worried about the fitness?
I definitely was. I haven't been on a bike for three hours since May. I started training and doing the National Enduros, but that's so different. The last hour of a three-hour GNCC is so brutal. I think some of the GNCCs, fitness would play more into it. This weekend was so technical, everyone is so spent, and it comes down to who can pick lines and push through it when the track is absolutely terrible. I've always been good in those conditions. The next race, I'm not sure I could win it. I'm not as fit as they are right now. The first few GNCCs of the year, you're miserable and dead tired, and as the season plays out, you get fitter. But we'll see if I get a ride and if I get to do more!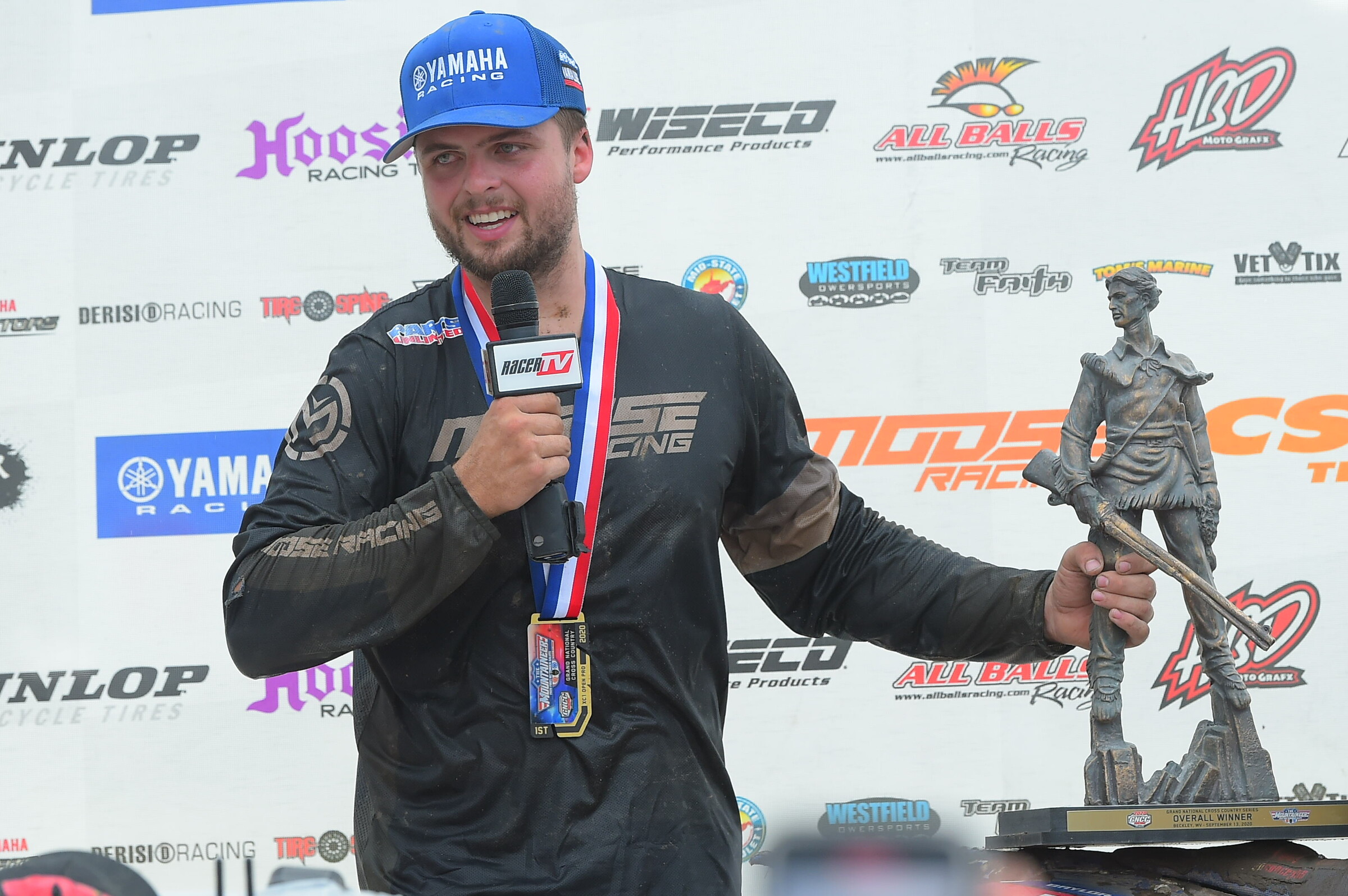 What was the Yamaha atmosphere when you won?
They were definitely pumped. They got a win at Snowshoe a few years ago with Ricky Russell, but otherwise you have to go back to when Paul Whibley was winning a decade ago. I don't think anybody expected it. A few people came up to me after the race and said, "Hey, if you got fourth, maybe they couldn't have done anything. But if you win, now they have to do something." I don't know, maybe me winning is a thorn in their side, or maybe it's a weight off their back, knowing the bike is capable. We've got a good opportunity to reap the benefits here. The ultimate goal is to set aside the differences and find someone who wants to win.
Have you ever ridden a Yamaha?
I have not. I rode a KTM from the time I was three until I was 25. I never thought I would change brands. But at the end of the day I was a little more loyal and they weren't. It was always orange for me until this season.
Can you say anything about your old Sherco deal?
I was fired with no explanation. I wish the best for them; my brother Grant still rides for them. It put me in the toughest position I've ever been in financially and everything else. It put me in a position where I couldn't get a ride—mid-season rides don't come about. But I learned a lot and I'll be stronger now. I guess there are some positives to take away.
---
Main Image by Ken Hill