Ravenna, 45
MXGP of Citta Di Faenza (ITA)
FIM Motocross World Championship
*Main image courtesy of Ray Archer/Kawasaki Racing Team.
---
Racing on repeat. There was little time or possibility to change the Monte Coralli hard pack for the seventh round of the FIM Motocross World Championship. With the pleasant summer climate still in place, the Grand Prix 'Citta di Faenza' had a very similar look to the Italian fixture the previous Sunday. There was one big difference, however. Read on for some of the happenings from the second fixture in Italy.
1. No wolf at the door
Red Bull KTM's Jeffrey Herlings ran to a 1-1 finish last Sunday and registered the first perfect scorecard in MXGP this season by overhauling holeshotting teammate Jorge Prado. Monster Energy Yamaha's Jeremy Seewer pushed the Dutchman all the way to the flag in the second moto. Herlings' seemingly minor mistake landing from a jump and getting cross-rutted on just his fourth lap of Free Practice on Wednesday would have costly repercussions but removed a big orange obstacle from other riders' ambitions.
Seewer would prevail over the rapid-starting Prado for his first MXGP moto win and HRC's Tim Gajser would finally emerge from his mediocracy out of the gate for his fifth success in the second moto. Behind them both Prado would patiently click down the laps, this time without the mistakes that blighted his last outing at Faenza three days beforehand. His 2-2 meant a first premier class overall victory from just seven appearances and with a broken collarbone and femur still distant in the rear-view mirror. The achievement also ensured that all three of Red Bull KTM's riders have now triumphed in 2020: Cairoli, Herlings and Prado taking spoils in six of the seven rounds.
Not for the first time in recent memory, Herlings was conspicuous by his absence. The fall was awkward but the way the 2018 champion hit the hard pack was brutal, with most of the impact on his head and neck then flipping the soon-to-be 26-year-old into a deformed somersault. Herlings momentarily lost but then swiftly regained feeling throughout his body. A scary nosebleed hinted at the hit to his head while his neck and shoulder caused enough pain and concern for the championship leader to be airlifted to a nearby hospital and then eventually for MRIs and CT scans at a bigger facility in the city of Bologna. Thankfully, he was discharged that same afternoon without any clear, evident breaks and began transportation back to his home and base in Belgium for another examination. Team Manager Dirk Gruebel cast doubt on his MXGP participation until more was known about his condition.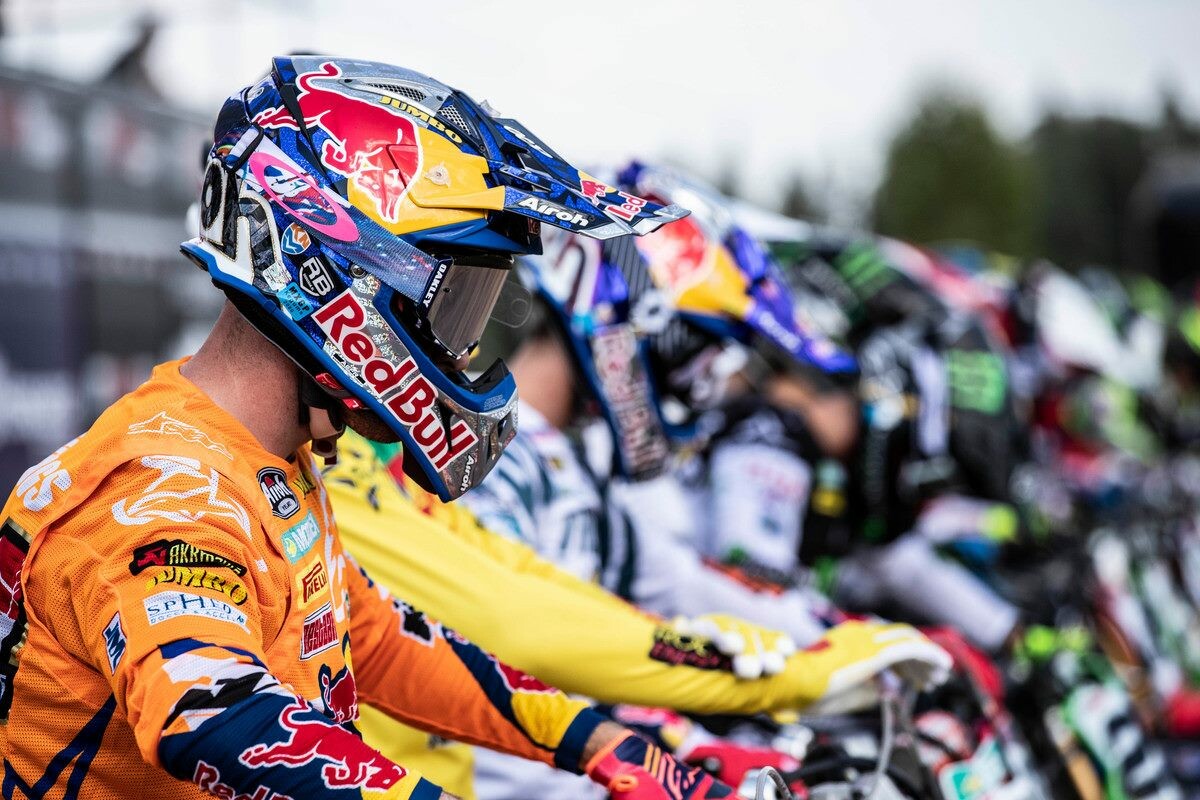 Herlings might not have any serious injuries from the crash but that does not discount nerve or ligament damage. This afternoon, KTM announced Herlings would miss the final race in Faenza and the following three rounds (the triple-header in Mantova).
His 60-point lead in the championship was cut down to 22 by the chasing Antonio Cairoli (who made his 250th Grand Prix start and was fourth overall, one point from his 169th podium finish) and it's hard to see how Herlings can keep the red plate once the third and final Faenza outing is complete.
2. The bittersweet for KTM
What started out as a dramatic day ended up with Red Bull KTM (now with only three of their five riders active) celebrating a second clean sweep of 2020. Prado's increased maturity hinted at the heavy influence the 19-year-old will have on the premier class for a good few seasons to come, particularly with his proficient timing and technique for starts which is unlike anything we've seen in Grand Prix in recent memory. If teams have not already been heavily studying Prado's knack for holeshots then the sheer prolificacy of his achievement to-date means they really should.
The Spaniard is still not fully race-fit—and had little reply to the superior speed of Seewer and Gajser on Wednesday—but when that improved level of performance comes then MXGP had better be braced for a vein of dominance.
"When one guy passes you then everybody does! Last Sunday I went a bit crazy with that," Prado smiled when he relinquished his lead to Herlings on both occasions and ended-up with a 4-6 last Sunday. "I think all the riders think the same: it is good to win when everybody is on the track," he added post-race Wednesday and in refence to Herlings.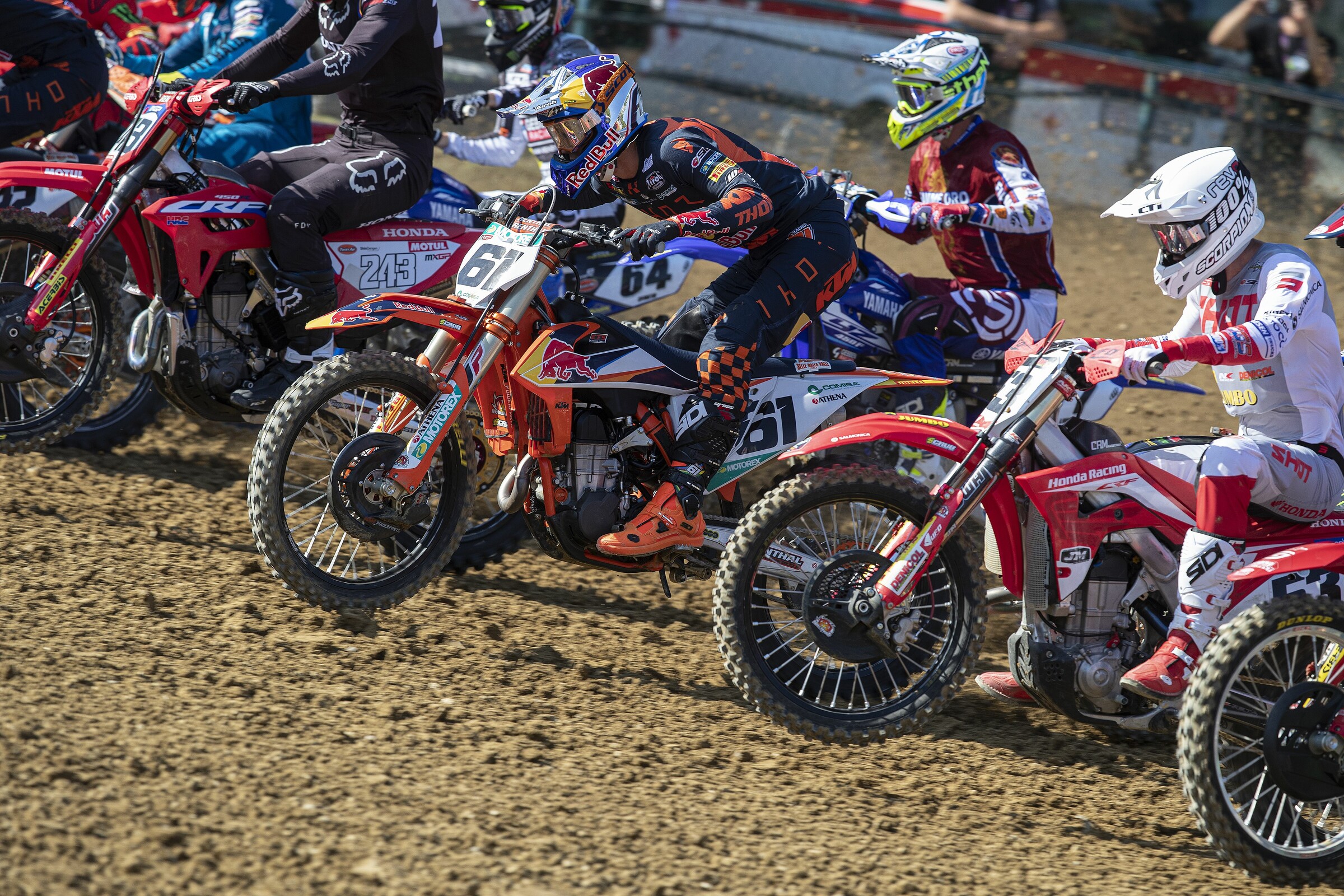 In MX2, Tom Vialle was another quick learner (and quick starter): banishing his slip that cost him the lead in the first moto on Sunday to bag his first career 1-1. In contrast championship rival, Monster Energy Yamaha's Jago Geerts—who had narrowed the gap in the title chase from four to three points in the last two rounds—tumbled twice in the second moto. The Belgian's fourth overall, with a 3-9, helped expand Vialle's advantage to 21 points.
KTM Motorsport Director Pit Beirer is obviously a lucky charm. The former 250cc Grand Prix winner has had a lot of his time taken-up by KTM's flowering MotoGP programme (where the factory have claimed two rounds of five so far despite being on the grid less than four years) but was in attendance at Faenza before travelling to the next road racing instalment just down the road from Monte Coralli at Misano this coming weekend. A group of MotoGP racers actually wanted to attend Faenza this week but the paddock restrictions and paranoia over COVID-19 meant that passes were unobtainable. There is a plan in place to permit a limited gathering of public at for the last fixture at Monte Coralli this coming Sunday.
The factory team are in the envious position of having two heavyweights with Cairoli and Herlings but then also the starlets of the next generation. GP could be orange for a good while yet.
3. Eye-catchers
Seewer's flow through the ruts and sections was a joy to watch in the first moto. The Swiss' bid for a first overall was undone by his start in the second. A small front-end tuck trying to pass Monster Energy Kawasaki's Romain Febvre for sixth place and the next step of his recovery charge lost a lot of time. His 1-7 and third overall represented a missed opportunity.
"Another podium but I'm quite frustrated," he said. "I cannot explain the bad start, I don't know why but the bike dropped on RPM. Anyway, I'm have to happy I got my first moto win and I'm in a good position [form]."
Full props for Gajser's bravery riding most of the first moto without goggles on a track where some riders were uploading photos of red raw torsos, battered by roost, onto their Instagram accounts. It was a big risk by the Slovenian who was somewhat despondent with his sixth position on Sunday and improved to the rank of runner-up here to keep his hand in the ring for a title defence.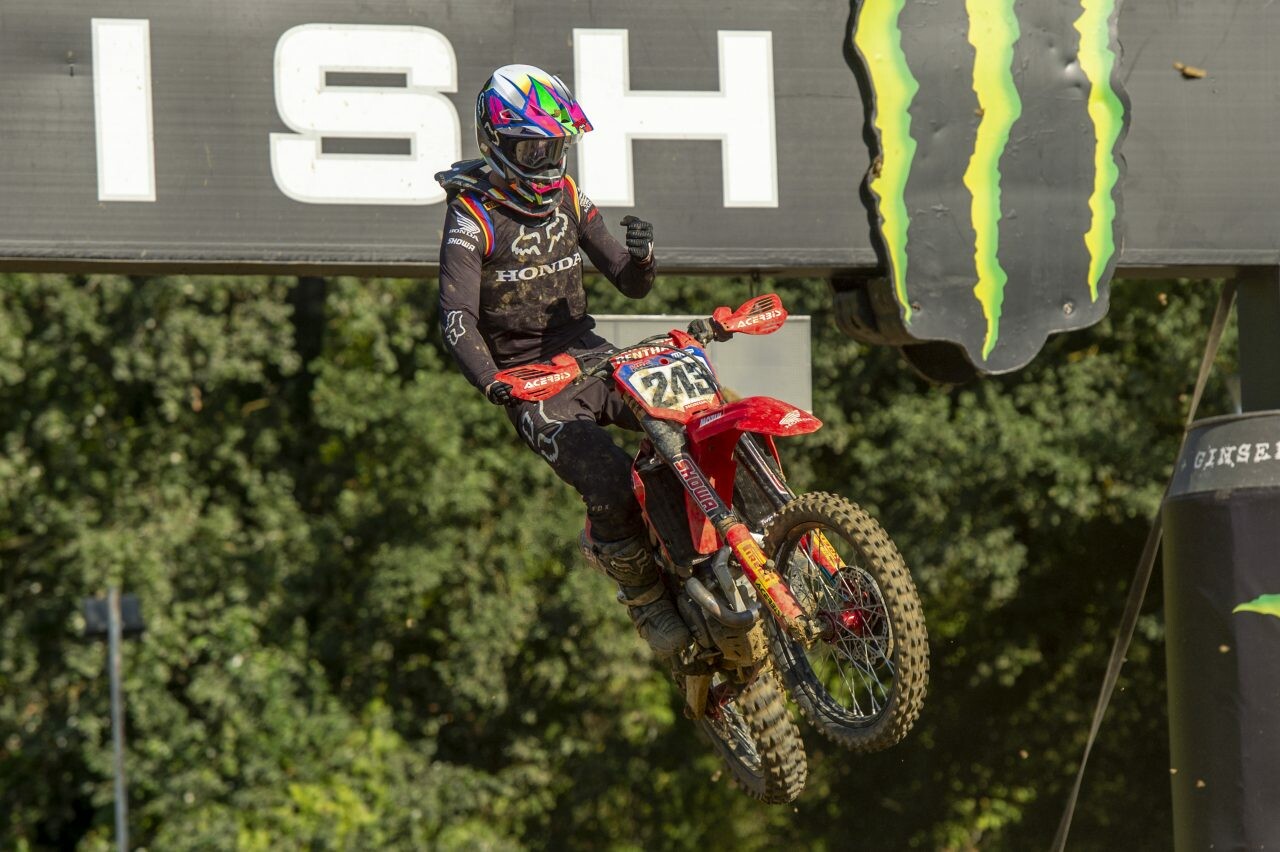 The importance of a lively start was illustrated again at 'Faenza 2' when MXGP rookie, Gajser's HRC teammate, Mitch Evans burst through to the front. His fourth place renewed some of the hype from his top three classification in the season-opening British Grand Prix, even if the Australian is still racing back to fitness after using the COVID-19 hiatus in the calendar to fix a troublesome shoulder.
Elsewhere and Italy's brightest hope to fill the shoes of Tony Cairoli, Mattia Guadagnini—the injured Alberto Forato's teammate for Husqvarna Junior Maddi—made an encouraging second wild-card appearance away from EMX250 European Championship duty. The teenager managed seventh overall and further embellished his status as one to watch.
Speaking of native riders, Yamaha Gebben Van Venrooy's Alessandro Lupino appeared out of obscurity to enter the top ten and his teammate, Thomas Covington, managed his best result yet with 17th in the second moto.
4. Keep calm & keep up
Monte Coralli offered rough hard-pack and unforgiving ruts, but it also forced a resigned air of inevitability for those riders not at the front of the pack around the left-hander first corner. Intense and scrappy races with similar lap-times sprung forth further down the field but racers were able to use different lines and find little knuckles to gain tenths of a second. Monster Energy Yamaha's Ben Watson was a strong charger in the second MX2 moto until the Brit was caught-out by a downhill bump in his rally to third place.
Through a long lap of a short track, time was a precious commodity and small mistakes were often race-wreckers, if they didn't already carry more serious consequences. The list of athletes testing the limits was especially big in MX2. Sunday's winner Maxime Renaux almost lost the chance of a second podium, Roan Van De Moosdijk's torrid visit to Italy continued (the Dutchman has just 24 points from four races so far at Faenza), teammate Mathys Boisrame—so exciting to watch—had a 'big one' to DNF and lose a trophy in the second race and, more crucially, Geerts's two errors in the second moto was a gift to Vialle in the fluctuating and close MX2 title narrative.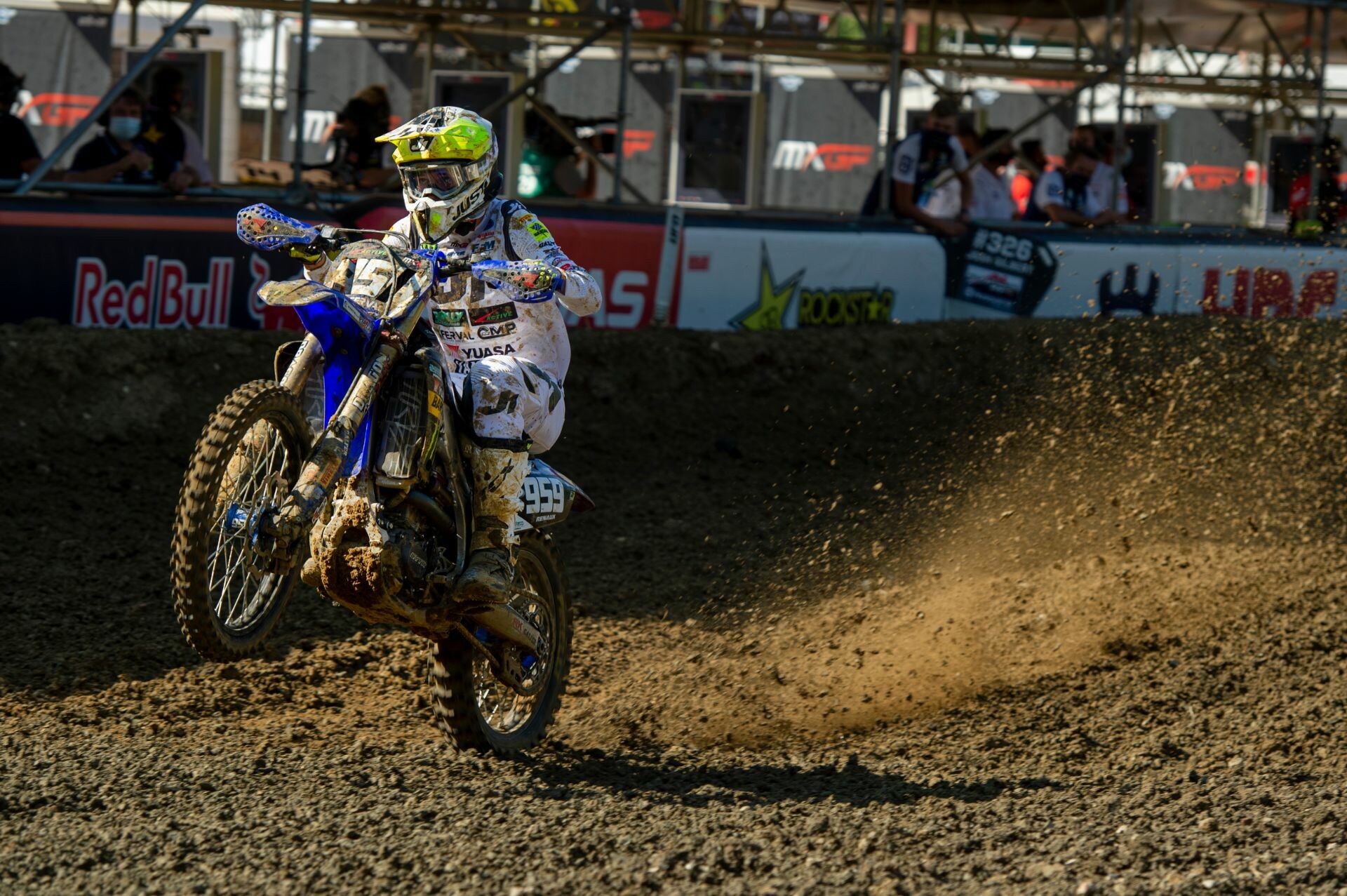 Amongst it all there was relief for Rockstar Energy Husqvarna's Thomas Kjer Olsen. The luckless Dane has finished in the top three of the world championship for all of his three terms in MX2 and was a clear pre-season favourite for 2020 until a wrist and then a neck injury cast him onto the sick list and a bit-part player for his last campaign on the FC 250. The tall Olsen, never the fastest of starters on the 250, made the breakthrough for a first podium this year with his 4-3. He was eclipsed in the second moto by barrelling teammate Jed Beaton (the Australian ruined his podium chances with 12th in the first outing) who assumed second spot but Olsen, who ages out of MX2 in 2020, had the trophy next to Vialle and Renaux.
"Two tough races, it was super-hot," he said. "I woke up this morning and could only hope for podium, but I rode into my rhythm. I was even a bit too safe but that's how I ride best sometimes. I'm just stoked for this."
If the current 2020 MXGP schedule can stay in place then the third and final fixture at Faenza on Sunday—the Grand Prix named after the region 'Emilia Romagna'—will represent the penultimate dash on hard-pack across the next seven rounds.