Jeffrey Herlings Injured, Will Miss Next Four Grand Prix [Update]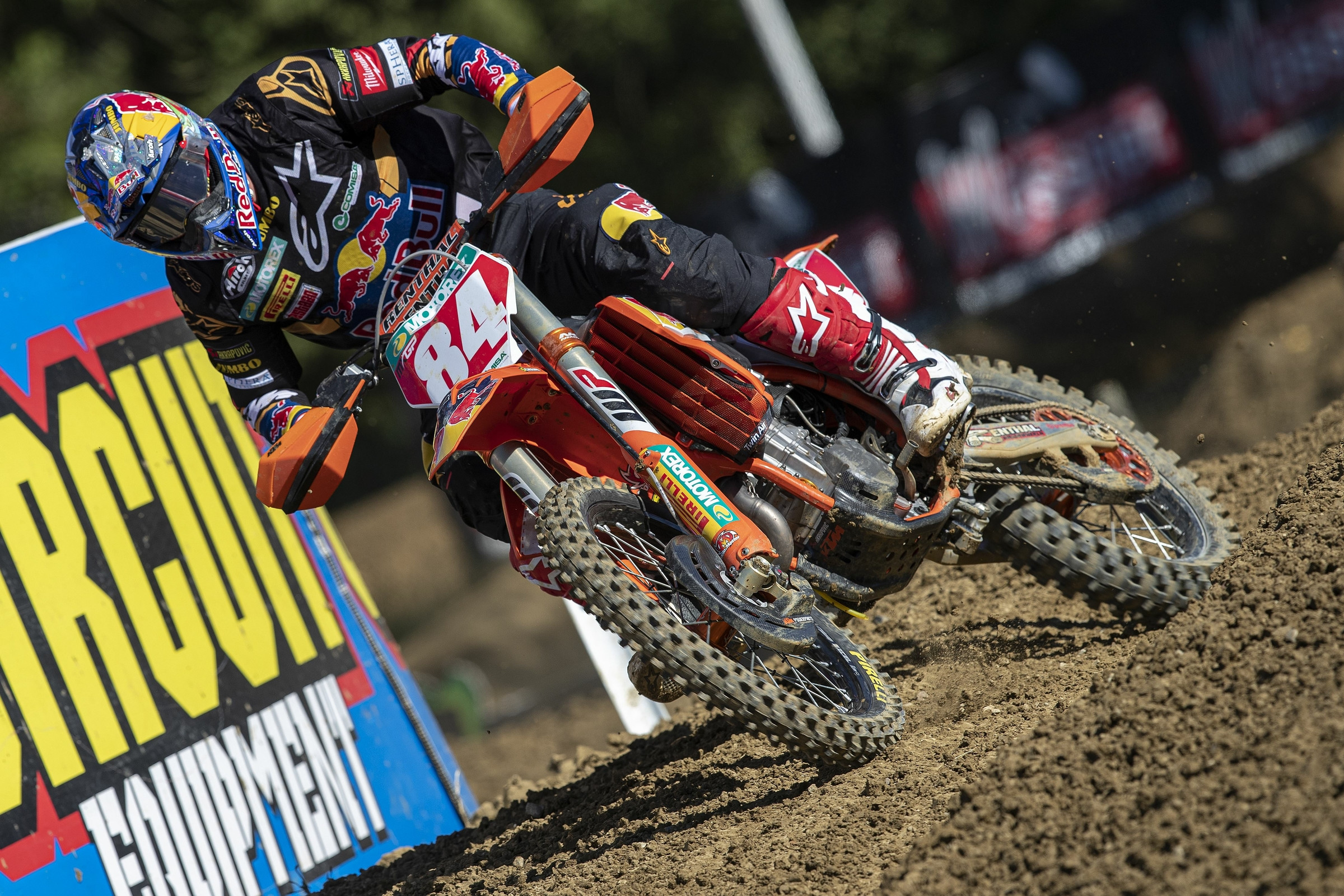 Ravenna, 45
MXGP of Citta Di Faenza (ITA)
FIM Motocross World Championship
*Main image courtesy of KTM Images/Ray Archer.
---
Red Bull KTM Factory Racing's Jeffrey Herlings suffered a scary crash earlier today during timed practice for the 2020 MXGP of Citta Di Faenza. The FIM Motocross World Championship points leader flipped end over end before landing sideways across the track.
The medical team eventually would need to put Herlings on a stretcher to remove him from the track before a medical helicopter was brought on site to take Herlings from the Monte Coralli Circuit to a local hospital.
The initial word was that Herlings was alert and moving all of his extremities, which was later confirmed by KTM.
Herlings entered today's race with a 60-point lead in the championship standings over Antonio Cairoli. However, the crash would cause Herlings to miss today's seventh round of the FIM Motocross World Championship while further updates on his condition are still yet to be known.
An update was provided in the afternoon of September 9 via team manager Dirk Gruebel on Herlings' condition:
"Jeffrey went down on the fourth lap of Free Practice and hit his head quite hard. He regained feeling in his arms and legs pretty quickly but still went to Bologna for full body scans. We have yet to see the results, but he has been released from hospital. We're talking about a pretty big compression of the neck, vertebrae and a hematoma of the shoulder. He'll get back to Belgium tomorrow for some more examinations and hopefully it is not that dramatic. It will take a couple of weeks to recover but we cannot give an exact date right now. Jorge did great but Tom made a fantastic job on a track that was far from easy. He played it smart, stayed clean and brought home 50 points, which was great for the championship and his confidence."
[UPDATE: thursday, september 10]
Following initial scans, KTM announced on September 10 that Jeffrey Herlings will need to remained sidelined for the final Grand Prix in Faenza and the next triple-header at Mantova as well. Read the full update:
Red Bull KTM Factory Racing's Jeffrey Herlings will sit out the Grands Prix of Lombardia, Citta di Mantova and Europe from September 27-October 4 to undergo another MRI scan in the wake of his crash during Free Practice for the Grand Prix of Citta di Faenza last Wednesday.
The current MXGP FIM World Championship leader and winner of four rounds from seven so far in 2020 fell and suffered a large impact to his neck and shoulders at the Monte Coralli circuit on Wednesday morning. The soon-to-be 26-year old was taken to a hospital in Bologna and then to Herentals in Belgium where he was examined by renowned and trusted surgeon Dr Claes.
While Herlings was fortunate to escape serious injury, the hard landing means he needs to rest and monitor the state of his upper torso in the next two weeks. He is due to have another MRI on September 29th. The date means he will miss the next four rounds of the series. The Mantova circuit will stage a triple header in one week at the end of this month.
Dirk Gruebel, Team Manager and Technical Co-Ordinator: "While it was a scary crash we have to be thankful that Jeffrey was not badly hurt. The first scans are positive when you consider the injuries he could have picked up. He is a really tough guy and has been through this process before. It is frustrating because of the good work he'd done in the championship standings but it is the negative part of the sport we have to accept. Hopefully the scan in a few weeks will show his recovery is going in the right direction. All the team will miss him until he's back on the bike and doing what he does best."