Buchanan, MI
RedBud National II
Lucas Oil AMA Pro Motocross Championship
Motocross is awesome. Unlike just about any other motorsport you can think of, a licensed pro can buy a bike, show up to the races, and be part of the show. That's exactly what Grant Harlan, whose first motocross race was Ironman this season, is doing this summer in the 450 Class. He's doing pretty well too, scorning points in five of six motos so far, with his best finish being a 17th in the first moto at RedBud 2. We caught up with Harlan to learn more about what it's like to jump straight into the premier class of the Lucas Oil AMA Pro Motocross Championship.
Racer X: So Ironman was your first national, is that correct?
Grant Harlan: Yeah, it was the first one I've done. I was planning on doing some last year but I decided to focus on Loretta's then get ready for the Monster Energy Cup. So yeah, it was the first one.
Why didn't you race the nationals at Loretta's this year?
I didn't really have a bike ready to go. My practice bike's cases blew up like a week prior, and I wasn't quite ready to race with my wrist yet anyway, which I hurt in Salt Lake. I just didn't have the means to get there yet. But I'm actually kind of glad I missed it.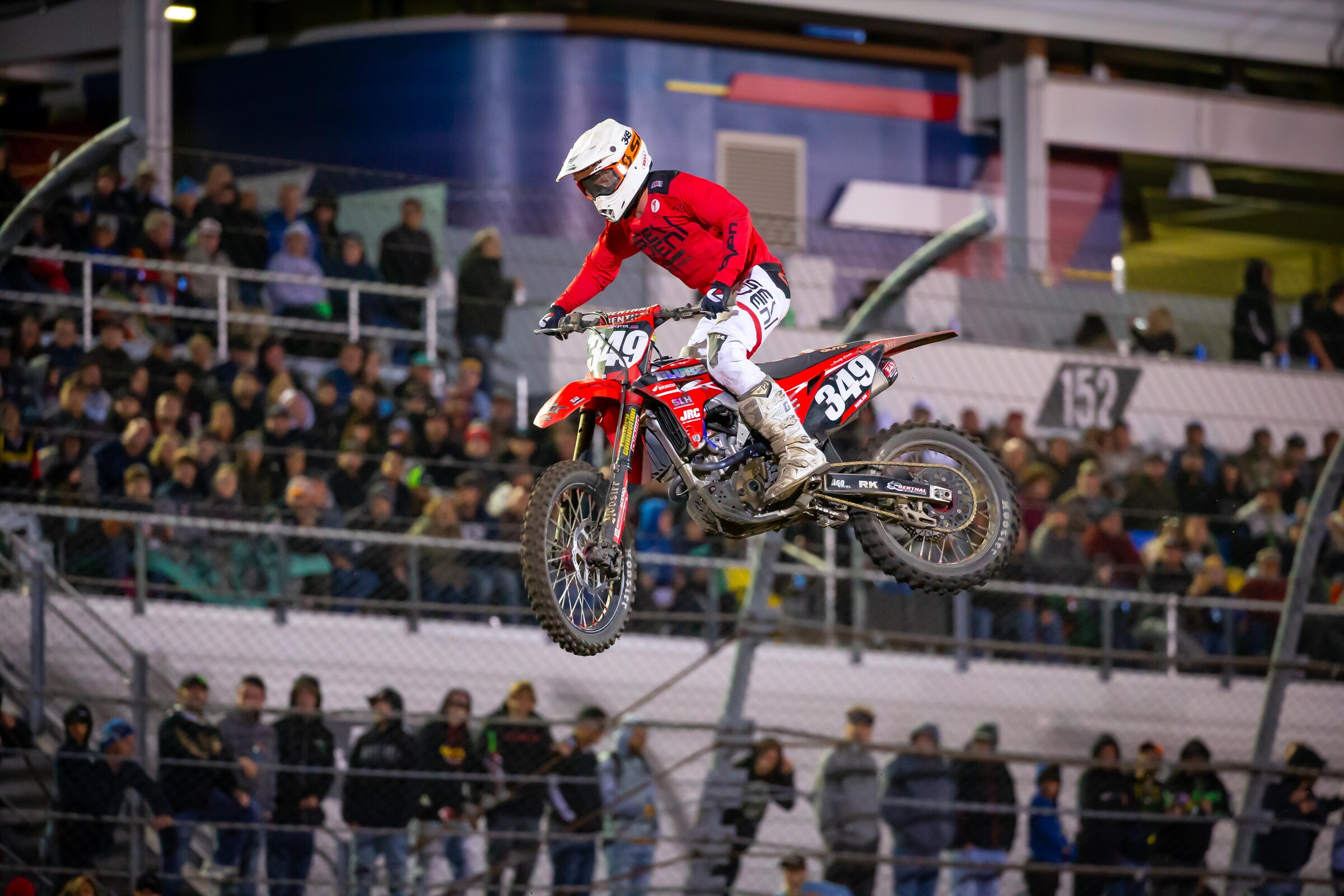 Yeah that second one wouldn't have been fun to clean up after, that's for sure.
That first one was tough on bikes too.
Speaking of the wrist, how's it doing? It wasn't a bone break, right?
No, I didn't break anything. I partially tore the scaphoid ligament, I think is what he said, plus some bone bruising and a general sprain. It hurt a little too much to ride. I got pretty lucky that I didn't break anything. I know a lot of have guys have struggled to come back from breaks in the wrist and hand.
So you're good to go now though?
Yeah. I was in a cast for a while but everything is good to go now. Strength in it is the biggest thing right now, and I'm trying to build that up.
So this is your first season and you jumped right into the 450 Class. What's been your impression so far?
It's been interesting. Going into Ironman I was trying not to hold myself to any expectations, it was my first race—obviously it's going to be tough. In my first practice I smashed my header in and couldn't do any laps, and in the second practice I just didn't ride very fast. I had to qualify through the LCQ [consolation race] for that race.
But you won it though!
Yeah. One in supercross, and one in outdoors now. That's pretty cool. But the motos are gnarly. I got some pretty good starts at Ironman and RedBud, and the pace of those guys is insane. And the tracks are so much rougher than you think.
That's for sure. You and I know TV doesn't do it justice, but TV really doesn't do it justice!
Watching the races back from RedBud, some of those downhills, the TV just does not show how big those bumps are, and the top guys hit those fast!
Well, even given how tough it is, you've scored points in five of six motos, so you've got to be pumped on that.
Yeah, that's been super cool. I feel like my speed, where I was hoping to be before Utah, because we didn't even know if we were doing supercross or outdoors first, the speed isn't where I wanted it to be, but I've been happy that I've been able to finish the motos pretty strong.
Are you running your own program or are you on a support team? What's your situation?
For outdoors I've been running my own program. I've got some sponsors from the supercross team [TiLube Honda] that've continued to help me outdoors, and I've got a few new ones like FXR. It's been cool running my own program.
Yeah, that way, while there's more pressure to do everything yourself, there's not as much pressure with results. Is that accurate?
Yeah, it's nice to be able to keep track of my own equipment. And on the 450 there's a whole lot less maintenance.
Is that the main reason you jumped directly into the 450 Class instead of starting out on a 250?
Yeah. Looking at the 250 Class this year, there are a lot of factory bikes. The amount of money it'd take to compete in that class this year is crazy.
Talk about your goals for the rest of the season. I've been assuming you're going to do the rest of them.
My plan right now is to do just Millville. Jacksonville is a 20-hour drive, and nobody is quite sure what's going on with Pala or Colorado. So I'd say Millville for sure, and results-wise, with the starts I've been getting, I think top 15, definitely.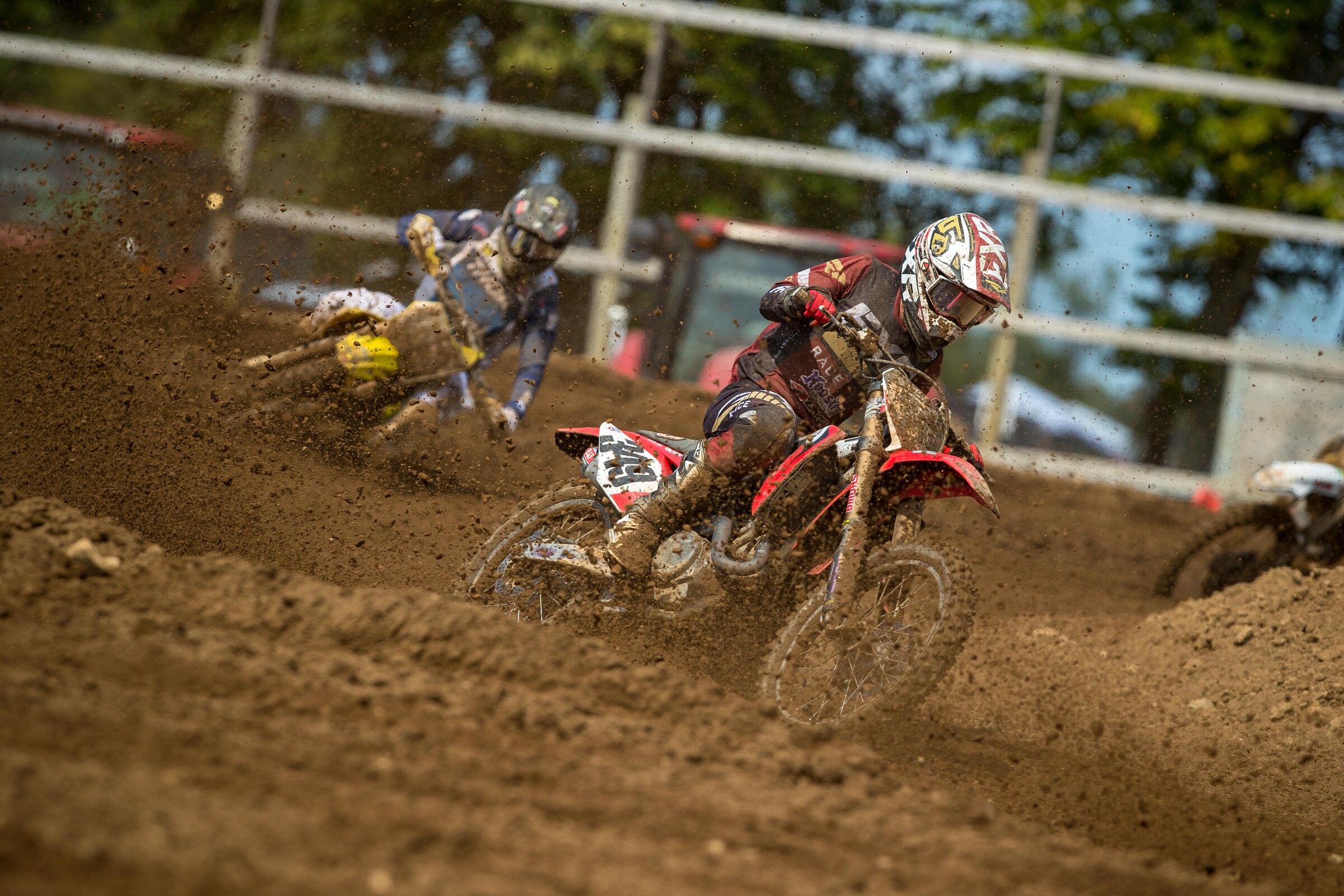 Well you were 17th in a moto and you're only learning going forward so I don't think that's unrealistic.
Yeah, for sure. Indiana, and two RedBuds, the amount of training and getting the bike ready between the races, was a lot. It'll be nice to come back home and get a few days off before I get back to it before Millville.
What's been the biggest surprise for you in Lucas Oil AMA Pro Motocross?
I really didn't expect the tracks to be as gnarly as they are, even though I knew they would be. But for me personally, I didn't expect to have the fitness for the motos that I've been having. I was thinking I'd have good sprint speed then struggle a little bit at 15-30. But it's been more like, the first few laps have been good, then I struggle a little in the middle, then the last four or five laps I've been able to turn it back on. That caught me off guard.
Well that's a good thing to be caught off guard by!
It is. [Laughs]
Thanks for your time Grant, and good luck at Millville.
Thank you.