2020 Ironman Entry Lists Released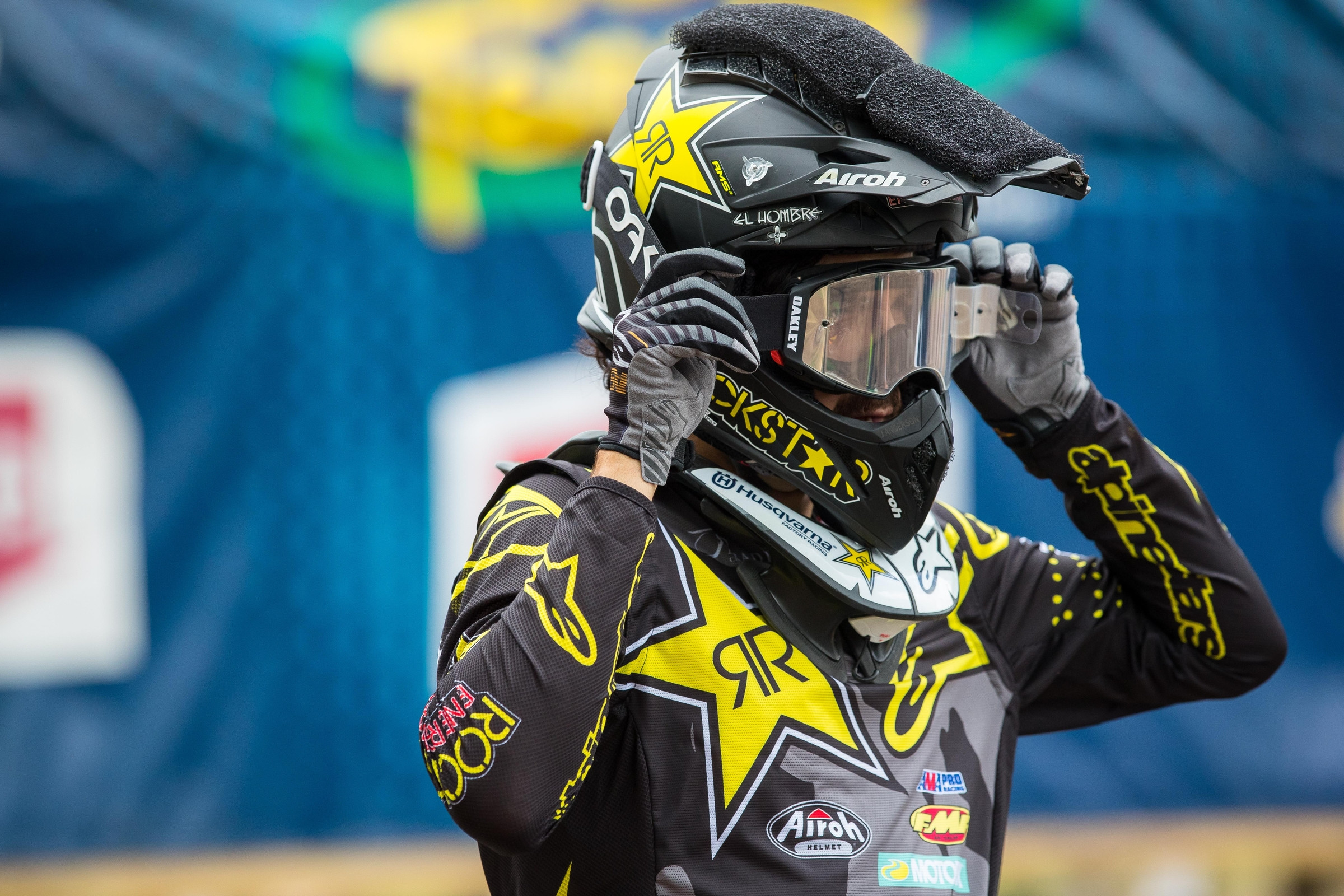 Crawfordsville, IN
Ironman
Lucas Oil AMA Pro Motocross Championship
The American Motorcyclist Association (AMA) has released the entry lists for the third round of the 2020 Lucas Oil AMA Pro Motocross Championship at Ironman Raceway in Crawfordsville, Indiana, on August 29.
You can view the entry list for the 450 and 250 classes below.
Below are the entry lists provided by the AMA as of Thursday, August 27, at 11:05 a.m. ET.
450 Class
| | | | | | |
| --- | --- | --- | --- | --- | --- |
| Racing # | First Name | Last Name | Birth Place | Brand | Team Name |
| 1 | Eli | Tomac | Cortez, CO | Kawasaki | Monster Energy Kawasaki |
| 4 | Blake | Baggett | Grand Terrace, CA | KTM | Team Rocky Mountain WPS KTM |
| 9 | Adam | Cianciarulo | Clermont FL | Kawasaki | Monster Energy Kawasaki |
| 15 | Dean | Wilson | United Kingdom | Husqvarna | Rockstar Energy Husqvarna Factory Racing |
| 16 | Zachary | Osborne | Abingdon, VA | Husqvarna | Rockstar Energy Husqvarna Factory Racing |
| 17 | Joseph | Savatgy | Tallahassee, FL | Suzuki | JGR Yoshimura Suzuki Factory Racing |
| 19 | Justin | Bogle | Cushing, OK | KTM | TEAM Rocky Mountain, WPS,KTM |
| 20 | Broc | Tickle | Holly, MI | Yamaha | Monster Energy Yamaha Factory Racing |
| 21 | Jason | Anderson | Rio Rancho, NM | Husqvarna | Rockstar Energy Husqvarna Factory Racing |
| 23 | Chase | Sexton | La Moille, IL | Honda | Team Honda HRC |
| 25 | Marvin | Musquin | France | KTM | Red Bull KTM |
| 31 | Fredrik | Noren | Sweden | Suzuki | JGR Yoshimura Suzuki Factory Racing |
| 34 | Tyler | Bowers | Danville, KY | Kawasaki | Triggr Tyler Bowers Racing |
| 42 | Ben | LaMay | Anchorage, AK | KTM | LBeardsleyCPA Wilde Chips Xbrand UFO Racetech |
| 43 | John | Short | Pilot Point, TX | Honda | TPJ Racing |
| 48 | Henry | Miller | Rochester, MN | KTM | FXR Miller Racing |
| 50 | Benny | Bloss | Oak Grove, MO | Husqvarna | KT Tape Truck Central Donnells Husqvarna |
| 51 | Justin | Barcia | Greenville, FL | Yamaha | Monster Energy Yamaha Factory Racing |
| 61 | Alex | Ray | Atwood, TN | Kawasaki | SGB Racing Maxxis Babbitt's Kawasaki |
| 62 | Christian | Craig | Corona, CA | Honda | GEICO Honda Factory Connection |
| 75 | Coty | Schock | Dover, DE | Honda | FXR Chaparral Honda |
| 78 | Jake | Masterpool | Paradise, TX | Husqvarna | Invictus Speed Crew |
| 103 | Max | Anstie | Great Britain | Suzuki | HEP Motorsports Suzuki |
| 116 | Tj | Albright | Mt Marion, NY | Husqvarna | |
| 125 | Luke | Neese | Jamestown, NC | Honda | Phoenix Racing Honda Team |
| 144 | Nicolas | Rolando | Uruguay | KTM | RSMX Maas Brothers |
| 154 | Chase | Felong | Oceanside, CA | Husqvarna | AEO Powersports |Shift | Fox Racing |
| 169 | Dylan | Kappeler | Redwood City, CA | Husqvarna | Kappeler Construction, Inc. Chilton Auto Body Webcor Builders |
| 176 | Brandon | Green | Thief River Falls, MN | Yamaha | |
| 180 | Christopher | Gebken | Buckner, MO | Honda | Innovative MX Training Gebken Racing |
| 219 | Renato | Paz | Brazil | KTM | YLD Racing Team |
| 243 | Hunter | Braun | Westland, MI | Honda | Supercoop MX |
| 248 | Travis | Delnicki | Eastford, CT | Yamaha | Safeguard Security Motorsports Nation Yamaha |
| 254 | Cody | Briner | Sierra Vista, AZ | Kawasaki | TPJ Racing |
| 258 | Justin | Rodbell | Prince Frederick, MD | Kawasaki | SGB Racing/Maxxis/Babbitt's Kawasaki |
| 269 | Dalton | Dyer | Benton, AR | Kawasaki | 3b Graphics Pro Circuit Greg Dyer Plumbing |
| 279 | Timothy | Crosby | Confluence, PA | Kawasaki | PR2 Suspension Roaring Knob MX Fly |
| 281 | Cory | Carsten | Bayville, NJ | Suzuki | Carsten Racing |
| 287 | John | Snow | Raleigh, NC | Honda | Thomas Motorsports General Electric Aviation PanicREV |
| 309 | Jeremy | Smith | Marmora, NJ | Kawasaki | SGB Racing Maxxis Babbitt's Kawasaki |
| 324 | James | Cooper | Indianapolis, IN | Yamaha | Cooper Racing |
| 349 | Grant | Harlan | Kailua Kona, HI | Honda | Hoosier Tire FXR Game Moto |
| 358 | Ivon | Hays | St. Joseph, MI | Honda | Gript Gloves |
| 394 | Michael | Lennon | Mechanicsville, MD | Yamaha | MotoSport Limited Decal Factory Connection |
| 402 | Samuel | Greenawalt | Jacksonville, FL | Yamaha | GMXR Worldwide |
| 412 | Jared | Lesher | Elderton, PA | KTM | Budget Blinds Maximum Powersports Blud Lubricants |
| 441 | Scott | Meshey | Zephyrhills, FL | Husqvarna | Xtreme Powersports Husqvarna |
| 443 | Luke | Renzland | Hewitt, NJ | Husqvarna | Dreamland MX Racing |
| 468 | Austin | Walker | Townsend, DE | Kawasaki | Powersports East Kawasaki Team Green True MX |
| 492 | Nicholas | Neys | Edelstein, IL | Kawasaki | NPR 4 Autism |
| 499 | Dawson | Chesnut | Sorento, IL | Kawasaki | Chesnut Racing |
| 503 | McClellan | Hile | Atascadero, CA | KTM | |
| 507 | Nicholas | Tomasunas | Newaygo, MI | Yamaha | MX Locker |
| 510 | Travis | Prier | Elkader, IA | Honda | |
| 513 | Aerian | Weaver | Morgantown, WV | Honda | Weaver Racing |
| 519 | Jorge | Rubalcava | Paradise, TX | Husqvarna | Husqvarna Mexico |
| 545 | Cody | Siler | Beecher, IL | Yamaha | Siler Racing |
| 546 | Tylor | Skodras | Sussex, WI | Husqvarna | Rob's Performance |
| 553 | Brent | Rouse | Torrance, CA | Honda | Patch Master Racing Mid Cities Honda |
| 560 | Kyle | Murdoch | Winchendon, MA | Husqvarna | Motorbikes Plus Factory Connection Shift |
| 577 | Felix | Lopez | Mexico | KTM | KTM of Mexico |
| 595 | Michael | Kitzmiller | Vicksburg, MI | Yamaha | Kyle Owen Photography |
| 596 | Carson | Tickle | Cary, NC | Honda | Team Tickle |
| 607 | Kyle | Endriss | Lew Beach, NY | Yamaha | Endriss Racing |
| 645 | Jacob | Pogodzienski | Watertown, CT | Suzuki | Docs Motorcycles Chug's Moto Performance Max Power Motors |
| 647 | Matthew | Hubert | Riverside, CA | Kawasaki | TPJ Racing |
| 657 | Justin | Wolf | Franklin, WI | Kawasaki | Sportland 2 Powersports |
| 661 | Noah | Chambers | Oxford, PA | Kawasaki | SCCMX |
| 688 | Gabe | Woodrow | Colora, MD | Kawasaki | SGB Racing Maxxis Babbitt's Kawasaki |
| 711 | Tristan | Lane | Deland, FL | KTM | Team Lane Racing |
| 722 | Adam | Enticknap | Lompoc, CA | Suzuki | HEP Motorsports Suzuki |
| 730 | Grant | Smith | Fenton, MI | Yamaha | Mid Michigan Crushing & Recycling Lasco Ford Answer Racing |
| 735 | Tristan | Lewis | Locust Grove, GA | Yamaha | |
| 755 | Kyle | Ianuale | Gainesville, FL | KTM | |
| 757 | Tyler | Gosnell | Bloomsdale, MO | Yamaha | Big St Charles Novik Route 15 JH2 Approved Home Improvements |
| 765 | Zack | Archer | Moorhead, IA | Kawasaki | Yankton Motorsports |
| 788 | Josh | Heintz | Pittsburgh, PA | Kawasaki | Podium Works Mosites Motorsports SocialWebMedia Racing |
| 794 | Bryce | Backaus | Neillsville, WI | Yamaha | All Motor Performance Feine Tune |
| 795 | Aaron | Leininger | Wesley Chapel, FL | Honda | Leininger Brothers Racing |
| 809 | Travis | Thompson | Howell, MI | Yamaha | T&M Racing |
| 824 | Carter | Stephenson | Rolla, MO | Yamaha | ROCK RIVER RACING |
| 841 | Jeff | Walker | Sylvania, OH | KTM | Walker Motorsports |
| 847 | DJ | Christie | Flat Rock, MI | KTM | therightdirection.org |
| 881 | Jerry | Lorenz | Morrice, MI | Yamaha | Zeiglers Motorsports | MCR Suspension | FXR Racing |
| 891 | Kyle | Koosmann | Mellen, WI | Yamaha | |
| 893 | Matthew | Carpenter | Zeeland, MI | KTM | RK Tech Fly Racing Pro Taper |
| 946 | Matthew | Toth | Ellwood City, PA | Honda | |
| 976 | Joshua | Greco | Valparaiso IN | KTM | Team Allsouth |
| 993 | Austin | Wagner | Niles, MI | Honda | Championship Power Sports Racing |
| 995 | Christopher | Prebula | Petersburg, MI | KTM | Team Imperial |
250 Class
| | | | | | |
| --- | --- | --- | --- | --- | --- |
| Racing # | First Name | Last Name | Birth Place | Brand | Team Name |
| 6 | Jeremy | Martin | Millville, MN | Honda | GEICO Honda Factory Connection |
| 12 | Shane | McElrath | Canton, NC | Yamaha | Monster Energy Star Racing Yamaha |
| 14 | Dylan | Ferrandis | France | Yamaha | Monster Energy Star Racing Yamaha |
| 24 | RJ | Hampshire | Hudson, FL | Husqvarna | Rockstar Energy Husqvarna Factory Racing |
| 26 | Alex | Martin | Millville, MN | Suzuki | JGR Yoshimura Suzuki Factory Racing |
| 29 | Cameron | McAdoo | Sioux City, IA | Kawasaki | Monster Energy Pro Circuit Kawasaki |
| 30 | Brandon | Hartranft | Brick, NJ | KTM | Troy Lee Designs Red Bull KTM |
| 32 | Justin | Cooper | Cold Spring Harbor, NY | Yamaha | Monster Energy Star Racing Yamaha |
| 35 | Hunter | Lawrence | Australia | Honda | GEICO Honda Factory Connection |
| 57 | Derek | Drake | San Luis Obispo, CA | KTM | Troy Lee Designs Red Bull KTM |
| 67 | Jerry | Robin | Hamel, MN | Husqvarna | FCC Motosports Signation Canvas MX |
| 68 | Nick | Gaines | Ringgold, GA | Yamaha | 3D Racing Yamaha |
| 74 | Mitchell | Harrison | Brighton, MI | Kawasaki | Monster Energy Pro Circuit Kawasaki |
| 77 | Kevin | Moranz | Topeka, KS | KTM | TPJ Racing |
| 83 | Jett | Lawrence | Australia | Honda | GEICO Honda Factory Connection |
| 84 | Jo | Shimoda | Japan | Honda | GEICO Honda Factory Connection |
| 117 | Stilez | Robertson | Bakersfield, CA | Husqvarna | Rockstar Energy Factory Husqvarna Racing |
| 129 | Chase | Lorenz | Arvada, CO | Honda | Sun Powersports Fox FMF |
| 130 | Austin | Root | Chester, SC | Husqvarna | Root Racing |
| 135 | Robert | Fitch, Jr. | Watkins, CO | Yamaha | Fitch Racing |
| 136 | Joshua | Philbrick | Ocononowoc, WI | Kawasaki | Sportland 2 |
| 139 | Nathen | LaPorte | Rothschild, WI | Honda | Sportland 2 MX-TECH LaPorte Racing |
| 157 | Darian | Sanayei | Monroe, WA | Kawasaki | Monster Energy Pro Circuit Kawasaki |
| 162 | Maxwell | Sanford | Pasadena, MD | Yamaha | Concrete Plants Inc |
| 163 | Pierce | Brown | Sandy, UT | KTM | Troy Lee Designs Red Bull KTM |
| 164 | Matthew | Klann | Howell, MI | Honda | |
| 167 | Cody | Williams | Barneveld, WI | Husqvarna | Latitude Graphics Racing |
| 168 | Cale | Kuchnicki | Alanson, MI | KTM | Highland Trails Racing |
| 183 | Brandon | Yates | Ottawa, KS | Husqvarna | Yates' Racing |
| 194 | Lance | Kobusch | Newflorence, MO | KTM | |
| 203 | Andrew | Boccarossa | Redding, CT | Yamaha | Boccarossa Insurance Racing |
| 204 | Kyle | Greeson | Knightsen, CA | KTM | |
| 220 | Carson | Mumford | Simi Valley, CA | Honda | GEICO Honda Factory Connection |
| 221 | Mathias | Jørgensen | Denmark | Kawasaki | |
| 227 | Derek | Kelley | Riverside, CA | Husqvarna | JMC Motorsports, LLC |
| 239 | Mason | Gonzales | Fortwalton Beach, FL | Yamaha | |
| 247 | Brock | Papi | Clermont, FL | KTM | Brock Papi Racing |
| 251 | Ezra | Hastings | Aurora, IN | Husqvarna | Ezra Hastings Racing |
| 266 | Brett | Greenley | New Memphis, IL | Yamaha | Route 15 Cycles |
| 288 | Parker | Smith | Rochester, IL | Kawasaki | World of Powersports Pro-Circuit Wright M.D. |
| 294 | Nicholas | McDonnell | Westfield, MA | Kawasaki | Mason Agency Valley motorsports |
| 301 | Jordan | Jarvis | Clayton, NC | Kawasaki | SGB Racing Maxxis Babbitt's Kawasaki |
| 337 | Vincent | Luhovey | Greensburg, PA | KTM | Luhovey Racing |
| 345 | Joshua | Prior | Hebron, CT | Husqvarna | Custom MX Supply American Ladders and Scaffolds 6D |
| 355 | Joey | Crown | Metamora, MI | Yamaha | ROCK RIVER RACING |
| 364 | Chad | Saultz | Batavia, IL | Yamaha | Rock River Racing |
| 372 | Hayden | Hefner | Taylorsville, NC | Yamaha | Privateer |
| 373 | Hardy | Munoz | Chile | Husqvarna | Monster Energy Fox Nitro Lubricants |
| 387 | Joshua | Varize | Perris, CA | KTM | KTM Orangebrigade |
| 404 | Carlos | Short | Charlotte, NC | Yamaha | Flyin Taco Racing |
| 422 | Steven | Keil | Delta, OH | Honda | Turbo Speed Tuning Championship Powersports FATHM CO |
| 425 | Joshua | Leininger | Mooresville, NC | Honda | Fly Xtreme Powersports JGR |
| 435 | Marcus | Phelps | South Africa | Yamaha | |
| 483 | Bryton | Carroll | Vineland, NJ | Yamaha | |
| 486 | Dennis | Gritzmacher | Sussex, WI | KTM | Robs Performance Motorsports |
| 491 | Gabe | Gutierres | Concord, MA | KTM | Answer MX Ride 100% Hammer Nutrition |
| 504 | Gerhard | Matamoros | Honduras | Yamaha | Invictus Speed Crew |
| 522 | Cole | Zitterkopf | Fruita, CO | Honda | Zitterkopf Racing |
| 554 | Wade | Brommel | Indianola, IA | Kawasaki | Real Ink Graphics Cox Concrete Team Carey |
| 566 | Jacob | Rose | Summersville, WV | Kawasaki | Rose Racing |
| 574 | Ryan | Lechien | Johnsonburg, PA | KTM | Rocket Valley Motorsports |
| 622 | Zac | Maley | Laotto, IN | Yamaha | Tom Zont Racing Mika Metals Maxima |
| 670 | Tyler | Ducray | Galt, CA | KTM | Nor-Cal Motorsports Crew |
| 673 | Landon | Armbruster | Brookville, OH | KTM | Central Collision Repair |
| 701 | Jake | Pinhancos | Rochester, MA | KTM | Shift MX Oakley Twin Air |
| 721 | Zachary | Harris | Lincoln, NE | Honda | |
| 726 | Gared | Steinke | Woodland, CA | Kawasaki | Lonesome Camel Farms |
| 737 | Zachary | Butkiewicz | Sussex, NJ | KTM | Inclusive Excursions |
| 777 | Tristan | Titus | Stanton, KY | KTM | Triple Seven Motorsports |
| 800 | Jace | Kessler | Eagle, MI | Husqvarna | Kessler Concrete Husqvarna |
| 811 | Christopher | Williams | Ortonville, MI | Suzuki | Williams Racing |
| 815 | Colton | Eigenmann | Titusville, FL | Suzuki | Suzuki Gizmo Mods Klim |
| 874 | Zack | Williams | Elko, MN | KTM | Fusion Motorsports |
| 925 | Jonah | Geistler | Newark, IL | KTM | Rides Unlimited Racing |
| 964 | Mitchell | Goheen | Canada | Yamaha | Glasstech Zind Customs |
| 979 | Phillip | Maus | Albany, MN | KTM | Maus Racing |