Rice-eccles Stadium
Salt Lake City

,

UT
Salt Lake City 5 (Rd 15 - West)
Monster Energy AMA Supercross Championship
Five rounds into the Salt Lake City plan, riders have a pretty good handle on the new feel of racing. In a press conference held on Monday night, a variety of 450 riders answered a variety of questions, and we pulled some of the best stuff right here.
Racer X: You had some struggles at the first few races with your hands going numb, and other issues. What has that been like?
Blake Baggett: I think when I first got here the elevation had me in a fit. I was nauseous after the first round for three days plus, and after the second round I still didn't feel good. We showed up, we were ready and we had speed, but the body was not ready for it. And I've been struggling with my hands going numb. I've been struggling with it for a few months in Florida as well, so it wasn't a new problem, but when I got here, and you're at race pace, it's much different than having it at your practice track. At race pace, you can't manage it, you go backwards and you get swallowed up quick!
You're improving compared to the previous races. Are you using the time between to reset?
We're using the time to throw Hail Marys at the bike. We're trying things we normally wouldn't try. I'm not in the points chase so we might as well try it. This weekend, [Sunday's race] we threw something at it. Last Wednesday we tried Coop's [Cooper Webb's] old rear end. Then we've got one more setting for Wednesday, and then at the final round we're going to go for a wild setup and see what happens. Just trying to learn for next year. Throwing darts at it.
That was an amazing day for you. Take us through it.
Benny Bloss: Qualifying was great, I just felt solid all day, I think I was top five in both practices. Then I got the heat race win. That was crazy, I've never been in position to be even close to a heat race win. Main event, I passed [Vince] Friese and then he passed me back. I was trying to make a pass on him and he just went straight, like right into the side of me. Kind of messed up my bike a little bit, but I got a 13th.
What's gotten into you these last few races?
Man, I don't know! I just feel really comfortable on the bike. I went on the first hike of my life a day before it, maybe that has something to do with it? [Laughs] I felt pretty good in the Wednesday race before, in qualifying and even in the race I felt pretty good. But the whole day I just felt super solid and super comfortable. Everything was working good. Comfort wise, I'm just getting better and better.
Benny and Dean [Wilson], you had a crazy battle in that heat race. Let's talk about.
Benny Bloss: [Laughs] Yeah, so I hit the finish line and I looked over and he was right there. The first time I tried to cut over I hit the brakes and almost hit his back tire. Then I made the pass and he came in two corners later, and I was kind of all over the place. I definitely cross jumped him pretty bad. I feel bad. I think the corner before the whoops he came in hot and I could hear him yelling. I knew once I got past the whoops there wasn't a place for him to hit me again, unless he was super close before the finish. Yeah, it was super fun.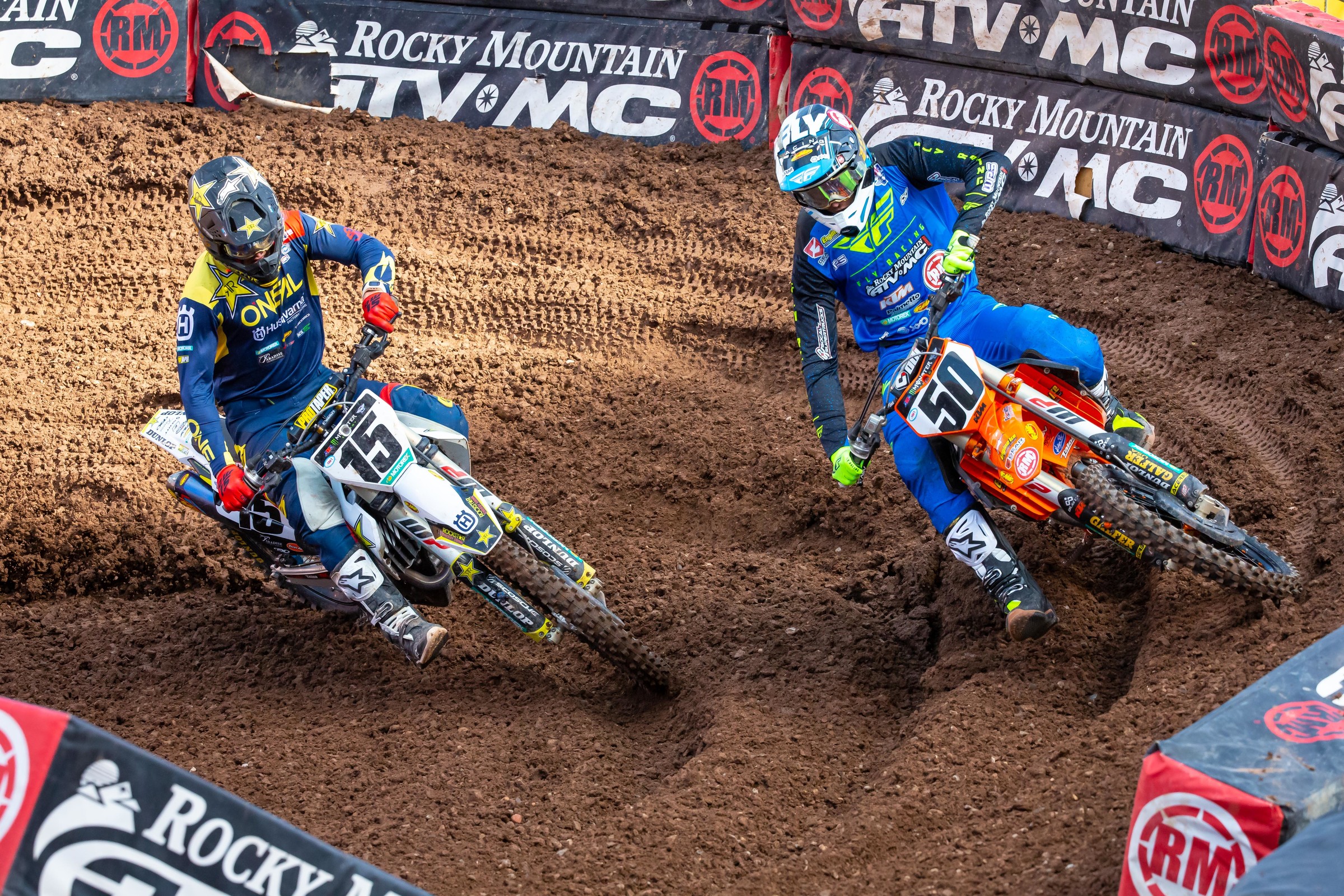 Dean Wilson: The heat was good, Benny was riding good all day. Martin [Davalos] was kind of gone, he got a good start and but then he fell. It was like we both saw the opportunity that we could win it. I got up to him and kinda made the pass after the finish, but I knew he was going to cut under me…..[Pauses, laughs] Okay, I did get cross jumped a little bit and landed on the hay bales, which was pretty scary, but we made it through it safe. Yeah, Benny was riding good all day.
Dean, you don't have a deal yet signed for next year. Are you under pressure to impress to try to get a ride, and has this COVID-19 break pushing all the racing back, has that made a difference?
It's tough for sure, I need to get a ride for next year and I would love to stay where I'm at. I do all my own deals, but I don't want to talk to too many people about it, it will kind of mess with my head because it gets a little bit stressful. I've been in this position a couple times now and it always works out in the end, so it's all good.
Bonus
Racing twice a week. What do you guys think of doing this in the future?
Baggett: I think it would be sweet to do two rounds in a week and get a week off, or do four rounds and get a month off. I think people would be game for that, that way if you do have an injury you get a chance to rest of come back. The field would be pretty thin if you started off doing this at Anaheim! [Laughs] I think you would have to do it in short bursts. Maybe it would bring in a different kind of fan base and bring more attention to it. We need to do whatever we can do that would grow the sport. Maybe we can do more races overseas. Maybe you do five or six rounds here and a burst of rounds over there. You could cut the costs down if you could do them that quick. You just fly over there once, hotels, fly to another country, get it in.
Justin Brayton: I like it. I think it's awesome. Who would have thought Monday Night Football would be the biggest ratings ever? I think Wednesday night supercross would be great. The struggle would be trying to find stadiums that are close together, so truck drivers could get there and get set up. Logistically it could be difficult, but I like it. It could give us more time off, like Blake said. Get a few in a row and then get a few weeks off, just to regroup mentally. It gets old doing it week after week. I'm up for anything and I think we can all learn from this Salt Lake stuff.
Baggett: Just to jump in with one more thing, a lot of us have families now, so if you were in one location for two weeks or so, it's easier to bring the family. You rent one place for two three weeks and stay in the same location with the family.
Adam Enticknap: I think the best part is waking up and seeing that schedule every morning. I love that we come in, we get a track sighting, then we get a few laps to roll, then we start practice and everything is just back-to-back-to-back. But the racing, three or four days apart, I think it's cool, I wouldn't want to do it for 16 rounds. But to stay somewhere for two weeks and race back-to-back-to-back would be awesome. But I really think the biggest thing they nailed was the timing off the day.
If you want to watch the full media scrum from Monday evening, check out the archive below: