Salt Lake City, UT
Salt Lake City 1
Monster Energy AMA Supercross Championship
"It's just felt like home to me," said Justin Starling.
After an early-season foray with Michael Lindsay's new FXR/Chaparral Honda team, Starling has switched back to the squad he rode for in 2019 and 2018, Gas Monkey Energy/AJE Motorsports Husqvarna. His re-debut came Sunday in the 250SX East division, but it was spoiled by boiling fuel, a byproduct of racing with heat and elevation (his bike wasn't the only one to suffer from that issue on Sunday). Starling was bummed because he says it's the first time he has ever pulled off in a supercross race.
"About six minutes to go, it was getting sketchy," he said last night on the PulpMX show. "I landed from the finish on one lap and the bike almost shut off—at one point it literally would not go. I was bummed. That was the first time I've ever not finished a main event.
"We didn't know it was fuel during the day, we thought maybe it was a fuel pump, so we swapped out a tank. The team went above and beyond for me."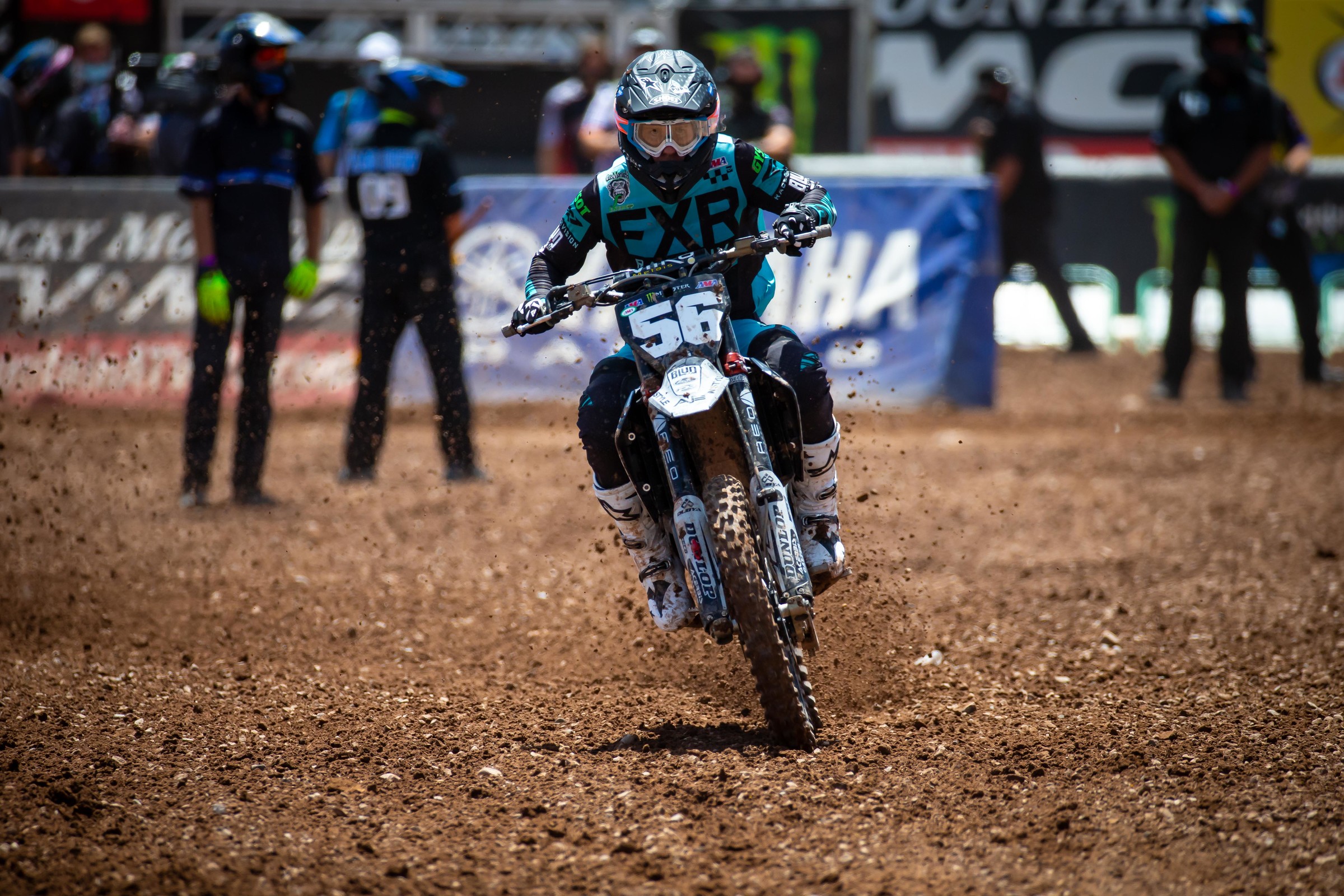 After talking about the race and making plans on Sunday night, Starling and the AJE crew began to suspect boiling fuel. They made changes and went testing yesterday (Monday afternoon). He tells us he purposely tried to rev and pound on the bike to try to create problems—and this time it held for 30 minutes, no problem.
"We figured it out this morning and the bike is good," he said last night.
With the elevation issue sorted, Starling all healed up from pre-season injuries and illness, and back at home with his old team, he's hoping to make a step forward over the final few races, starting tomorrow night. His early 2020 results were hampered by injuries, leading to 20-16-15 finishes in Tampa, Atlanta, and Daytona.
"I wanted to try something new, maybe get on a Honda, see where we could go," said Starling. "Michael [Lindsay, team owner] does a great job, I knew he was going to get a lot of support, too. It seemed like it was going to be a really good place to be, and it was! But I was dealing with a lot of injuries and I wasn't able to show my potential. Especially coming off of last year, where I had multiple top tens; I got a seventh at a Triple Crown. Then I was barely even making main events. My first day back on the bike was press day at Tampa!"
Then AJE reached back out with an opportunity to rekindle their old relationship.
"I'm really close with the [AJE] owner and have been for a while now," said Starling. "We're staying together at the same Airbnb right now. I actually met him when I was at Slaton Racing back in 2017, he came on as title sponsor. We've always been close outside of the racing, and then I noticed the team has made a big step forward this year, and you could see it with Jacob [Hayes, in 250SX West], he was headed toward a podium 100 percent. He wanted to bring me into that, but we were thinking more later, long term. With the pandemic and the change in schedule, it was one of those things I just had to do."
Starling never planned to split with the FXR/Chaparral Honda team at mid-season, but AJE was able to whip a program together for him for 250SX East in time to make the May 31start. He then mulled over the idea of switching, and it wasn't an easy decision, but he reached out to Lindsay and decided to make the move.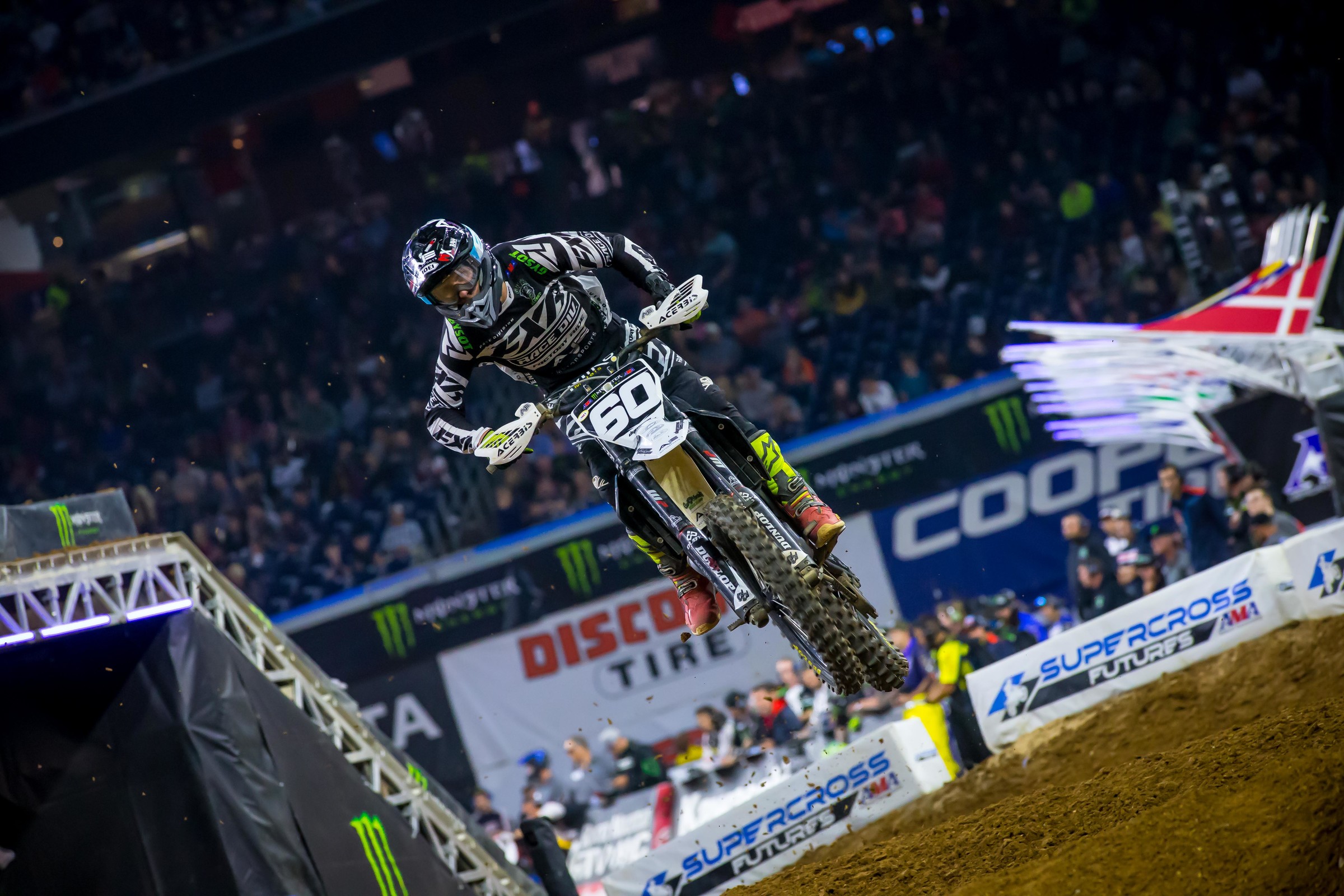 "He kind of set up his contracts where he'll give you whatever he can give you, but if you get a better deal, take it," he says. "The team is solid; the bike is good. [Chris] Blose just came off of an injury and got a 12th. It's just one of the things where I got an opportunity, and I didn't want to miss it."
So now Starling is back. With the bike situation fixed, he's looking forward to some breakthrough rides over the next few days. Of course, the situation out here in Salt Lake is a little different than a regular supercross race, and for privateers like Starling, a cut in purse money is not ideal. But getting back to racing is what matters most. Remember, this is the same man who had a deal to race in Germany last summer, but still flew back to the U.S. on off-weekends just to compete in some Lucas Oil AMA Pro Motocross Championship rounds. He just wants to race, always.
"I'm just happy we're racing," said Starling of the reduction in purse money. "Of course, I need the purse money, but I've made the joke before. I'm racing the 250 class so obviously I'm not just doing this to make money here. It sucks, but at the end of the day it's not like it's a huge difference. At the end of the day, if they said we're not gonna' pay but we're still gonna' race, I would still be here. I'm a racer and I do this because I love it. I have the opportunity to be here and not spend any money, and I love it."