When the little bit of dust that was out there settled on the Youngstown MX track (which is almost literally right in the middle of Youngstown, Ohio) practically everyone involved in Moto Fite Klub had a smile on their face. But the biggest smile of all was that of SmarTop/Bullfrog Spas/MotoConcepts Honda rider Mike Alessi, who ended up winning the grand finale and the first Moto Fite Klub belt after dueling with his longtime rival Ryan Villopoto and an inspired "General" Ryan Sipes. We caught up with #800 just as he was arriving back home in Florida after an all-night drive from Ohio with his best friend Donald Davis, listening to Jukebox Hero, and stopping at every state sign they saw for an Instagram story.
Racer X: Mike, that was a really fun event yesterday. Everyone had a good time, a lot of folks watched and seemed to really like Moto Fite Klub, but after it was over I have to say that's the happiest I've seen you in a long time.
Mike Alessi: You know, I would be lying if I said I wasn't. RV and I have had, as you know, battles throughout our careers, where we battled as amateurs and later when we got to pros. That's where he obviously got the best of me and won so many championships, then went on to be one of the greatest riders this sport has ever seen—he's almost like the mini-GOAT to [Ricky] Carmichael. So getting to race against him, as well as all of the guys there, was just really a lot of fun. I mean, just watching [Jeff] Stanton and [Damon] Bradshaw battle—that was sweet. Watching [Travis] Pastrana and [Kevin] Windham out there, especially when Travis did his backflip over the freestyle jump. And just all of the guys that were a part of it, from Broc Glover to Jake Weimer to Ivan Tedesco—and I really hope he's doing better (Note: Tedesco woke up early Tuesday morning feeling very sick and did not compete). But the list just goes on and on. There were so many great guys gathered there, like at the fireside on Monday night, that was just so cool. And overall, I just think FiteTV and Moto Fite Klub, they just knocked it out of the park. I feel like this could possibly be a look into the future. Hopefully we can have more events like this because people loved it. Everyone is starving right now for pretty much anything like this. They are starving for dirt bikes to watch because they're over the Netflix. They want to see some live action and you just can't get that right now as far as football, basketball, baseball, nothing. So this was the perfect event to give the fans what they wanted.
And for some good causes too.
Yes, at the end of the day we all gave our helmets, our goggles, gear, pants, and everything to Road2Recovery for a great auction that they are doing, so that was a great feeling to hand over my winning gear.
Did your wife Danielle get to watch back home in Florida? What did she think?
Oh yeah, she definitely watched the show and she sent me an Instagram video of her watching me and Ryan battle and she's jumping up and down, getting so excited. Man, those are the memories and moments that I will cherish forever. I mean, I've got a blessed life, I have a great wife, a great family and friends here at home in Florida. And with the team, like [team owner] Mike Genova and my dad being super-supportive, I just have a great group of people around me. I am 32 years old, or at least I will be this weekend with my birthday coming up, so I couldn't think of a better birthday present for myself than winning the Moto Fite Klub and bringing the belt back to Florida.
Well happy 32nd birthday Mike. And there was a moment yesterday, out of the infield, where I was helping out a little bit, and you rode up to talk to me about a rhythm section near where I was flagging. And as we were talking on the side of the jump I realized that your dad was sitting down there off the side of the track under a tree talking to RV, who had just pulled off the track. At that moment I was thinking, man, they've all come a long way from those minicycle days at Loretta Lynn's!
[Laughs] Yes we have, yes we have. So I was trying to figure out that jump that RV was doing to get to the top of that tabletop through those rollers, and I just couldn't figure out how to downside that transition to get the proper bounce in to get up on top of it, so I came up to you and we started talking about how Ryan was kinda just slowing up a bit, just a hair, to get into that pocket and then he would seat-hop real hard and that was the trick. So once you explained what he was doing, I just went down to RV and asked and he told me the exact same thing. So I went out, rolled it a little and then just popped it perfectly, right to the top, and that honestly was the difference-maker in being competitive and being able to clear it cleanly, compared to clipping it and taking a quarter-second to half-second off my lap, and that section right there was saving me that time instead.
And that's where you passed him in the end, diving inside in the turn that followed.
That is correct. I was able to get to the top as he clipped it. He kind of went a little airborne as I got all the way to the top and then I got on the very inside of him, no contact. I made the pass, took the lead and just sprinted as hard as I could and was able to get to the checkered flag first. It was awesome to race Ryan—both Ryans, actually, can't leave The General Ryan Sipes out.
Yes, and he was really good on that two-stroke as well.
He was very, very good, and that thing ripped.
Hey, if you want to see what it looked like when someone messed up that transition, watch the Moto Fite Klub on FiteTV when you get home and watch Jake Weimer…
Yeah, that was an intense moment. I saw the replay.
Yes, if he would have crashed—and it really looked like he was going to—I think he would have been the only guy other than Travis to hit the dirt all day!
[Laughs] Yes, and I'm super glad and thankful that everything went smooth with the races and the show and the FiteTV broadcast and the fact that all of the riders got out of there injury-free. Well, other than Travis, missing his first back-flip on the old YZ490. But when he got it the second time, that was impressive.
What year were you born, Mike?
Nineteen eighty eight.
That bike that he back-flipped is one year older than you!
[Laughs] Correct. To see him backflip that motorcycle? The talent level that Travis Pastrana has—everything in his bag of tricks—is enormous.
Absolutely. And it was pretty cool watching guys who haven't raced in a long time, like Broc Glover and Jeff Stanton, and of course Damon Bradshaw, to just see those guys riding hard again, to see that they still have that beautiful style and ability to get around a track in a hurry, they were all very impressive. And when I see Travis charging like he was, and being very competitive, it always makes you wonder just how good he would have been had he stayed healthy for a few years.
I will tell you what, watching those guys ride, watching Stanton and Bradshaw go at it, that was classic stuff. I felt like it was back in 1992 and we were watching these guys go for the championship at the LA Coliseum, only there was no pressure, no holding back, gloves-off and just going for it. And Kevin Windham—what can you say about Kevin Windham? He still has the prettiest riding style of anyone out there. He just makes it look so effortless, and he can still rip like a potato chip—he is quick!
I was impressed too, especially early in the day because he was riding in blue jeans and a flannel shirt.
Hey, anyone who can ride like that in flannel has got my respect all day long.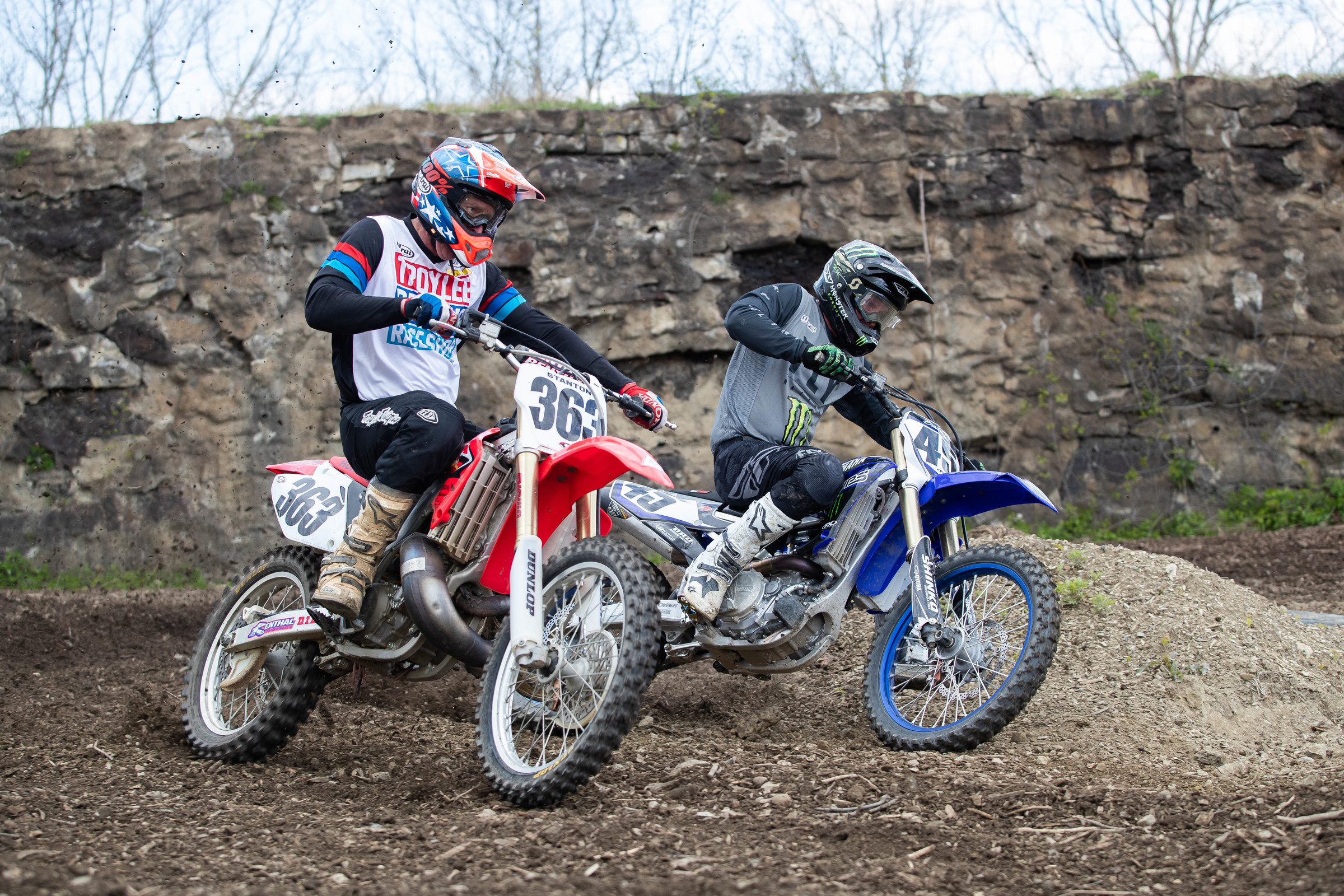 Absolutely. And then at the end of the day you got to go over and do a little bench-racing with Ryan and even got a jersey, I think that when your smile was biggest.
Yeah, so I told RV the day before that after the race, tomorrow, I want the jersey—it's mine. He said no problem. And then when he handed it over it just like solidified the whole thing. Just the camaraderie between us, and our racing careers, and just putting all of the BS aside, we're really just two dudes that wanted to race hard and give it everything we had. Even yesterday, he was giving it 100 percent effort. You could see it in the way he was scrubbing those jumps and just the intensity that he was riding with, that right there showed me he was going for it—he wasn't holding back—and you have to respect that out of the dude. He's a multi-, multi-time champion and he's still got that fire, that desire to win at all costs, whatever it takes. And afterwards, when we were just talking and I got his jersey, it was nice to think that we are just two dudes who raced dirt bikes for a living, had really good careers, made money, we have our wives and our children, and we are just living a good life now. I really hope RV and I can become closer friends after this Moto Fite Klub brought us all back together, and hopefully there will be more of this.
Well, if there's a Moto Fite Klub II rematch, I will be there—I really enjoyed it.
Hey, as the defending champ, maybe we could have it at my house, have at my track here in Florida. We could put on a good show and a good race! But in the meantime, thanks to all of the fans that tuned in yesterday and supported all of the riders and all of their causes. Hopefully, there's more to come with this Moto Fite Klub.