Travis Pastrana started telling stories about his favorite stories.
"Jeff Stanton and the Beast from the East Damon Bradshaw! This was like a household rivalry for us," Travis explained. "My mom was a flight attendant, and she met Jeff Stanton on a flight in Kalamazoo, Michigan. So she comes home from this flight all giddy, and I was emotionally distraught. I was 10 years old, and I was a Bradshaw fan."
Then Kevin Windham followed that with the line of the night.
"I just found out Travis Pastrana was almost Travis Stanton!"
Last night's Fireside Chat put all ten racers around a campfire (all sitting more than six-feet apart) telling stories and setting the stage for tonight's action. Moto Fite Klub is a real race on a real track. It's not iRacing and not a pit bike race. Right now, the vibe is supposed to be loose and fun, but the riders know better.
"I think we're gonna have fun, but, I know how this works," said Jake Weimer. "Oh yeah, let's have fun, oh yeah, for charity, which is great thing. But, when we get behind the gate, everyone that is sitting here, there's ego involved! I think the racing will be great because of that! I think it will be fun, and get some charity work at the same time."
You don't have to go far to find the old rivalries here, like Mike Alessi and Ivan Tedesco.
"I was 16 years old, wanted to win the title," explained Alessi. "Championship came down to the last moto. I made a foolish decision and tried to take him [Tedesco] out, stood on his motorcycle and tried to get to his kill button. Everyone here is competitive, the racer inside you, we all want to win and will do whatever it takes to win."
"Yeah, I'm gonna do whatever it takes to win!" said Tedesco with a laugh, staring Alessi in the eyes. "This is going to be a special race, I feel."
Windham quipped up again.
You can watch the archive of the free fireside chat here.
"Hey, I like how Mike [Alessi] admits he made a mistake at 16 years old," said Windham. "So now America is going to find out old guys can make mistakes too! We're gonna show the whole world that we can still be knuckleheads."
"If I'm racing any of you and we both go down, I'm gonna make sure I'm standing on your bike!" said Pastrana.
"And reaching for the kill button?" said Jeff Stanton.
"Oh yeah absolutely!" added Pastrana.
As the night went on, the stories kept getting more out of hand. Broc Glover, age 59, said he would only race if he had a chance to battle someone else on a 500cc two-stroke. That challenge was aimed specifically at Pastrana and his RM-Zilla. Travis took that challenge, then of course raised the stakes by saying he could backflip a Yamaha YZ490.
"I can flip anything!" he said.
Pastrana started making so many side bets that it's hard to keep track of who will owe what by the time this race is over. Glover just asked him not to break any of the fenders off the 490. It's getting hard to find parts for them these days!
The lore of the big, bad 490s and 500s would be a constant theme of the evening. Stay tuned for more on that.
At one point, someone (probably Travis) noted that Ryan Villopoto had made his own championship belt for the event. The belt became instant fodder as everyone claimed they would be the one holding it at the end of the night. There are plenty of candidates, not only guys like Stanton and Villopoto who have all these titles, or Windham, who says he's beaten everyone at the event besides Glover, but guys like Ryan Sipes, who is still an active racer and qualified for the Daytona Supercross this year. Don't sleep on Tedesco, who is still a test rider for Mitch Payton and Pro Circuit.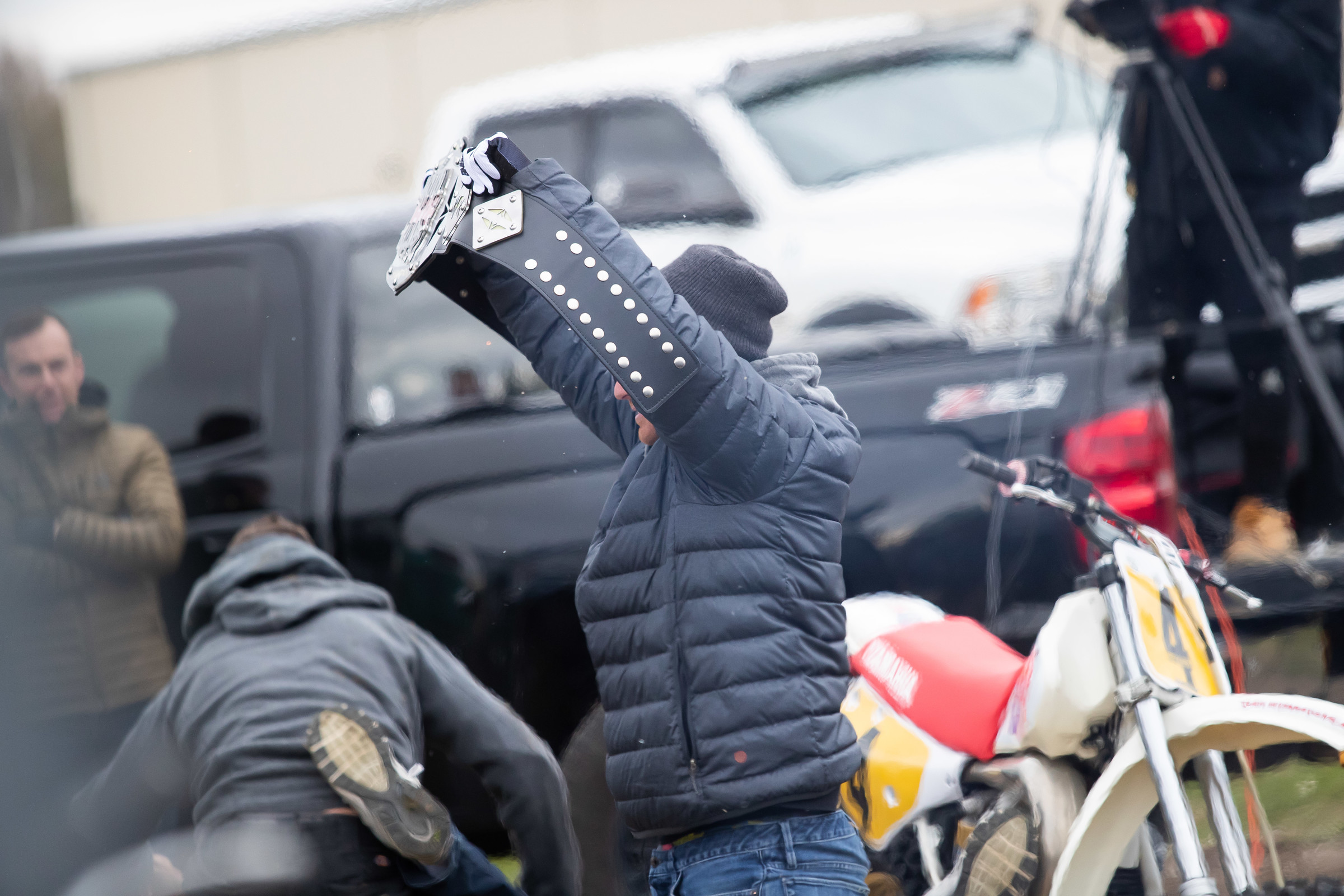 "He rides more than anyone else," said Windham.
"Working for Payton has got to be tough," said Bradshaw.
"Can you imagine what a hard-ass he has to be on his test guy?" says Windham. "Testing for Mitch, you pretty might as well go back to riding supercross!"
"IT, yeah I'd say he's been riding more than all of us. He's a real prick!" said Villopoto.
"Yeah but I haven't ridden a 450 much for the last few years," said Tedesco.
"Oh calm down there," said Villopoto.
"Yeah, I haven't ridden a 450 much for the last few years either!" said Windham.
Between all the crap talk, the riders were sure to tip their visors, too. Each took a moment to praise each other for their accomplishments. Sipes, with his ISDE overall win and recent victories in American Flat Track, got his due.
But Villopoto couldn't help himself. He started showing some interest in a flat track race. Sipes told him to come to the Buffalo Chip TT in August. Sipes has won that race in the Singles class the last two years.
"Give me enough time to get ready and I'll smoke your ass," said Villopoto.
Somehow, at one point Sipes ended up wearing the championship belt. And then Pastrana, really taking the wrestling belt thing seriously, tackled him and a wrestling match broke out!
In a fit of irony, they accidentally tangled with Glover's 490, bumped it, and that big bike appeared ready to fall off the bike stand and impale them with a footpeg. Bradshaw grabbed it at the last second, saving Sipes and Pastrana from getting pinned and losing a wrestling match to an old air hammer.